Cliff jumping into beautiful Connecticut waters seems to be one of the best pastimes of the summer. But trying to find the best cliff jumping spots in CT can be challenging.
With both safety and fun in mind, this list gives you the 7 absolute best spots to cliff jump in the great state of Connecticut.
It's important to note that all cliff jumpers should swim and dive around the area first in case of underwater obstacles that have changed due to storms, erosion, etc.
Another important disclaimer is that checking for signage and police notes from the area is a good idea before jumping. These signs often alert guests and locals of any changes or new dangers.
Excitement is what cliff jumping is all about, though, and there's plenty of that on our list.
So let's dive into the top 7 cliff jumping spots in CT!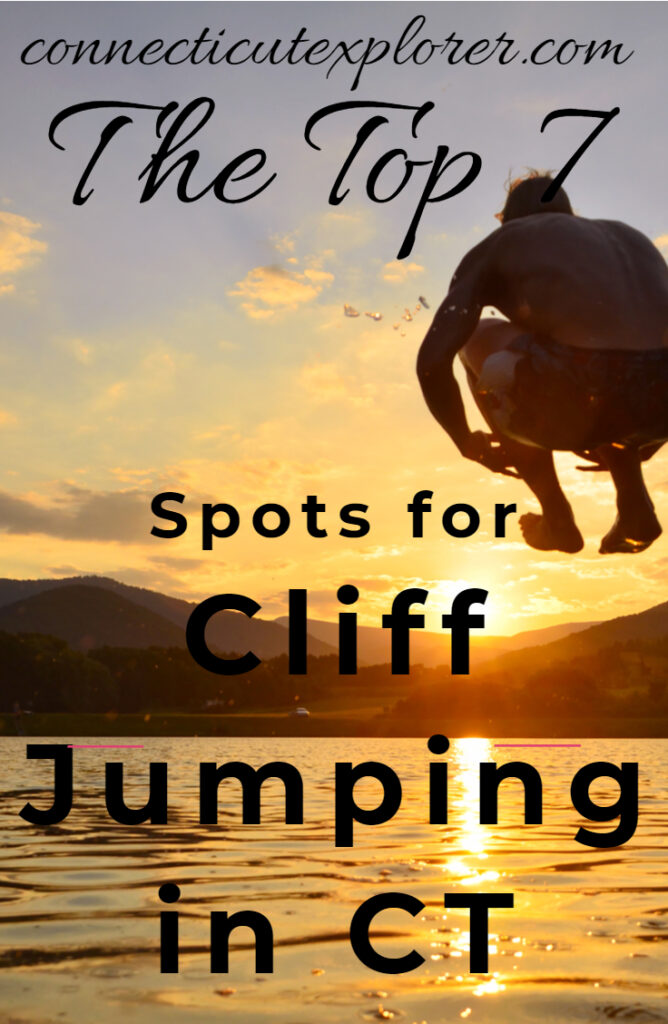 7 fun and exciting cliff jumping spots in CT
Enders Falls, Granby CT
Find yourself parking at a lot at the entrance of the East Granby State Forest Park to indulge in some thrilling jumps.
With about a 25-foot drop to the water, the fourth cascading waterfall will be your lucky one.
With the other five being no good for jumping (shallow water) it's important that you test the waters by swimming rather than jumping first.
The jumping spot is tucked away behind one of the waterfalls and should give you roughly 12-14 feet of water depth to splash into.
Don't be wary of the water that can sometimes appear murky. It's just the natural dirt and surroundings of the forest.
Granby, CT
Great Falls, Canaan, CT
Great falls in North Canaan, CT lies within Litchfield County and has become a popular spot for cliff diving and jumping.
It rests on the Housatonic River and has areas around 50 to 70 feet in drop-off into the water.
With huge amounts of beautiful water to look at, this open area becomes a great day of fun in the sun for everyone.
If you are looking to take a break from jumping and running around, take in the splashing waterfalls and scenery while hiking around.
North Canaan, CT
Potters Quarry, Seymour CT
Potters Quarry has been a spot for decades that locals have come to jump off the rocks. Surrounded by beautiful greenery this spot becomes a sanctuary for cliff jumpers.
With some of the spots to jump from get some pretty good air underneath, it's important to make sure you clear what's beneath you by jumping out far enough.
For those who don't love to jump from the very top, there are a bunch of spots halfway down or much closer to the water that makes it feel a whole lot less frightening.
East Lyme Quarry, Niantic, CT
Just northeast of New Haven, Connecticut, you will find the East Lyme Quarry. Located just beyond the dump is a quarry by the water tower that cliff jumpers can enjoy outside of dump hours.
This means going after 3:00 PM.
Once you find the road past the dump you will find first a 20-foot leap followed by a much larger one just a few more steps farther.
The second drop is more like 60-feet which offers both those who like the heights and those who rather not fall so far something to enjoy.
The best road to follow for this address is Roxbury Road.
Niantic, CT
Brownstone, Portland, CT
Brownstone Amusement Sports Park is probably one of the safest and best places to go cliff jumping into the water.
This is because it is a monitored area that has designated areas for those who enjoy a thrill to jump while being totally supervised.
It is manmade and has a designated area for those who are under 18 to jump with slightly less of a drop into the water.
For those who are considered to be adult age they can partake in one of the higher jumps and plunge into the water.
Portland, CT
Wessel Reservoir, Berlin CT
At the end of what is roughly a one-hour trail walk, you will find a beautiful reservoir that offers a thrilling 70-foot jump.
While the one-hour work may not feel worth it originally, the big open beautiful area surrounded by big open water and trees surrounding it certainly will make you change your mind.
A running start is always advised as the reservoir slopes a bit outwards. This is why wearing shoes with traction is a good idea.
Berlin, CT
Enjoy cliff jumping spots in CT and proceed with caution
There's no feeling quite like splashing around in the water in the summertime.
With tons of beautiful areas spanning great bodies of water and beautiful greenery around, it's hard to imagine not spending the day jumping from a variety of heights into the water.
Because cliff jumping can be illegal in a number of areas due to possible safety issues, it is best to swim around the pool of water and dive down to make sure there are no unexpected obstacles underneath the water.
For those of the group who don't enjoy risky jumps into the water, the best option on this list is definitely Brownstone.
They provide the safest possible environment and offer smaller jumps Any of the listed locations also make for great tanning and swimming areas.
Wherever you choose, be safe, explore the water before you jump, and make sure you read the rules of the park and the signs around the water.
Have a fun and safe summer!