Connecticut is definitely for outdoor lovers. With so many hiking and paved walking trails in CT to explore, you may never run out of things to see!
But, we know you don't always want to get your hiking gear on and spend a day essentially lost in the woods, so we found the best-paved walking trails in CT.
These are a lot more family-friendly, way more easygoing, and still a delight to immerse yourself in the great outdoors!
In Connecticut's early days, canals and railroads helped boost the economy, so now those old corridors have turned into trails for walkers, equestrians, and bicyclists to spend some time in the outdoors.
Paved walking trails are also a great go-to for parents and caregivers looking for a nice walk while pushing a stroller!
Even in the thick of summer, you can enjoy the shade and beautiful scenery on the trails. If you come from long distances, then the 3,000 miles East Coast Greenway leads through Connecticut and some of these top 10 paved walking trails in CT!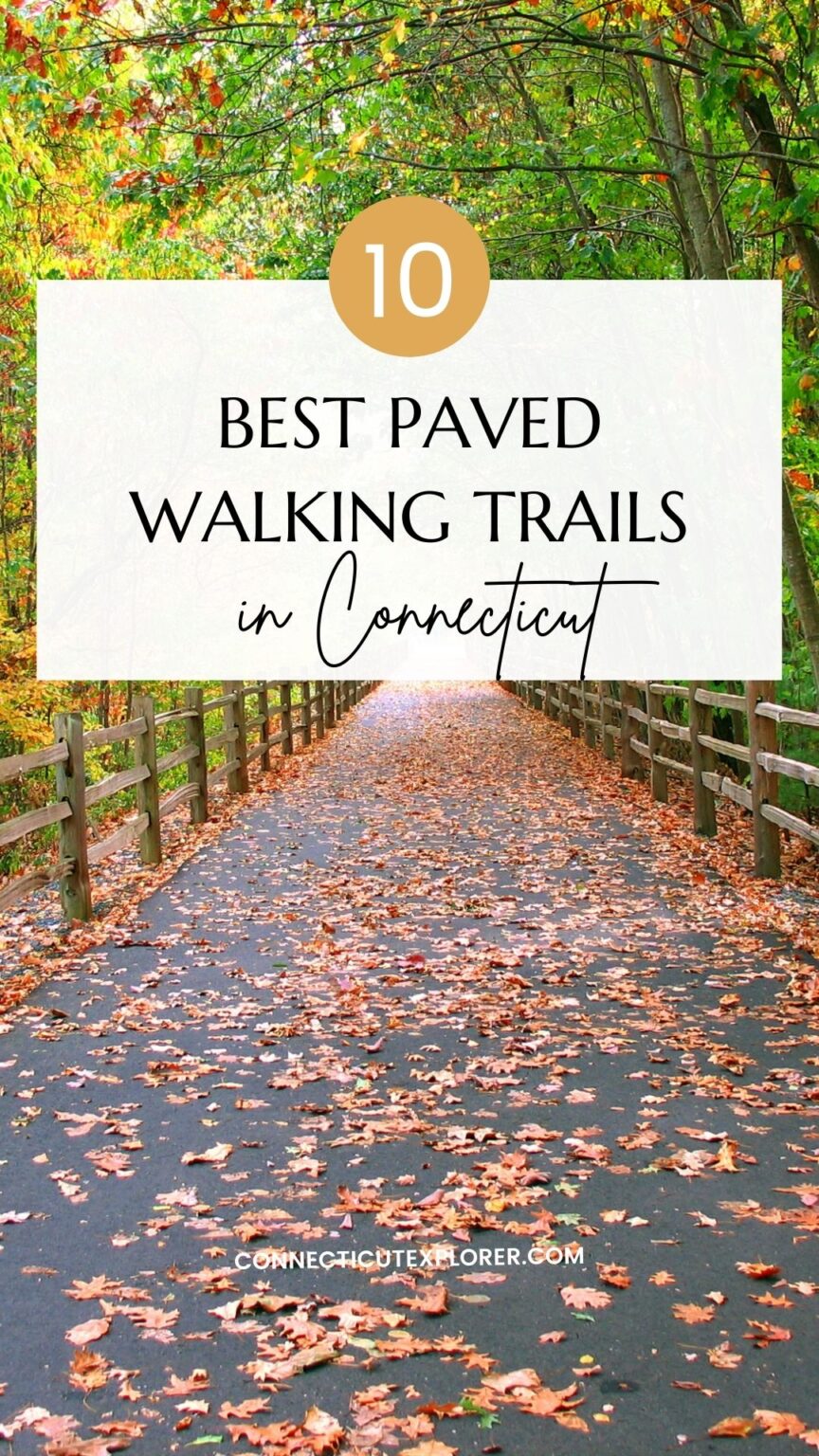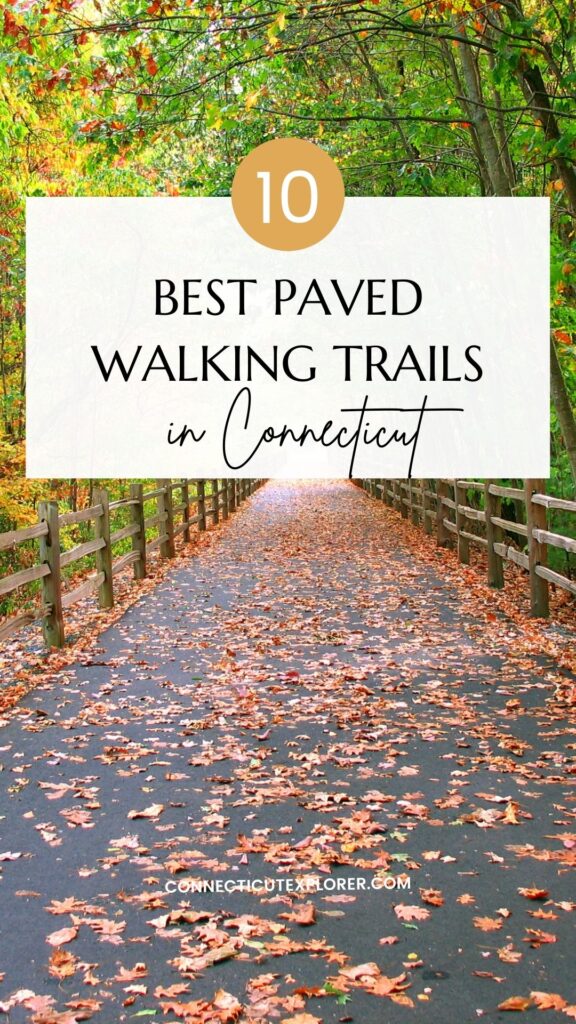 Top 10 Paved Walking Trails in CT
1. Air Line State Park Trail- Middlesex, Windham, Tolland, New London, Connecticut
The Air Line State Park is perfect for the Connecticut natives who want to spend time outdoors and see some sights along the way.
The trail is 55 miles, and can even reach all the way to Massachusetts. The paved gravel and crushed-rock surface are easier to walk on, it's a bit challenging for bikers but if you are into that, then it's fine!
The fall is so beautiful here too, and the trail is essentially a link between the New England Rail-Trail network.
2. Hop River State Park Trail- Tolland, Hartford, Connecticut
The Hop River State Park is like a storybook trail in real life. The covered bridge and tunnels are in the 20-mile trail that goes through eastern Connecticut.
The woodlands are spread through the deep railroad cuts that are awesome for shelter and for taking a break during your walk.
The winter is also super gorgeous here since the woodlands ice up perfectly. It was also once the trail of the month!
3. Vernon Rails-to-Trails- Tolland, Connecticut
This is probably the best way for you to explore all the historical scenery in Rockville.
Northern Connecticut is a massive undertaking, but the Vernon Rails-to-Trails area has 4 miles of paved stone trails for you to take your time strolling on through.
The wooded corridor in the trail comes after the Tankerhoosen River and drops off at the National Register of Historic Places district, so this won't just be a walk in the woods, it's an adventure!
4. Farmington Canal Heritage Trail- Hartford, New Haven, Connecticut
This trail is a perfect show of the history from railroad to trail. The Farmington Canal Heritage Trail is 48 miles long, starts at the Yale Campus, and continues through Hartford nearly to Massachusetts.
The corridor came from an old canal that is now the completed corridor. It is the longest paved trail in Connecticut, has a smooth asphalt surface, and is close to some population centers.
You can follow the trail to the East Coast Greenway, and it shares a connection with the New England Rail-Trail Spine Network.
5. Farmington River Trail- East, Connecticut
The Farmington River Trail is shaped like a 'c' and has a lot for you to come check out! It runs through some forests and small communities in Hartford and connects to the Farmington Canal Heritage Trail.
The loop is 26 miles and is used often to make that connection. This trail is 16 miles though, so not bad for a couple of days' worth of a walk.
It is completely paved, with maybe a mile of crushed stone, so it is definitely easier to follow the path and still catch some beautiful sights like the Farmington River and the Canton Historical Museum.
6. Pequonnock River Trail- Fairfield, Connecticut
This historic part of Bridgeport has been the perfect spot for lots of walkers.
It groups the developed trails along the Housatonic railroad. The trail walkers love the Riverside parkland as it's the perfect place to stop and relax.
The Pequonnock River Wildlife area is 5 miles long and close to the Beardsley Park and Zoo, so this will definitely be a fun destination!
7. Charter Oak Greenway- Hartford, Connecticut
The Charter Oak Greenway is near the Hop River and has 16 miles of paved walking trails. It is 16 miles from the downtown district of Hartford and the State Capitol.
Pass through the downtown green space, and land at the Colonial-era town of Manchester from the trail.
It also meets the Hop River State Park Trail, so you can check out a couple of different walking trails in one go!
8. Larkin State Park Trail- New Haven, Connecticut
Immerse yourself in a woodsy, quiet walking trail at the Larkin State Park Trail.
This is a great destination for a shady walk outside. It is an 11-mile trail, and runs through Naugatuck and Southbury, so the location is great!
It was founded at first as the Larkin State Bridle Trail for equestrians, so the pathway is popular for horse-riders and bikes too!
9. Middlebury Greenway- New Haven, Connecticut
This one is fun and perfect for a family trip! The paved trail is about 5 miles long and crosses through Middlebury, so you can check out the historic districts, parks, and business centers while you are here!
The amusement park is also about a century old, so there is so much history to explore at the Middlebury Greenway.
It's not just a walking trail, it is like a trip to an outdoor museum!
10. Windsor Locks Canal State Park Trail- Hartford, Connecticut
This is another trail that meets a few other destinations. The Windsor Locks Canal State Park Trail is wooded, has wildlife like bald eagles, and takes up the land between the Connecticut River and the Enfield Falls Canal. It's entirely gorgeous and easy to navigate.
The bald eagles are also protected because the park closes from November and into the spring so that they are safe!
Nature lovers have a ton to choose from in Connecticut. You may already live here, or just have some time off coming up and need some sights to see.
Whatever the case, the best paved walking trails in Connecticut make it easy for you to walk around, take a break in some shade, and see what beautiful plots of nature that Connecticut has to offer!