Dining at a location where the view is as good as the food is one of the finest ways to enjoy summertime in Connecticut. East Lyme, Connecticut, where the shoreline is just a mile if not feet away from all the best places to find restaurants in CT.
Italian food, seafood, Asian cuisine – whatever you are craving, East Lyme has you covered.
Here's a list of the 10 best restaurants in East Lyme offering everything from lobster rolls to sushi; you'll find your new favorite place to bring the family or reserve for a special date night.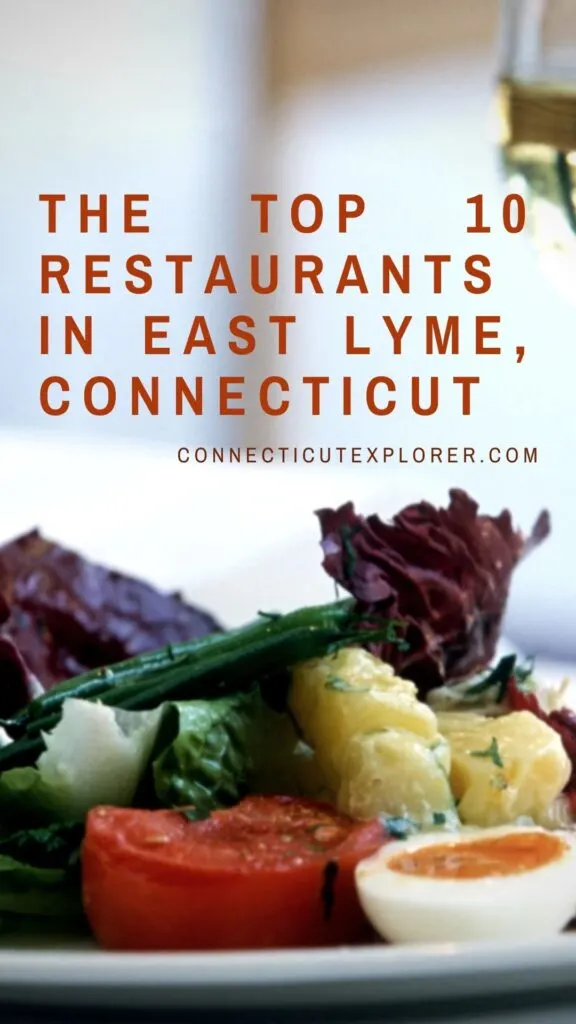 10 Best Restaurants in East Lyme, CT
Flanders Fish Market & Restaurant
Flanders Fish Market is Connecticut's biggest full-service restaurant, and award-winning fresh seafood marketplace recently inducted into the CT Hospitality Hall of Fame and named runner-up for "Best Seafood" in Connecticut Magazine in 2017.
22 Chesterfield Road, East Lyme
Website: Flanders Fish Market
Café Sol
Locals love Café Sol for their fresh food options, coffee shop atmosphere, and outstanding service. Serving breakfast, lunch, and dinner featuring locally grown and organic produce, this place is a must-try if you are vegan or vegetarian, sick of not being able to find a menu with tasty options!
346 Main Street
Website: Cafe Sol
Main Street Grille
Be sure to utilize Main Street Grille's outstanding outdoor seating area that boasts unprecedented views of Niantic Bay. Dig into one of many seafood dishes, and be sure to walk everything off at one of the charming surrounding antique shops and boutique stores that line Niantic's picturesque Main Street.
252 Main Street, Niantic
Website: Main Street Grille
Osaka
Are you looking for something different? Curb your craving for fresh sushi and delicious hibachi at Osaka on Flanders Road.
This hibachi grill and sushi restaurant rates at the top of our list of best restaurants in East Lyme for always having fresh sushi and reasonable prices.
They also have some yummy Korean BBQ on their menu you should try.
324 Flanders Road, East Lyme
Website: Osaka
Vincitori Apizza
Grab the kids and head to this fun and relaxed upscale pizza restaurant. Known for its thin crust, light appetizer, and fresh salads, Vincitori Apizza has an award-winning seafood chowder you must try!
294 Main Street, Niantic
Website: Vincitory Apizza
Village Café
Visit a spot beloved by locals! This quaint Café is perfect to pop in for breakfast or lunch, and they have a wide variety of delicious wraps, sandwiches, and gyros to choose from.
190 Flanders Road, East Lyme
Website: Village Cafe
Charlies Place
Many people travel annually to Niantic in East Lyme to visit a magical place known as the Book Barn.
After you're done exploring endless rows of affordable reads, head across the street to Charlies Place for a hearty meal at a reasonable price.
Their menu is stacked with all the classics, including prime rib, hot lobster rolls, fried clams, and for those breakfast-for-dinner cravings – French toast.
26 W Main Street, Niantic
Website: Charlies Place
East Coast Taco
This family-owned and operated restaurant is offering giant burritos packed with the freshest Tex-Mex ingredients.
Each dish is made to order from pulled pork, brisket, and veggie meals and can be customized to your specifically spicy needs.
There is something for everyone at East Coast Taco!
51 West Main Street, Niantic
Website: East Coast Taco
Skipper's Seafood Restaurant
Who doesn't love a good seafood shack on the water? This seaside staple is perfect after a full day of sunning at Rocky Neck State Park and offers all the fried favorites and seafood dishes that are staples in the summertime.
Enjoy your meal at one of their outdoor picnic tables set perfectly against the Niantic Bay coastline.
167 Main Street, Niantic
Website: Skipper's Seafood Restaurant
Spice Club
Offering Thai food and Japanese dishes reviews for the Spice Club applaud their sushi options and drunken noodles.
The Spice Club is located on Main Street directly across from the Niantic Bay Boardwalk, making it the perfect location to grab a bite to eat before strolling along the shoreline.
239 Main Street, Niantic
Website: Spice Club
East Lyme is a charming town full of history and culture, and its restaurants are no exception.
If you're looking for a good meal with friends or family, chances are one of these 10 restaurants is sure to fit the bill — just make sure to make your reservations ahead of time!