Also called The Southeastern Connecticut Children's Museum, the Niantic Children's museum is a small children's museum located on the main strip of road in Niantic, Connecticut.
This is a favorite spot for families in the southeast area of Connecticut, however, parents all over Connecticut find this children's museum worth the drive, as there are also many other fun attractions in the area.
If you are looking for something fun to do with your toddler or preschooler, this is a great place to visit.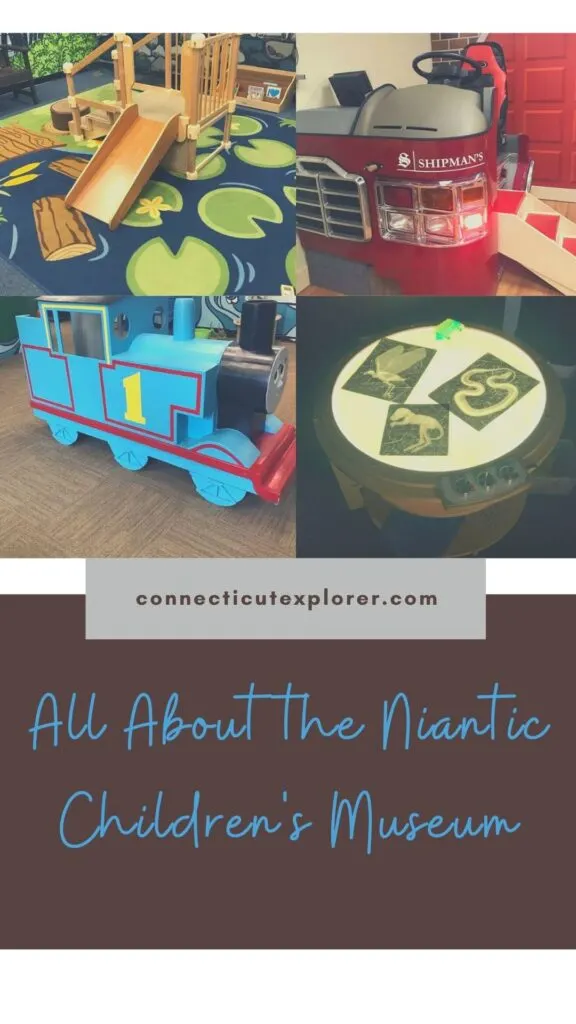 What is there to do at the Niantic Children's Museum?
For being a small-ish children's museum, there is actually a lot of fun things for kids to do here.
We had a great time on our first visit when I took only my toddler. We went back about a week later with the older children, who are 4-years old and 6-years old and they enjoyed it as well.
The main play area, The Imagination Room, is a ton of fun for toddlers and preschoolers, however, my 6-year old got bored fairly quickly. She enjoyed the Discovery Room and the outside play space a lot, though.
Let's check out the different areas of the Niantic Children's Museum.
Toddler and baby area
Most children's museums have a baby area and this one is no exception. This baby and toddler area is pretty nice.
It is sectioned off and has a really unique climbing/crawling structure in the center. Surrounding this gross motor toy is board books, a busy board, and some baby and toddler-friendly toys.
Light Lab
This is really fun, small room in the museum where kids can arrange peg lights on a large Lite Brite-type board. They can also control the color of the lava lamp via large buttons on the wall.
The light table in the room is a fun feature, as well.
Pretend kitchen and market
The pretend market is a really neat spot in the children's museum. Kids can shop for food, bring it to the realistic-looking kitchen, then serve it up over the counter after ringing up the price on the cash register.
This is a great place for kids to use their imaginations, as well as learn the names of different kitchen and restaurant items, as well as the names of various fruits and vegetables.
Play garden
That Niantic Farmer's Market Garden exhibit is a nook in the children's museum where kids can "plant" and harvest vegetables, which was a lot of fun for my kids.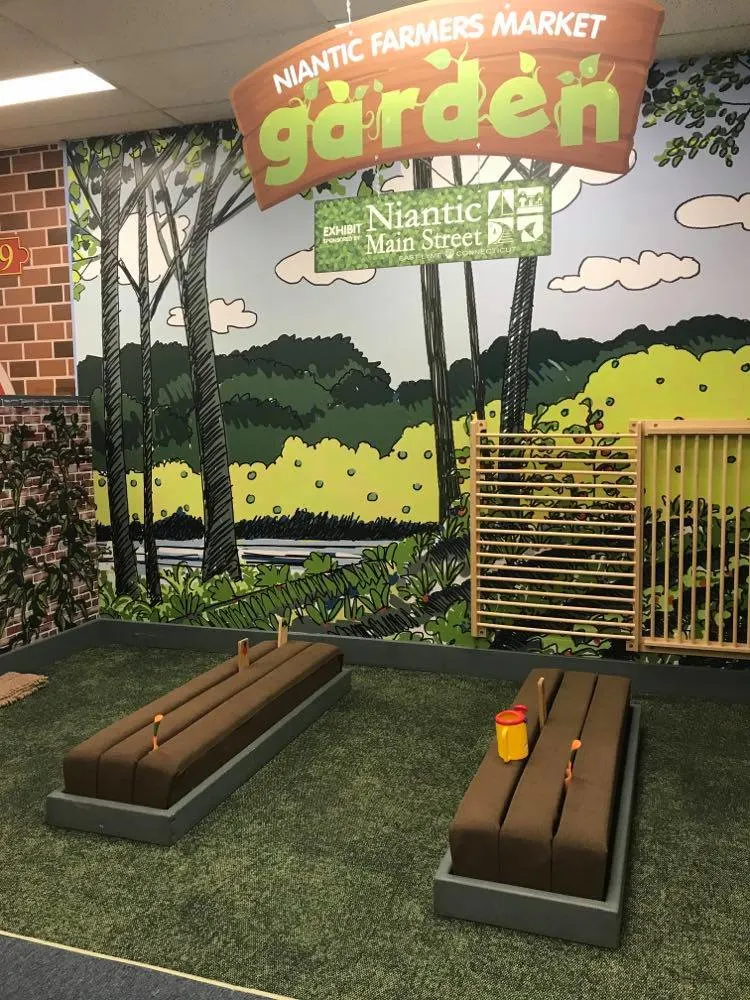 Indoor climbing and play structures
The main play area at this children's museum offers climbing and imaginative play opportunities. There is a boat and a lighthouse kids can climb up and play in.
There are also 2 wind stations where kids can learn about the power and science behind wind and conduct their own experiments using oversized pom-poms and silk scarves.
The main wind station on the wall is massive and my kids spent a good 30 minutes playing independently at this exhibit.
Discovery Room & activities for older kids
The Discovery Room in the children's museum is really fun. There are lots of oversized building items, an arts and crafts area, animals, and a large train table.
Staff comes in at intervals for organized activities the kids can participate in.
arts & crafts space with supplies
museum sponsored activities
pipe organ
microscopes and slides
large train table with tracks and trains
animals
a step-in kaleidoscope
multiple sets of oversized building toys
Outdoor play at the Niantic Children's Museum
The outdoor play area here looks a little worse for the wear at first, but it's actually a lot of fun and upon closer inspection on the type of play this area encourages, you will be able to see that a lot of thought actually went into it.
Here are some of the things you will find in the outdoor play space.
mini zipline
treehouse
ground-level playhouse with slide
sensory bins
bubble-mix bin with large wands
large foam building blocks
gong and other musical instruments
dirt area with shovel for digging
obstacle course
Parties at the Niantic Children's Museum
The Niantic Children's museum is open for private kids' parties, reserved ahead of time. There are a couple of different party packages to choose from.
The deluxe plan actually includes a 30-minute teacher-led program!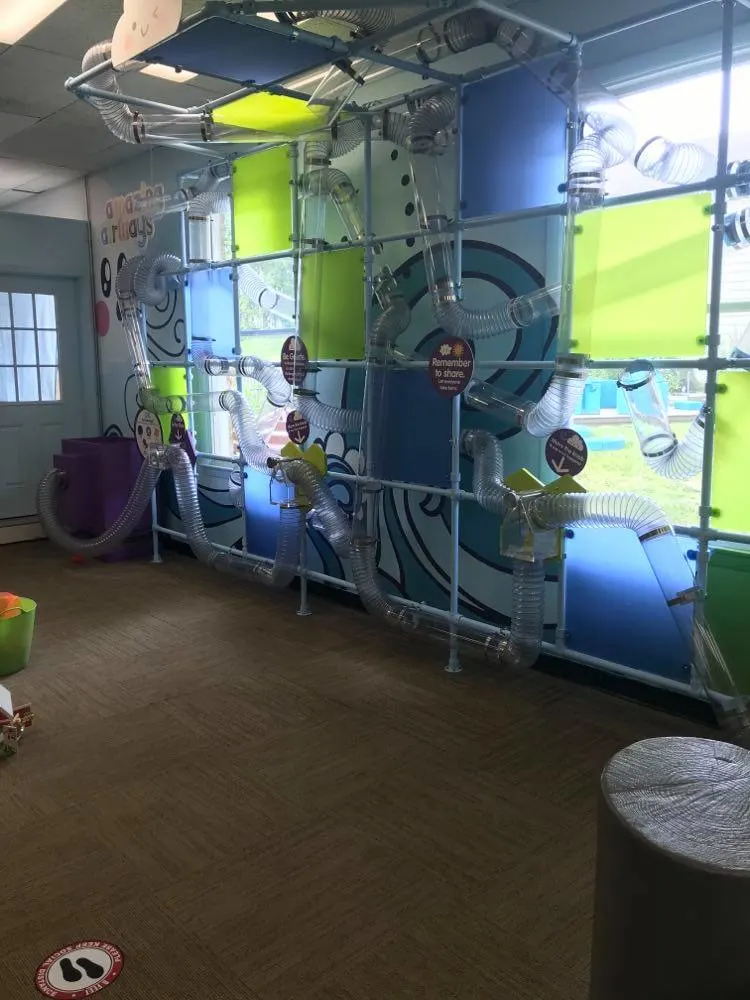 ---
This is a really fun Connecticut children's museum. I highly recommend it for kids up to ages 6 or 7-years old. The museum is reasonably priced, however, memberships are available, too, if you think it's somewhere you want to visit regularly.
There's also plenty of other fun things to do in the area. From the museum, you can walk to the Hole in the Wall Beach and you'll pass by Gum Drops and Lollipops, a local ice cream shop that also serves lunch.
409 Main St, Niantic, 06357
Website: Niantic Children's Museum