Connecticut is a state known for its natural beauty and endless potential for outdoor nature activities. Finding hiking trails with waterfalls in Connecticut is actually pretty easy – they are everywhere.
Not all Connecticut waterfalls are equal in beauty and splendor, however. We have compiled a list of the most spectacular waterfalls in Connecticut for you to discover.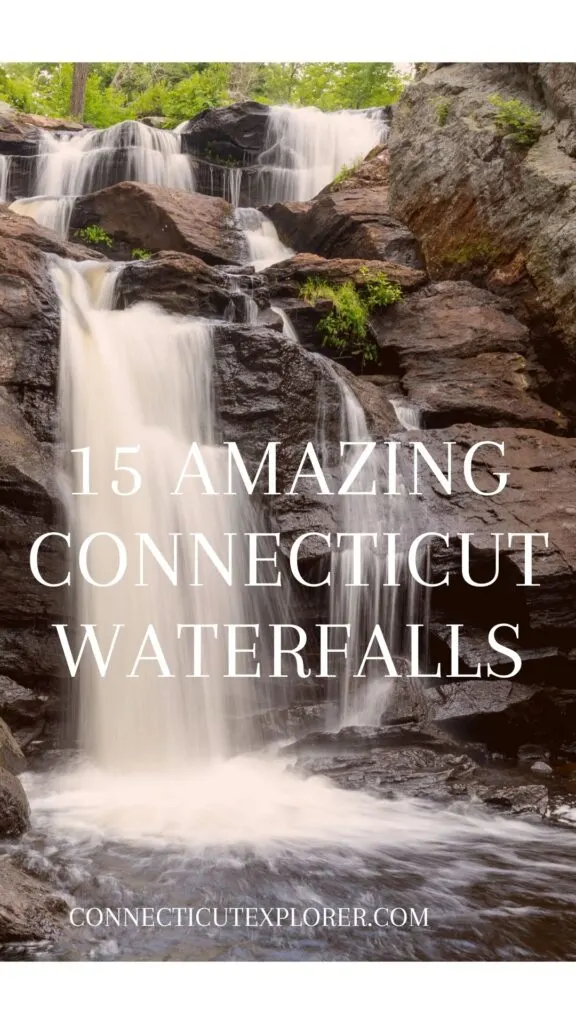 The top 15 most beautiful waterfalls in Connecticut
1. Buttermilk Falls
Buttermilk Falls is one of the most scenic waterfalls in the state, and one you can actually walk behind. The falls are a popular spot with locals and tourists thanks to its proximity to New York City.
The park itself is beautiful and offers an abundance of natural beauty, including a variety of hiking trails through forests, meadows, and among trees. The Buttermilk Falls Trail is only about half a mile long and relatively easy to walk and it takes you right to this beautiful waterfall.
Height: 55 ft
Swimming: No
Location: Buttermilk Falls Nature Preserve in Plymouth, CT.
2. Enders Falls – Granby, CT
If you like hiking and live near the Litchfield Hills, Connecticut, then Enders Falls is a must-see. Located in the northwest corner of the state at Enders Brook, this hidden gem is a local favorite for many hikers.
There are numerous waterfalls to explore in this region, but Enders Falls is one of the most popular — and it's not hard to see why. It's an easy hike to the cascades, however, if you want to get a view of Enders Falls in its full splendor, there is a bit of rock climbing involved.
Height: 30 ft
Swimming: Yes
Location: Enders State Forest in Granby, CT.
3. Spruce Brook Falls
The waterfall is one of Connecticut's best-kept secrets, tucked nicely inside of Naugatuck Valley. The towering trees and mossy rock scrambles give the trail the feel of a "high-end" hike that you'd expect in Vermont or New Hampshire.
The trail to this waterfall is a relatively short and easy hike – just about a mile round trip. This makes it a perfect waterfall to visit if you've got children and are looking to have a short, scenic hike with a nice picnic by the falls.
Height: 40 ft
Swimming: Yes
Location: Naugatuck State Forest in Beacon Falls, CT.
4. Kent Falls
While most waterfall aficionados know about Kent Falls in Connecticut, it's one of those hidden gems that gets overlooked by many New England travelers. This gorgeous waterfall is one of the few New England waterfalls that is rated "outstanding" by Newenglandwaterfalls.com, in fact.
The path to the waterfall is short – you can actually see the waterfall from the parking lot. There is a nice covered bridge that leads to its base and several overlooks you can climb up to for different views.
Close to the New York State border, this is a fantastic waterfall to visit if you are looking for beautiful scenery around the Housatonic River.
Height: 250 ft
Swimming: No
Location: Kent Falls State Park in Kent, CT.
5. Roaring Brook Falls
Roaring Brook Falls is a beautiful, 80-foot waterfall located in Cheshire, Connecticut. You are going to want to strap on your hiking boots for this one.
It's one of the most popular hiking destinations in the state, but it's not just known for its grandeur — it's also known for its difficulty. This is a great Connecticut waterfall to visit for the avid hiker, as the climb is a bit steep. The views here are absolutely stunning!
It is highly recommended that you take the trail to the falls counterclockwise if you are looking for an easier hike.
Height: 80 ft
Swimming: No
Location: Roaring Brook Falls Park in Cheshire, CT.
6. Mount Carmel Spring Falls
Mount Carmel Springs Falls is one of the most underrated waterfalls in the state of Connecticut. It doesn't have the water volume of many of the other waterfalls in Connecticut, however, especially after a hard rain, it is just as spectacular.
Height: 76 ft
Swimming: No
Location: Sleeping Giant State Park in Hamden, CT.
7. Great Falls
The Great Falls Waterfall is located in the town of Salisbury, Connecticut. Also referred to as Canaan Falls or Housatonic Falls, this Connecticut waterfall is almost unmatched by other local falls in its might and beauty.
It's as close as you'll get to seeing something as amazing as Niagra Falls in Connecticut.
The trek to the falls is short – you can see this impressive waterfall from the parking lot, in fact.
Height: 50 ft
Swimming: No
Location: Upper Falls Village Recreation Area in Salisbury and Canaan
8. Campbell Falls
Campbell Falls in Connecticut is one of the most beautiful waterfalls you will ever see. The 50-foot waterfall plunges into a slow-moving, relaxing river. The river has a rocky bottom and clear, cool water that makes wading a pure joy.
The hike to the falls is fairly easy and many find the whole experience extremely relaxing. Campbell Falls is great to visit all year round, however, it is particularly stunning in the winter after a light snowfall.
Height: 50
Swimming: No
Location: Campbell Falls State Park Reserve in Norfolk, CT.
9. Chapman Falls
Chapman Falls is a stunning and easily accessible Connecticut waterfall that is located in Devil's Hopyard State Park. Not only is this waterfall absolutely breathtaking, but it's a great spot for swimming and wading – there are even great wading spots upon the rocks where toddlers (well-supervised) can play in the water.
Close to the falls, there are picnic areas, a lovely covered bridge, hiking trails, and camping spots.
Height: 60 ft
Swimming: Yes
Location: Devil's Hopyard State Park in East Haddam, CT.
10. Indian Well Falls
If you are looking to have your mind blown by nature's beauty, you need to visit Indian Wells Falls in Shelton, Connecticut. This is something you need to see to believe.
The picturesque lagoon and brook that collects the waterfall are partially enclosed by the massive rock gorge looks like something from a movie. Think along the lines of "Island of the Blue Lagoon" (without the blue water) and you're on the right track.
I highly recommend hiking to this waterfall.
Height: 15 ft
Swimming: No
Location: Indian Well State Park in Shelton, CT.
11. Wadsworth Little Falls
The Wadsworth Little Falls is one of my favorite waterfalls to visit in Connecticut. The beautiful, roaring cascades, surrounded by stunning mossy rocks are an absolute experience.
While Wadsworth Falls is not quite as powerful as some of the other waterfalls in Connecticut, it's best to experience this waterfall after a good rain.
Height: 40 ft
Swimming: No
Location: Wadsworth Falls State Park in Middlefield, CT.
12. Stair Brook Falls
Stair Brook Falls is a waterfall located in the town of North Branford, Connecticut. A popular site for photographers and those who enjoy the outdoors, it's just a short hike from the parking lot to the base of this lovely waterfall.
Stair Brook Falls has several small cascades, which are enjoyable, and the main plunge is really spectacular.
Height: 40 ft
Swimming: No
Location: James Valley Preserve in North Branford, CT.
13. Burr Falls
If you're looking for a great day hike with a beautiful payoff, Burr Falls Waterfall is the perfect destination. This amazing waterfall in Connecticut is nestled in the heart of Litchfield County, and while it might not be as well-known as other state landmarks, it has all the natural beauty and splendor of something like Niagara Falls — without all of the tourists.
The hike to Burr Falls is short, which makes this a great spot if you've got kids or just want to have a picnic by a waterfall without lots of hiking.
Height: 45 ft
Swimming: No
Location: Burr Pond State Park in Torrington, CT.
14. Dean's Ravine Falls
Located in Litchfield County, Connecticut, Dean's Ravine is a popular hiking destination. It is a waterfall that cascades down a steep ravine into the Middle Branch of the Housatonic River.
Comparable in majestic beauty to some of New Hampshire's 5-star cascades, this waterfall is stunning. This trail is located on the blue-blaze section of the Connecticut portion of the Appalachian Trail, which makes it a great stopping point on an intense hike.
Height: 50 ft
Swimming: No
Location: Canaan, CT. (Connecticut Forest and Park Association Managed Land)
15. Yantic Falls
The Yantic Falls are located in the southeastern part of the state of Connecticut in New London County. They're a spectacular sight of rushing water, particularly during the spring thaw or after a good rainstorm.
The river falls over 40 feet from its crest to below, making it one of the highest falls east of the Mississippi. This waterfall is named for an Indigenous Tribe that still exists in this region.
It's part dam and part natural, which increases the force of the water and makes it an absolute sight to see.
Height: 40 ft
Swimming: No
Location: Yantic Falls Park in Norwich, CT.
Connecticut's waterfalls are some of the most beautiful in New England. Enjoy!