If you have a kid that loves dinosaurs, the Dinosaur Place at Nature's Art Village in Montville, Connecticut is the perfect place for a fun, dino-filled day.
Located at Nature's Art Village, this dinosaur park is a hidden Connecticut gem. Located near the Nehantic State Forest and right down the highway from the beautiful Devil's Hopyard State Park, The Dinosaur Place is a little slice of our collective childhood imaginations right in the middle of nature's majesty.
Just head down (or up) Route 82 and look for the giant T-rex that's set just off the road. He might be wearing sunglasses, a witch's hat, or bunny ears, depending on the time of year.
Whatever he's wearing, you won't miss him.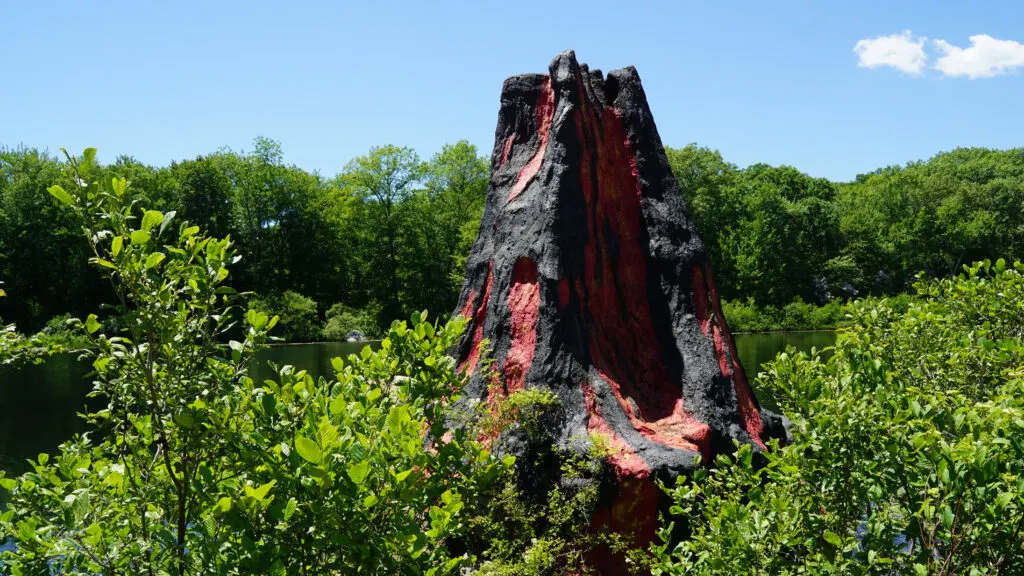 What should I bring to the dinosaur park?
Bathing suits
Connecticut has great weather, but summer hits us, too. The trails in this dinosaur park are nice and shaded, but the coastal humidity can make it feel much hotter than it really is.
By the time you get to the splash pad, you're going to want to get under a sprinkler. So, come ready to suit up.
Stroller
This place is a blast for kids, as well as adults. The dinosaur trails are a bit long, however. So, if you've got a baby or very young toddler with you, save your back and bring a comfortable stroller along.
Food & drink
During the busy months, there is a concession stand open at the end of the dinosaur path. However, outside food and beverage are allowed. So, pack a little cooler with cold water and some sandwiches if you want to save a few bucks and make sure everyone is fed and happy.
Footwear
Not only will you need some decent walking shoes for walking along the trails and perusing the dinosaur exhibits, but if your kids are going to want to play in the splash pad, they'll need some water shoes.
Also, the T-rex Tower located at Monty's Playground requires socks for entry.
Are pets allowed at the Dinosaur Place?
No. Unfortunately, pets are not allowed. If you are visiting from out of state, you'll have to find care for your furry friend.
Luckily, southeastern Connecticut is full of wonderful, animal-loving people. Just hop on the local Facebook group or browse your favorite search engine and you're sure to find someone willing to pet sit for a few hours while you walk the dinosaur trail.
What is there to do at the Dinosaur Place in Montville, CT?
There is nothing this fun Dinosaur park doesn't offer. When you come, plan for a full, fun-packed day.
You start the day by entering through the gift shop and buying your tickets. You'll be leaving through the gift shop, too, so don't worry about forgetting to grab souvenirs.
Next, you'll get to watch a volcano erupt and peak into a dilophosaurus cave. (Heads up, it can be a little frightening for toddler-age kids.)
Then you move along the trail to discover some very large and very cool dinosaurs. Educational dinosaur-related information is available as you look at the giant dinosaur models.
Just when your mind (and feet) need a break, you will reach the A"MAZE"asaurus maze. There are some benches for resting and a tower for helping guide your family through the maze after you are all rested up.
After the maze, it's back to the dinosaur gazing and then onto the splash pad, concession stand, and playground.
Don't forget to pick up a t-shirt (or a dinosaur) at the gift shop before you leave. There are some fun shops next door, too.
Splash pad
Maze
Monty's Playground
T-Rex Tower
Gift shop
Nature's Art Village shops (located right next door)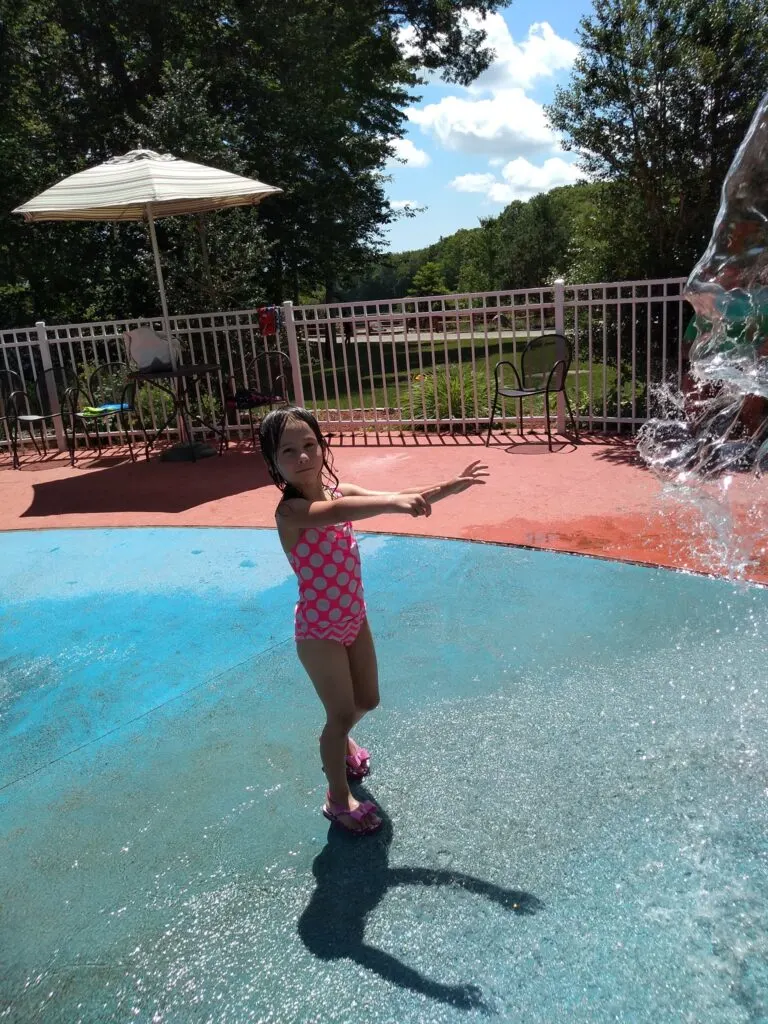 Prices at the Montville Dinosaur park
So how much does it cost to visit this awesome Connecticut dinosaur park?
Well, if you're under 2, you get in for free. If you're old enough to read this, though, entry to the Dinosaur Place is going to cost you quite a bit more.
Here are the current prices:
Toddlers -$27.99
Children -$31.99
Adults – $27.99
Seniors – $25.99
Season's tickets are generally available for a (very) limited time during the Spring and they do offer military and senior discounts.
Is it worth it? In my opinion, absolutely.
The sheer size of the dinosaurs in this park will make a lasting impression on your kids. The fun and memories you make together along the trails will leave you feeling like your money was well spent.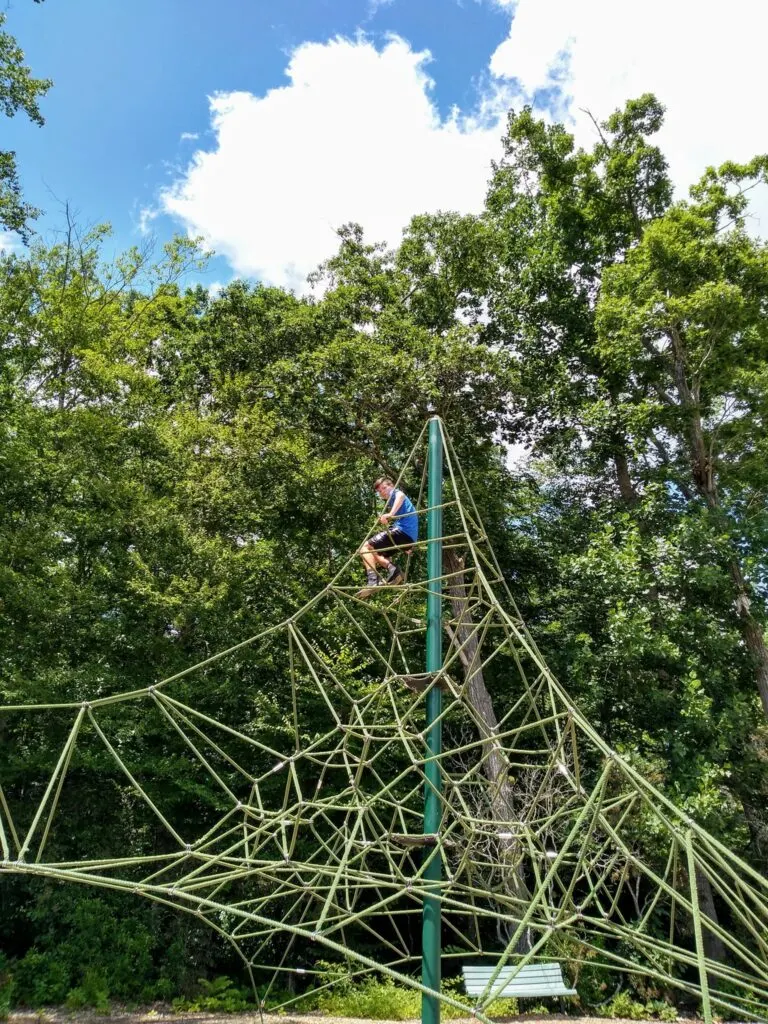 Dinosaur Place Address and Hours
Address:
1650 Hartford-New London Turnpike, Oakdale, CT 06370
Hours:
A"MAZE"asaurus: 10:00 AM – 6:00 PM
Monty's Playground: 10:00 AM – 6:00 PM
Splash Pad: 10:30 AM – 5:00 PM
The Dinosaur Trails & Caves: 10:00 AM – 6:00 PM
T-Rex Tower: 10:30 AM – 5:00 PM
My family absolutely loves this dinosaur park. The kids enjoy walking the dinosaur trail, posing for photos with the larger-than-life dinosaurs, and brushing up on their dinosaur facts.
We adults enjoy that at the end of the trail there is a splash pad for everyone to cool down at, food to eat, and a playground where we can sit and relax while the kids burn off the last of their energy stores.
If you are in or around Montville, Connecticut and you are looking for a fun, family-oriented outdoor activity and you've got some cash to spend, I highly recommend the Dinosaur Place at Nature's Art Village.
Visit The Dinosaur Place at Nature's Art Village website.
Have you visited the Dinosaur Place in Montville? If so, how did you like it?