They say having a good cup of joe in the morning can be the break or make for the rest of the day. But why is it that finding the absolute best coffee shops in Connecticut is always word of mouth with hidden-hole-in-the-wall cafes serving Brazilian imported coffee beans?
Not anymore.
While it may be taboo to give away the secret best coffee shops of Connecticut, they are all just too good to not deserve your business.
Plus it's all about spreading the love these days. So here are our top 10 best coffee shops in Connecticut that you just can't miss.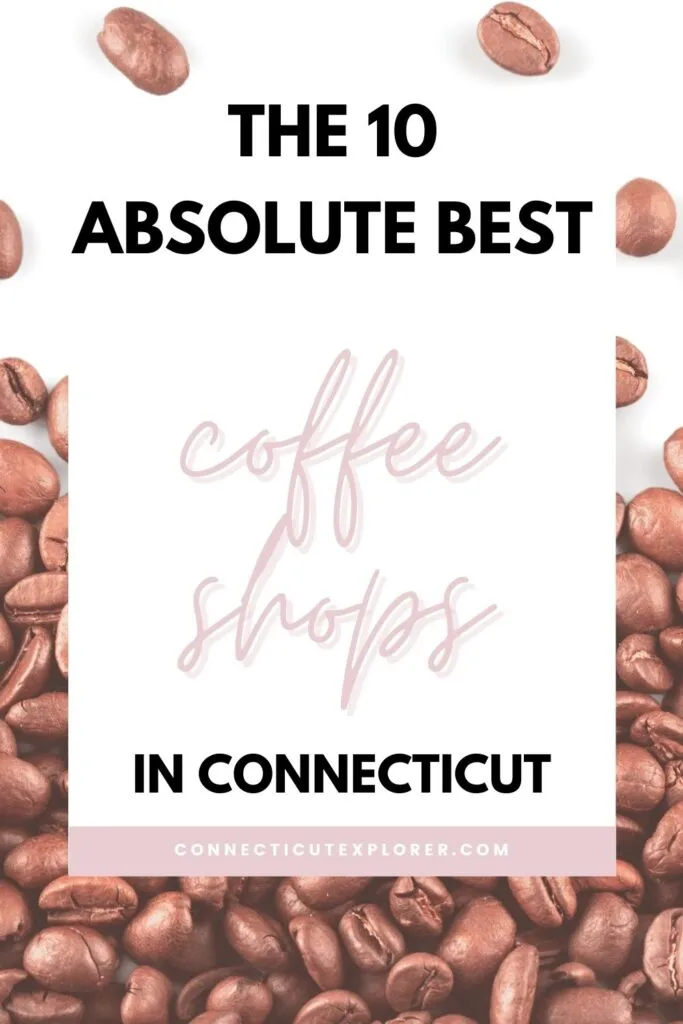 The 10 best coffee shops in Connecticut
1. Allora – Norwalk, CT
Allora Coffee and Bites has been serving deliciously healthy food with locally roasted coffee for quite some time.
The concept was inspired in the beautiful Cinque Terre by an American-Italian family that centered coffee around everything from neighborhood gatherings to family breakfast.
With cold brew on tap and a signature espresso locally blended there is something for every coffee lover.
Alternatively with three types of Chai and a selection of protein scoops and immunity boosts, you can have the best of both worlds. Healthy and delicious. Who would have ever thought?
515 West Ave, Norwalk CT
Website: Allora Coffee
2. Giv Coffee – Canton, CT
Giv Coffee is all about the name. Giving.
The couple who now owns a beautifully warm and inviting revamped house into a coffee shop, started this by bringing back 80 pounds of coffee to roast for the community. To give further part of the proceeds to charity and those in need.
Now when you walk into Giv coffee, reclaimed wood decor, and a hand-crafted pour-over, you'll feel right at home. Giv has at least 11 blends available for purchase so you'll just have to stop in every day.
195 Albany Turnpike, Canton CT
Website: Giv Coffee
3. Rebel Dog – East Hartford, Plainville, Farmington CT
Rebel Dog has gone far beyond the coffee offering an expansive menu of yummy eats, coffees, and teas. But it doesn't end there with an all-day menu of burgers, salads, and more.
So for those looking for a coffee shop plus more, Rebel Dog is the spot for you,
Rebel Dog is accessible to a lot of Connecticut as they have three locations including East Hartford. You can also find their other locations in Plainville and Farmington.
361 Main St, East Hartford CT
345 Colt Highway, Farmington CT
393 Farmington Ave, Plainville CT
Website: Rebel Dog Coffee Company
4. Willoughby's – New Haven, Madison, Branford, CT
In 2018 Forbes recognized Willoughby's as one of the top coffee roasters in the United States. Do we need to write more or are you already on your way?
Founded in 1985 by Bob Wiliams and Barry Levine, their sole mission was to produce the finest Arabica coffee possible.
World imported coffees make it impossible to pick just one treat. That's why picking their coffee samplers is a great way to start.
550 E Main St, Branford CT
258 Church St, New Haven CT
752 Boston Post Rd, Madison CT
Website: Willoughby's Coffee
5. Ashlawn Farm Coffee – Old Saybrook, CT
When it comes to Ashlawn Farm Coffee there are two very important things you need to know. The first? It's WOMAN-OWNED. Hip Hip Hooray!
The second? It's your quintessential New England farmhouse with every detail thought out from the bakery aromas to the woodwork interior.
Gulp back a smooth cold brew in their environmentally friendly to-go cups or sip down a warm cappuccino in-house with quaint mugs and good company.
Ashlawn Farm has been doing it for 19 years and has yet to miss a beat.
455 Boston Post Rd #1, Old Saybrook CT
Website: Ashlawn Farm Coffee
6. NEAT – Darien, CT
NEAT is the type of coffee shop you find yourself sitting at all day long. This is especially true in the summertime.
Serving up an original, their Not-So-Neat Cold Brew Iced Latte is a winner. But if you are looking for something more basic then you will find macchiatos, cappuccinos, and more waiting for you.
Don't worry there is something for tea lovers and sweet tooths as well! And with a lengthy open to close schedule you'll have plenty of time to make multiple work breaks.
20 Grove St, Darien CT
Website: NEAT Coffee
7. GG and Joe – Wesport, CT
Looking for something a little boogie? Well GG and Joe have an elegant and chic style that will go right up your alley. A new hopping coffee shop in downtown Westport.
While it's not an extensive menu there's nothing not to love from their food to their coffee. We're talking acai bowls, avocado toasts, and any kind of coffee you want or need.
And even though everything tastes amazing their syrups for flavoring use whole ingredients and unrefined sugar. Now there's no reason to order double coffees!
20 Grove St, Darien CT
Website: GG & Joe
8. Story and Soil Coffee – Hartford, CT
This wouldn't be a "Top 10 Coffee Spots in Connecticut" list without Story and Soil Coffee in the Capitol. The name speaks for itself as the walls are filled with plants and the records always spilling cool music as customers sip on Spanish lattes and pour-overs.
Story and Soil brings the earth vibes many coffee lovers rejoice over. And with that, this cozy space offers many different roasts bringing specialty back into Hartford.
387 Capitol Avenue, Hartford CT
Website: Story and Soil Coffee
9. Muddy Waters Cafe – New London, CT
This spot isn't only for the students at Conn College as many locals love to come to Muddy Waters Cafe for a great brew while overlooking the Thames River. Offering just about everything you need from your coffee to your breakfast bite you can't go wrong here.
And while this is a list of the best coffee shops in Connecticut you can get a number of other classics like Hot Cocoa, Apple Cider, and warm tea. Perfect for a fall day in New England.
42 Bank St, New London, CT
Website: Muddy Waters Cafe
10. Batchy Brew – Torrington, CT
Last is certainly not least and this mobile coffee joint is a must-visit. It's relatively new but that hasn't stopped customers from tracking the coffee on wheels down. Whether you want an Espresso or a Machiatto, this family-owned business works hard to produce the quality cup of coffee they want their customers to have.
19 Mc Dermott Ave, Torrington CT
Website: Batchy Brew Coffee Shop
With the bustle and hustle of the East coast, coffee is a must. Good coffee, however, isn't always easy to find but with this list of the best coffee shops in Connecticut, you are sure to never go wrong again.