If you're on the hunt for the best desserts in CT, you've come to the right place.
I've got a notoriously sweet tooth in my house and my family and friends know that I'm the top resource for all the best bakeries, restaurants, and chocolate shops around that will satisfy my cravings.
I've written about where to go for certain sweet treats, like donuts, milkshakes, and ice cream, but I just had to circle back around to list my favorite places to get desserts. (There are a couple of these spots on my list, though!)
Whether you're looking for a place to sit and be served some yummy cakes (think an afternoon tea spot) or you want to order something and pick it up for a special occasion, you'll find something on this list.
I'm understandably excited about this list, so let's get right to it.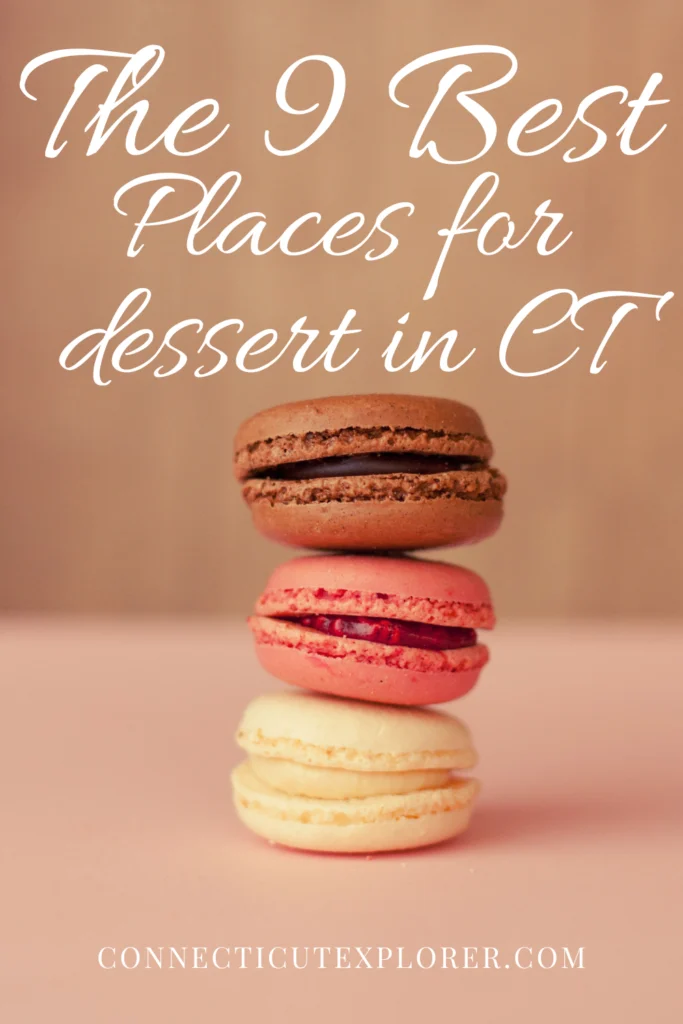 The 9 places with the best desserts in CT
Whether you're in the mood for cakes, pastries, or gelato, you'll find what you're looking for at Mozzicato.
Come sit in the Italian-style cafe and enjoy a coffee and delicious fresh-made dessert of your choice.
Everything is amazing here, but the stand-out dessert is definitely the Cannoli. It's hands-down the best in the state.
Mozzicato not only serves up the best desserts in CT, but they have several locations.
So, no matter where you are in Connecticut, you don't have too long to drive to get to one.
They also bake some of the most grand and tastefully decorated artisan wedding cakes in CT.
Rocky Hill Address: 412 Cromwell Ave., Rocky Hill, CT 06067
Middletown Address: 762 Washington St., Middletown, CT 06457
Wallingford Address: 731 North Colony Road (RT 5), Wallingford, CT 06492
Plainville Address: 125 New Britain Ave., Plainville, CT 06062
Hartford Address: 329 Franklin Ave., Hartford, CT 06114
If you're looking for some incredible desserts served in a fine dining atmosphere, Pistachio Cafe is your place.
The desserts here are absolutely amazing and range from items like Kunafeh to Tiramisu and tarts.
There are also a few tasty ice cream options served here, as well.
I love this place because of all the unique and flavorful pistachio desserts on the menu.
Pistachio Cafe has 2 locations to choose from, both in New Haven.
Address 1: 911 Whalley Avenue, New Haven, CT
Address 2: 1245 Chapel Street, New Haven, CT 06511
It really doesn't matter who you ask, By the Way Bakery is on everyone's list of places that serve amazing desserts in CT.
The desserts here are all homemade, gluten-free, and dairy-free. Everything's also certified Kosher. (They even have a Passover menu.)
Basically, all the boxes are checked here.
You don't have to be gluten or dairy-free, though, to enjoy the desserts here.
The Fudge Brownie Cookies here are to die for and don't get me started on the Lemon Tea Cake.
There are a few By the Way Bakery locations in and around New York City and one in Connecticut.
Address: 19 East Putnam Avenue, Greenwich, CT 06830
Whether you're in the mood for sweet breakfast bread, a batch of artisan cupcakes, or a dessert pastry, Royal Bakery in Shelton has you covered.
From cheesecake to cream horns, everything here is amazing.
Everything at Royal Bakery in Shelton is made fresh and by hand, and the effort shows in the taste.
I'm a big fan of cheesecake and I highly recommend that if you're looking to order one, order it from here.
Address: 34 Huntington Street, Shelton, CT 06484
A visit to Hen and Heifer bake shop in Guilford is a treat for all of the senses.
The cakes and pastries here are beautifully crafted, delicious smelling, and taste incredible.
Here, you will find things like matcha tarts, toffees, chocolate bark, and so much more.
The cakes, though, are over-the-top delicious and are made with very unique flavors.
This is where you go when you want to really impress your guests (or yourself) with a tasty, high-end dessert.
Address: 23 Water Street, Guilford, CT 06437
I love Wallingford (yeah, I said it). My favorite Filipino restaurant is there and they've got the Toyota Oakdale Theatre, as well – they host so many great concerts and events.
Neil's Donuts, though – I've driven over an hour just for these donuts.
There are tons of unique donut flavors here, but my favorites are the Samoa and the Maple Bacon.
There's also a second location in Middletown that's just as great.
Address: 83 North Turnpike Road, Wallingford, CT
Address: 211 South Main Street, Middletown, CT 06457
I've always loved Sift Bakery in Mystic, and I was one of the first people in line when the Niantic location opened up.
Sift is a French-style bakery that serves, without question, the best Macarons in CT.
They also serve chocolate tarts, cheesecakes, and more.
The Sift Bakery website makes it very easy to order online for a fast pickup.
Mystic Address: 5 Water Street, Mystic, CT 06355
Niantic Address: 185 Main Street, Niantic, CT 06357
The Sundae House in Milford is specifically an ice cream shop, but I just had to include it on this list.
Sometimes, when that sweet tooth hits and you can't decide what you want, the only solution is ice cream.
The Sundae House serves delicious and unique flavors like Banana Cream Pie and S'mores.
There are tons of sundae options, as well as banana split options.
This iconic ice cream shop is seasonal, so it's not open during the fall and winter.
Address: 499 New Haven Avenue, Milford, CT 06460
If you're in the mood for some truly decadent chocolate treats, Be Chocolat in Fairfield is worth a visit.
Everything here is hand-made in small batches by a master Belgium chocolatier.
Here, you will find high-end chocolates in a variety of flavors for purchase.
If you're like me and you'd rather have your chocolates delivered right to your house, their website lets you order online and have it delivered.
You can order online and pick up your items, as well.
Address: 75 Hillside Road, Fairfield, CT 06824
---
There you have it – the 9 best bakeries and restaurants that serve up the best desserts in CT.
Did your favorite spot make the list?
If not, leave a comment below and tell us where you go for a delicious dessert. What do they serve that you recommend to the readers?
We love getting feedback on our lists and hearing about new places and hidden gems!