Connecticut has a lot to offer in terms of nightlife, social gatherings, and fun events, and places to do with friends or family.
With so many campuses and large companies bringing people from all around the country, Connecticut has built many highly rated and super fun places to check out.
Whether you are just looking for fun or a place to make a regular weekend on the town out of, these cities with the best nightlife in Connecticut are sure to spark some inspiration for you.
There have been years of building up good reputations and rapport with guests, so these businesses have been around and know what it means to offer consistent, quality service to their patrons.
So, if you're gearing up to find some fun new places that are opening up now, then keep reading for our choices of the cities with the best nightlife in Connecticut!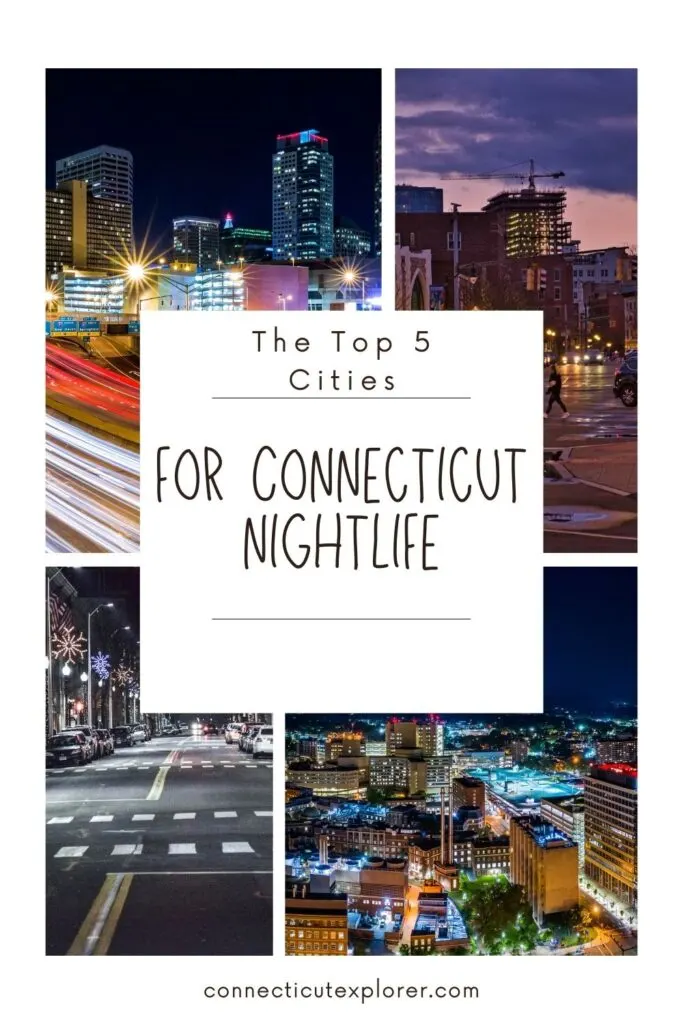 Connecticut Cities With the Best Nightlife
1. New Haven, CT
We can't talk about the best cities in Connecticut without mentioning New Haven.
While we have been lead to believe that Yale and New Haven are the bread and butter of Connecticut, there are other cities with a lot to offer, but New Haven definitely has some one-of-a-kind nightlife spots.
Elm City kicks it off. For many years, The Anchor, and has been rising in popularity. These places are for those looking to dip into some new watering holes.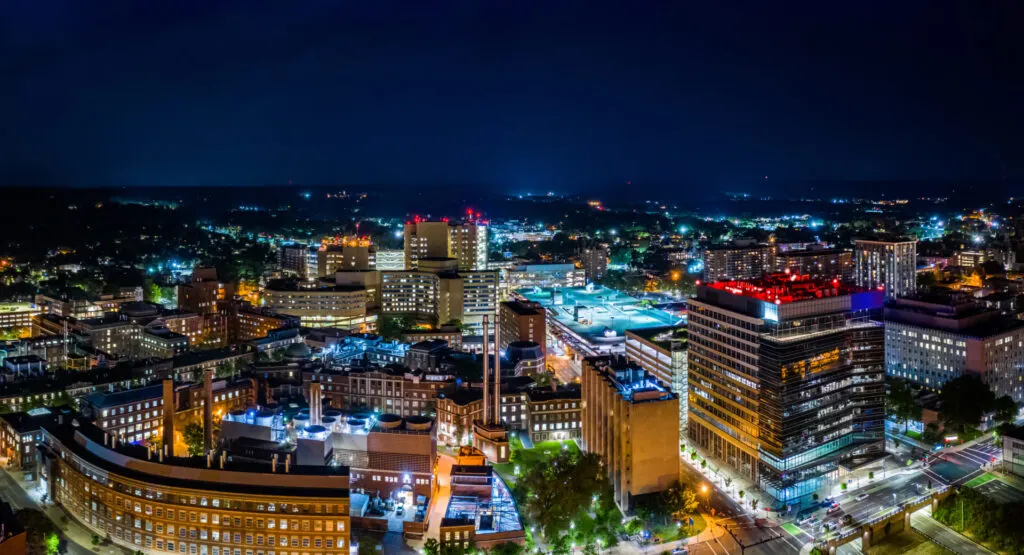 Toad's Place is a rising destination as well, and the College Street Music Hall is up and coming as well. Now, if you're a jazz lover, then Firehouse 12 has plenty to offer.
If you prefer a quaint night out with good music and drinks, then we recommend Firehouse 12 for sure.
But, for the ones who want a little more hustle and bustle, then Crown Street Club has the perfect nightlife club scene and is most popular on Fridays and Saturdays.
2. Hartford, CT
The capital of Connecticut has many different nightlife options to offer. But the downtown area, in particular, boasts lots of different nightlife options no matter what you prefer for your night out on the town.
Hartford has an entire downtown club district dedicated to offering the best of the best in terms of clubs, bars, and nightlife.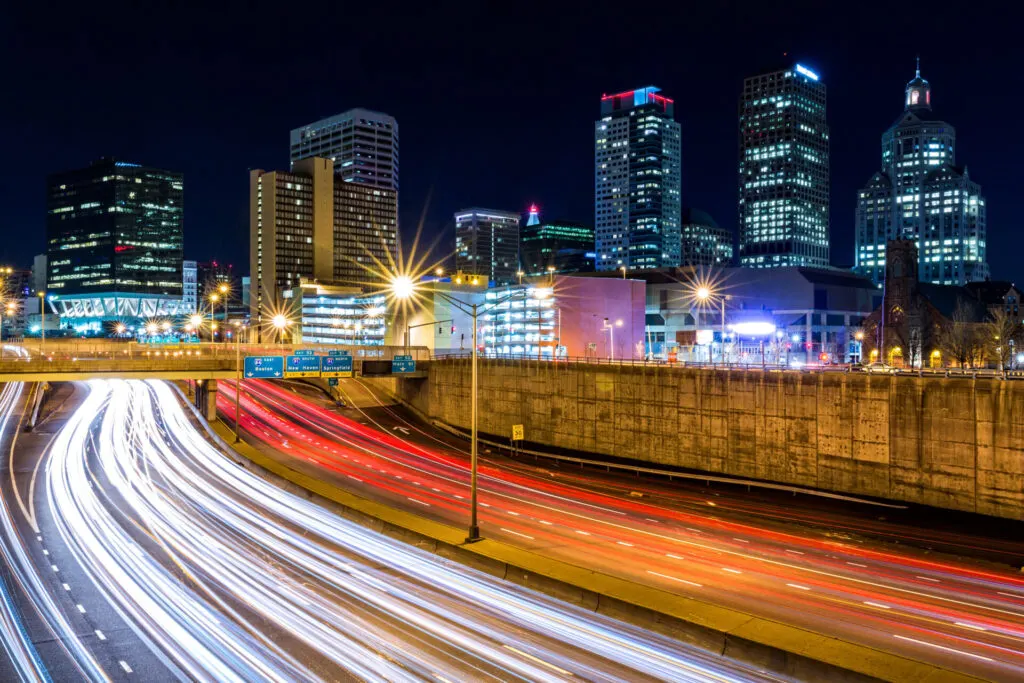 Allyn Street has a couple of bars left, and with the coming Hartford-New Haven-Springfield railroad, many are sure to be flocking down to downtown Hartford for their night out.
Black-Eyed Sally's has arguably the best jazz and blues music in all of Connecticut. For live sports, too, downtown Hartford satisfies the Yard Goats, UConn Huskies, and the Wolf Pack fans year-round.
If you are looking for some places to dine before you hit the town, definitely check out these amazing Hartford restaurants!
3. Bridgeport, CT
Bridgeport is one of the more quaint cities in Connecticut. Fairfield Avenue is home to quite a few clubs and bars that make up Bridgeport's Black Rock section.
Always boasting with life, Bridgeport has a lot of history and fun new places that merge together with long-lasting Bridgeport and Connecticut culture.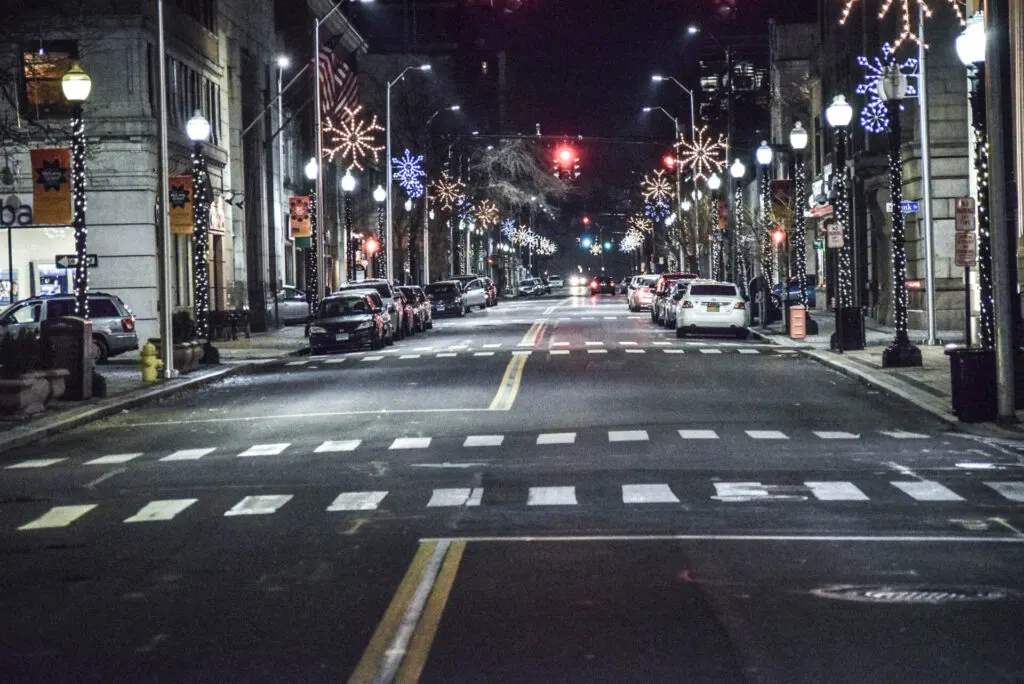 There are restaurants and watering holes all around to choose from, but we recommend the live local music presented at the Acoustic, or if you just want to grab a late bite to eat, then the Fire Engine Pizza Co. has plenty of beer and pizza to fill you up until next time.
4. The Casinos
We can't make this list without mentioning the wonderful casinos we have in Connecticut.
If you want to feel like Vegas without flying all the way out there, then head over to Mohegan Sun or Foxwoods Casino. Both casinos have tons of bars, entertainment like live shows from A-List artists, and restaurants.
Mohegan Sun has about seven clubs and bars, including comedy or Irish pubs, even tiki bars and dance clubs! Their 10,000 seat arena has hosted huge touring acts from artists around the country.
Foxwoods is very similar, but unique in its own ways. They have many bars and clubs, concerts, and a wealth of activities, but no matter which one you choose–or if you go to both–you'll agree that the nightlife in Connecticut doesn't stop and end in any one city.
5. Stamford, CT
Stamford has nightlife options that can fit in with any budget. Whether you want the high-end experience or the reasonably budgeted night out, Stamford has a mix of everything.
Modern bars, nightclubs, high-end and luxury dining, have the big city feeling in a smaller, more accessible way. Starting in July and continuing through August, the downtown Stamford area is bubbling with Thursday night events, like the Alive@Five concert.
But, year-round, you can always come to check out the bars like Cask Republic and clubs like Tiernan's Bar & Restaurant.
---
There you have it! We hope you find something that floats your boat and gets you back out enjoying the nightlife in Connecticut safely!
There are lots of options to choose from so we hope you check out their sites and get up to date on their new business hours.
Places are slowly opening back up, so now is the perfect time to beat the crowd and start enjoying Connecticut nightlife again!