With the summer months speeding ahead, there's no better time to start checking out the fantastic breweries that Connecticut has to offer.
Since the first brewery opened in New Haven, CT in 1659, many up-and-coming and reputable businesses have followed Stephen Goodyear's path in starting quality brewery businesses.
Since you're here, you must be a beer lover! We know that it's hard to find the best breweries that are worth returning to, so now you can find the best recommendations all in one place.
You can make a day trip out of it, or go brewery-hopping, either way, you don't want to miss out on these incredible breweries in Connecticut!
There are over 110 breweries in the state of Connecticut, so it was not an easy feat, but we are confident you will find something that's right up your alley from this list.
Whether you prefer a dark ale or pale blonde, you're sure to find a brewery in Connecticut that's right up your alley with this list of the 10 Best Breweries in Connecticut!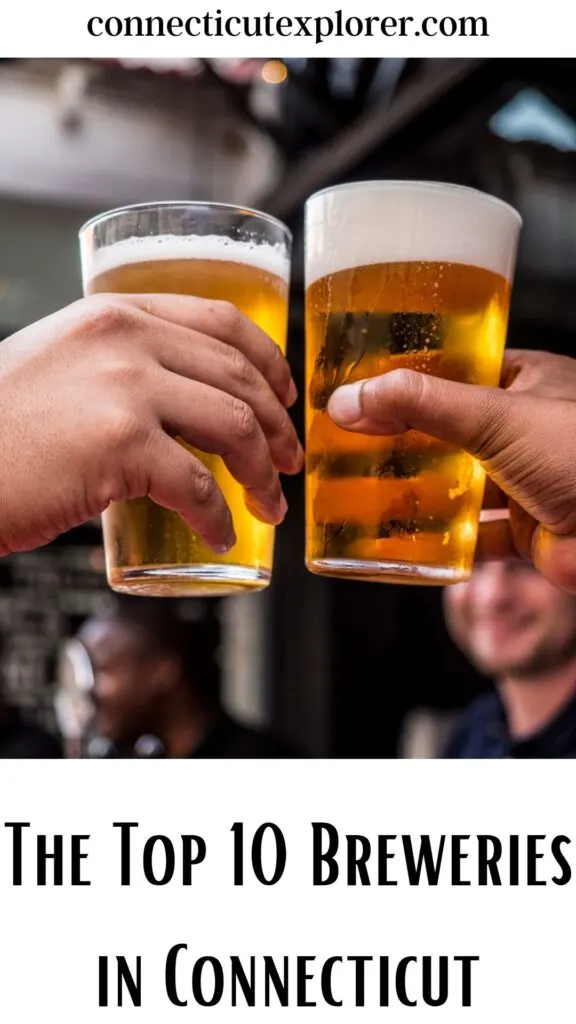 10 Best Breweries in Connecticut
1. The Kent Falls Brewing Company – Kent CT
Are you a farmhouse ale lover? Then you will be at the right place if you visit the Kent Falls Brewing Company.
They are all about the local ingredients that are right at their disposal. Their farmhouse ales are a mix of craftsmanship and ingenuity. You can select from saisons to sour ales, either way, you will not be missing out on the complex, yeasty brews that they have to offer.
How about IPAs? You can find IPAs here too! Get all the soft, flavorful, full-bodied IPAs right here at the Kent Falls Brewing Company.
Their most popular beer is the Farmers Table, which is a table beer that is dry-hopped, tart, a little funky, and finished off with Cascade. With a full 3.8% ABV, it's packed with scrumptious, citrus flavors that will last long after you've left the brewery!
33 Camps Rd, Kent, CT, 06757
2. Cole's Road Brewing – Berlin, CT
Now, this place is definitely special. They have focused on the smaller scale, hoppy ales that are sure to be expertly brewed.
They use only the best quality of hops to experiment and make new brews that are unique and specific to their brand. From IPAs to pale ales, their flavors consist of lagers, stouts, fruited sours, and more hoppy beers to make their lineup shine.
Their small production mindset gives them the opportunity to sell directly from their Berlin location. Our recommendations? Try the Citra hops, and their Filmore East, which is a NEIPA brewed with Galaxy.
Check out Cole's Road Brewing!
817 Farmington Ave, Berlin, CT, 06037
3. New England Brewing Co. – Woodbridge, CT
Founded in 2003, the New England Brewing CO. aka NEBCo, has continued to innovate and cultivate a loyal customer base with their fun and unique beers.
They brew a wide range of styles of beers, so no matter what kind of beer-lover you are, you will find your match here!
They make their hops shine, though, so if that's what you're looking for, look no further. They use the classic West Coast brews to build new takes on hops.
Their most popular brew is their Fuzzy Baby Ducks–a super juicy, very citrusy IPA with a soft sip feeling and burst of flavors from citrus to mango.
175 Amity Rd, Woodbridge, CT, 06525
4. Twelve Percent Beer Project– North Haven, CT
This little brewery nestled in North Haven, CT operates a little differently. They find smaller craft breweries to sample and then brew their beers bigger, and better.
At their brewery, you can sample many flavorful cans from the country's most popular breweries–that's right, you can basically sample the Nations' beers right here at Twelve Percent Beer Project.
They have the Evil Twin, Stillwater, and Hoof Hearted brews, but they also carry hidden gems like Fat Orange Cat Brewing Co. and the Abomination Brewing Company.
341 State St, North Haven, CT, 06473
5. OEC Brewing – Oxford, CT
Find your perfect mix of traditional brewing and innovation here at OEC Brewing brewery in Oxford, CT. that is partly why they are of the country's most unique and popular breweries.
They ferment their beers with oak, stainless steel, and concrete mixes. While they make new brews, they also use historical techniques and equipment to give their brews the optimal mix of new and timeless.
Their most popular brew is Petanque, a barrel-aged saison mixed with a foeder-aged witbier. It's acidic, soft, and rustic, and definitely, a must-try!
7 Fox Hollow Road, Oxford, CT, 06478
6. Two Roads Brewing Company– Stratford, CT
You might be overwhelmed the first time you walk into the Two Roads Brewing Company, but that's okay! They have plenty to choose from, and that is because their brewer Phil Markowski is the authority on farmhouse ales.
They've got the more traditional styles like the Helles that they brew with traditional methods, but they innovated and fit modern times as well with their New England IP and American beers.
Their Workers Comp Saison is our recommendation, it will check all the saison notes boxes, give the refined spicy, rustic, and dry, complex taste that you're looking for.
1700 Stratford Ave, Stratford, CT, 06615
7. Fox Farm Brewery– Salem, CT
You can check out one of the best breweries in America right here in Connecticut at the Fox Farm Brewery in Salem, CT. they specialize in the New England IPA but also offer some German-inspired lagers. You might have to pace yourself here because their beers are way too drinkable!
Their most popular has to be The Cabin–a lightly smoked Helles that's the right amount of full-bodied, rich, and downright delicious. The Fox Farm Brewery is a must-visit place, you can get the beers right from their Salem Brewery.
62 Music Vale Rd, Salem, CT, 06420
8. New Park Brewing– West Hartford, CT
Calling all IPA lovers!
The New Park Brewing's lineup of hazy IPAs is sure to satisfy. They also have a fruited Berliner Weisse that's tasty and timeless. Since 2017 they have made room for themselves and fit right in with the breweries and beer lovers that travel to taste the best beers!
We recommend their Spectrum, a double IPA that is wheat-heavy and packed with juicy flavor.
485 New Park Ave, West Hartford, CT, 06110
9. Little House Brewing Company– Chester, CT
If you are anywhere near the town of Chester, you have to check out this little brewery! Nestled in a cute little historic home on Main Street, Little House Brewery has maximized its space and provided big flavors for its growing customer base. They have innovated American beer and provide Jorts!, a sabro-hopped pale ale that is juicy and tasty!
They rotate their best beers on tap and have a beer garden for small hangouts. This is the perfect hang-out spot and perfect for local beer lovers!
16 Main St, Chester, CT, 06412
10. Tribus Beer Co.– Milford, CT
Get your fill of crisp lagers, IPAs, fruited sours, and more here at Tribus! They study the trending brews and come back with innovative, quality renditions of the best flavors and beers.
They have the highest quality beers no matter what brew you pick up.
Juice Cleanse is their super sour ale with mixes of El Dorado hops and Sabro, packed with flavor notes of mango, blueberry, lactose, and acai! Sounds good?
I know, my mouth is watering already! No matter what you prefer, you can find it here at Tribus Beer Co.
100 Raton Dr, Milford, CT, 06461
That's it from us! Get out there and try out the 10 best breweries in Connecticut!