Connecticut is a very influential state in the New England area. The state attracts many people from around the country – people even choose to move to Connecticut from across the globe!
All the award-winning institutions and colleges and healthcare companies that call Connecticut home bring a diverse population to the beautiful state.
If you are an academic, worker, or just a traveler, there are many good reasons to take the leap and start calling Connecticut home.
We have done our bits of research, and are glad to bring you our top 15 reasons why you should move to Connecticut.
If something sparks your interest, we hope you look into it further and see something that may interest you.
Connecticut is a melting pot of culture, diversity, experiences, and more. So keep reading and check out our 15 reasons to move to Connecticut!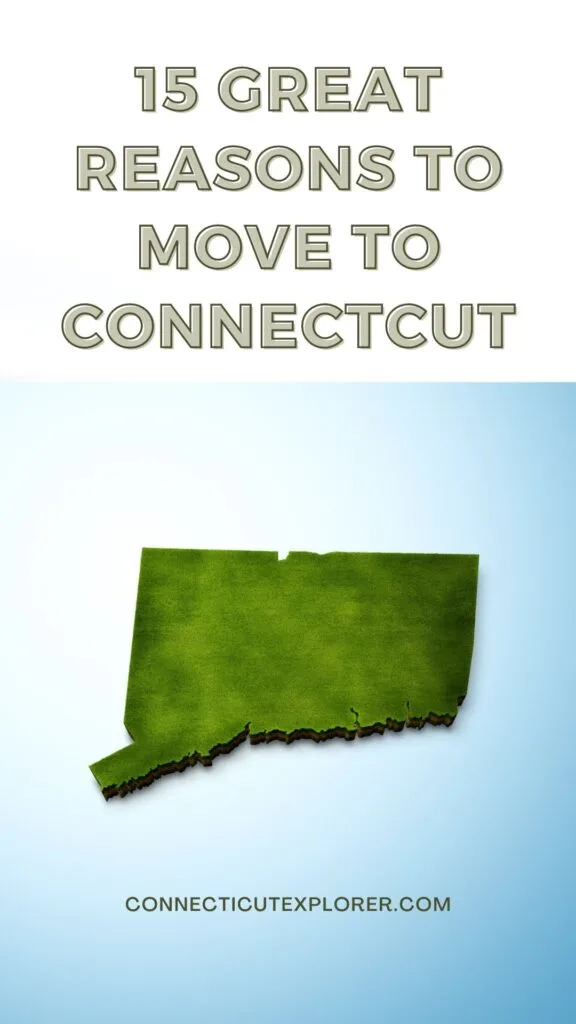 15 Reasons Why You Should Move To Connecticut
1. Academics
Now we're sure you know about Yale in New Haven, Connecticut. It is not all Connecticut has to offer, but it is the most popular destination for young adults and students.
There are many other great schools here, like the University of Connecticut and Quinnipiac University for nursing students.
The Ivy League usually always takes the cake though, and Yale is a beautiful campus with lots of art, book stores, events, and more to offer!
Having top colleges isn't the only academic area where Connecticut shines, though. Our K-12 education scores near the top, as well!
2. No Sports Fanatics
This may sound counterintuitive, as people usually want to live in the state of their favorite football or baseball team, but since Connecticut is not home to any sports teams, it leaves a bit more room for quiet living and minimal traffic with year-round sports.
But, we are still in the New England area, so you have the Yankees and Red Sox within hours by train or car.
3. Fairytale Winters
If you have dreamed of watching falling snow during winter months, ice skating, white roads, and a practical winter wonderland, then Connecticut is the place for you.
Every city does a great job of snow plowing and road maintenance, so even when you have a workday or need to get somewhere, the beauty of a Connecticut winter won't bother you.
People from southern states often cite snow as a reason not to move to Connecticut. However, with the resources Connecticut dedicates to making sure Nutmeggers are able to navigate the colder seasons, people up here are able to really enjoy the snow.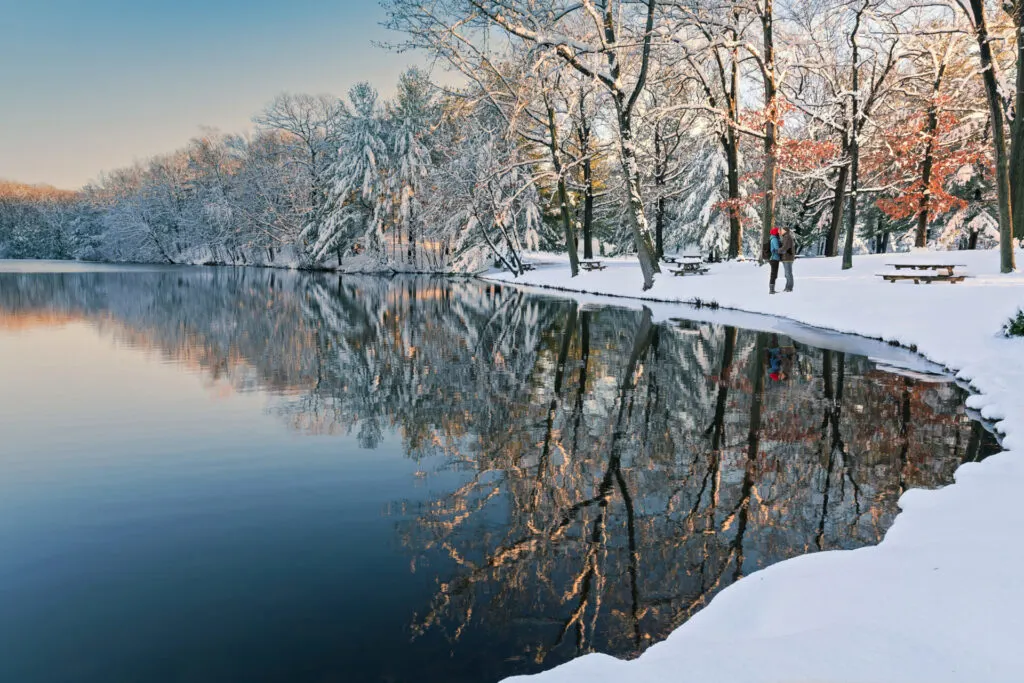 4. The Christmas Holiday Season
With many outdoor ice skating rinks, holiday events, block parties, and more, Connecticut makes for a beautiful holiday season.
It may seem a bit different to include the holidays as a reason for a move, but it is something to consider when you know that you love the holiday spirit and want it to feel like Christmas right after Halloween is over.
5. Quiet!
Connecticut houses a lot of colonial-style small towns that make up clusters of quiet, serene places to live. If you work in the city, it's the perfect setting to come home to.
There are historical taverns, microbreweries around, and more unique shops local to Connecticut that are family-owned and here to last.
If you're looking for exciting nightlife, though, Connecticut has plenty of that, too!
6. Far From Loud Cities
Just like being quiet, it is a bit harder to move into the city where it is louder and more crowded.
Connecticut is more popular for its small towns, suburban districts, and cities like New Haven and Hartford that have a good mix of quiet living.
But, if you do prefer the city, then they have ample housing and a good rotation of tenants. Plus, you are never far from New York City when you live in Connecticut!
7. Deep Fall Seasons
If you plan to live in a home here in Connecticut or own a home, then the fall seasons will make you feel like you just fell into a nature book.
The trees and different plant life in Connecticut are all over our suburbs and cities, so if you don't mind the occasional raking, then a fall in Connecticut will not disappoint.
8. Lobster Rolls!
We can't talk about Connecticut perks without mentioning hot, buttery lobster rolls. Connecticut has some pretty good seafood, given the close proximity to the water and fresh fishing boats.
No matter which city you live in, you won't be far from a toasted, tasty bun filled with chunks of fresh lobster.
9. Open Roads
Maybe you're a car fan, or collect classic cars, or just like to drive–no matter what you are into, the scenic drives all around Connecticut have something new to offer every day.
If you are not a fan of traffic, and I don't know who is, then the tree-filled, paved roads through Connecticut will please you.
10. Ocean Proximity
Connecticut has easy access to quite a few beaches. The Long Island Sound is super popular and has lines of food trucks out for most of the summer months, so you can make a beach day any day!
There aren't many waves at the beaches so it's not for the surfers, but if you just need saltwater and sand, then this is your place!
11. Home of the 'Apizza'
Connecticut makes some pretty darn good pizza.
It's hard to choose who has the best pizza place because they are all so good, but all we know is you can ditch the Dominos and Pizza Hut if you move here.
12. So Much Nature
Where do we start? Connecticut has state parks, trails for walking, running, biking, and hiking–even waterfalls!
If you aren't a nature lover, you will be once you live here. So much is at your disposal to explore.
Some of Connecticut's nature-based offerings:
13. Animal Life
The more woodsy towns will probably have more wild animals than others. They aren't dangerous and keep to themselves, so the occasional deer or even turkey is nothing to worry about.
If you have a home garden or plan to grow fruits or veggies in your backyard, then you may see a raccoon, skunk, or deer.
Some other animals you might see are coyotes, bobcats, foxes, and the very occasional moose!
14. Homemade Ice Cream
If you are used to running to the grocery store for your ice cream and being underwhelmed, that stops now.
There are dairy farms right nearby that deliver local, homemade ice cream to the ice cream shops like Arethusa in West Hartford and New Haven.
Another one of our favorite places to get homemade ice cream is Gum Drops and Lollipops in Niantic. There are so many great ice cream shops here!
15. Original Amusement Parks
If you like the theme park vibe, but not on the scale of Disney World or Six Flags, then the historic Lake Compounce on the waterfront is definitely a destination, and something you won't mind having close by for a quick day trip to do something fun.
Ditch the mainstream theme parks and hit up Lake Compounce, perhaps you will see all the other Connecticut gems along the way!
There is plenty of fun for kids in Connecticut!
---
So, there you have it 15 pretty dang good reasons to move to Connecticut. We've got it good up here. So come join us!