A 16th birthday party is a huge milestone and is worth all the pomp and flash that it can get. If you are trying to find the perfect sweet 16 venues in CT, then you are in the right place because we have done all the hard work for you.
There are so many different party themes and locations to have a birthday party at, but that just makes it all the harder to settle on a decision.
If you know what kind of theme or location you have in mind, then some of these sweet 16 venues in Connecticut may spark your interest.
If all the details have got you down, like the food, and lights, music, or decor, then your life is about to get a whole lot easier after you check out these Top 10 Sweet 16 Venues in CT and find that many of them do a lot of that work as part of their packages!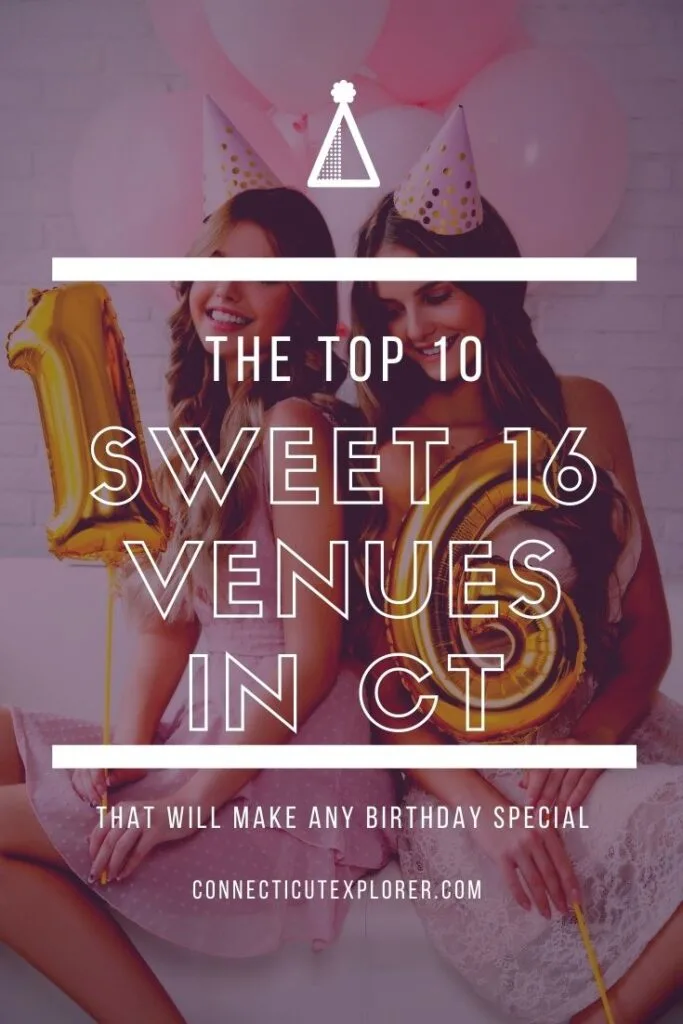 The 10 best sweet 16 venues in CT
1. Super Sweet Sixteens- Stamford, CT
If you want your child to have the best sixteenth birthday party they could imagine, then the Super Sweet Sixteen venue in Connecticut has everything you need to make that happen.
This one is geared toward the girls, but she and her friends will enjoy the themed parties and beautiful event room here.
They have an amazing staff and a well-kept venue that will stand out in pictures and videos. You can bring your own food and desserts and have them served, so it's a stress-free and fun-filled time for everyone!
2. Stoodio- Milford, CT
If your daughter is a dance lover, or just likes to have fun on the dance floor with her friends, then Stoodio is the perfect place to have her sweet 16 party.
Their presentation and decoration options are beautiful and can be tailored toward what your child enjoys.
This night-club-style party venue gives your teen the option of having a taste of the nightlife without going out to real bars. It's the perfect mix of style and fun for your teen and their friends!
3. CT Party Pros Entertainment- Milford, CT
This venue is sure to give you an extraordinary party. They take care of everything, so you can be totally hands-off and focus on having a good time with your daughter and her friends, while you have a hands-free and hassle-free time.
They offer an array of different packages so you are guaranteed to have a great time! Your daughter can get the VIP experience and have a memory she will never forget!
4. TG Event Planning- Milford, CT
If you are planning a sweet 16 for your teenager, then you don't have to worry about anything further if you book with TG Event Planning.
They will take special care of your needs and make sure the party matches your vision. This one is a little different, as it is not a specific venue, but they take out a lot of the leg work so that you can just show up and have a good time!
5. Events by Devon Spears- Milford, CT
This venue is perfect for specializing in sweet 16s. They have so many options to choose from and offer professional staff with loads of experience and an eye for event planning.
They offer photo booths, which can be a super fun addition to the party festivities! With DJs, lighting that you choose, food, and more, you and your teen will have a blast at Events!
6. Boppers- New England, CT
This one is for the high-energy, fun-loving teens! Boppers offers interactive MCs and DJs right from the clubs, so you can be sure to have endless fun while you're at the party.
They also offer customizations so your party will be unique and one of a kind. They highlight their furniture rentals as one of their most common options because it really helps you set the tone for your theme without having to buy so many different things.
Sweet 16s is what makes them a super popular venue, so they book up quickly.
7. Great Neck Games & Production- Stamford, CT
This venue will be fun for the whole family. Your kid definitely deserves the best sweet 16, so Great Neck Games & Production has mastered the art of great parties and special occasions.
They have great visual lighting, favors, novelty foods, and even furniture rentals. You won't have to get any props or themed decorations from elsewhere because they have it here for you.
They have just the right amount of excitement and fun to create the most memorable sweet 16!
8. Amex Limousines- Shelton, CT
The Amex Limousines venue is a super unique place, and will stand out amongst other sweet 16th birthday parties.
It will definitely be different since the venue is the inside of a limo, but you would be surprised how much fun teenagers can have in a limo that has their selection of music, snacks and candies, and anything you want to add to make it special.
9. Connecticut Party Studios- Norwich, CT
Take the load off all the party planning when you select the CT Party Studios, because they have party coordinators at your disposal.
They will cover everything from the food to the decorations, and you can select a show by talented artists if you want! This one will definitely last as a long memory and jump off the pictures with happiness.
10. Ambassador Event Production- Norwich, CT
Finally, if you aren't too picky on the time, or want to party all night–reasonably–then the Ambassador Event Production takes the cake.
They have focused on delivering the best sweet 16 for teens, and they do so through amazing music, personal light selection, and more! Their professional staff is at your disposal, making the process as easy as it can be.
---
We hope this takes some of the stress off all the event planning for you. The sweet 16 is definitely a special occasion and should be treated as closely as possible.
These sweet 16 venues in CT have staff that can help you make some of the decisions, and make sure that everything goes according to plan.