What is the best way to excite your children with a fun day out that will leave everyone energized? Get them outside – the playgrounds in CT are great!
Soaking in the sunshine and running in open spaces and among the trees is highly beneficial for children (and their parents) regarding their physical, mental, and even emotional wellbeing.
With the arrival of warmer weather, everyone wants to get out of the house, and you're in for a real treat when it comes to outdoor activities to select from throughout Connecticut.
Below are our top 15 picks for the top playgrounds in CT where you can spend quality time outside with your children.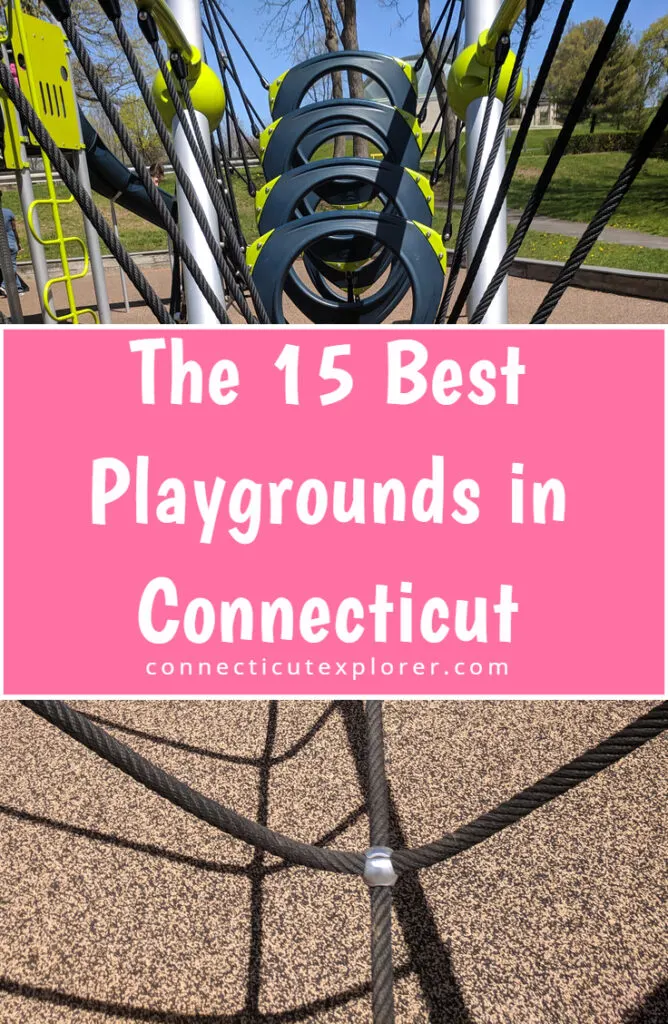 The top 16 playgrounds in CT
1. Bartlem Park Cheshire – Cheshire
Kids in Motion is located within the beautiful sunny Bartlem Park in Cheshire.
There is a vast playground where the family may spend one or two hours planting themselves.
Some characteristics are escalators, swings, ramps, tunnels, towers, stairs, and climbing walls.
You're going to be here for a while. Wear your sunscreen!
520 South Main Street, Cheshire
2. Henry Rowland Memorial Park – Fairfield
This summer, Sandcastle Fairfield Playground is a must-go. It combines a pleasant day at the beach with a playground to ensure your children get rid of at the end of the day.
Enjoy the water, and follow a walk to the playground. The $20 parking charge at Jennings Beach; however, the playground is free during the off-season.
Sandcastle Playground has slides, conventional children's swings, a tire swing, climbing nets and monkey bars, seesaws, and many more.
880 South Benson Road, Fairfield
3. Woodbridge Athletic Fields – Woodbridge
Pease Place Playground is a family-friendly attraction in Woodbridge. A couple of years later, two moms planned a playground for all ages and enjoyed various activities to participate in.
Pease Place is now a popular place for many parents. It consists of 2 playgrounds for kids, one for kids 5-12. A tentative "sensory area" is located at the center of the playground to support children's brain growth.
The Mega Physics Tower, the primary attraction, lets youngsters climb to three platforms and then slide down again.
On the banquets and picnic tables around the play areas, parents may look at and have lunch.
52 Center Road, Woodbridge
4. Nevers Park – South Windsor
My Friend's Place is a limitless playground for adventurous and social youngsters in South Windsor.
The park contains two main playgrounds, a large security swing, regular swings, a tire swing (which, in my view, is an absolute must-have playing field), a music section with a xylophone, etc.
The parents may relax in the yard and enjoy the day at picnic tables. The place is quite popular among locals.
Anticipate your children to be treated with numerous social meetings!
Chief Ryan Way, South Windsor
5. Panthorn Park – Southington
Panthorn Park—The Plantsville Rainbow Playground is a beautiful place for the whole family.
Includes a playground for youngsters, basketball courts, a fishing pool, sports grounds, and a nature walkway.
There is an endless, big, brilliant rainbow playground that is excellent for daring youngsters.
There's a massive sandbox, two major playgrounds with slides, monkey bars, tunnels, and ladders.
Parents love it because it is walled in entirely for the best security. You may seat your kids at the covered picnic tables or banks in the park and watch them having fun!
485 Burritt Street, Southington
6. Elm Ridge Park – Rocky Hill
Elm Ridge Park at Rocky Hill offers everything you need (including your dog) to have a wonderful family excursion!
Take your suits and skip into the outdoor swimming pool on a hot summer day.
When the children feel refreshed, check out the two major play areas where kids can play on everything from slides and monkey bars.
There are many sports fields in the park to play or run in, a picnic area with barbecue access, a skatepark, and a dog park for your family's furry friend.
So many possibilities for a family day!
376 Elm Street, Rocky Hill
7. Cross Farms Recreation Area – Tolland
Adam's Adventure Playground was created just a couple of years ago in Tolland.
A young child called Adam inspired the park. Adam was attacked by bacterial meningitis at the age of 7, and for months he was left in a coma.
Fortunately, he lived, but the disease left him with cognitive deficits and an attack. In his honor was created Adam's, Adventure Park.
The idea was for Adam to set up a playground for children with mobility impairments, hearing impairments, autism spectrum disorders, cognitive impairments, and vision impairments.
167 Rhodes Road, Tolland CT
8. Ridgefield Recreation Center – Ridgefield
The Sky's the Limit in Ridgefield is a fantasyland for children of any age. It's easily one of the best playgrounds in CT.
Sky's the Limit is an excellent and ideal example of what a playground is supposed to be.
Available on the Ridgefield Recreation Centre, the all-inclusive and accessible playground is intended for children who use wheelchairs, leg braces, or walkers.
It has a wonderful climbing wall and lowered monkey bars which are particularly popular with kids.
195 Danbury Road, Ridgefield CT
9. Standish Park – Old Wethersfield
Mikey's Place Playground was developed for children of all skills and mobility limitations and is wheelchair accessible.
This playground has many climbing and playing facilities for all ages and abilities. There are inclusive swings, as well.
The playground also conducts regular activities, including fundraisers and races, to include and contribute to maintaining the latest equipment.
Corner of Nott and Garden Streets, Old Wethersfield
10. Butternut Hollow Park – Middletown
Earlier this year, Butternut Hollow Park received a $500,000 restoration that included improvements to the playground, the creation of extra picnic spaces, and the installation of a sensory garden.
And the results of this financial investment are evident in the enhancement of Butternut Hollow Park.
An expansive play structure, complete with spiraling slides, fire poles, a tiny climbing wall, and swings, has been added.
66 Thomas Street, Middletown
11. Wickham Park – Manchester
Wickham Park is a one-of-a-kind park with various activities, including a nature center, bird sanctuary, a variety of sports facilities, and a sensory garden designed specifically for children.
The peacocks will remain in your memory forever! There are three public playgrounds accessible, the largest of which is located near the aviary and is the largest of them all.
This playground, which is conveniently placed just next to the toilets, has a variety of activities for your children to enjoy, such as swinging, spinning, and climbing.
Parking costs are kept to a bare minimum. From the first weekend in April through the final weekend in October, the park is open seven days a week for visitors.
1329 Middle Turnpike W, Manchester
12. Elizabeth Park – West Hartford
Elizabeth Park is a historic site that is listed on the National Register of Historic Places.
Each year, hundreds of people come to see the magnificent rose garden. In addition to a tennis court and ball fields on site, there are also many gardens to wander around to pass the time.
Prospect Ave, West Hartford
13. Buckingham Road Recreation Area – Avon
It is an entirely accessible play space for children of all abilities at Buckingham Road Recreation Center, which offers an endless playground for children of all abilities.
Because there are so many covered areas and picnic tables, you may bring a lunch and spend the entire day here. There is plenty of free parking accessible in the parking lot.
The parks season runs from April 1 to November 15, except for holidays.
Huckleberry Road, Avon
14. Legion Field – Hamden
This jungle-themed Connecticut playground offers hours of fun and games for the whole family.
Josh's Jungle has ramps from one play area to another, as well as a plethora of slides, which make exploration easy for even the tiniest monkeys.
2875 Dixwell Avenue, Hamden
15. Rotary Park – Simsbury
At Rotary Park, you'll find lots of slides and places to climb, but you'll also find some creative play equipment that puts a new spin on the conventional playscape.
Aside from the huge sandbox, picnic tables, and infant swings, there are several more amenities.
Iron Horse Boulevard, Simsbury
Johnathan's Dream is an amazing playground that is accessible to children of all abilities.
Here, you'll find multiple playscapes, ziplines, swings, playhouses, climbing apparatuses, and more!
This playground is designed for children 5-12. It's all fun and, best of all, there's equipment here for every child!
355 Bloomfield Ave, West Hartford CT 06117
---
There you have it – a list of the absolute best playgrounds in CT!
Some other great playgrounds my own children enjoy are: