If you are looking for some things to do in Milford, CT, you have come to the right place.
In this article, you will learn a bit about the town of Milford, CT and get some ideas of fun and interesting things to do in this quaint Connecticut town.
---
Milford, Connecticut, along Long Island Sound, is a suburb of both New Haven and Bridgeport. Milford is also a bedroom community of New York City, due to its access to Interstate 95, the Wilbur Cross Parkway, and the Metro North Railroad.
Even though Milford is a suburb and a bedroom community, it's a vibrant city in its own right.
As with most Connecticut communities, Milford embraces its past.
Pirates cruised Milford's shores, with neighboring Charles Island serving as a convenient place to bury treasure. The Milford Historic District includes many of the city's oldest buildings.
Three of Milford's historic houses are being preserved by the Milford Historical Society.
There are so many things to do in Milford, CT.
Besides visiting the city's historic homes and buildings and exploring the city's beaches and exploring Long Island Sound, there is a large park with walking trails, an accessible playground, a dog park, and sports fields and courts.
Visitors can explore the island where an infamous pirate may have buried treasure and is now inhabited by birds. The city's arts council has plays, exhibits, classes, and concerts open to the public.
One of the largest seafood festivals in New England invites visitors to enjoy good food and music and to have fun. For those interested in the paranormal, a nighttime tour teaches participants about Milford's spiritual past.
Here are the top 10 things to do in Milford, CT.
Most of the sites and activities on the list, unless noted, are open year-round. Some activities are weather-dependent, so inquire first before visiting.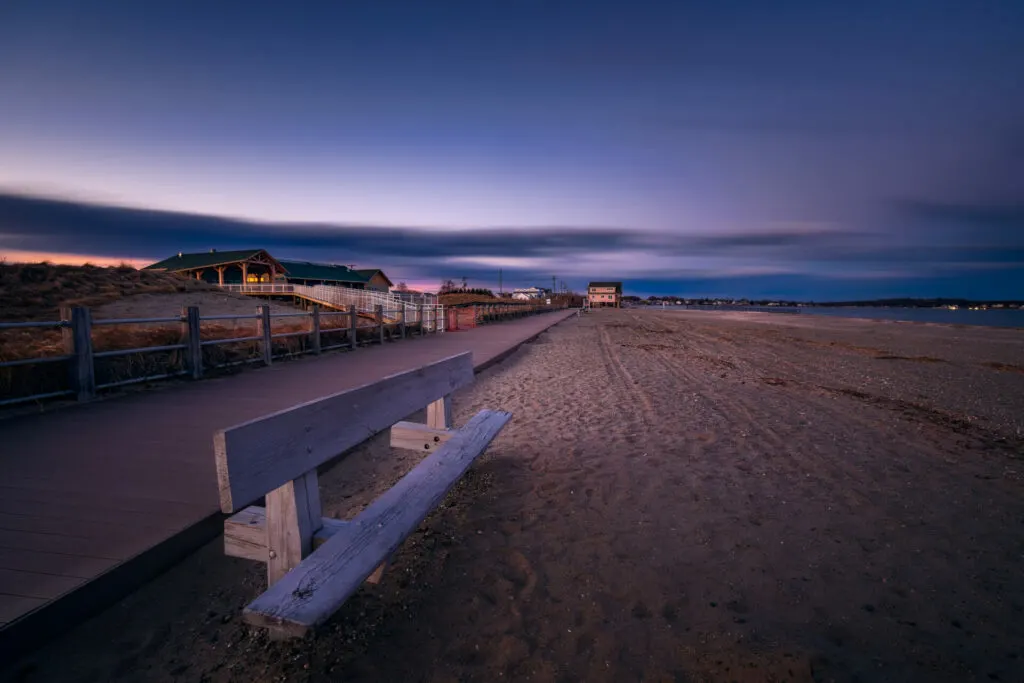 The 10 best things to do in Milford, CT in 2023
Milford Historic District
Established in 1975, the Milford Historic District, also known as the River Park Historic District, comprises approximately 190 buildings in an area that is bordered by Boston Post Road, North Street, West River Street, and Milford Harbor, and includes some of the surrounding streets. The Wepawaug River runs through the District.
One key feature of the Milford Historic District is a park system along the Wepawaug River that includes three parks, four bridges, and two dams.
The ten-acre park system runs along both banks of the Wepawaug River. The bridges crossing the river and the stone dams that control the river's waterflow date to 1952 and earlier.
The buildings date from 1650 to 1936 and represent multiple architectural styles, including Victorian, colonial revival, Queen Anne, gothic, second empire, Dutch colonial, Italianate, Federal, and cross-gable.
The oldest house in Milford, the Thomas Buckingham House (61 North Street), was originally built in 1650. The house was remodeled in the eighteenth century and represents the pre-Revolutionary War three-story, central chimney style.
The oldest house believed not to be significantly altered is the Nehemiah Bristol House (124 North Street), a colonial-style residence built around 1700.
While most of the District's historic buildings are residential, there are two major non-residential historic buildings. The Milford City Hall (110 River Street), designed by Everetts Tracy and Edgerton Swartwout, was built in 1916.
The City Hall's architecture is in the Federal style and was likely influenced by Thomas Jefferson's Monticello. The United Church of Christ Congregational Church (34 West Main Street) was built in 1823, replacing the church's previous building.
The church was built in Adamesque neo-classical style, with four columns on the exterior.
Many of the homes and other historic buildings within the District's boundaries have plaques indicating that the property is either on the National Register of Historic Places or is considered a historically significant landmark by the Milford Preservation Trust.
Milford Historical Society House Tours
The Milford Historical Society maintains three houses that are open for tours. The Eells-Stow House, the Clark-Stockade House, and the Bryan-Downs House are located on the Historical Society property.
The Eells-Stow House dates back to a period between 1668 and 1720. Stephen Stow purchased the house from his brother-in-law Nathaniel Eells, who was the grandson of original inhabitant Samuel Eells.
Stow operated a trading business along Long Island Sound. During the Revolutionary War, Stow lost his life caring for 200 soldiers suffering from smallpox who were released from a British prison ship and cast ashore in Milford Harbor.
Thanks to the Daughters of the American Revolution, Stow's house was saved from destruction.
The Clark-Stockade House was the first house built outside a stockade that protected Milford. Deacon George Clark started building the house in 1659, which grew to become a saltbox-style house. In 1780, builder Michael Peck dismantled the house and rebuilt it, repurposing many of the original building materials.
The house was moved from Bridgeport Avenue to the Historical Society in 1974. Much of the furniture in the house came from other historic Milford homes.
The Bryan-Downs House was the home of Captain Jehiel Bryan and his family, including his son's and daughter's spouses.
The house originally was located on Boston Post Road between Milford and New Haven. Bryan's grandson enlarged and remodeled the house and was used as rental property until the 1900's.
In 1977, the house was erected at the Milford Historical Society, with the original windows and siding in place. Several exhibits are on the house's first floor, including a collection of over 4,000 prehistoric Native American artifacts.
House tours take place on Saturdays and Sundays from Memorial Day weekend to Columbus Day weekend.
34 High Street, (203) 874-2664
Silver Sands State Park
Silver Sands State Park was born from the aftermath of Hurricane Diane in 1955. After Hurricane Diane destroyed 75 homes, Milford asked the State of Connecticut for help renovating Silver Sands Beach.
Milford transferred the land to the State Park Commission and in 1960, Silver Sands State Park became Connecticut's fourth state shoreline park.
Silver Sands' beaches line a half-mile of shoreline. There is a ¾ mile-long boardwalk connecting Silver Sands Beach to Walnut Beach. There are several shorter walking trails on the park grounds.
A sandbar, or tombolo, connects Silver Sands Beach to Charles Island.
Silver Sands State Park is home to two hundred different species of shorebirds, including ospreys, barn swallows, brant geese, snowy egrets, herring gulls, and clapper rails.
The park is open to fishing, with bluefish, striped bass, summer flounder, hickory shad, and weakfish among the species living in the ocean.
The park is open from 8 AM to sunset. Parking fees apply to non-Connecticut registered vehicles. Lifeguards patrol the beach and waters in the summer months.
No alcoholic beverages are allowed in the park. Dogs are allowed only in the picnic areas.
1 Silver Sands Parkway, (860) 424-3200
Charles Island
Bird lovers, get ready to be delighted, as Charles Island is one of the top things to do in Milford, CT for birdwatching.
Connected to Silver Sands Beach by a sandbar, or tombolo, Milford's Charles Island is a wading bird rookery.
Most of the 14-acre island's interior is fenced in to protect the birds, with public access limited to the island's shoreline. Visitors can see the ruins of the Aquinas Retreat, a 1930's religious retreat.
Charles Island was originally called Poquehaug. In 1639, the English settlers named it Milford Island. Charles Deal purchased the island in 1657 and renamed it Charles Island.
Captain William Kidd landed at Charles Island in 1699, en route to Boston, and may have buried some of his treasure there. Today, treasure hunters visit Charles Island looking for some of Kidd's treasure.
The Island went through several changes in ownership, with a fish fertilizer company, a summer resort and the Aquinas Retreat occupying the island.
The State of Connecticut now owns the island as part of the purchase of the land that became Silver Sands State Park.
The tombolo connecting Charles Island to Silver Sands Beach gets flooded twice a day when the tides hit. The tides produce dangerous currents and undertow.
It is highly recommended to walk the tombolo to Charles Island when the tide recedes and to walk the tombolo back to Silver Sands Beach three hours before high tide. Tide charts may be found online.
There is no admission fee to visit Charles Island. The Island is closed to visitors from May 1 through September 9 in order to protect the bird population during nesting season.
395 Meadowside Road, (860) 424-3200
Milford City Beaches
With seventeen miles of shoreline, the longest of any city or town in Connecticut, Milford has many public and private beaches.
Four of the city's main public beaches are Anchor Beach, Gulf Beach, Walnut Beach, and Woodmont Beach.
Beachgoers can see rock outcroppings and small islands on Long Island Sound.
The soft sandy beach also makes for a good spot to watch the sunset. The beach has a pier for fishing and wave watching.
The large beach has a fishing pier, canopied picnic benches, a concert pavilion, a beach volleyball court, and a large sandy area. A mile-long boardwalk connects Walnut Beach to Silver Sands State Park.
The beach, a combination of sand and rocks, has a walking path, a waterfront promenade, a volleyball court, views of Long Island Sound and coast side historic homes, and a fishing pier.
Swimmers may need to exercise caution due to the water's shallow, uneven, rocky bottom surface.
There may be live music during the summer months.
The beaches are open from sunrise to 9 PM from November through March and from sunrise to 10 PM from April through October. There is no charge to park at Anchor or Woodmont Beaches.
From May through September, Milford residents need a Resident Parking Permit to park at Gulf and Walnut Beaches.
Nonresidents will be assessed a daily parking fee. Lifeguards are on duty during the summer months.
Milford Oyster Festival
Held annually on the third Saturday in August, the Milford Oyster Festival is one of the largest festivals in New England and has been named one of the top seafood festivals by Yankee Magazine.
The Festival's food vendors serve up 30,000 locally cultivated oysters.
Events taking place at the Milford Oyster Festival include an arts and crafts fair, a car and motorcycle show, oyster shucking contests, a Milford Fire Department open house, a Coast Guard Auxiliary Flotilla open house, a dunk tank, and canoe, kayak, and paddleboard races on Milford Sound.
The Festival also has areas with amusement rides and local vendors.
Two stages offer live music. Headlining music acts appear on the Main Stage at Fowler Field. In previous years, Eddie Money, Blues Traveler, Blue Oyster Cult, Jefferson Starship, and Joan Jett have performed at the Festival.
The Lisman Landing Harbor Stage hosts a variety of music acts, local and tribute bands.
Preferred parking is available at 145 High Street. Free shuttle buses operate between the Oyster Festival and Jonathan Law High School and the Connecticut Post Mall.
Milford's Metro North rail station is within walking distance of the Festival.
Spirits of Milford Ghost Walk
Haunted house lovers have no shortage of great things to do in Milford, CT.
The Spirits of Milford Ghost Walk takes visitors to a number of historic sites that have a haunted past.
Led by Milford journalist, professor, and author Cindy Wolfe Boynton, the 1.15-mile ghost walk features fascinating stories of Milford's history.
Wolfe Boynton uses her experience as a college professor, storyteller, and actor to tell the stories of people like Captain William Kidd, the pirate who placed a curse on Charles Island; the native Paugusset woman who strangled her two sons four hundred years ago; and the Colonial witch who is buried in Milford Cemetery.
Wolfe Boynton allows tour participants to try out paranormal investigating tools like dowsing rods and EMF detectors.
Besides the standard Ghost Walk, there is a combination ghost walk and pub crawl that takes place in downtown Milford. Over the ⅓ mile route, there are stops at My Bar & Grille, SBC Milford, and Stonebridge Restaurant for ghost-themed cocktails.
Those taking the combination ghost walk and pub crawl must be 21 or older.
The Ghost Walks and combination Ghost Walk and Pub Crawl take place on alternating weekends.
A complete schedule and advance ticket purchase information are available on the Spirits of Milford website.
All ghost walks begin at the Factory Lane side of the Hotchkiss Bridge. Parking is available at Fowler Field.
Eisenhower Park
Two miles from downtown Milford, Eisenhower Park is a 220-acre family-friendly and dog-friendly park.
The park's amenities include tennis and pickleball courts, a community garden, a baseball field, soccer fields, playgrounds, a dog park, a splash pad, a fitness course, and a model airplane runway.
One of the playgrounds is wheelchair accessible.
One of the park's more popular features are the walking trails. The flat and wide trails connect every portion of the park.
Along the trails, visitors will find migrating and nesting birds, butterflies, deer, rabbits, and loons. The Wepawaug River flows throughout Eisenhower Park, with a portion of the river's water flow diverted to a pond.
The pond has a waterfall that flows to a small stream. A nearby small island is accessible by bridges. The forests and fields are located in what were former agricultural areas.
Many community events are held at Eisenhower Park, including the Milford Arts Council's annual Music Fest concert, the Milford Food Truck Festival, the Milford Open Air Market, and local non-profit organization fundraising events.
Eisenhower Park is open daily from sunrise to sunset. There are two parking lots on North Street and a parking lot on West River Street near the dog park.
A city permit is needed to fly a model airplane in the park.
780 North Street, (203) 783-3280
Exploring Milford's Waters by Canoe, Kayak, or Paddleboard
If you are interested in kayaking or paddleboarding, the waterways have a lot of things for you to do in Milford, CT.
Milford has many waterways to explore by canoe, kayak, or paddleboard. Two of the most accessible waterways are Long Island Sound and the Housatonic River.
Milford Harbor, Gulf Pond, and the Indian River also attract paddlers. The breakwaters along Long Island Sound calm the Sound's waters, making the Milford coastline a good place for paddlers to explore.
Milford's main canoe, kayak, and paddleboard launch sites are located at Silver Sands State Park, the Housatonic River State Boat Launch, the Charles Wheeler Wildlife Management Area (Second Avenue and Court Street), Gulf Beach, and the Milford Public Library (57 New Haven Avenue).
Milford's Favorite Walks directory lists 29 different non-motorized boat and board launch sites, including Trubee Doolittle Park in Woodmont, Burwell's Beach, and for access to the Indian River, the Connecticut Post Mall parking lot.
One popular canoe and kayak paddling route is to go from Silver Sands State Park, circumnavigate Charles Island, then go west to Laurel Beach, just before the Housatonic River, and return along the coast to Silver Sands.
Another popular paddling route is to launch from the Charles Wheeler Wildlife Management Area, circumnavigate Nells Island along Long Island Sound and the Housatonic River, and return to the Charles Wheeler launch site.
The Milford Mirror's website lists additional canoe and kayak paddling routes.
The shoreline along Milford's beaches is ideal for paddleboarders since the breakwaters protect the coast. For a change in scenery, paddleboarders can navigate around Nells Island, launching from the Charles Wheeler Wildlife Management Area.
However, it is best to paddle only during a rising tide in order to offset the current.
Kayaks and paddleboards may be rented at Scoot & Paddle, located at 28 Naugatuck Avenue, near the Housatonic River.
Scoot & Paddle, which has been featured on Channel 8, also offers group and private paddleboard lessons, group kayak paddle excursions, and paddleboard yoga sessions.
Event information is available on their Facebook page.
Milford Arts Council
The Milford Arts Council is a non-profit organization that hosts exhibits, performances, and lectures, and offers classes in all aspects of the arts.
The Council's goal is to make Milford an arts and culture destination.
The Arts Council's main arts center holds exhibits, open mic nights, and art and dance classes and invites Council members to show their artworks.
The Eastbound Theatre, located at the Arts Council, presents plays throughout the year.
The Firehouse Gallery hosts some art exhibits, art and improvisation classes, and, in association with the New England Guitar Society, classical guitar sessions.
An oasis away from New Haven, Bridgeport, and New York City, Milford provides something for everyone to visit, explore, or participate in.
Visitors and locals will enjoy the 10 best things to do in Milford, CT.