You wouldn't expect it from such a small state, but Connecticut happens to be boasting gorgeous outdoor spaces that are the perfect setting for your upcoming wedding. From country chic, to beachy and flowy, this list of the 10 Beautiful Outdoor Wedding Venues in Connecticut is sure to have something good for you!
We have both local and secluded venues to choose from, so guests and family coming in from out of town can stay at the few that offer rooms, or nearby hotels.
It does not matter if you have a fall, spring, winter, or summer wedding–these venues all have something to offer and are super versatile and diverse no matter when you set the date.
Check out these 10 Beautiful Outdoor Wedding Venues in Connecticut, hopefully, you find something that is just right for you!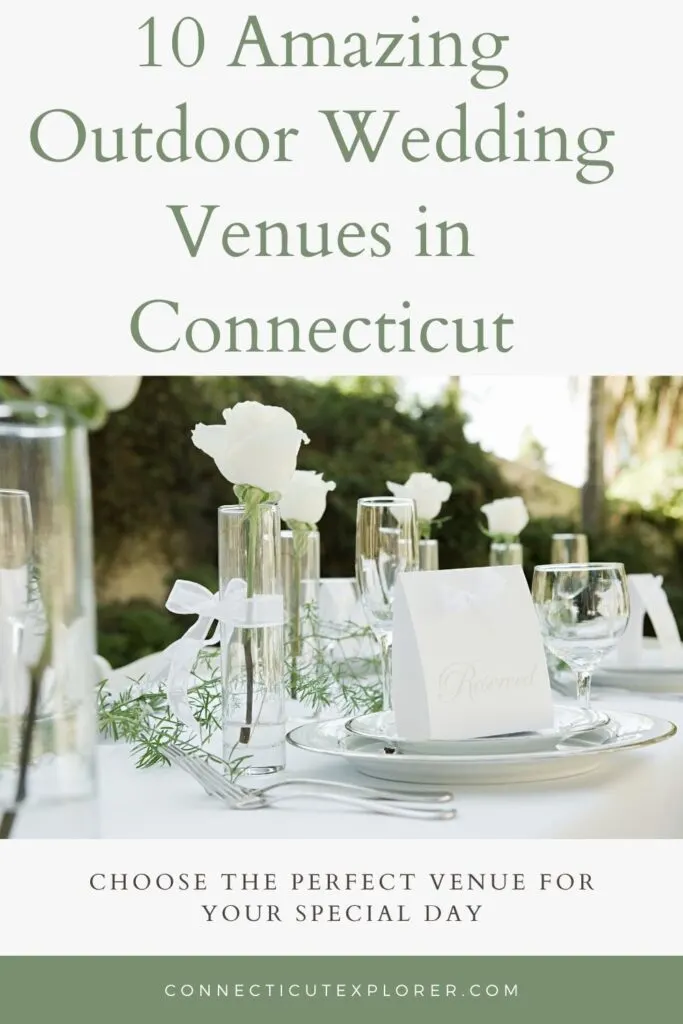 10 Beautiful Outdoor Wedding Venues in Connecticut
1. Eolia Mansion – Waterford, CT
Nestled in over 230 acres of lush greenery, the Eolia Mansion is located at the Harkness State Park just by the Long Island Sound. Its namesake is the island home of the god of the winds, Aeolus, and it started as a summer estate for the Harkness Family.
Your guests can enjoy a cocktail hour before dinner, and the signature breeze from the Long Island Sound. If you have your wedding here, you and your guests will have so much fun at this quaint, beachy wedding setting.
2. Saltwater Farm Vineyard– Stonington, CT
If you are not a beach person, that's okay! The Saltwater Farm Vineyard is situated along the coastal Connecticut farmlands.
The vineyard is near a historic WWII Era airport, so history buffs, this is the place for you. You can also select your own wedding wine, making that wedding toast extra special.
3. Lord Thompson Manor– Thompson, CT
For those looking for a weekend wedding, for them and their guests to get away and celebrate their union. The manor has 6 guest rooms.
On 40 acres of beautiful land, Lord Thompson Manor offers many things for the whole wedding weekend.
A rehearsal dinner, champagne toast by the garden balcony, and even the after-party or brunch for guests the day after the wedding – this venue has it all.
4. Florence Griswold Museum- Old Lyme, CT
Nestled on the Lieutenant River, the Florence Griswold Museum is located on the Connecticut Shoreline and has made its signature American Impressionism.
But for a wedding, it is secretly the perfect place because of its nice sunset view, and water views.
You could have art exhibits set up and organize a cocktail hour for your guests as well.
5. Winvian Farm– Morris, CT
This western Connecticut outdoor venue arguably has it all. With 18 cottages, the Hadley Suite for the happy couple, and 5-Star Restaurant, the Winvian Farm has everything you need to make your wedding special.
You can have a weekend-long wedding or just one day, no matter your choice, the succulent dinner, and organic garden views are sure to leave you with beautiful memories.
If you have a small or bigger budget, you can get something just right or in-between and still meet all your expectations for your wedding.
6. Saint Clements Castle– Portland, CT
Saint Clements Castle is also a Marina and sits on more than 90 acres of land inside the Connecticut River Valley.
Their architecture is a reminder of 16th century European Castles and was built in 1898. You can choose from 2 different ballrooms, or have your wedding at the Port-Hampton Marina Club.
No matter what you choose, your guests and family will find the historic setting calm yet exciting, and your wedding will look like it is timeless.
7. Mayflower Grace– Washington, CT
This luxurious, spa-oriented country retreat gives you 30 rooms to choose from for your guests and a grand lobby for the sight of your wedding.
For winter weddings, this is a wonderful choice because of their indoor options. The Shakespeare Garden is very popular for weddings in the summer months.
So, if you want the countryesque visual for your wedding and the option to book a room for your guests, then the Grace Mayflower Inn and Spa is the place for you.
8. Guilford Yacht Club– Guilford, CT
Seclusion and intimate settings are the vibes here, the Guilford Yacht Club is on a closed coast of Connecticut and has options for both members and non-members.
It is quintessential and chic, your wedding is sure to look good in the many photographs you will take.
Since it is so local, your guests have the option of staying in nearby hotels, so you will not have to worry about destination guests.
9. Jonathan Edwards Winery- North Stonington, CT
Find a piece of Napa Valley right here in Connecticut. The Jonathan Edwards Winery and Vineyard is up in North Stonington Connecticut and has a tasting room that you and your guests can use, a stone patio for an evening cocktail party, and a tented reception to withstand any weather surprises.
With 20 acres of vineyards to view, this sweet little outdoor wedding venue is a must-recommend for us!
10. Tyrone Farm- Pomfret Center, CT
If you are looking for a country-chic wedding that is worthy of the Insta posts and stellar photography, then Tyrone Farm is your venue. It is family-owned, which is super nice, and has spanned over 4 generations.
Its got over 170 acres for your guests to explore, and an English garden for a cocktail party, or the reception.
The Bluestone terrace is their popular wedding reception area.
---
We hope this list of the 10 Beautiful Outdoor Wedding Venues in Connecticut has sparked some inspiration for you and given you many options to find the perfect outdoor venue for your wedding!
These venues may not be in any particular order, but that is because we want you to choose your venue based on the recommendations we have, without a subjective rating.
So what are you waiting for? Get to booking your wedding venue today!