Is it still engagement season? Our consensus is that it never ends!
Year-round, thousands of happy couples embark on quaint journeys to engagement spots or do them right at home.
Whatever your choice is, we have searched high and low to bring you the most romantic places to propose in CT.
With the seasons changing, it can be hard to find a good place that won't have weather betrayal or require a lot of travel and planning.
Budget is something to keep in mind, so we made the search much easier for you.
We hope you find the perfect place out of the top 10 best, most romantic places to propose in CT.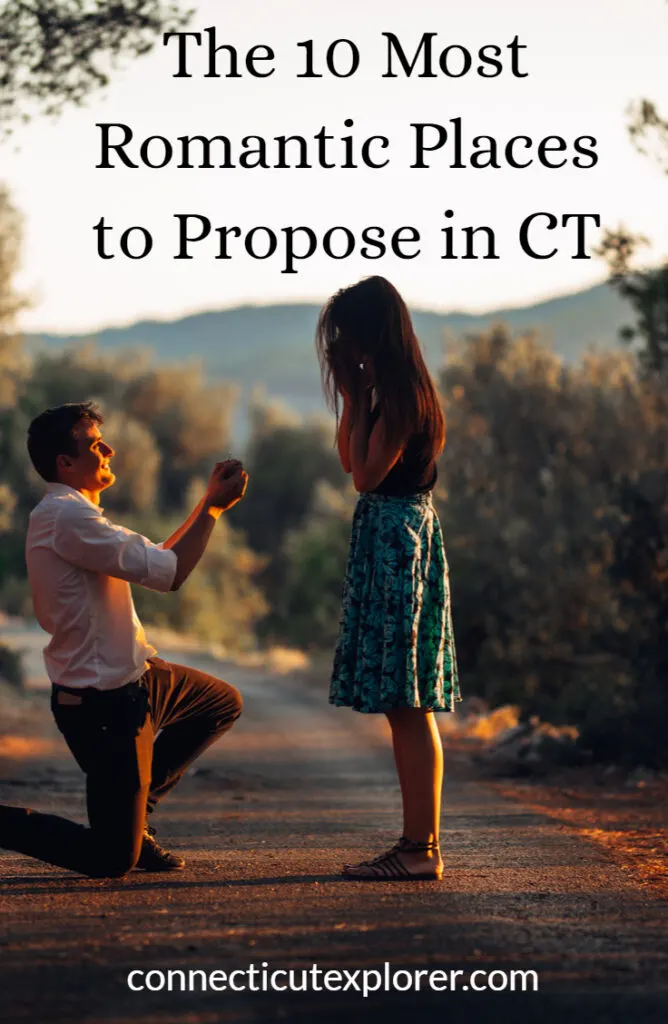 The 10 most romantic places to propose in CT
1. Bartlett Arboretum & Gardens – Stamford CT
Are you a romantic? Then this is definitely the place for you!
The Bartlett Arboretum and Gardens has a wonderful array of gardens, bridges, and walking trails spanning 90 acres.
So, if you want privacy or a private photo opportunity, then you will be sure to find the right spot here.
The good thing about Bartlett Arboretum and Gardens is that it is a very versatile place, where you can return and have a whole new experience!
Their romantic spots each have a different appeal to them, and their garden pathways and walking bridges make for the perfect opportunity to pop the big question!
2. Beardsley Zoo– Bridgeport, CT
Now, this is definitely a good place if you and your significant other have a love for animals. The Beardsley Zoo has reasonable admission rates and plenty of places to have the right moment for the proposal.
With the backdrop of exotic animals and beautiful settings and scenery, you will also find the best photo, too!
The Beardsley Zoo is also a good destination to return to for your anniversary or special occasions to relive that happy memory!
3. Candlewood Lake – Sherman, CT
Are there any water lovers out there? Save a long trip to the beach and head out to Candlewood Lake instead, there's less pesky sand!
The sparkling waterfront is one of the perfect places to commensurate the engagement to your partner.
They have fun water activities for the adventurous ones like jet skis and boating, but if you just like to relax by the water or go for a stroll, then you will love Candlewood Lake, too!
The picturesque array of brushy green trees and lively water is sure to make your memories last a lifetime–even without a photo!
But once you see this place, you'll want to take all the photos you can get.
4. Interlaken Inn– Lakeville, CT
Sometimes, an engagement has to last longer than a day, so if you want to make a weekend trip out of yours, then this is the place for you.
The Interlaken Inn at Lakeville, CT, is packed with many opportunities for you to enjoy a few days away and pop the question.
They have waterside trails, gazebos, and more! Enjoy time away from the real world and escape to a quaint getaway for your proposal at the Interlaken Inn.
5. Kent Falls– Kent, CT
You don't have to travel to the Maldives to get a beautiful waterfall backdrop for your engagement, you can find one right here in Connecticut at Kent Falls.
Their waterfalls are bursting from huge rockscapes and green shrubbery, so nature lovers will be right at home here.
The engagement ring will fit right in with the bright waters, just choose a day with good weather and you'd be good to go!
6. Lighthouse Point Park– New Haven, CT
If you're a science buff or love history, then the Lighthouse Point Park in New Haven is the right place for you and your significant other.
Your shared common interests will mesh perfectly with their lighthouse background, by the sea, and near the waterfront.
With no admission and minimal crowds, you can find the perfect spot to propose.
7. Mohawk Mountain– Cornwall, CT
Any hikers or skiers out there? Get a dose of lush, Connecticut nature, and hiking trails and ski slopes at Mohawk Mountain in Cornwall, CT.
Nature lovers get the best of both worlds here, and with fewer people, it will be easier to find a private, perfect moment for your proposal.
The scenic hike up the mountain is finished off with unbreached views of the crisp blue skies, from sunset to sunrise, any time is a great time to propose at Mohawk Mountain.
This is the perfect place to propose, no matter the season.
8. Mohegan Park– Norwich, CT
With the fall season coming closer, we definitely recommend Mohegan Park for your proposal.
They have beautiful walking paths and bridges nestled in between unbothered, Connecticut nature.
With benches and plenty of places to stop and enjoy the scenery, we have no doubt your proposal spot will be beautiful and timeless, lasting forever in the wonderful photos you will take!
9. Wood Acres Farm– Harwinton, CT
Take a stroll back in time with a carriage or sleigh ride in the beautiful outdoor scenery at Wood Acres Farm.
This will be such a romantic and cozy occasion for your engagement with the fall and winter seasons coming up.
You can book the carriage, sleigh ride, or hayride, and the driver will stop wherever you want.
The lush views of the Connecticut countryside will make for a picture-perfect proposal.
10. Wadsworth Atheneum Museum of Art– Hartford, CT
Finally, this museum is gorgeous and historical for our art lovers, the perfect option for couples with a love of history and art.
Both inside and outside the museum are open for your perusal, so you can enjoy a tour of the artwork or go out on your own and find the best place to propose.
Maybe your favorite piece of art is here, or something will catch your eye and spark the moment–however it happens, it will definitely be worthwhile at the Wadsworth Museum in Hartford!
Connecticut is such a beautiful state – as you can see, there are plenty of amazing places to propose in CT.
We hope you find a wonderful, memorable place to start the rest of your life with the love of your life!