No matter the time of year, beer is always in season – and New Haven brews up some of the best. If you're in New Haven and you're looking for some great breweries to visit, we've got 5 of them right here for you.
---
New Haven has tons to offer in terms of great food and a lot of variety with different cultures.
They're the same with beer, too.
New Haven is home to many different breweries that are simply awesome in terms of flavor, choice, and uniqueness!
Local craft beer is hard to find, especially ones that offer the right amount of ales, IPAs, or dark lagers.
It doesn't matter what your taste is, New Haven breweries, and some close to the area, have mastered the great art of brewing beer.
Not only that, the breweries are well designed and are great hangout spots, some offering food, and entertainment, as well.
This isn't an exhaustive list of New Haven breweries, but I'm telling you right now – these are the best.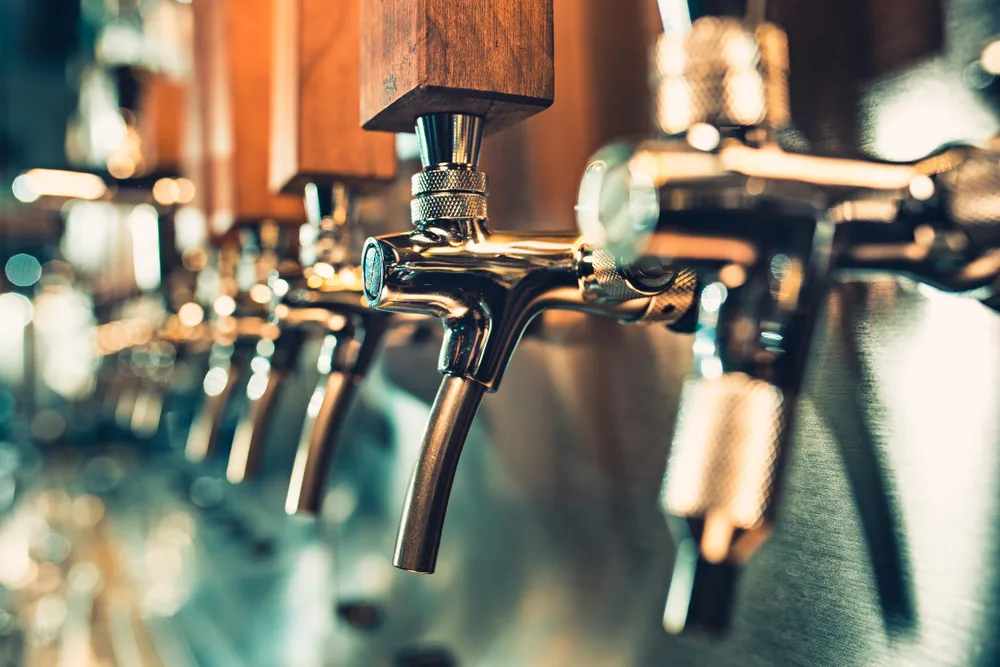 The 5 best breweries in New Haven, CT
If you love a great pizza and an excellent beer, then the Bru Room at Bar is the place for you.
Bar is a super popular, local pizza and bar and The Bru Room is a bar built right into the restaurant.
The nighttime crowd enjoys banging music, great drinks, and $3 slices of some of the best pizza in New Haven.
The Bru Room is well known for its house-brewed beers and produced the first suds of New Haven over the past two decades.
The hand-crafted beer and chef-made pizza pair perfectly together with the music and chill vibe.
Not sure what to try? The Bru Room has four signature beers that are the best go-to for newcomers.
The Toasted Blonde, Damn Good Stout, Pale Ale, and AmBar Ale are always available for you to try, plus a seasonal option that they add on in the fall months.
The stout here is a personal favorite – full-bodied and delicious.
Address: 255 Crown St, New Haven, CT
The East Rock Brewing Company and Beer Hall is a great alternative to the Bru Room.
The East Rock Brewing Company has a bigger space and is a little more family-friendly, so you don't have to leave the kiddos at home to come enjoy a good time.
They have tons of taps to choose from, rotating seasonal beers, and a chill setting that's inviting and makes you want to relax and stay for a while.
Address: 285 Nicoll St., New Haven, CT
Prime 16 is another great place that has lots of beer to choose from and great food to go with it.
Well known for their great selection of burgers, they also offer 20 rotating beers on tap to go with your delicious meal.
They often carry some of New England Brewing Co. and a couple of other rotating taps to go with the changing seasons.
On Mondays, they have half-off beer during happy hour. Can't beat that.
Address: 172 Temple St, New Haven, CT
Looking for a lounge-style pub? The Cask Republic has a bit of the old-fashioned brewery setting going on.
They love to carry New England Brewing Company beers too, so if you have had those before, you know what kind of quality to expect,
They have about 53 beers on tap and carry beers in a variety from the United States and Europe, too.
The tap room isn't far away, so you can always stop by to see what it's like in a large, industrial brewery.
Address: 179 Crown St, New Haven, CT
Not too far away is the Center Street Brewing Company. They are worth a mention, even though they're a bit outside of New Haven.
They have such a wide selection of beer, that you can't go wrong with any of their choices.
With a chill setting, ample seating, and many beers on tap, you could spend a whole day here – but don't drink too much of course.
Address: 24 Wallace Ave, Wallingford, CT
---
Ready for a beer yet?
We are.
We hope these awesome breweries in New Haven don't disappoint you.
They are top-of-the-line, unique, and always prepared to offer a wonderful brewing experience.