Dozens of exceptional art museums and galleries are located in Connecticut each one unique but similar in celebrating modern, classic, art history, science, pop culture, and much more. Art museums in CT are a very popular attraction for Connecticut residents.
If you are looking for a day trip idea with your special someone or an educational adventure with your family, Connecticut's art museums are worth your consideration.
We narrowed down the choices for you below in our picks of the 10 must-visit art museums in CT!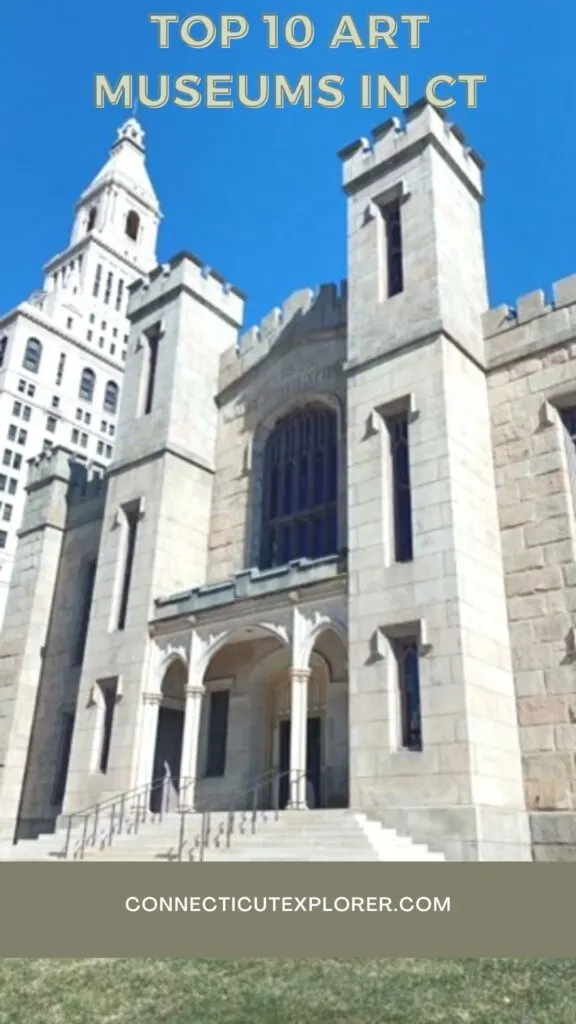 10 amazing art galleries & museums in CT
1. Wadsworth Atheneum Museum of Art in Hartford
Hartford's Wadsworth Atheneum, the response to the Met from Connecticut, has outstanding collections in 5 connected buildings, ranging from Roman antiques to Miros and Colt firearms and Ballet Russes' costumes.
Prepare to be lost in the landscape: Frederic Church came from Hartford, and his paintings are well known in the Hudson River School art movement in the middle of the 19th century.
Another distinct non-profit lives on the second-level galleries are the Amistad Center for Arts and Culture.
600 Main Street, Hartford, CT
2. The Florence Griswold Museum in Old Lyme
An excellent eye for placement had Miss Florence.
Around the turn of the last century, American impressionists like Childe Hassam were lured to their Georgian yellow boarding home in Old Lyme to paint the pastoral vistas of their magnificent gardens and the river of Little Mystic if you're approaching from the south.
Today, the property has 13 hectares. Tour the historic home, stroll around the yard and exhale, see rotating exhibits in the modern gallery, relax over luck at the outdoor café with a view of the river (open May-Oct).
96 Lyme Street, Old Lyme, CT
3. The Hill-Stead Museum in Farmington
Theodate Pope Riddle created this Museum, one of the first female American architects to entertain several famous individuals such as Theodore Roosevelt, Mary Cassatt, and Hanry James, 15 Minutes' drive from Hartford.
This Colonial Revival mansion was converted into an art museum. This collection is worthy of mention, particularly for its 152 acres of beautiful grounds with a sunken garden and walking routes, including paintings by Claude Monet, Edgar Degas, and James Abbott McNeill Whistler.
35 Mountain Rd., Farmington, CT
4. The Keeler Tavern Museum in Ridgefield
The Keeler Tavern in Ridgefield, Connecticut, in the United States, is an 18th-century historic structure on 132 Main Street.
The historic structure was built in 1907 by architect Cass Gilbert as a summer's house and was supplemented with a garden and building.
152 Main Street, Ridgefield, Connecticut
5. Weir Farm National Historic Site in Wilton
Three generations of American artists, including Julian Alden Weir, a prominent American art figure, and developments in American Impressionism were at Weir Farm National Historic Site as the only National Park Service dedicated to American painting.
Today, one of the nation's most significant remaining American art settings is within the 60-acre park, including the Weir House, Weir, and Young Studios, grasslands, gardens, and Weir Pond.
735 Nod Hill Road, Wilton, CT
The late architect Louis Kahn's first public commission is located across Chapel Street from his last public commission, the old Roman coins, a full-sized portrait of George Washington by John Trumbull, a teapot made by Paul Revere, The Night Café by Vincent van Gogh, and Edward Hopper's Sea Rooms (Yale Center for British Art).
Well, if you were at it for 250 years and people kept their work ready for you, you would have a tremendous collection too.
Did we mention it was free?
1111 Chapel Street, New Haven, CT
7. Mattatuck Museum in Waterbury
After almost two years of construction, the Mattatuck Museum reopened its doors after a new $9 million facility.
The Museum has a new extension, refurbished interiors, upgraded facilities, and sufficient free parking.
Art and culture from the Naugatuck Valley and Connecticut artists are collected and shown in the Mattatuck Museum.
The Museum collaborates with neighborhood associations, ethnic groups, and manufacturing groups to share the tales of the town.
The Mattatuck showcases around 25 rotating exhibits each year that reflect the community's diversity, topical concerns, rising artists, major international artists, and the permanent collection's strengths.
The Museum's exterior areas – the courtyard garden and the rooftop – showcase changing modern sculpture exhibits.
144 West Main Street, Waterbury, CT
If American art is your thing, prepare to visit the country's first only category museum in central Connecticut.
Pieces range from colonial portraits to work in the Ashcan Schools to landscapes in the Hudson River to bronze bronzes.
Leading artists will attend the exhibits, such as Mary Cassatt, Winslow Homer, Georgia O'Keeffe, Robert Motherwell, and Andy Warhol, and illustrious admirers will stay with Norman Rockwell.
Another major event is Thomas Hart Benton's mural series "The Arts of Life in America," the first artist to portray Time (1934).

56 Lexington Street, New Britain, CT
9. Aldrich Contemporary Art Museum
The Aldrich Contemporary Art Museum was founded in 1964 on Ridgefield's historic Main Street and is one of the few non-collecting contemporary art museums in the United States.
The Aldrich Contemporary Art Museum plays an essential role in displaying cutting-edge art and is one of the most visited museums in the region.
258 Main Street, Ridgefield, CT
It hosts lectures, gallery talks, art forums, campus art walks, concerts, and family activities.
Connecticut's state art museum has changed artwork exhibitions from the 15th century to the twenty-first century.
People visit this art museum from all over Connecticut for its fun programs and free admission.
245 Glenbrook Rd, Storrs, CT
---
There's so much art and culture to enjoy in Connecticut. We hope you enjoy these art museums in CT as much as we do.