Wallingford is a town in Connecticut with a history in silversmithing and Brittania ware that carries over into its industrial and commercial businesses today. Should you ever find yourself in George Washington's shoes (he traveled through Wallingford twice), Wallingford boasts a number of activities. Here are the top 13 things to do in Wallingford, CT.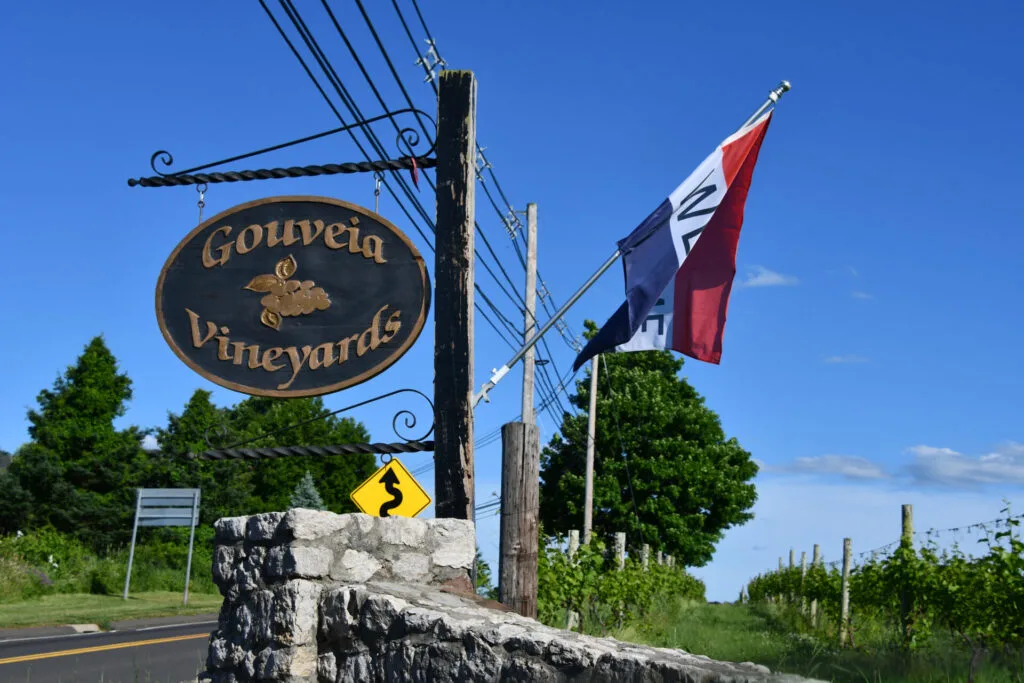 1. Gouveia Vineyards
Gouveia Vineyards is a must-stop in Wallingford. The Vineyards sprawl across 140 acres and feature stunning panoramic views from the hilltop, where the Stone House Winery sites.
The winery itself is a gorgeous stone and lumber building with massive windows. Outside, you have the option to sit on a patio or on rustic picnic benches.
This is truly an all-season attraction. In the summer, bring a lunch and picnic. In the winter, cozy up to a roaring fire.
The Instagram-worthy views aside, Gouveia Vineyard's classic Portuguese wines are various and award-winning.
They make 900,000 bottles a year, covering a wide range from their "Sunset Red" to the "Stone House White". Can't pick just one? Try a few with Gouveia's wine tastings.
For wine lovers, this is one of the top things to do in Wallingford, CT.
2. Quinnipiac Linear Trail
Wallingford's newest walking destination, the Quinnipiac Linear Trail is an easy, 1.25 mile plus long route.
Along its main trail, you'll pass the Community Lake and a spiraling Labyrinth before getting picturesque views of the Quinnipiac River.
Walk, bike, or skate. Feel free to bring your dog along, just make sure you keep them on leash.
3. The Eatery
Breakfast and lunch lovers, you're in for a treat with The Eatery of Wallingford.
The Eatery specializes in sandwiches and salads that take "everyday foods" and transform them into delicious, quick meals. This local spot only offers delivery or pickup, so plan a quick swing-by into a busy day.
You're guaranteed to find something for everyone in the family, including kids and vegetarians/vegans.
4. Paul Mellon Arts Center
Art and architecture lovers, rejoice! Get your art fix at the Paul Mellon Arts Center in Wallingford.
The Center is part of the Choate Rosemary Hall campus and has five floors of fine arts studios, music practice rooms, a performance hall, and an exhibition gallery.
The Center is well-known for its famous designer, the architect I.M. Pei. Pei's work is recognizable worldwide, particularly the triangular Louvre entrance in France and the East Wing of the US National Gallery.
Pei actually used the Center as a prototype for the National Gallery!
Visit the building and stay for one of their many creative events.
5. Quandry Escape
There's nothing quite like an escape room to practice your team-building skills.
Join friends or family at Quandry Escape in Wallingford, which lies inside an old converted Silversmith factory. You'll be locked in a room filled with puzzles.
Your task? Beast the clock and escape! Right now, they're offering two experiences: the serial killer-inspired "Son of the Zodiac" or a CIA investigation called "Operation: Gambit".
6. Blue Ox Axe Throwing
Embrace your rustic side with a night out throwing metal at a chunk of wood. Blue Ox Axe Throwing provides the beer, axes, and targets.
You bring the built-up energy. This is a night out you'll remember. Don your best flannel and let the games begin!
7. Arles & Bogg's Vegan Eatery
While in Wallingford, CT, check out Arle's & Bogg's Vegan Eatery. Being vegan isn't a requirement to enjoy the fresh and delicious homemade food in this restaurant.
They specialize in gluten-free Ethnic comfort food. Try their Mushroom Gyro or Curry Stew, paired with a local craft brew or cocktail.
8. The Library Wine Bar & Bistro
Calling all booklovers! Wallingford is home to The Library Wine Bar & Bistro, a cozy restaurant inside of Wallingford's original town library originally built in 1899.
When you walk into this old Wallingford landmark, you'll spy a roaring fire, full wine bar, and lovely preserved architecture.
The Bistro serves a large selection of upscale classic Mediterranean and Portuguese cuisine.
9. Oakdale Theater
Looking for a lively night out? The Toyota Oakdale Theater was first built in an empty alfalfa field in 1954.
It followed the tradition of circular staged theaters popular in New England at the time until 1996, when it was renovated and rebuilt into its current 4600-seat space with a state-of-the-art proscenium stage.
Year-round, you'll be able to attend many events, from concerts to game shows.
10. Splat Art Studio
Tap into your creative side at Splat Art Studio in Wallingford. This judgement-free, friendly business offers art classes and events for all ages.
They were voted "Best DIY Studio" and uphold that reputation with a consistently cheerful environment.
11. New England Cider Company
A visit to Wallingford isn't complete without stopping by the New England Cider Company.
Their taproom offers homemade hard ciders—the most widely sold in Connecticut. Snack on a curated cheese board or split a pizza while you sip one of their brews.
The brewery also offers tours of their facilities, if you want to get a glimpse "behind the scenes".
12. Paradise Hills Vineyard and Wine Company
Build your own wine tour in Wallingford by adding Paradise Hills Vineyard and Wine Company to your growing list.
This family-owned vineyard opened in 1997 and sits among nature alongside the Quinnipiac nature trail. They have both indoor and outdoor seating and specialize in drop-in wine tastings.
The winery, owned by the Ruggiero family, is dedicated to sustainable farming and hyper-local wine creation.
13. Henry's
Its local businesses are part of Wallingford's charm. Henry's is as local as you get—family-owned American comfort food from a small staff led by Henry himself.
You'll feel right at home and greeted with a smile. If you've got a sweet tooth, check out their homemade pies.
---
Wallingford provides just the right mix of escapism, charm, and history. Enjoy all it has to offer with these top 13 things to do in Wallingford, CT.