Fall in New England is beautiful and something many travelers come to see. Fall activities in CT range from family fun to wine and cider tastings.
And nothing screams fall like beautiful foliage, a warm apple crisp, fall festivals, and traditional fall activities.
Wondering where to start with the absolute best fall treasures in Connecticut? Look no further than our list of the 7 favorite fall activities in CT.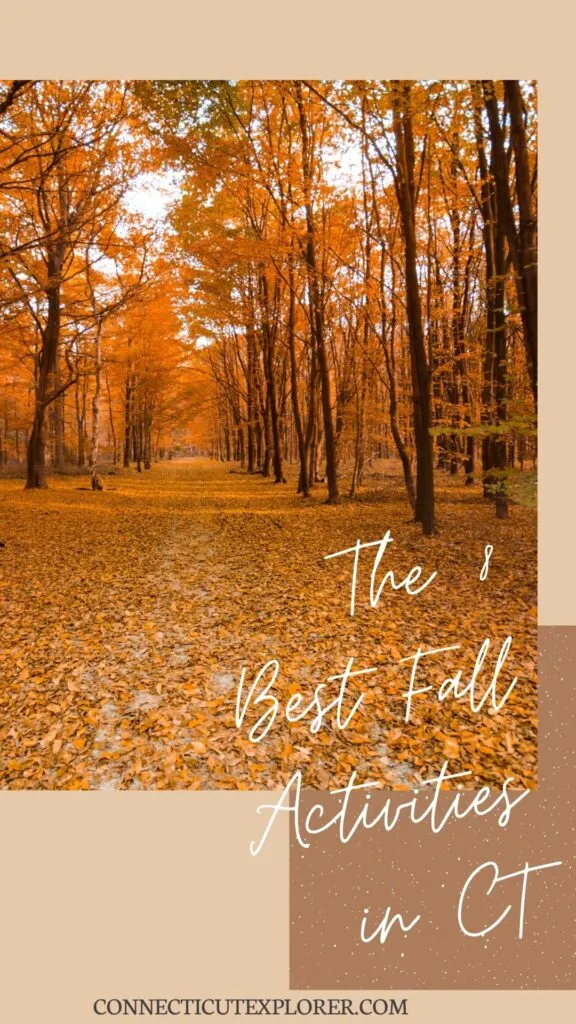 The 7 best fall activities in CT
1. Ellsworth Hill Orchard & Berry Farms, Sharon CT
Something that is taken very seriously in Connecticut is the corn mazes. This corn maze rates as one of the absolute top in Connecticut and maybe even New England.
Open from early September to late November, the Ellsworth Hill Orchard & Berry Farms is worth a visit or two.
Not only is the corn maze a lot of fun, but there are tons of other activities for the whole family to jump into.
Pick your apples and pumpkins for the holiday season and check out their vintage interactive train for the kids to explore. Fun is endless here, which is why to come once is not enough.
461 Cornwall Bridge Rd, Sharon, CT
2. Connecticut Wine Trail, West Hartford CT
Nothing speaks of fall classics and holidays in Connecticut quite like wine. And with CT being one of the fastest-growing wine spots, there is no better place to be than the Connecticut Wine Trail.
All adults deserve to take a weekend to hop from winery to winery around Hartford.
To see all the locations would be impossible in one day, which is why this is the perfect Connecticut fall activity to enjoy weekend after weekend.
433 S Main St #309, West Hartford, CT
3. B.F. Clyde's, Mystic CT
Mystic, CT is a beautiful place to visit all year round for its quintessential New England feel, but it's especially spectacular in the fall. That's because B.F. Clyde's is there.
This cider mill is one of the last steam-powered cider mills in the United States. With tons of great history and some of the best cider in the country, there is so much to love about coming here.
After you're done with that, go ahead to the historic part of town and you will feel like you are right back in history class (more fun, though) learning about when the settlers arrived.
How much more fall can you get than that?
129 N Stonington Rd, Mystic, CT
4. Connecticut Chocolate Trail, Brookfield CT
While we don't need to wait for fall to indulge in some chocolaty goodness, it is a favorite pastime for Nutmeggers to partake in the fall.
Come enjoy the Chocolate Trail, starting with the Bridgewater Chocolate Factory and Factory Store.
Castle Hill Chocolate should be next on your list as they have assorted artisan chocolate from around the world that they smother fruit in.
With many more stops to go on the tour, it may be hard to fit in all that chocolate in one day.
Spread out over multiple trips and come back each season. Or maybe every weekend. Depends on how much you enjoy chocolate!
559 Federal Road Brookfield, CT
5. Essex Steam Train, Essex CT
The best family activity in Connecticut is absolutely the Essex Steam Train.
Since 1971, the Valley Railroad Company has been keeping the heritage alive from industrial times by giving tours and rides to families from all over.
Something even more special for the little ones is that Thomas the Tank Engine that comes around in early September!
Depending on whether you want a great day for the kids or a romantic dinner on one of the historic engines, there is something for everyone here.
Take a look at different events or hop on one of their daily rides.
1 Railroad Ave, Essex, CT
6. Creamery Brook Bison
Seeing Bison wander around a farm is an entirely unique experience that you can pretty much only find right here in Connecticut.
Not only that, but you can eat some of the most delicious food you've ever tasted.
Creamery Brook Bison Farm opened in 1990 with the idea of healthy protein and an aminal cruelty-free environment.
While their meats are what make them famous, be sure to try their ice cream, hot apple cider, and other beverages while you browse around.
19 Purvis Rd, Brooklyn, CT
7. Apple Harvest Festival, Southington CT
For two beautiful weekends in October, Southington Connecticut hosts the Apple Harvest Festival.
This festival is so popular it draws over 100,000 visitors for parade watching, apple picking, and fall baked goods.
With beautiful arts and crafts displays and fun concerts for the entire family, there are endless opportunities for fun here.
With a little something for everyone, the Apple Harvest Festival is truly one of Connecticut's best fall activities.
Don't limit yourself to one day, as there is so much to do! Take advantage of both weeks or both days on the weekend if you are visiting from afar.
76 N Main St, Southington, CT
More fall activities in CT
While these may be the absolute best fall activities in Connecticut to participate in there is so much more you and your friends or family can do.
From hiking trails to gift shops, the great state of Connecticut offers endless activities with fall foliage and perfect New England getaways.
If you're looking for something unique and affordable to do with your kids, don't forget to check out Pumpkintown USA in East Hampton.
It doesn't matter if you are a local or a tourist, everyone can enjoy these fun fall activities!