Are you looking for Easter activities in CT? If so, you've come to the right place. It's never too late to plan some great, family-friendly activities in Connecticut for Easter.
Easter is a beautiful celebration every year, for every denomination, and you can never go wrong with an Easter Bunny and candy-filled eggs.
Here in Connecticut, many different towns and cities come together with their churches and local neighbors to put on fun events like Easter Egg Hunts, of course, community meals, sunrise sermons, the Easter Bunny, and music and crafts.
If you want a fun activity for the kids or a celebratory religious service, there is something for all family and friends on this great list of the top 10 things to do in Connecticut for Easter.
This year, I'm including some adults-only Easter fun, as well.
We hope you have a Happy Easter this year, and you will with any of these events all over Connecticut!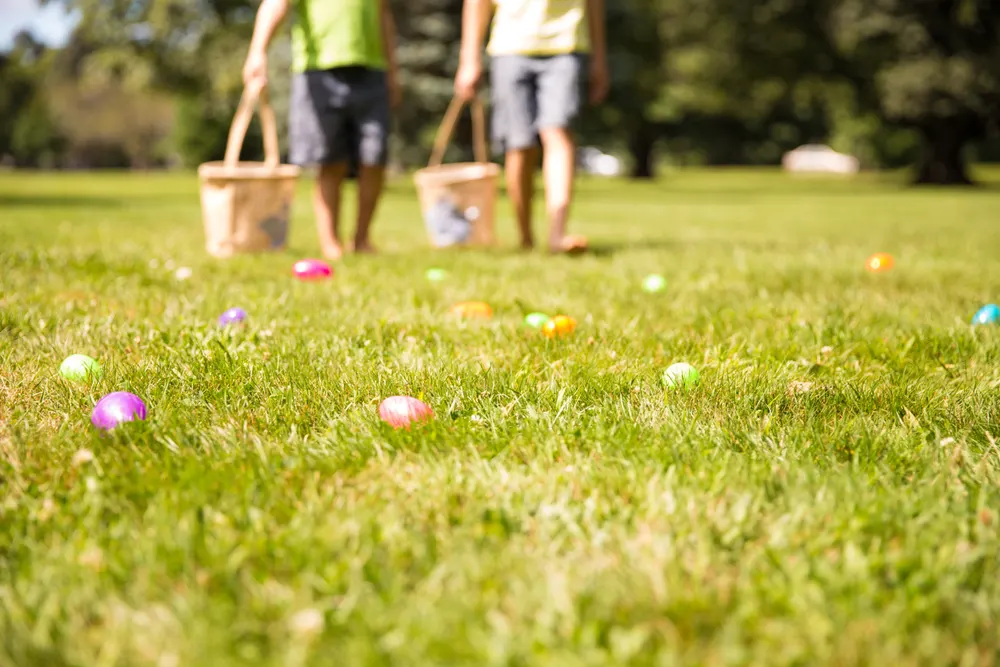 The 10 best Easter activities in Connecticut for 2023
If you are looking for something a little different to do this Easter in CT, check out the Easter/Spring Shop & Stroll at Watch Factory in Cheshire.
Here, you can take your child for a visit and a picture with the Easter Bunny, see the train exhibit, and listen to live music.
There will be plenty of artisan vendor shopping and food trucks here, as well.
Date: Saturday, April 8th, 2023
Time: 11 am – 3 pm
Address: 104 Elm Street, Cheshire, CT
Cost: Free
The Mohegan Fire Company in Uncasville has brought back its signature Easter morning breakfast after a 2-year break.
Their array of signature breakfast dishes like pancakes, sausage, scrambled eggs, toast, home fries, and kielbasa are sure to satisfy!
Wash it down with homemade orange juice and more coffee than you could handle. For adults, admission is $7, kids eat free, and seniors cost $5.
Date: Sunday, April 9th, 2023
Time: 7 am – 11 am
Address: 2029 Norwich-New London Turnpike, Uncasville CT
Cost: $7 for adults, $5 for seniors and kids, Under 3 is free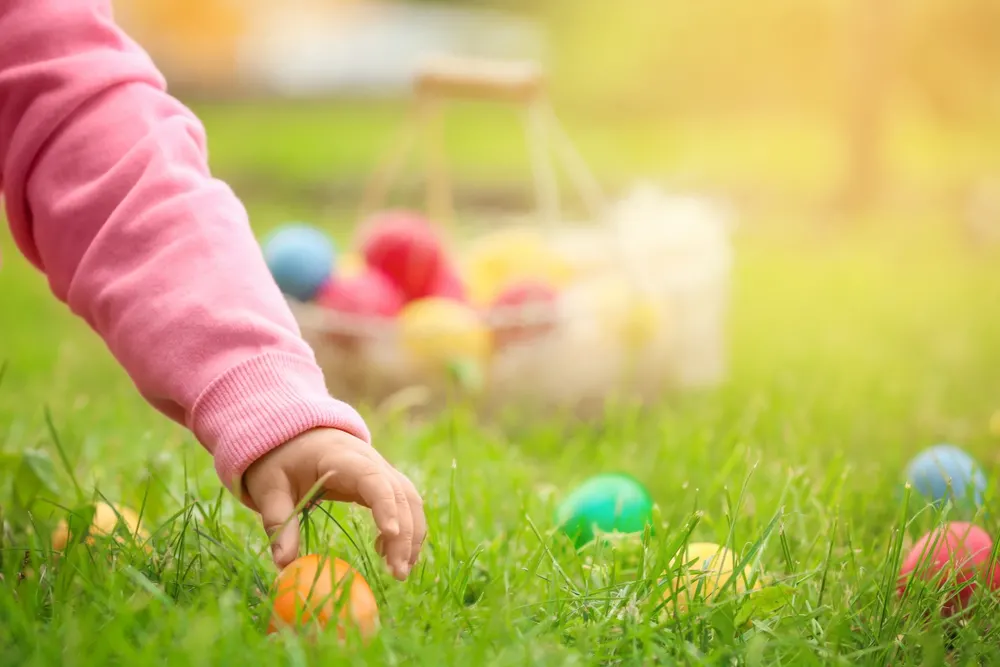 Head to the Meriden Town Green on the Saturday before Easter for a fun and totally free Easter event for kids.
Have your kids bring their own basket and "hop" from table to table to collect delicious Easter treats.
Meriden Hills Baptist Church will be present for a wonderful Easter egg hunt, as well.
Date: Saturday, April 8th, 2023
Time: 12 pm – 2 pm
Address: 77 State Street, Meriden, CT
Cost: Free
Easter fun doesn't just have to be for kids. There's some great adults-only Easter fun available in CT, too.
Come to one of Connecticut's top wineries, Aqilia's Nest Vineyards, for an Easter egg hunt among the vines.
There will be freshly baked croissants to dine on here, as well as fine wine and food truck offerings.
Date: Saturday, April 9th, 2023
Time: 11:30 am
Address: 56 Pole Bridge Road, Newtown, CT
Cost: $15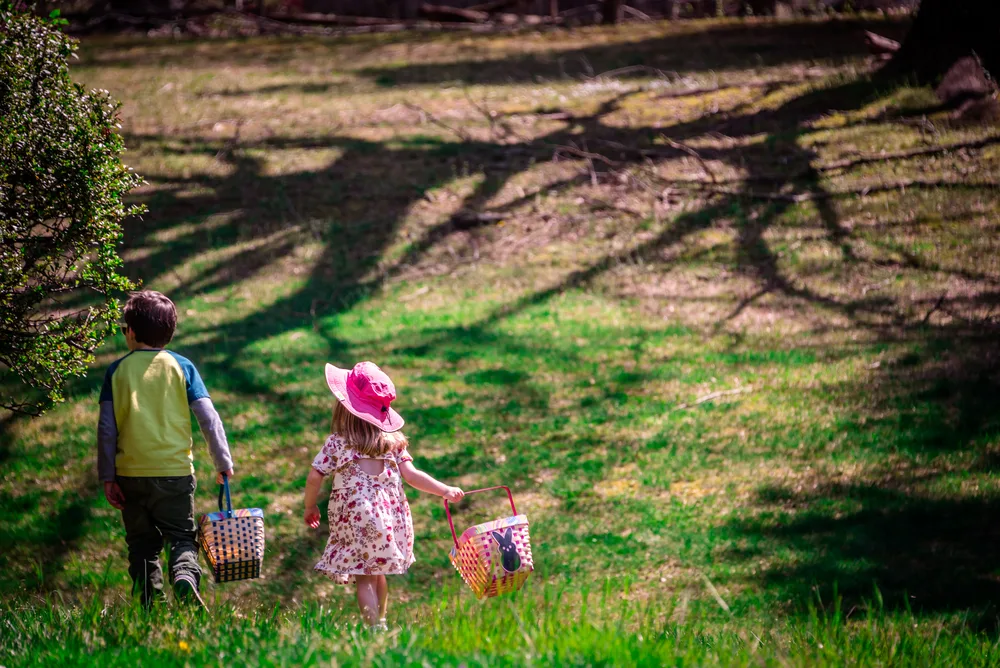 The Denison Pequotsepos Nature Center in Mystic, Connecticut is a wonderful place for kids to visit to learn about and experience nature.
This Easter, you can stroll the nature trails and get lucky by finding a couple of hidden eggs.
All are welcome, and the whole family can meet the animals, or use the creation stations to paint and decorate their own eggs.
There are plenty of eggs to collect for everyone, and it's an outdoor event.
Preregistration is required by following the link above only children under the age of 10 may participate.
Date: Friday, April 7th, 2023
Time: 10 am, 11:30 am, 1 pm, 2:30 pm
Address: 109 Pequotsepos Road, Mystic, CT
Cost: $12 for kids, $5 for adults (no egg hunting for adults)
Westbrook, Connecticut is a beautiful town in Connecticut with great sights and is located right on the Long Island Sound.
The annual Easter Brunch at Water's Edge Resort & Spa is perfect for families and kids, especially since it features an appearance from the Easter Bunny. (He will be at the resort from 11 am – 4 pm.)
Their pastas are made to order, and they offer farm-fresh omelets. If you're a seafood lover, their Salt Island Bar is right up your alley; with fresh shrimp and fresh garnishes, it's the perfect taste of the sea.
Their curated brunch selection includes finely imported domestic cheeses, seasonal grapes, berries, melons, delicious breads, and fresh muffins and pastries.
They have a pastry chef selection of mini desserts to finish off the delicious brunch!
Reservations are required, so make sure you click on the link above to reserve your table.
Date: Sunday, April 9th, 2023
Time: 9 am – 5 pm
Address: 1525 Boston Post Road, Westbrook, CT
Cost: $69 for adults and $29 for kids 6-10, kids 5 and under are free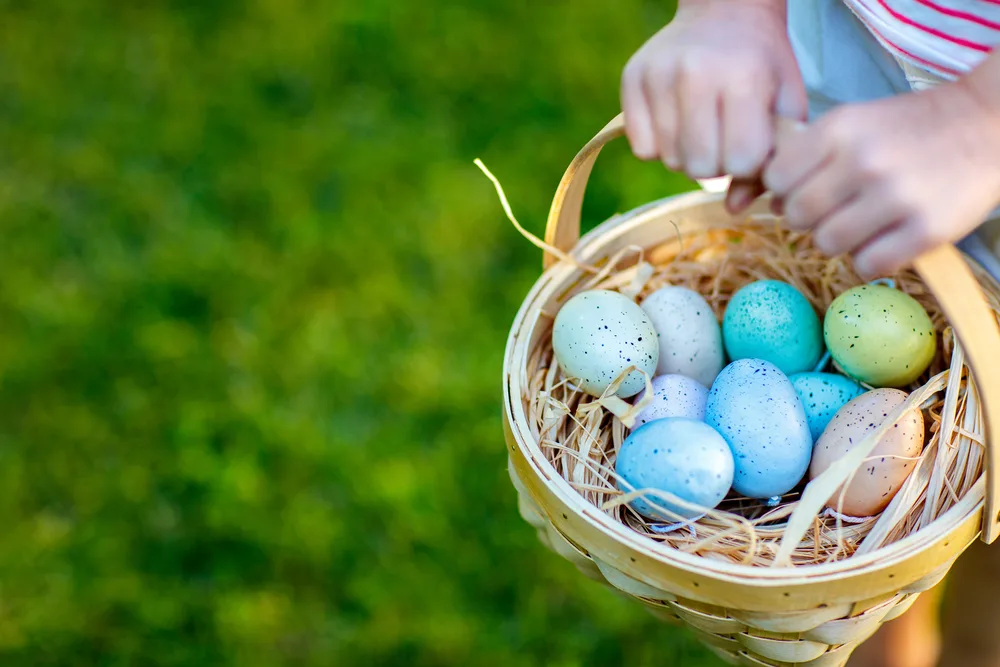 Come to the Stamford Museum and Nature Center for a really fun kids Easter event.
Kids will hunt for eggs along the nature trail, then bring them back to the picnic area where they will get to meet some live animals.
They'll then exchange their eggs for a prize that they can take home – a craft and a science kit are just 2 of the many options.
Date: Multiple dates for March and April, 2023
Time: 17 sessions, check website for details
Address: 39 Scofieldtown Road, Stamford CT 06903
Cost: $20 for members
If you're located near New Britain, Connecticut, then you will definitely want to check out Trinity on Main's Easter Egg Hunt and a movie.
Not only are there many Easter Eggs hidden but there are a few Golden Eggs for the lucky few who find them!
You can take photos with the Easter Bunny and the movie will start at 1:00 pm.
Tickets can be purchased using the link above.
Date: Saturday, April 8th, 2023
Time: 12 pm – 2 pm
Address: 69 Main Street New Britain, CT 06051
Cost: $7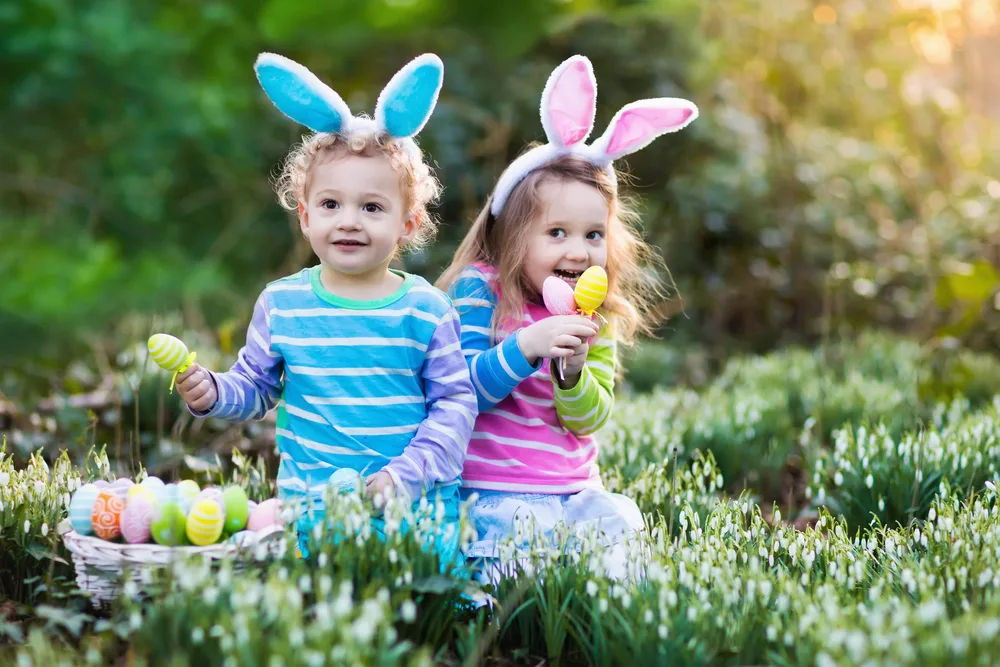 After you've taken your kids to their Easter egg hunt, it's time to get a sitter and have some fun of your own.
Come join other 21+ adults and follow clues for alcohol and non-alcoholic prizes all over downtown Norwich!
Don't drink? No worries – you can exchange your alcoholic prizes for non-alcoholic ones.
Date: Friday, April 7th, 2023
Time: 6 pm
Address: Downtown Norwich Historic District
Cost: $20 per team of 2, purchase tickets here
Bring your kids to the Roaring Brook Nature Center in Canton, CT for a really unique and fun Easter egg hunt.
Walk with your child along the trails to find eggs while you learn about nature and wildlife.
There will be plenty of Easter crafts for kids here, as well.
Date: Friday, Saturday, & Sunday, April 7th, 8th, & 9th
Time: 10 am – 4 pm (Friday & Saturday), 1 pm – 4 pm (Sunday)
Address: 70 Gracey Road, Canton, CT
Cost: Free with admission
---
Whether you want to watch your kids hunt for candy-filled eggs or take part in some fun Easter activities and get in touch with your playful side, this Easter season in Connecticut has something for you!
Be sure to check out their sites for more info, and get tickets in advance.
Happy Easter!