Picking apples is a favorite Fall activity for families all over Connecticut. Fortunately for us, amazing Connecticut apple orchards are in no short supply when apple picking season hits.
Also lucky for Connecticut residents, the state is relatively small and any Connecticut apple orchard is likely just a short drive away.
Don't forget to check out CT's other great fall fruit picking – pumpkin picking.
Also, check out the fall foliage and amazing fall festivals Connecticut has every year.
When is apple picking season?
Apple picking season starts at the tail end of August and extends through late October or early November, depending on the year's weather.
Apple picking season varies from climate to climate, however, in Connecticut, these are the best months to pick apples.
This also happens to be perfect timing – Fall celebrations often beg fresh apples for pies, tarts, and other apple-based baked goods.
Bringing the family out to the orchards for apple picking in Connecticut is a great way to spend time outdoors, learn about botany, and go home with some delicious hand-picked apples – a great activity even the youngest members of your household will enjoy.
Check out this list of the 8 absolute best Connecticut orchards for family apple picking.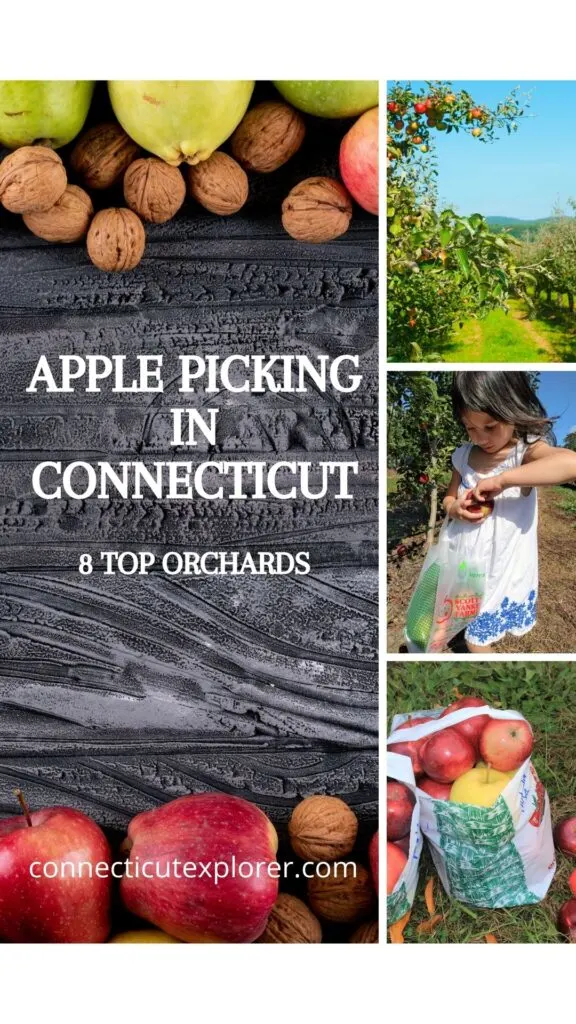 The 8 best orchards for apple picking in Connecticut
1. Scott's Yankee Farmer
Just before the crisp, cold air rolls into Connecticut, folks from all over southeastern Connecticut flock to Scott's Yankee Farmer's amazing apple orchard to pick their own bags of apples right from the trees.
Located in New London County, this orchard sits right off scenic Route 1.
Not only is the orchard massive, with a variety of different types of apples for picking, but there is a wonderful shop on the property that has fresh fruits, vegetables, and baked goods to take home along with your apple peck.
436 Boston Post Rd East Lyme, CT 06333
Website: Scott's Yankee Farmer
2. Rogers Orchard
If you are in the Hartford County area and you are looking for some awesome Connecticut apple picking, you've got to make a trip to Roger's Orchard.
Whether it's Ida Reds or Jonamac apples you are looking for, this orchard has them.
Don't forget to make a trip to the on-site bakery while you are there for some of the freshest, most delicious pies and pastries that will ever hit your lips!
2876 Meriden Waterbury Tpke, Southington, Connecticut
Website: Roger's Orchard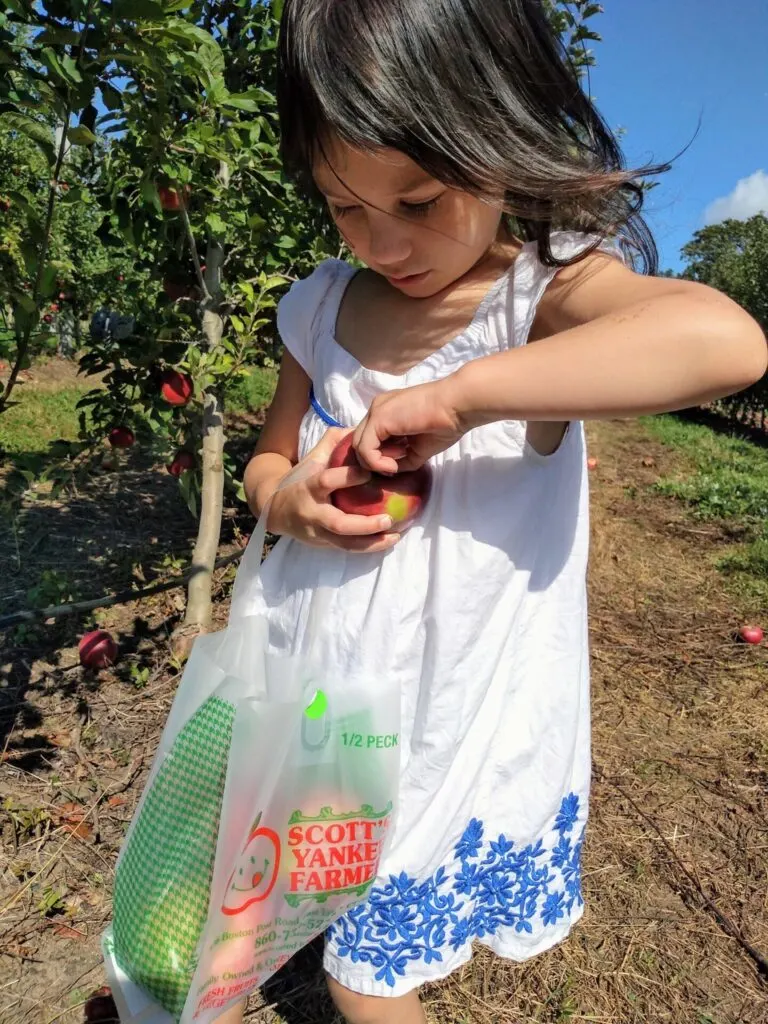 3. Drazen Orchards
Middlesex County is absolutely gorgeous in the Fall – a destination for many who are looking for some beautiful Fall foliage.
Drazen Orchards is one of Middlesex County's best places to pick apples. So, while you're out for a drive with the family, I recommend stopping by for some awesome Connecticut apple picking.
Apple varieties like Macoun, Honeycrisp, Jonagold, and Zestar can all be picked here or purchased at their farm stand.
251 Wallingford Road, Cheshire, CT
Website: Drazen Orchards
4. March Farm
Located in the mountainous Northwest corner of Connecticut, March Farm is a Fall outdoor activity destination for families all over Connecticut, Massachusetts, and New York state.
You've never seen anything like this place – it's absolutely beautiful and the apple picking is second-to-none.
Not only is the apple picking "choice" here, but there is also an on-site bakery here and lots of fun family activities including a playscape and an animal yard.
160 Munger Lane, Bethlehem, CT 06751
Website: March Farm
5. Ellsworth Hill Orchard
Ellsworth Farm is another favorite apple picking spot in Connecticut that is located in Litchfield County. Their apple varieties include Northern Spy, Idared, and Empire.
While you're there, be sure to check out Mother Nature's Candy Store right across from the apple-picking fields for more fun activities for your kids.
461 Cornwall Bridge Rd., Sharon, CT
Website: Ellsworth Farm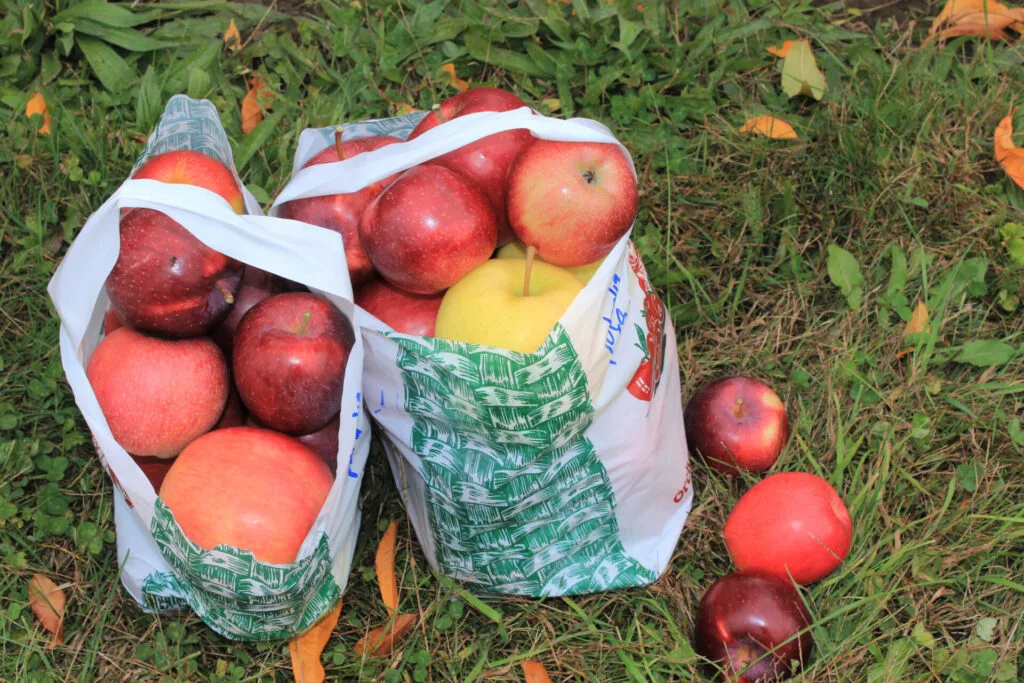 6. Holmberg Orchards
Holmberg Orchards is best known for its amazing berry picking and its lush lavender fields, but if you're looking for apple picking in Connecticut, you have to visit this orchard during the Fall months.
Located in the coastal county of New London, Holmberg Orchards has an amazing selection of apple trees.
Not only is this Mystic apple orchard fun for the family, but they also have an amazing selection of wines and hard ciders you can take home and enjoy.
1990 CT-12, Gales Ferry, CT 06335
Website: Holmberg Orchards
7. Easy Pickin's Orchard
If you are looking for some fun apple picking in Hartford County, Easy Pickin's Orchard is your place.
This family-run farm has a large selection of apple varieties and plenty of other fun family activities, like Fall wagon rides.
There's no on-site shop or shop here, but the friendly staff is always happy to direct you to any one of the farmer's markets where they sell their goods.
46 Bailey Road, Enfield, CT, 06082
Website: Easy Pickin's Orchard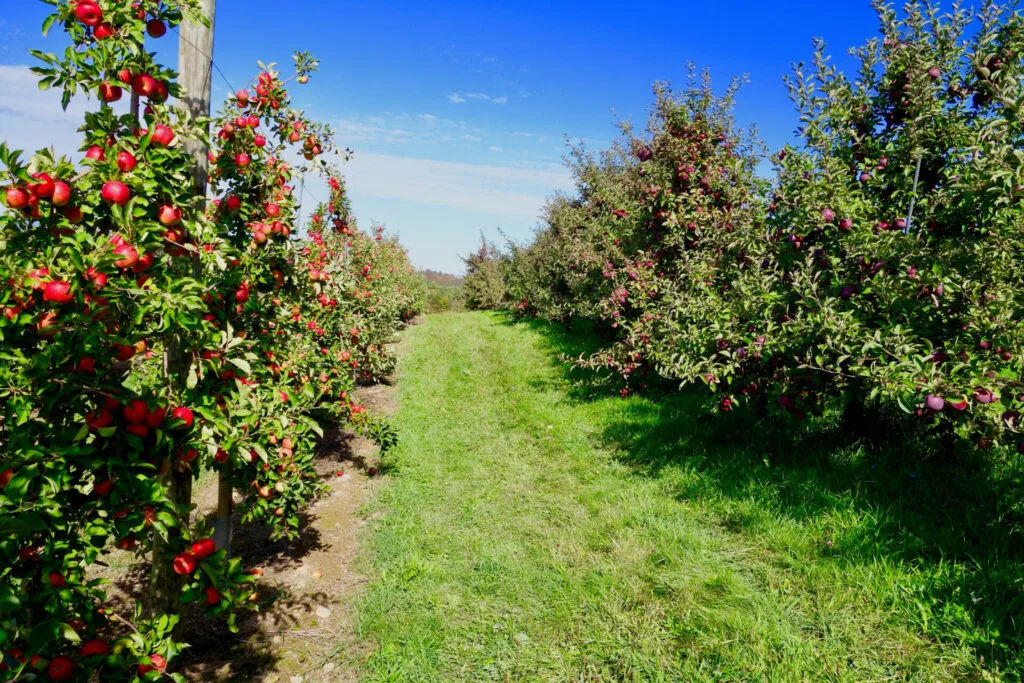 8. Irish Bend Orchard
Located in Tolland County, Irish Blend Orchard has a great selection of apple varieties to pick.
All of their apple trees are dwarf trees, too – great for even the littlest little ones.
If you get there early enough in the apple picking season, you might even get to pick a few peaches, as well!
90 Pioneer Heights Rd, Somers, CT 06071​​
Website: Irish Bend Orchard
Our children enjoy our yearly apple-picking adventure. I hope enjoy these amazing Connecticut orchards, as well!