Are you planning a trip to the Denison Pequotsepos Nature Center in Mystic, CT? If so, you are in the right place.
This is an awesome and educational nature center that we enjoy so much.
In fact, when I ask my kids where they'd like to go on the weekends, a solid 85% of the time, they say, "The Pequot Nature Center!".
They choose it over the many awesome Connecticut zoos and aquariums, in fact.
If you're wondering what to expect on your upcoming visit to the Denison Pequotsepod Nature Center, I've put together a guide to help you out.
Let's get right to it!
The Denison Pequotsepos Nature Center is also referred to as just the "Pequot Nature Center".
So, you will see me use the two names interchangeably.
Very briefly, I'll explain to you how to find this cool nature center and then we'll get into the details of what you can expect and what you might need to bring with you.
Where is the Denison Pequotsepos Nature Center?
The Pequot Nature Center is located at 109 Pequotsepos Rd in Mystic, CT.
It's nearby Mystic's other amazing attractions, like the Mystic Aquarium, the Mystic Seaport Museum, and Olde Mistick Village.
It's tucked back into the woods, though, and a little harder to find.
Directions to the Pequot Nature Center
To get to the Denison Pequotsepos Nature Center, you'll be getting off I-95 and turning as if you're going to the Mystic Aquarium.
You'll follow Coogan Blvd. and turn right onto Jerry Brown Road. From there, it'll be a short distance before you see Pequotsepos Rd.
A little over a mile down Pequotsepos Rd., on the left, you'll find the nature center.
Below is a link to Google Maps. Just click the link and you'll get directions from your location to the Pequot Nature Center.
What is the Denison Pequotsepos Nature Center?
Nature centers vary in their exhibits and activities from place to place. So, this is a good question.
The Pequot Nature Center is a federally licensed wildlife rehabilitation and education facility.
Here, you'll find a variety of animals that are being cared for with the end goal of them being returned to the wild.
The nature center has a variety of nature exhibits aimed at educating children (and adults) about wild animals, as well as encouraging our natural curiosity and appreciation of them.
There are plenty of live animals, as well as mounted animals that are sorted by classification and labeled for learning.
The nature center also has over 10 miles of trails for families to explore and hosts special events and educational opportunities.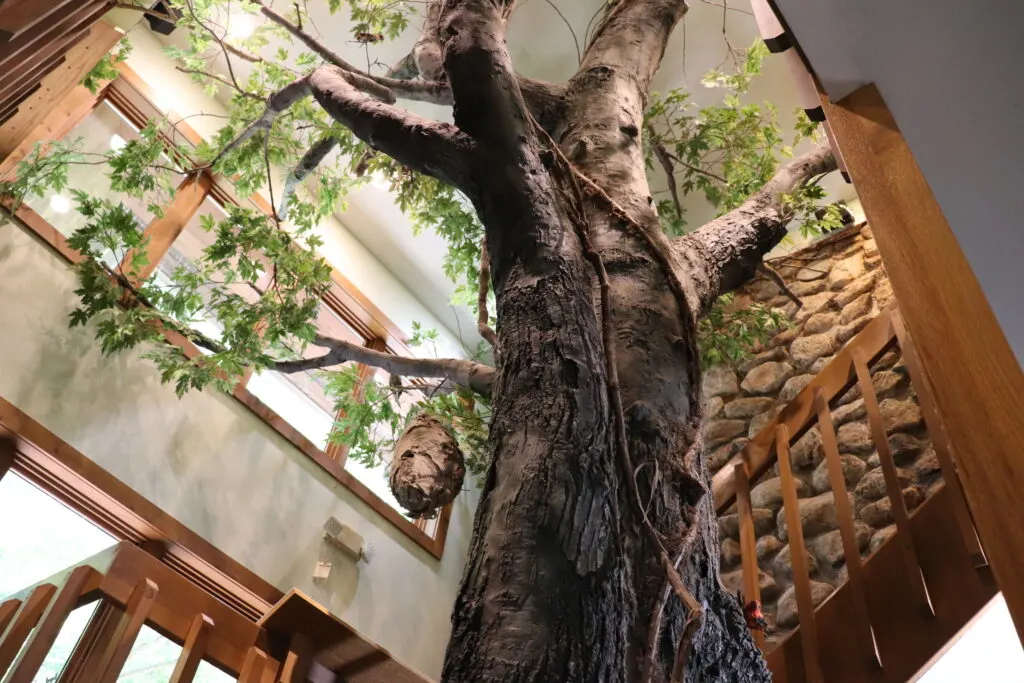 Inside the Denison Pequotsepos Nature Center
There are a lot of neat things to see and experience inside the nature center.
When you walk in, you'll be greeted by the super friendly staff, and right from the front desk, you'll be able to see fascinating wildlife specimens and fun learning activities.
There's quite a bit to do near the front desk, but your kids will immediately be drawn to the massive indoor tree that beckons them downstairs.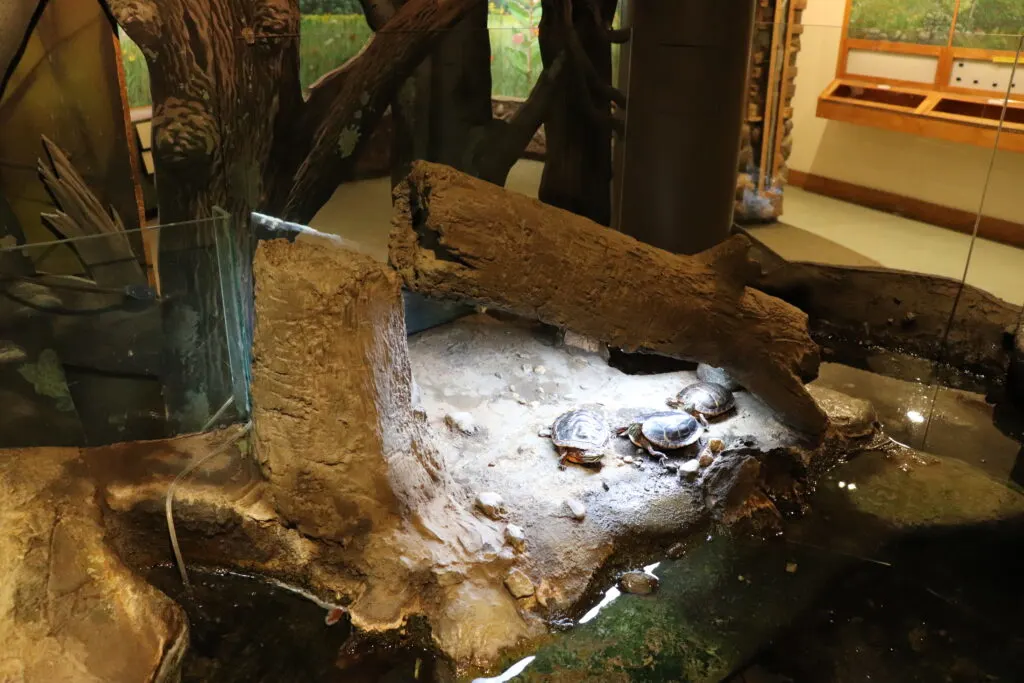 Nature Preschool
Near the front desk, you'll notice a classroom. This is where their Nature Preschool meets.
This is a program for children between the ages of 3 and 5. Here, children learn a variety of things, all while out in nature.
This is a morning program that runs Monday-Friday.
Other early education classes take place at the nature center, as well.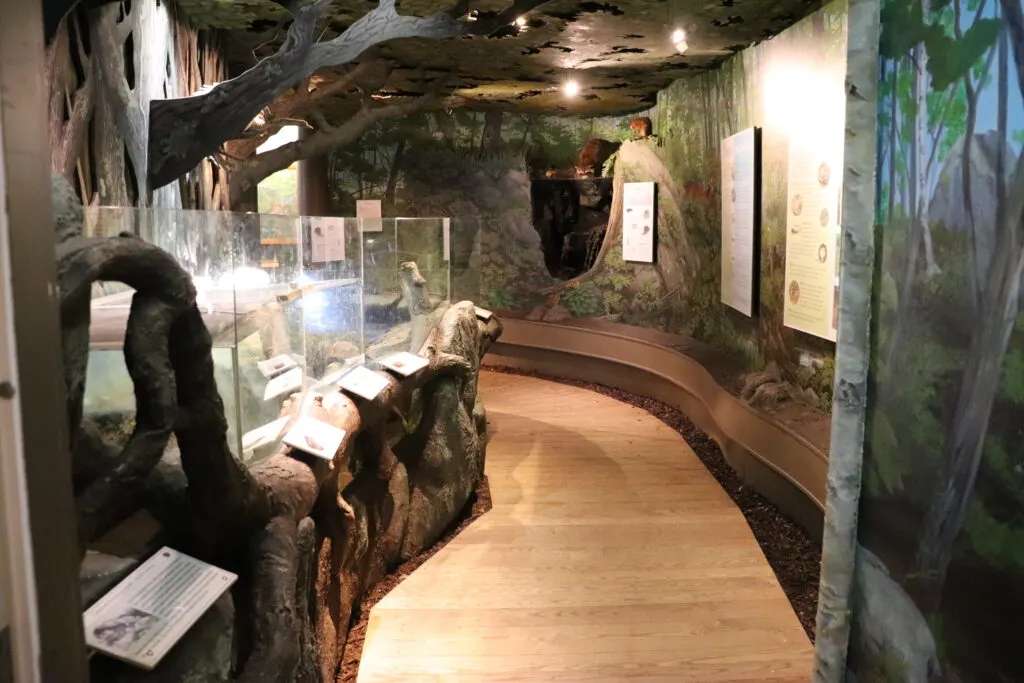 Downstairs
Downstairs, there are a lot of fun exhibits. This is definitely where things get exciting.
The Wetland Exhibit
When you go downstairs, turn to your left and you'll go through a creek-type habitat where there are live turtles and plenty of other cool things to see.
At the end of the wooden walkway through the "creek", you come to a room with some hands-on exhibits to explore.
The Meadow Exhibit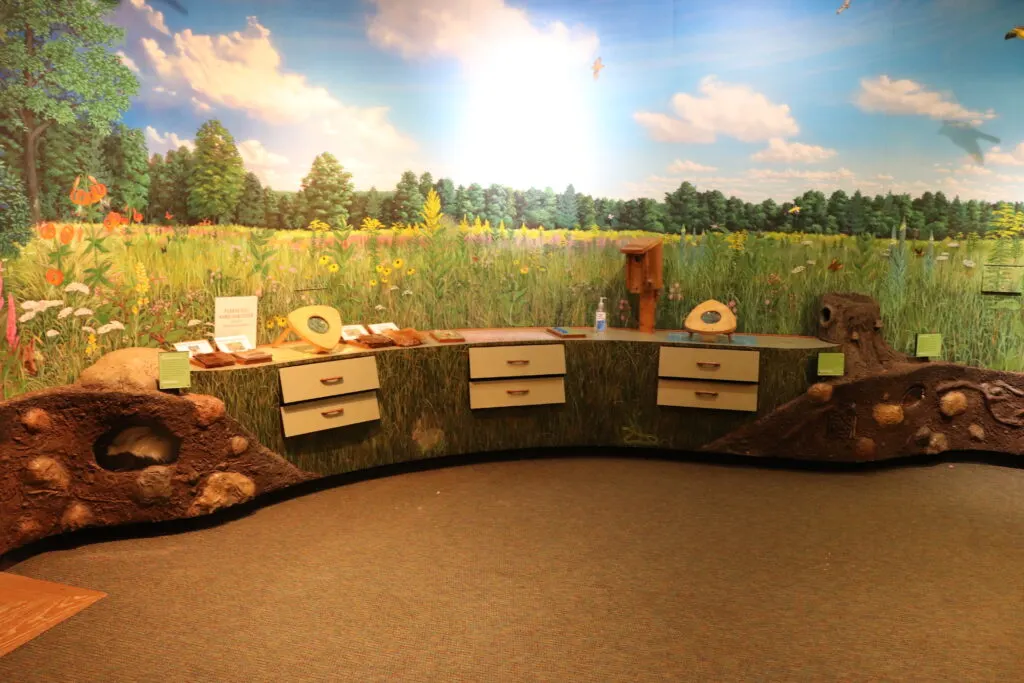 The drawers you see above can be opened and their contents explored.
Everything on top of the table can be touched, as well, and there are some buttons you can press that control a light display on the wall, which shows you the line of flight for various types of birds.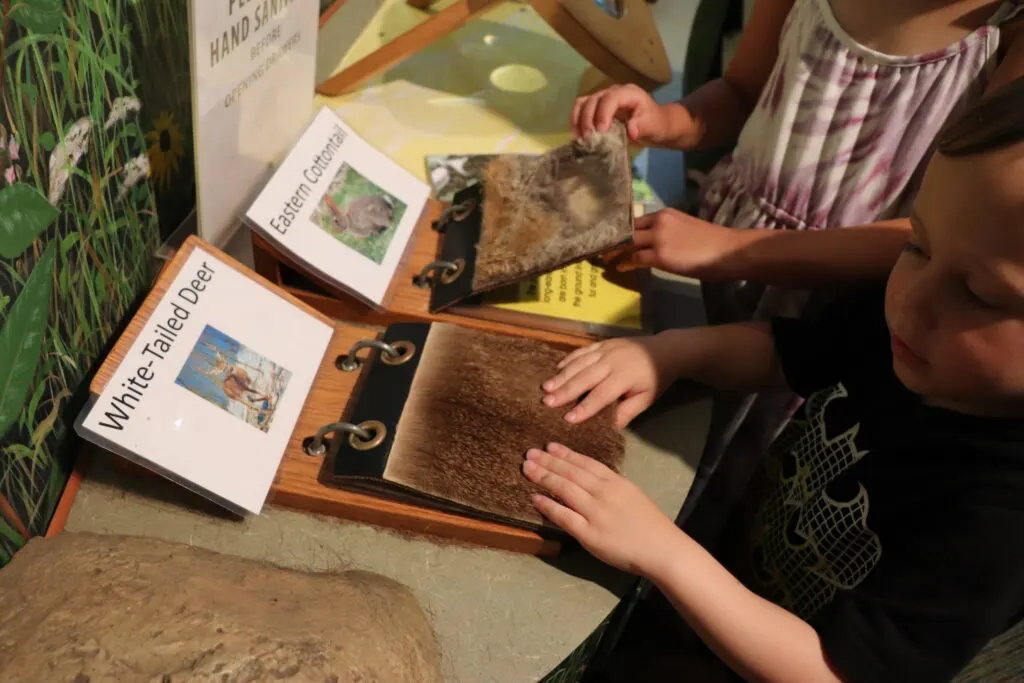 Night in the Meadow
To the left of this exhibit, there's a dark room that's really a special experience. I don't want to give too much away, but your whole family will love it.
It's a narrated experience that involves your senses. It's Called "Night in the Meadow" – definitely do not skip this exhibit.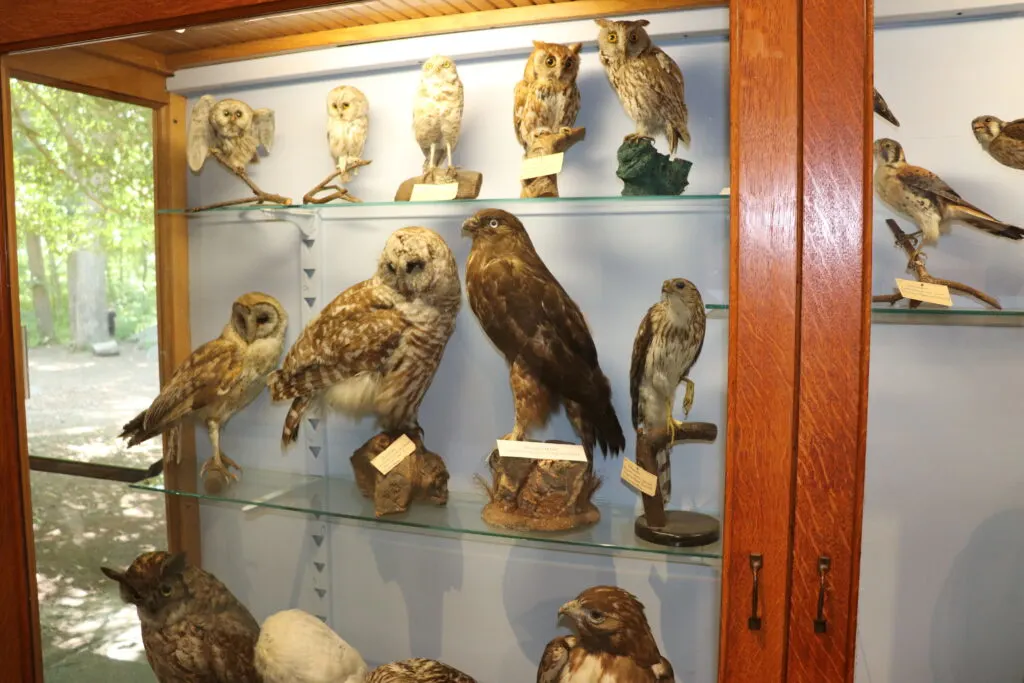 The rehabilitation room
If you make your way past the Meadow exhibit, you'll pass some spectacular mounted birds and come to a large room where birds, turtles, and various other wild animals are cared for.
There are amazing educational displays all over the room.
My children spend copious amounts of time with the birds that are being cared for here, which gives me time to explore the rest of the room.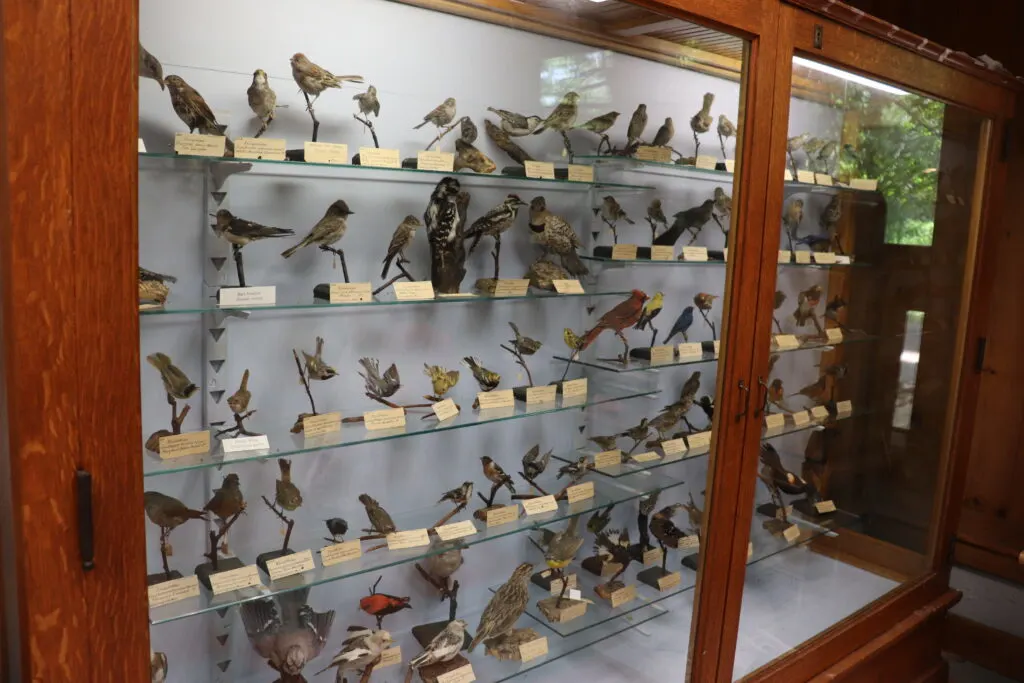 Outside the Denison Pequotsepos Nature Center
After you're done exploring inside the nature center, it's time to head outside.
There are several large cages where birds of prey that are too injured to be released are kept.
These are fascinating. If you catch them at feeding time, it can be quite the show.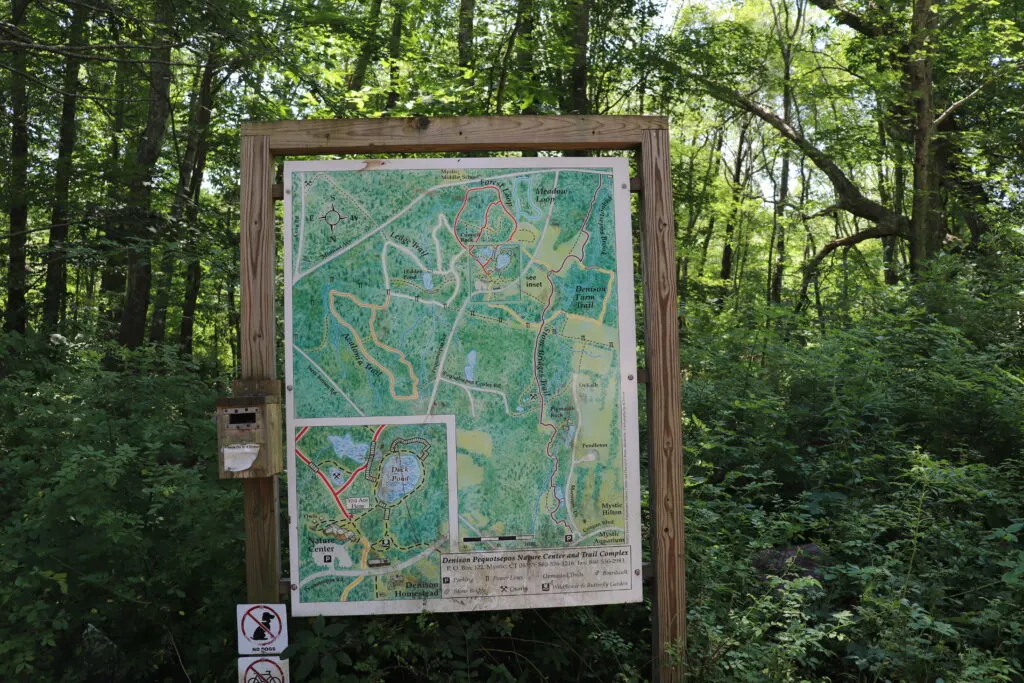 Walking Trails
There are 10 miles of walking trails at the Denison Pequotsepos Nature Center.
The trails are winding and stick fairly close to the main building.
There's a beautiful pond and some fun bridges along the trail that's right outside the nature center.
The trails are easy to hike and you'll see so many neat things along the way.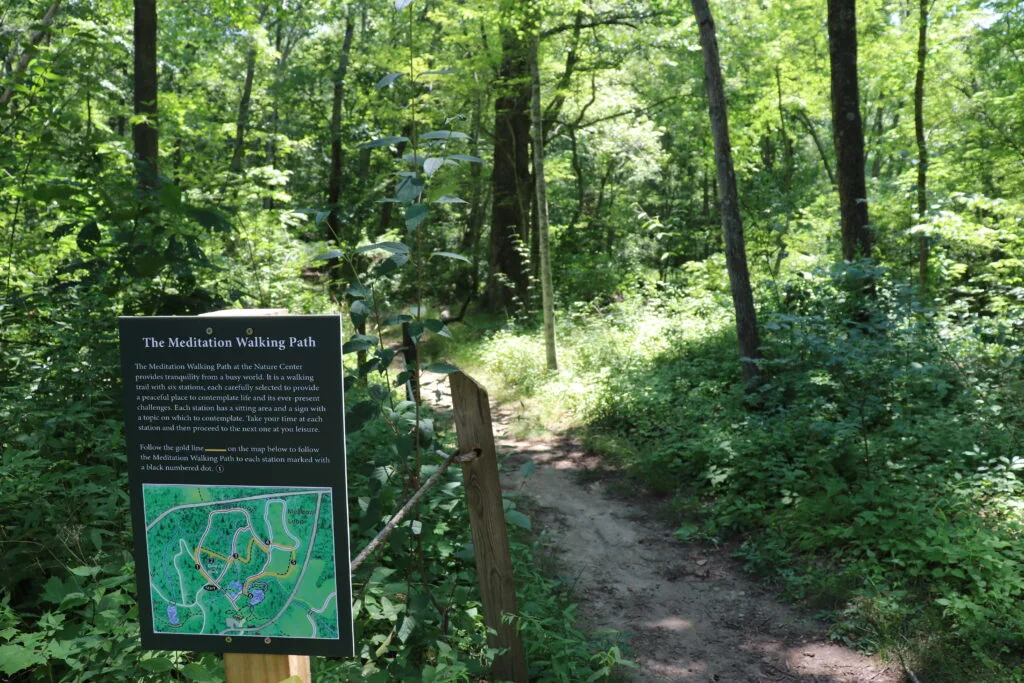 What you should bring with you to the Pequot Nature Center in Mystic, CT
This is a small-ish nature center, but you can expect to spend a good amount of time here.
It's fun and everything is just so interesting.
The first time we came here, we were underprepared, but after many visits, I've got down what we need to bring.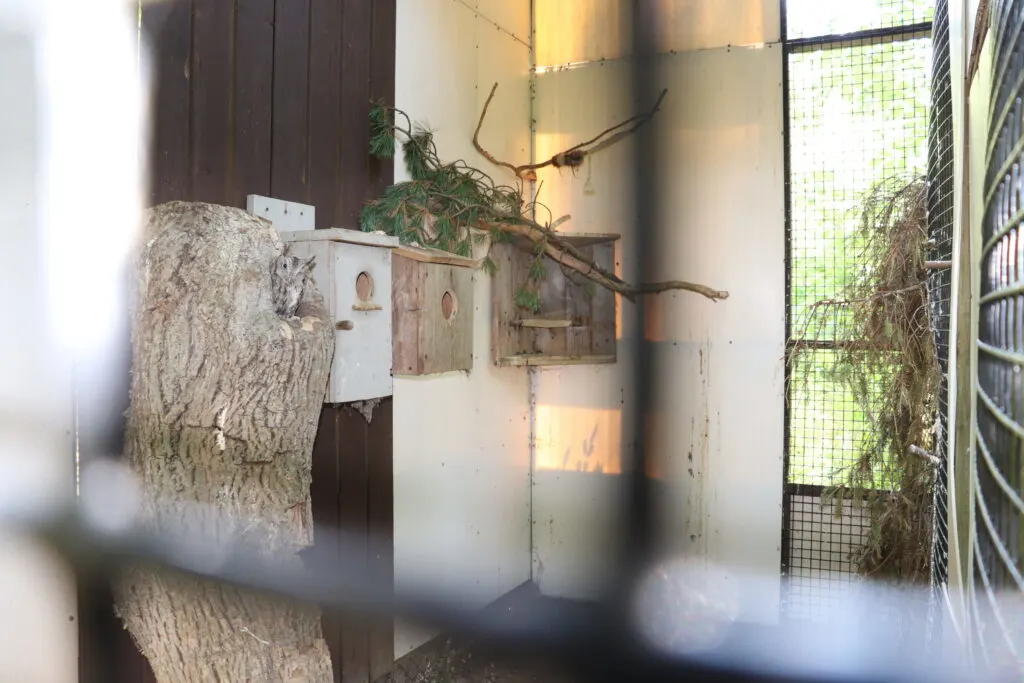 As I said, you're going to be here for a while. There are no places to eat inside the nature center, but there are plenty of picnic tables and large rocks to sit on outside.
I suggest packing a small cooler with food and water and leaving it in your car.
After your kids explore inside the museum, run and grab your lunch so everyone is fed before you hit the trails.
Mosquitos love standing water, and there's a nice big pond near the trails here – lots of standing water.
I highly suggest bringing mosquito repellent. If you've got something that repels ticks, too, that's a plus.
Nothing wrecks my outdoor time like swatting bugs off myself and my kids.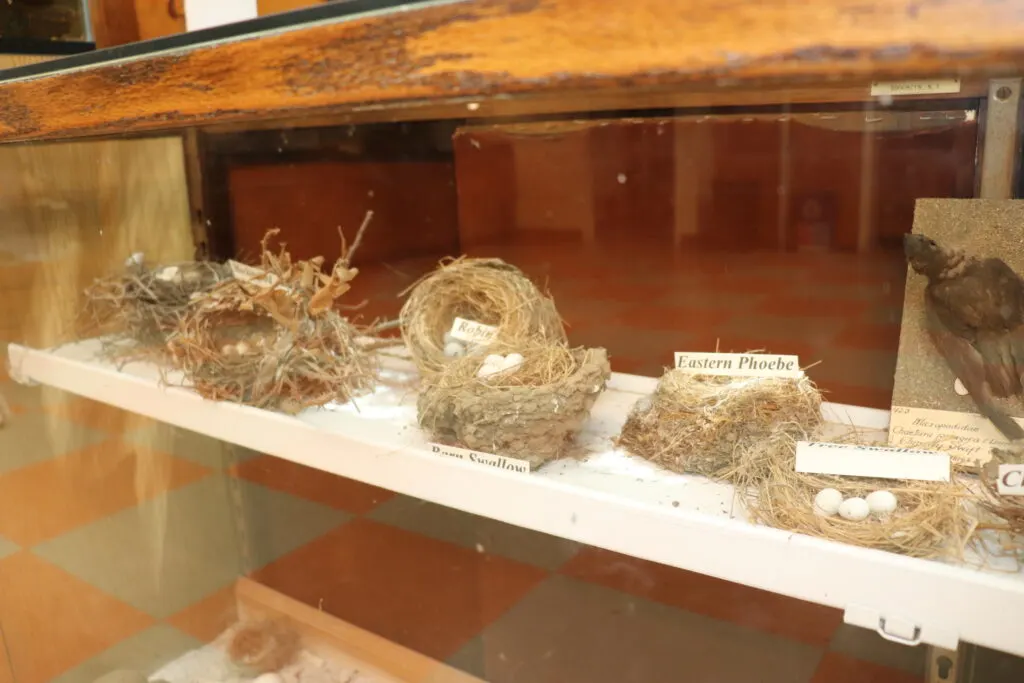 Whether you plan on staying inside the nature center or exploring the trails, it's a really great idea to carry with you a couple of small guides to help learn more about the animals and plants you see.
The 3 must-have guides I suggest are those of plants, trees, and birds of Connecticut or New England.
You definitely want to be ready for the learning opportunities here!
---
I hope you enjoy your visit to the Denison Pequotsepos Nature Center. This is a really special place.
Don't forget to check out their website for special events, summer camps, and other neat opportunities.