Toddlers are a tough crowd sometimes. It's hard to get out of the house with them sometimes, especially here in Connecticut with our well-defined seasons. Luckily, there are tons of fun things to do with toddlers in CT.
Here is a list that will help keep your toddler busy and having fun.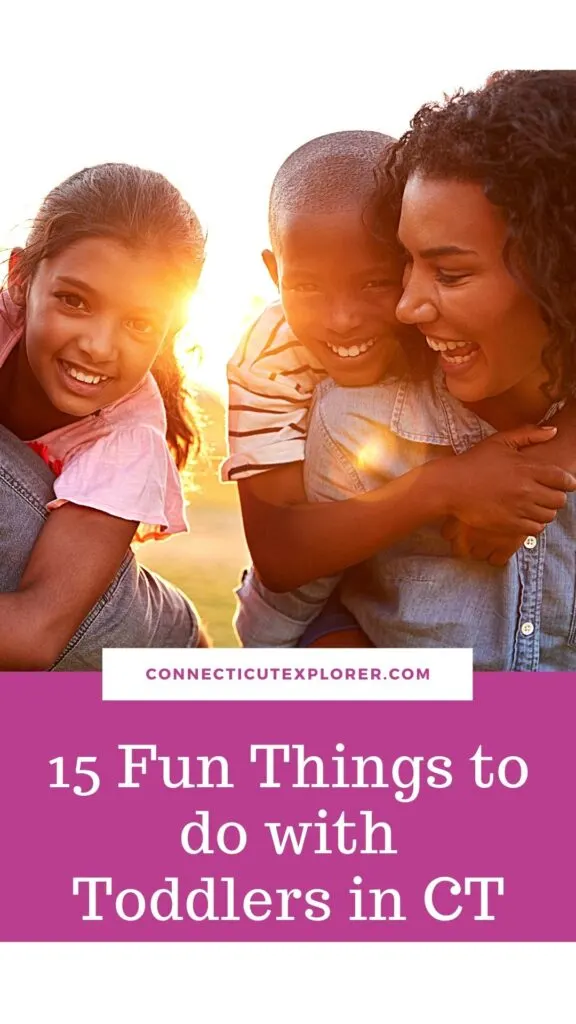 15 fun things to do with toddlers in CT
1. Dinosaur State Park
One of the most popular activities for young children in Connecticut!
You won't encounter any living dinosaurs here, but their 200-million-year-old footprints were uncovered within the park in 1966 and are preserved for you to see today.
A great day trip with the little ones, learn all about the dinosaurs tromping around the areas many years ago.
There are trails where you can look for tracks and a fun indoor interactive exhibit.
400 West Street, Rocky Hill, CT
Website: Dinosaur State Park
2. Lyman Orchards
Middlefield's Lyman Orchards is a famous Connecticut orchard. This family farm has been in operation since 1741!
There are apples to pick during the fall harvest season, pumpkins to choose from, corn mazes to solve, and festivals to attend.
Spend a half-day with your kids frolicking in the orchards and meandering through the maze.
Grab some fresh produce in their market, and be sure to visit in late July for their annual sunflower maze.
Over 300,000 sunflowers are grown in a unique design that will impress the whole family and amaze your little one.
32 Reeds Gap Road, Middlefield, CT 06455
Website: Lyman Orchards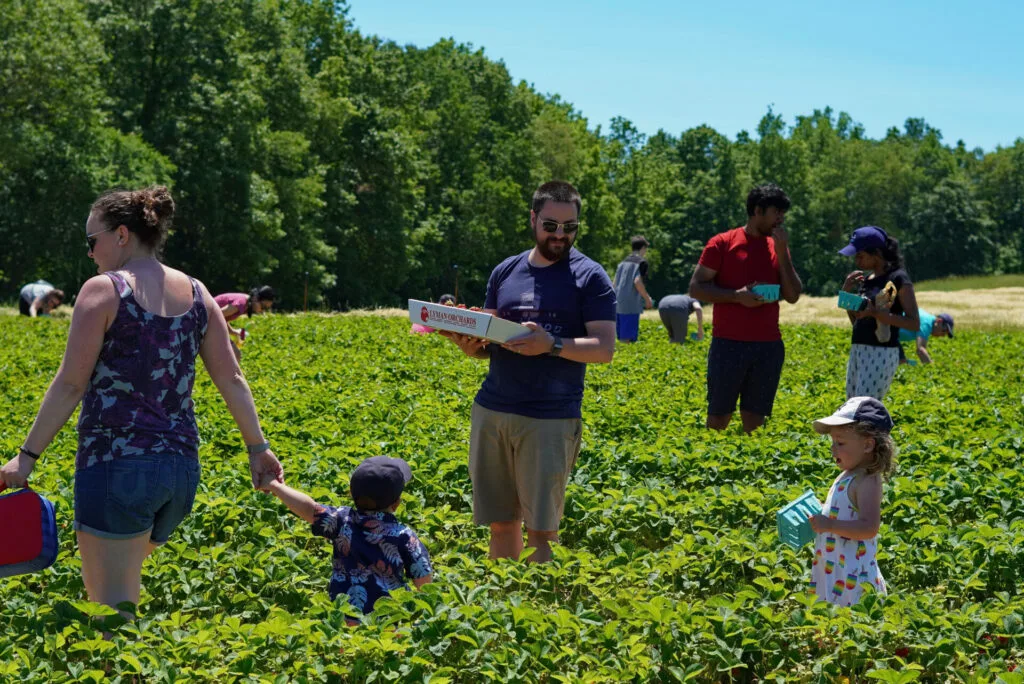 3. Lake Compounce
Lake Compounce, America's oldest amusement park and home to the state's largest outdoor water park with water play activities for children of all ages.
There is a dedicated area within the water park for children under five and be sure to bring your camera for all the photos of your little one riding the carousel for children under 10!
After your visit to Lake Compounce, there are some family-friendly restaurants you can grab a meal at, too.
185 Enterprise Drive, Bristol, CT 06010
Website: Lake Compounce
4. Mystic Aquarium
With tanks holding sharks, eels, and other marine life, the Mystic Aquarium offers a look into the underwater world and is a whole sensory experience for little ones.
Visit penguins, watch the beluga whales, and interact with touch pools full of sea creatures and marine life.
With plenty of space to explore, you can stroll, walk, and run amongst marine life while engaging with the colors and textures of the different specifies.
55 Coogan Blvd, Mystic, CT 06355
Website: Mystic Aquarium
5. Beardsley Zoo
Connecticut's only zoo, the Beardsley Zoo, contains over 300 species from North and South America.
The zoo's mission is devoted to preserving endangered animals, and the team is actively creating ways to safeguard species and maintain their wild habitats.
Good for kids of all ages, little ones will see all their favorite animals up close.
Enjoy the grounds and walk through the greenhouse, grab ice cream by one of the fountains, and take a ride on the historic carousel.
1875 Noble Avenue, Bridgeport, CT
Website: Beardsley Zoo
6. Kid City Children's Museum
Featuring three levels of imaginative play for children ages one to seven, the museum features interactive spaces for children to play and use their imaginations.
The indoor playground is perfect for tumble play and exploring.
The space features a pirate ship, a space themes area, farming themes, and is brimming with objects to play with.
The whole bottom level has a distinctive marine theme designed primarily for young toddlers, with lots of crawling, climbing, and sliding opportunities.
119 Washington Street, Middletown, CT 06457
Website: Kid City
7. Rocky Neck State Park

Rocky Neck State Park is one of the best beaches for toddlers in Connecticut because of its sprawling sand bar.
You won't be concerned with the waves as your little one gets the perfect amount of water play.
Stay the day or for several nights in their fully equipped campground that includes facilities, charcoal grills, picnic tables, and easy beach access.
224 West Main Street, East Lyme, CT, 06333
Website: Rocky Neck State Park
8. Discovery Museum
The Discovery Museum is highly hands-on for kids and engages with teaching through sensory activities and play.
Their architectural exhibit teaches little ones about building through hands-on building activities.
Their energy and the light exhibit includes an interactive space that also uses touch and sight to inspire awe and get your little ones thinking!
Be sure to visit the space dedicated to instruments where your little one can experiment with different sounds (and make all the noise they one to in one confined space)!
4450 Park Avenue, Bridgeport, CT 06604
Website: Discovery Museum
The Connecticut Science Center is one of the greatest places for local families with curious children to spend a day.
Kidspace, the Engineering Lab, Invention Dimension, and Our Changing Earth are just a few of the interactive exhibits that delight and educate children of all ages.
With unique rotating exhibits throughout the year, there is always something interesting to learn about and engage with at the Science Center.
250 Columbus Boulevard, Hartford, CT 06103
Website: Connecticut Science Center
10. Maritime Aquarium at Norwalk
The Maritime Aquarium at Norwalk is known for having a 110,000-gallon shark tank and a gorgeous courtyard that overlooks the Norwalk River.
Marvel at the sharks, watch them feed the seals, or have your little ones dip their fingers into one of the many sensory tanks.
The Go Fish exhibit is where children can play in a fishing boat and observe the glossy, scaly fish floating by – such as salmon, cod, and halibut.
10 North Water Street, Norwalk, CT 06854
Website: Maritime Aquarium
11. Hartford Yard Goats Game
Consider watching a game with your little one at Dunkin Stadium in Hartford.
Take pictures with the Yard Goats mascot, enjoy a sweet treat, and take in the roaring cheers of the crowd.
Strollers are allowed within the stadium, and children under 3 are free if they sit on an adult's lap during the game.
1214 Main Street, Hartford
Website: Hartford Yard Goats
12. Elizabeth Park
An ideal space to have a picnic with the little ones after strolling through the park and walking around the historic garden.
Watch from the blanket as your little one has plenty of cleared green space to explore.
Visit in spring to capture the beauty of the park in bloom.
1561 Asylum Ave, West Hartford
Website: Elizabeth Park
13. The Dinosaur Place at Nature's Art Village
The Dinosaur Place in Montville, CT is a super fun thing to do with toddlers in CT. This place has everything from life-size dinosaurs to a splash pad.
This place is perfect for toddlers because the walking trails are long enough to keep a toddler's attention but short enough to where toddlers won't be having a meltdown by the time they reach the splash pad and playground.
The dinosaurs are lifelike and large, but not scary. It's really the perfect place if you are looking for fun things to do with toddlers in CT.
1650 Hartford New London Tpke, Oakdale, CT 06370
Website: The Dinosaur Place
14. Niantic Children's Museum
The Niantic Children's Museum of Connecticut is a great Connecticut children's museum for toddlers and preschoolers. Everything here is play-based learning and "safe-enough" fun.
At this children's museum, you won't find an abundance of older kids that play and put toddlers at risk.
This children's museum is geared more toward the toddler crowd, though there is plenty for older kids.
409 Main St, Niantic, CT 06357
Website: Niantic Children's Museum
15. Flamig Farm
If you are looking for fun things to do with toddlers in CT, Flamig Farm in West Simsbury is a must-visit.
This petting zoo has wagon rides, places to picnic, pony rides, and of course, plenty of furry and friendly animals to pet.
7 Shingle Mill Rd, West Simsbury, CT 06092
Website: Flamig Farm
In addition to this list, don't forget apple picking in the Fall!