If you have a child that loves animals, but you don't want to spend the money to go to a zoo, I would suggest going to Flamig Farm located in beautiful West Simsbury, CT. It's a fun place for families with young kids.
It's almost an hour and a half drive for me, but we've been twice in the last year. It's totally worth the drive since you can spend the whole day there and not spend a ton of money.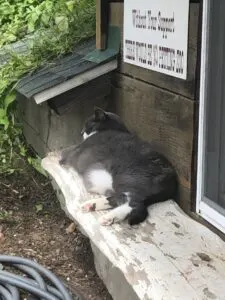 When you first arrive, you'll see the backward EGGS sign on their barn. There's a funny story behind that sign, which you can read about on their website.
When you walk up to the shop to pay for admission, you'll most likely see one of the barn cats laying around or one of their friendly dogs. In the entrance area, there are also some cool large painted rocks for the kids to climb on while you pay admission.
There's conveniently a handwashing station located in this area as well.
Once you've paid admission and purchased your buckets of feed, enter the large barn to your left to see hundreds of chickens! But trust me, you will see chickens wandering everywhere throughout the farm.
Then, walk up the path to see the rest of the animals. This petting zoo have horses, ponies, cows, pigs, llamas, alpacas, ducks, peacocks, goats, rabbits, and sheep.
You can spend as long as you like wandering around, petting, and feeding the animals. There's plenty of room so you never feel crowded if it's busy.
In the back corner, there's a small playscape and a cool wooden ship to play on. Watch out, the slide on the wooden ship is FAST for toddlers. Nearby, there's a large red chair for a fun photo-op.
The last time we were at this cool Simsbury petting zoo, we were able to catch the tractor-drawn wagon ride that goes across the street to the rest of their property. Farmer Nevin told us the history of Flamig Farm as we rode through their beautiful property.
They have plenty of picnic tables under the pavilion or near the parking lot for you to enjoy a packed lunch or snack.
We usually stop in the farm shop on the way out (and hit the restroom located in there too). They sell farm products, clothing, toys, ice cream bars, and, of course, EGGS. You can get farm-fresh eggs for $6/dozen.
Usually, they have baby chicks by the register to pet too.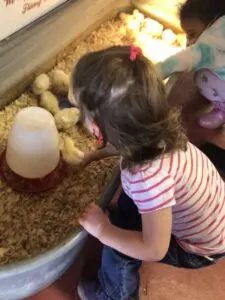 Pony Rides are available on weekends. They also offer summer camp and children's programs that are worth checking out if you're local. You can also do birthday parties and events at Flamig Farm.
If you're looking for a place in Connecticut for a lowkey vacation. Simsbury has plenty to do! There's hiking at Talcott Mountain, a golf course, a beautiful winery (where we had our wedding!) and lots of good food.
Basic Information For Flamig Farm in West Simsbury, CT
Open daily from 9am-5pm from April to November, weather permitting.
Admission is $6.75 per person and free for children under 2. A small bucket of food is $2 or 3 cups for $5. Pony rides, which are only available Saturdays and Sundays 11am-3pm, are $5.00 per ride.
Website: flamigfarm.com