Mystic, Connecticut is a beautiful place to be. It feels like you are in a storybook of the quintessential New England summer tale.
Its beauty alone is worth the visit but there are quite a bit of fun things to do if you are going to make the trip.
Whether you are visiting for the arts, the history, or the perfect coastal town shopping, the possibilities are endless.
Surely, you have considered visiting the famous Mystic Pizza. There's so much more to do here, though!
Read on to learn more about the top 10 things to do in Mystic, Connecticut.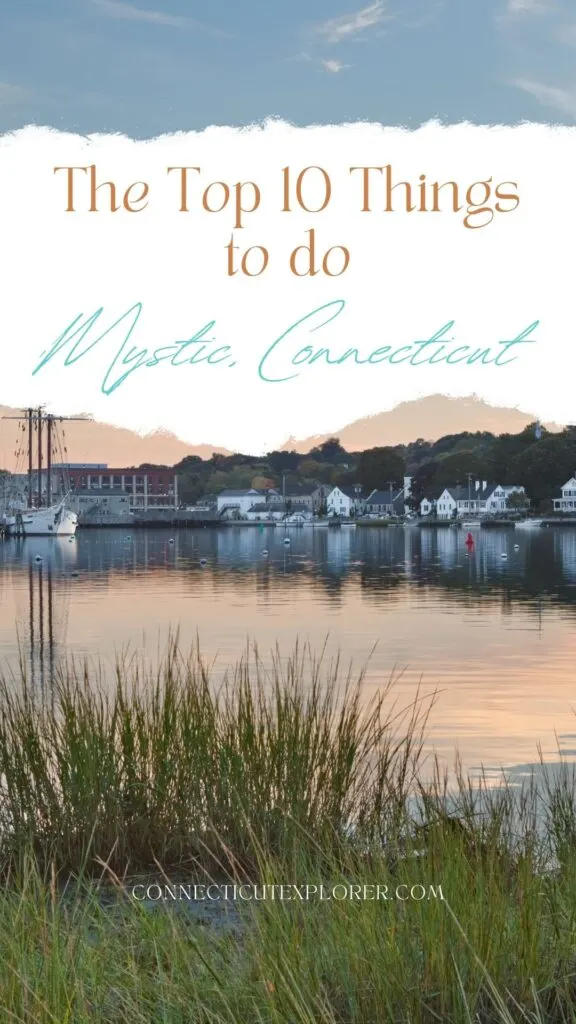 The top 10 things to do in Mystic, Connecticut
1. Mystic Seaport Museum
Starting with something that blends beauty and history – the Mystic Seaport Museum.
From the planetarium to the history lessons of the 1800s and whaling, there is something for everyone. While the history is amazing throughout the working shipyard, the kids need something, too!
The Children's Museum and the Discovery Barn is the perfect place for them to run around and learn.
75 Greenmanville Ave, Mystic, CT
2. Mystic Aquarium
Keep the learning going by making your next stop at the Mystic Aquarium.
With sharks, beluga whales, African penguins, jellyfish, and so many more types of animals, there is so much to see here.
Make sure to check the events calendar because there is a wide range of activities from adult wine nights to kid-friendly events.
55 Coogan Boulevard, Mystic, CT
3. Olde Mistick Village
Shopping in Mystic, Connecticut is one of the best things you can do here. It's second-to-none.
Even if shopping isn't really your thing, it's still an amazing experience because the shops have maintained their original flavor from the 1700s.
With cobblestone streets and mom-and-pop shops, you get a different taste than the big chain shopping malls.
If you get hungry all the best restaurants in town are also located in Olde Mistick where you can take your food to the duck pond and sit and relax.
If you've got little ones, Alice in the Village, an Alice in Wonderland-themed tea and cake restaurant is an Old Mystic Village must-visit.
27 Coogan Boulevard, Mystic, CT
4. Historic Downtown Mystic
Historic downtown Mystic is slightly different than other parts of Mystic. Lined with great restaurants and shopping this part of town sits more on the Groton side.
While it is not a massive area to wander through it is a great walking destination because of the proximity to the drawbridge and rivers.
There are endless places to go and see with breweries and shops like Knotwork (hand-made knotted bracelets inspired by coastal design).
31 Water St. Mystic, CT (downtown marina address)
No Website
5. Charles W. Morgan
Understanding what made a town what it is today is important, which is why you have to stop by Charles W. Morgan.
No, this is not a person, but instead the last standing whaling ship in America – conveniently located in Mystic, CT for everyone to enjoy.
Its claim to fame is also being the last wooden whaling ship left in the world. Nicely situated in the historic part of Mystic. CT, it is worth a visit.
75 Greenmanville Ave, Mystic, CT
6. Barley Head Brewery
Since suddenly we feel like we are in grade school again with all the history lessons, it might be time for a drink. Kidding! Who doesn't love learning?
But this refreshing drink comes from one of the best breweries in Mystic. Centered right in the heart of the town this brewery offers a changing menu weekly in terms of beers.
With ingredients that are local, not only can you see the beautiful town but you can also get a great taste of it.
12 Water St, Mystic, CT
7. Denison Pequotsepos Nature Center
Sighting seeing and shopping are great things, but sometimes we need a little breather and want to take in some lovely nature.
That's totally possible here, as Mystic does have something for everyone. This nature center offers 10 miles of trails which means there are tons of great walks to take.
While you don't have to spend all day here this truly is a beautiful part of Mystic that deserves a least a few of your hours.
109 Peqoutsepos Rd, Mystic CT
8. B.F. Clyde's Cider Mill (Fall Activity)
While Mystic is a beautiful coastal town to visit in the summer, there is something special about fall that makes all the locals head on over to B.R Clyde's Cider Mill.
Fresh apples and cider have never been fresher. The good news? They have been around since 1881 meaning they know EXACTLY what they are doing.
Just pour a little cinnamon in it and you've got yourself the perfect New England fall drink.
Make sure you go after the official Sept 1st. opening or you will find yourself in a bit of a pickle.
129 N Stonington Ave, Mystic, CT
9. The Old Lighthouse Museum
If you have ever seen a New England movie then you know there is almost always a beautiful lighthouse shown in every one of them.
There is no need to go to the movies when you are in Mystic because The Old Lighthouse Museum is a gorgeous visit and even better photo-op.
OK, so it's next door to Mystic, but still worth the visit! The beautiful mid-nineteenth-century stone is a work of art that showcases an important time in history.
It's not just beautiful to see on the outside, but the inside is a complete history lesson of the town.
7 Water St, Stonington, CT
10. Williams Beach
Arguably, saving the best for last. Who doesn't want to have a day in the sun and sand?
The many reasons why people live in New England coastal towns are for their fine beaches and safe waters to swim in.
Though the beach is small it is absolutely beautiful and perfect for a family outing.
1 Harry Austin Drive
No Website
---
Mystic is one of those towns where you can follow the guide or end up completely lost and still have a great time. People travel here from far and wide for the unique experiences Mystic provides.
Because of the small-town feel with many things to do, it's hard to know what to pick and what to skip out on.
Depending on what you and your guests are in the mood for, the things to do in Mystic Connecticut can take your group in any direction.
There is something for everyone here!