If you are new to the Waterbury area or are planning a visit soon and you are trying to find out what there is to do here, you are in the right place. Here is a list of the 10 best things to do in Waterbury, CT in 2022.
---
Waterbury, Connecticut's nickname is the Brass City. Waterbury received its nickname due to its history as a major brass manufacturing hub.
From the early 1800's to the 1970's, Waterbury was home to several brass manufacturers, making goods ranging from buttons to coins to munitions casings. In addition to brass products, Waterbury's factories also manufactured clocks, watches, and silverware. Timex watches were one of Waterbury's best-known products.
Today, Waterbury, located at the intersection of Interstate 84 and Route 8, is a city that celebrates and preserves its historic past.
Many of its buildings are on the National Register of Historic Places. The immigrants who worked in the brass, clock, and silver factories formed thriving neighborhoods.
While Waterbury has many historic landmarks and monuments, there is one major religious landmark.
At Holy City USA, a gathering place atop Pine Hill for Christian groups to hold religious and prayer services and concerts, there is a 56-foot tall LED lighted color-changing cross.
There are many things to do in Waterbury, CT.
Besides visiting the city's historic downtown, there is a major museum celebrating history and art. A theater and a chocolate factory offer tours.
An annual festival celebrates local barbecue pitmasters and beer brewmasters. A lake and a park provide recreational fun.
A go-kart track allows visitors to channel their inner race car driver. A memorial commemorates the Pilgrims.
Food lovers will find some of Connecticut's best Turkish cuisine.
Here are the 10 best things to do in Waterbury, CT. Most of the sites and activities on this list, unless noted, are open year-round.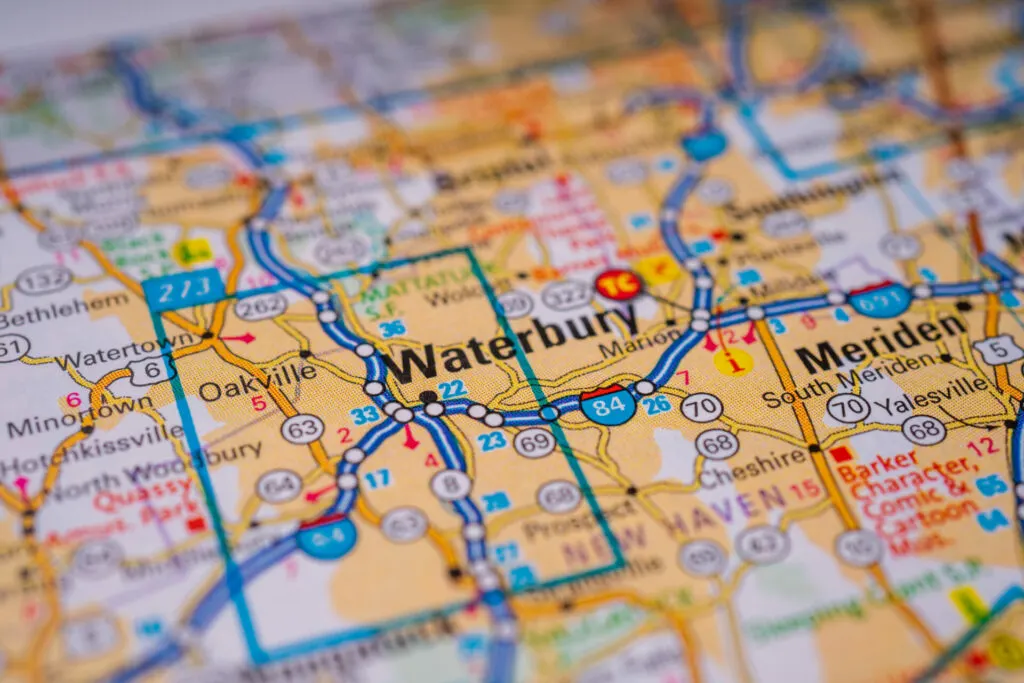 The Top 10 things to do in Waterbury, CT in 2023
1. Downtown Waterbury Historic District
The Downtown Waterbury Historic District, roughly bordered by North, South, East, and West Main Streets, Bank Street, and Grand Street, is on the National Register of Historic Places.
The District includes 130 buildings that were constructed mainly in the late 19th and early 20th centuries.
The buildings were placed on the National Register for both their historical significance and architectural styles.
The Waterbury Green, bordered by North, East, and West Main Streets, and Church Street, was the original Waterbury town common and is part of the Historic District.
The Green has five monuments. The Carrie Welton Fountain, made of bronze, memorializes Welton's horse and her love for all animals. The Clock on the Green is a fifteen-foot tall granite clock designed by Paul Lux.
The granite Veteran's Monument, designed by Luis Fucito, commemorates all Waterbury residents who served their country. The Soldier's Monument, sculpted by George Bissell, is a tribute to the Civil War.
From the Waterbury Green, visitors can see two churches, West Main Street's Basilica of the Immaculate Conception, and St John's Episcopal Church.
The Basilica of the Immaculate Conception was built in 1928 to resemble a Roman basilica.
St John's Church contains several Tiffany windows.
Along with the churches, the key historic buildings in Waterbury, CT include:
The former Elton Hotel (Prospect & West Main Streets), which was Waterbury's grandest hotel.
The Apothecary Building (Bank Street), built in Renaissance Revival style.
The Howland-Hughes Building (Bank Street), which was the home to the Howland-Hughes Department Store and also was built in Renaissance Revival style.
The Post Office (Grand Street), which was built in Art Deco style and has a facade with panels illustrating the history of transportation and communications.
Other major historic buildings in Waterbury, CT include:
Waterbury City Hall (235 Grand Street), a three-story Georgian revival building.
The Chase Municipal Building (236 Grand Street), a four-story Renaissance revival limestone building with a stained glass window in the staircase.
The Silas Bronson Library (267 Grand Street), which was constructed of bronze and glass and has a Paul Wayland Bartlett statue of Benjamin Franklin in the plaza.
The Waterbury Judicial District Building (300 Grand Street), a modern design building that originally was the headquarters of the Anaconda American Brass Company .
The Waterbury Republican American Building (389 Meadow Street), which was originally Waterbury's Union Station, and has a landmark 240-foot Seth Thomas clock tower, modeled after a similar tower at Siena, Italy's Palazzo Pubblico.
2. Mattatuck Museum
The Mattatuck Museum was founded in 1877 as a historical society.
The museum's first exhibit hall opened in 1912. The museum specializes in American art and history, with an emphasis on Connecticut artists and the history of Waterbury and the Naugatuck Valley.
The Museum's art exhibits feature works from American masters with Connecticut ties, including Alexander Calder and Frederic Church.
There are regularly changing exhibits with works from both artists from the past and contemporary artists.
The Museum works with local historical societies, ethnic organizations, and manufacturing groups to tell their stories through the museum's historical exhibits.
One unique feature of the Mattatuck Museum is the Button Museum, Waterbury is a major button manufacturing center.
The Museum regards buttons as miniature works of art, made with many different materials and decorated with historical motifs.
The Button Museum has a permanent collection of over 3,000 buttons of artistic and historic significance.
Some of the buttons on display include engraved buttons from George Washington's coat, 1930's buttons made of bakelite, and Japanese netsuke.
The Museum is open seven days a week. Free parking is located at the museum and at a lot on Park Place.
144 West Main Street, (203) 753-0381
3. Palace Theater Tour
Waterbury's Palace Theater, designed by Thomas Lang in Second Renaissance Revival style, opened in 1922.
The theater features grand lobby spaces, ornate dome ceilings, and Greek, Roman, Arabic, and Federal motifs. The theater ran vaudeville shows, movies, and concerts until 1987.
The theater remained dark until 2005, when a three-year renovation transformed the Palace Theater into Greater Waterbury's Center For The Performing Arts.
​The Palace Theater offers once-a-month guided tours led by volunteer guides who discuss the theater's history and design in detail.
The tours include the theater, the lobby, the stage, the backstage murals, and the dressing rooms. Larger groups have the option of adding lunch to the tour.
Tour schedules are posted on the theater's website. Tickets must be purchased in advance.
Parking is available at the Scovill Street Parking Garage, 33 Scovill Street.
Visitors with walking difficulties should contact the box office ahead of time so the theater can make accommodations.
100 East Main Street, (203) 346-2000
4. Harrub Pilgrim Memorial
In 1921, Charles Harrub, the chief engineer for the Waterbury Brass Company, wanted to honor his wife, who passed away.
Harrub also wanted to honor the Pilgrims who had arrived in Plymouth, Massachusetts in 1620, so he donated $100,000 to a fund to create a monument to honor both his wife and the Pilgrims.
After Harrub's death, his estate was donated to the City of Waterbury, which oversaw the Memorial's construction. In 1930, the Harrub Pilgrim Memorial was dedicated.
The Harrub Pilgrim Memorial was created by Herman MacNeil, who also created statues for the State Capitol Building in Hartford.
The French granite monument, located in Chase Park, measures 24 feet tall. The figures depicting the Pilgrims and the native Wampanoag measure ten feet tall.
In creating the Memorial, Harrub put the spotlight on the virtues of courage, character, and leadership.
The Memorial has two dedications, one from Calvin Coolidge, the other from the City of Waterbury in memory of Charles Harrub.
The Harrub Pilgrim Memorial was originally located at Riverside Street near Freight Street.
The construction of Interstate 84 prompted Waterbury to move the statue to its current location at Highland Avenue and Sunnyside Avenue.
5. Fascia's Chocolates Tour
Fascia's Chocolates was established in 1964 when John and Helen Fascia started making chocolates in the basement of their Waterbury home to supplement John's income as an electronic technician.
The Fascias were so successful with the chocolate business that they opened a store in 1978 and John Fascia left his job to work full-time in the chocolate business in 1980.
Now run by The Fascias' daughter and son-in-law, the shop now offers gelato and factory tours along with chocolates.
Tours of Fascia's chocolate factory are part of their Experience Your Chocolate program.
Participants learn about the history of chocolate, taste different chocolate varieties, take a tour of the factory, and make their own chocolate bar.
While the Experience Your Chocolate program runs about an hour, those with time constraints can book a Make-A-Bar session, which is a half-hour long.
Fascia's Experience Your Chocolate tours run on Saturdays year-round, with Wednesday-Friday tours available on Wednesday through Friday. Make-A-Bar sessions require a minimum of four people and are available Monday-Saturday.
All tours and sessions must be booked in advance.
For chocolate lovers, this is hands down one of the best things to do in Waterbury, CT.
44 Chase River Road, (203) 753-0515
6. Brass City Raceway
The Brass City Raceway provides an all-season way for adults and kids to race go-karts.
The Waterbury raceway's quarter-mile-long flat track has sharp corners, which provides a challenge for drivers.
Racers use eco-friendly electric go-karts with adjustable pedals, quick acceleration, and a maximum speed of 45 MPH.
Two racers compete at a time, with each session lasting between 8-10 minutes.
Juniors (ages 7-12) and adults (ages 13 and up) compete separately. A real-time scoreboard provides race statistics.
There are other activities at the Brass City Raceway. Batting cages allow baseball and softball players to practice and perfect their swings.
An arcade awaits gamers looking to take a break from go-kart racing. The Raceway also provides groups and individuals the opportunity to throw axes at a target.
Brass City Raceway is open Tuesday-Sunday. The minimum age to race a go-kart is seven.
The minimum age for ax-throwing is 10. Racers must be at least 48 inches tall. Closed-toe and closed-heel shoes must be worn.
130 Scott Road, (203) 518-4578
7. Hop Brook Lake
Hop Brook Lake, controlled by the U.S. Army Corp of Engineers, was created in 1968, when a flood control dam was built across Hop Brook.
The lake, bordering Waterbury, Middlebury, and Naugatuck, measures 21 acres with a maximum depth of 18 feet. 536 acres of undeveloped land surrounds the Lake.
The lake is open for canoeing, kayaking, and trout fishing. There is a swimming area with a beach.
Picnic tables are available on a first-come, first-served basis.
Five picnic shelters may be reserved in advance through the Recreation.gov website.
Hiking and mountain biking trails run throughout the recreation area.
Birdwatchers will find hawks, turkeys, songbirds, and water species.
Hop Brook Lake is open from mid-May to mid-September. Admission is free. The entrance road is located at the intersection of Routes 63 and 188 in Middlebury.
4 Straits Turnpike, Middlebury, (203) 729-8840
8. Fulton Park
Developed by William Fulton as a memorial to his son and designed by the Olmsted Brothers, Fulton Park opened in 1925.
The seventy-acre park, located in north Waterbury, was designed to take advantage of the terrain and its natural resources.
In 1990, the Park was placed on the National Register of Historic Places.
The park is divided into three sections. The northern section of the park has tennis courts and baseball fields.
The park's two southern sections have three ponds, basketball courts, a swimming pool, and a splash pad.
The southern sections also feature a rock garden, a rose garden, a warming hut, and a lilac path.
Fulton Park is open year-round. The swimming pool, splash pad, and other park attractions are only available seasonally.
438 Cooke Street, (203) 574-6793
9. Sultan's Turkish Restaurant
One of Waterbury's well-known restaurants, Sultan's Turkish Restaurant opened in 2011 in a space that originally housed the Anatolia Restaurant and before that, a Friendly's.
Sultan's has received honors for its Turkish and Mediterranean cuisine and was named the Best Mediterranean Restaurant by Connecticut Magazine and the best Middle Eastern Restaurant by the Waterbury Observer.
The restaurant is also featured in the book Unique Eats & Eateries of Connecticut.
The restaurant's decor includes murals of both the Bosporus River and Istanbul's skyline, Middle Eastern tapestries, and Ottoman tea vessels.
The extensive menu includes a wide variety of kabobs, hot and cold appetizers, salads, entrees, and desserts. The mixed platters give diners a chance to try several different items.
The portions are generous.
On Saturday nights, Sultan's has live entertainment, which often consists of belly dancing.
Diners enjoy watching the belly dancing performances, which are 20-30 minutes long.
Reservations are advised on weekends. An adjacent store sells Turkish and middle eastern groceries and snacks.
586 Plank Road, (203) 591-8450
10. Brass City Brew & Cue
If you are a beer lover who is looking for things to do in Waterbury, CT, this one is for you.
Waterbury hosts one of the largest beer festivals in New England. The Brass City Brew & Cue allows visitors to sample from among 100 different craft, specialty, import, and domestic beers.
The festival also features live music, food trucks, a game area, and a pitmaster competition, where chefs vie for awards in three separate meat categories.
The lineup of beers featured at the Brass City Brew & Cue changes each year, but the emphasis is on beers brewed by local and regional breweries.
The breweries featured in the past include Waterbury's Brass Works Brewing Company, Thomaston's Clocktown Brewing Company, Bristol's Firefly Hollow Brewing, and Woodbury's Woodbury Brewing Company.
The festival is held at the end of September at Library Park. Tickets are available online.
Separate tickets are available for designated drivers. Ticket purchases include a voucher that can be used at the food trucks.
---
Waterbury provides much for history buffs to see. However, there are many other things for everyone to see, do, and enjoy.
It is well worth taking the time to see, explore, and enjoy the 10 best things to do in Waterbury, CT.