If you're looking for a higher-end camping experience, though – a "CT glamping" experience if you will, you've come to the right place.
Some would argue that all Connecticut camping is glamping. After all, we've got some of the top nature spots in CT here.
As I've talked about in many other articles, I've got little kids (3 of them).
I'd love to take them camping, but I'm going to need some top-shelf amenities when we go.
I want a nice cabin or yurt, nice bathrooms, and, if possible, a pool.
As much as my family loves hiking and swimming in lakes, when I take them camping, it's going to be glamping.
I did a little research and found places for glamping in CT and decided to share the list with you.
So, let's get right to it.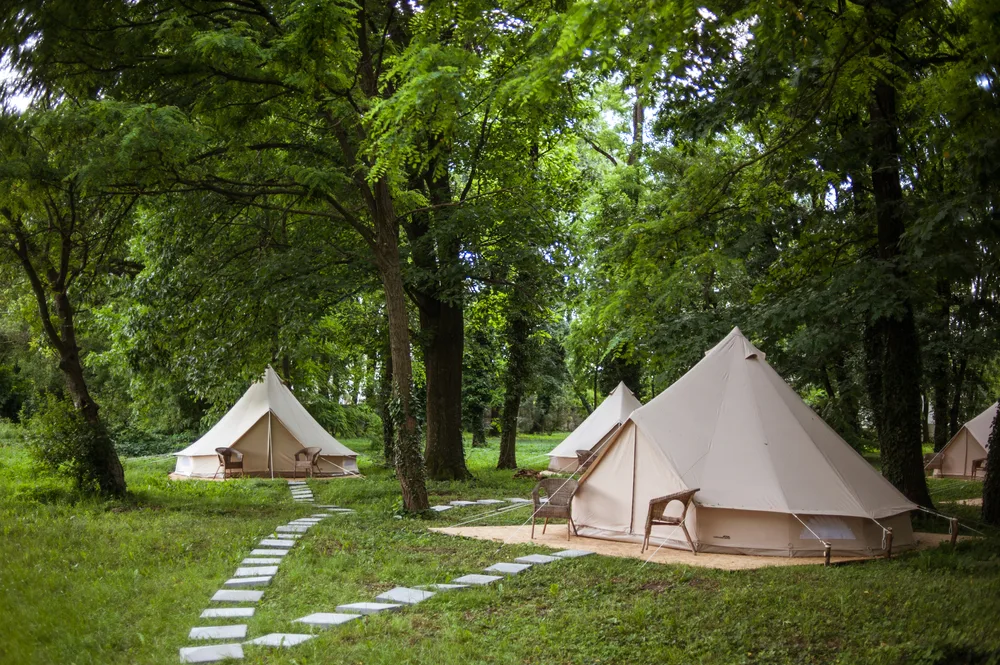 9 places for glamping in CT
Everything in the Mystic area tends to be pretty posh and the KOA here is no exception.
Here you can find lots of tent site choices, some with raised platforms.
While there are no classic glamping tent sites here, the cabins are super nice and provide a posh camping experience.
The amenities at the Mystic KOA, though, are where this place really shines.
Here, you can enjoy the swimming pool, themed activities, an outdoor cinema, and more.
Some of the cabins here are pet-friendly, too, which is really great.
Address: 118 Pendleton Hill Road, North Stonington, CT 06359
Strawberry Park in Preston is a campground for RVs, which is pretty in line with glamping.
Here, you can experience all the comfort that your RV provides, plus bonuses provided by the park.
Multiple swimming pools, live music, bouncing inflatables for kids, and splash pads are just a few of the amazing activities you'll find here.
Address: 42 Pierce Road, Preston, CT
The Getaway House in Moodus is an outdoor retreat that's set in the woods near the Salmon River.
Here, you'll find yourself in a cozy "cabin" that's so warm and inviting it's earned itself 4.7/5 stars on Google Reviews.
This place is pure glamping.
The cabins come with cooking essentials and you can order non-perishables when you arrive so you can get right to relaxing – no need to pack anything.
Everything from clean linens to bath items will be ready and waiting.
Tamarack Lodge in Voluntown, CT is one of the state's top spots for classic glamping.
The glamping sites here are set back from the main property where weddings are frequently held.
Surrounded by trees and all the beauty of nature in a glamping tent that includes a fire pit with wood, clean linens and a down comforter, a queen mattress, and a lamp and nightstand.
Step out of your glamping tent and enjoy the scenic hiking trails and pond.
Address: 21 Ten Rod Road, Voluntown, Connecticut 06384
Odetah is hands-down one of the best all-around campgrounds in Connecticut. There are so many great activities here.
Here, you can find primitive camping, but if you're looking for glamping, you'll be booking one of the cabins or yurts.
The Premier Cabins have bathrooms, electricity, a/c, running water, and a mini-kitchen.
The other cabin levels are still very nice and provide a great glamping experience, but don't come with restrooms or running water.
Address: 38 Bozrah Street, Bozrah, CT
Lake Compounce is Connecticut's best-known amusement park, but did you know that you can find camping here?
And not just camping, but glamping.
Here, you can find regular tent sites, deluxe tent sites, RV sites, deluxe tipis, and cottages.
The deluxe tipis are your best bet if you're looking for a classic glamping experience. They come with cots, electricity, and a mini fridge.
Of course, if you camp here, you'll be just steps away from all the fun that Lake Compounce has to offer.
Address: 185 Enterprise Drive, Bristol, CT 06010
If you're looking for an official glamping tent experience, White Pines has what you're looking for.
Their glamping tent site is decked out with all the luxury you can imagine.
If the glamping site is all booked up, don't worry – there are classic cabins, as well as a premium cabin and premium yurt.
White Pines has a cafe, lounge, pool, and lots more amenities you can enjoy.
Address: 232 Old North Rd., Barkhamsted, CT 06063
Hidden Acres is a family campground in Preston, Connecticut that's perfect for those looking for the glamping experience with their kids but don't want to "rough it" in a tent.
The cabins here have full kitchens and all the luxuries of home.
At Hidden Acres, you'll enjoy tubing in the Quinebaug River, swimming in the pool, attending wine & cheese meets, and more.
Address: 47 River Road, Preston, CT 06365
If you are looking for a high-end glamping experience, you've got to check out Beech Tree Cottages.
Beech Tree Cottages has a wonderful selection of tastefully decorated and very comfortable cottages to choose from.
Here, you can spend your time exploring the 3-acre grounds or venture out into the beautiful town of Madison, CT.
Enjoy Hammonasset Beach State Park and all of Madison's wonderful trails and dining experiences.
Address: 1187 Boston Post Road, Madison, CT 06443
---
That's it, Connectcit's 9 best glamping spots.
If your favorite place for glamping in CT on this list?
If not, leave a comment below and tell us all about it!