If you're looking for a fun fall activity that your whole family will enjoy, kids included, you need to check out the amazing corn mazes in CT.
I'm originally from the South and I always thought we had some pretty great corn mazes down there.
I'm telling you, though – the corn mazes in CT are unbeatable. The ones down South simply don't compare.
Connecticut gets all of its outdoor activities right, in my opinion.
When the fall season comes, though, CT hits it out of the park.
From amazing fall festivals to the beautiful natural fall foliage and awesome pick-your-own farms in CT, fall is great up here.
My kids love a good corn maze and we're excited to hit up the best corn mazes in CT this year.
Below is a list of 12 great ones to choose from!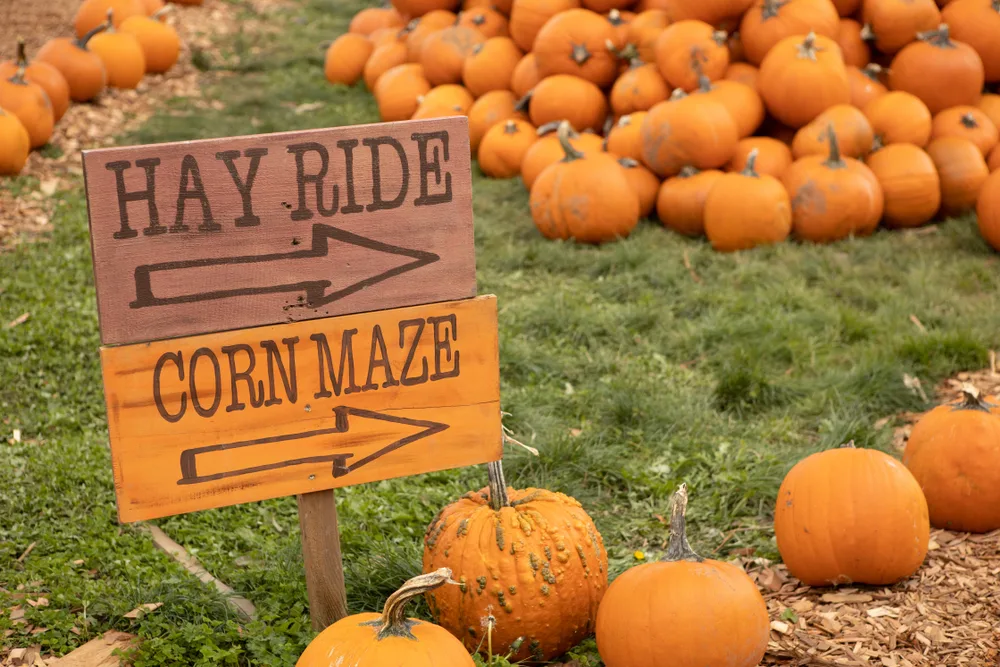 12 awesome corn mazes in CT
Lyman Orchards is likely the most famous orchards in CT and it has one of the most popular corn mazes in CT, as well.
The theme of 2023 is "The Wonderful Wizard of Oz".
You can "follow the yellow brick road" at this 4-acre maze starting September 2nd and the corn maze runs through November 5th.
Address: 32 Reeds Gap Rd., Middlefield, CT 06455
Every year The Farm in Woodbury has an awesome corn maze with a different theme.
This year the theme is "Escape to the Carribean".
Join maze-goers on a fun and educational fact-finding treasure hunt.
Address: 281 Weekeepeemee Road Route 132, Woodbury, CT 06798
Open Wednesday through Sunday, Brown's Harvest is a great place to celebrate fall with a corn maze.
Here, you'll find a kids' corn maze and other kids' activities, a large corn maze for the whole family, a jump pad, corn bins, and more.
There's also live music and food trucks here on the weekends throughout the fall.
Address: 1911 Poquonock Ave., Windsor, CT 06095
If you've got little kids who love petting animals and taking hayrides, the corn maze at Ekonk Hille Turkey Farm might just be for you.
The maze is open in both September and October and I should mention that the ice cream served here is simply amazing.
Address: 227 Ekonk Hill Rd., Moosup, CT
Castle Hill Farm has one of the best dog-friendly corn mazes in CT.
There's a cool observation deck towards the middle of it where you can get a good view of the maze.
Another great thing about this corn maze is that it's not generally super busy and you don't need to make a reservation ahead of time.
You can just pop in and have a great time.
Address: 1 Sugar Ln., Newtown, CT 06470
Plasko's is well known throughout CT for its amazing ice cream, but it's got a great fall corn maze, as well.
Here, you find 4.5 acres of fun twists and turns of corn as you try to solve a mystery.
Address: 670 Daniels Farm Rd., Trumbull, CT 06611
This Treat Farm Corn Maze in Orange has always been great, but this year, they've added something special – a fun challenge.
Treat Farm does require a reservation, so make sure to do that online before you head over.
Address: 361 Old Tavern Road, Orange, CT 06477
Preston is one of my favorite places in CT. It's so rural and beautiful.
It's no wonder there is a great corn maze there.
Starting on September 8th, you can bring the whole family to the Route 66-themed corn maze.
The corn maze is open 7 days a week and flashlight days are held on Fridays and Saturdays from sunset to 9:30 pm.
Address: 92 Route 2, Preston CT, 06365
Fort Hill Farms in Thompson has one of the most intricate corn mazes in Connecticut. The twists and turns here are so fun.
This year, the theme is "Freedom Trail", an iconic Boston landmark.
You can experience this maze and labyrinth starting from the day after Labor Day weekend until the end of October.
Address: 260 Quaddick Rd., Thompson, CT
Open from 10 am – 6 pm every single day in October, Foster Family Farm offers a great corn maze experience in South Windsor.
In addition to the corn maze, there are hayrides and other fun kids' fall activities here, too.
Address: 90 Foster Street, South Windsor, CT 06074
From the middle of September through the end of October, you can visit one of the largest corn mazes in CT.
This one is so much more than a corn maze, though – it's a whole fall festival.
Come for the corn maze, pumpkin patch, hay ride, giant caterpillar slide, hay maze, and more.
Address: 101 County Line Drive, Cromwell, CT
If you're looking for a corn maze near New Haven that's fun during the day or at night, you should definitely check out the maze at Welles Hollow Creamery in Shelton.
Come during the day and visit the farm animals or come at night and bring your flashlight for a totally different experience.
This corn maze is open every weekend in October.
Address: 2 Beard Sawmill Road, Shelton, CT 06484
---
There you have it – 12 great corn mazes in CT.
Which of these is your favorite?
Did your favorite corn maze not make the list?
If not, leave a comment below and let us know about it!