It's that time of the year again to start planning some camping trips for your family. You might be wondering, though, if there are any kid-friendly campgrounds in CT.
If that's the case, you have definitely come to the right place.
Taking my kids out into nature is "my bag" so to speak, and I've got some great recommendations for you if you're looking for great places in Connecticut to camp with your kids.
Whether you've got toddlers, elementary-age kids, or teenagers, CT has plenty of kid-friendly campgrounds available.
The amenities at these campgrounds range from playgrounds to swimming pools and everything in between.
Of course, because families with young kids (and often pets) are welcome at these camping places, you can expect great laundry and restroom facilities, too.
So, let's get right to it so you can get those reservations made before these great summer camping spots fill up.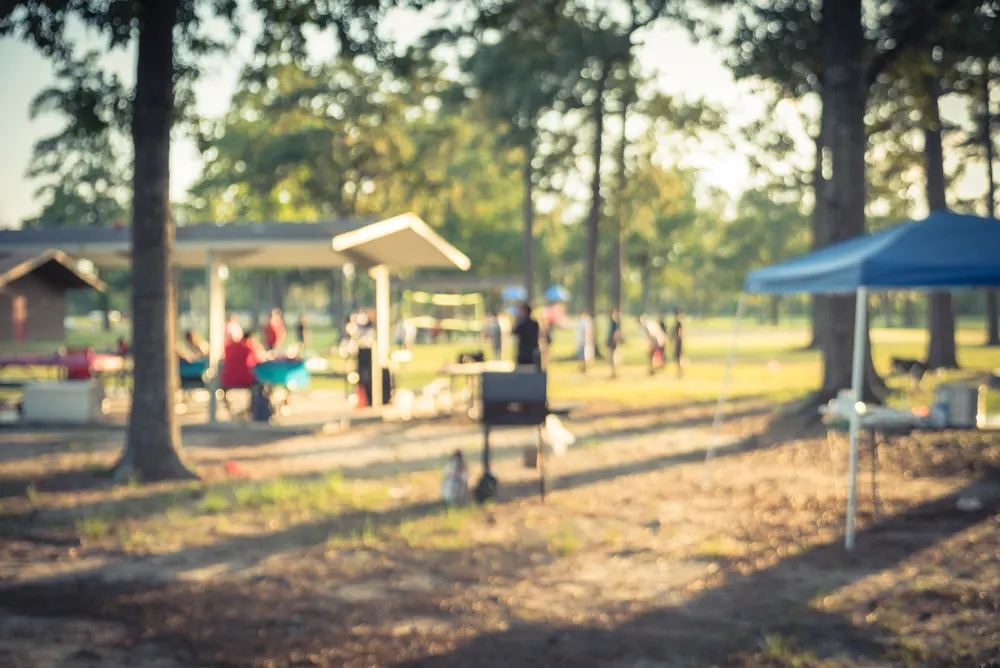 12 fun & kid-friendly campgrounds in CT
Odetah Camping Resort in Bozrah is one of the most popular campgrounds for families in Connecticut.
This kid-friendly CT campground offers primitive tent camping, RV campsites, cabins, yurts, and more.
This camping resort offers some great amenities and activities.
Here, you'll find boating, fishing, gaga ball, basketball courts, mini-golf, horseshoes, live music, and so much more.
The best part of this family campground is that it has a pool and a beach.
Odetah Camping Resort is perfect for families with kids of any age.
Hidden Acres in Preston is a kid-friendly campground with tons of amenities and some amazing family-friendly activity schedules.
From exciting fire engine rides to peaceful fishing outings, there is such a wide variety of activities and Hidden Acres.
They offer tent and RV camping, as well as cabin rentals.
There's a pool here, as well as a pond beach, and since it's located right along the Quinebaug River, there's no shortage of fishing.
This is definitely a campground for families who love beach camping and enjoying views of the water.
Most long-time Connecticut residents are familiar with White Pines Campground. It's one of CT's top places for kid-friendly camping.
Here, you can bring your RV, rent a cabin or yurt, or pop up a tent.
The ameneties and activities here range from giant-size games like Yahtzee and Tic-Tac-Toe, kayaking, fishing, and a pool.
White Pines also has a dog park and a couple great walking trails, so the whole family can get some exercise.
If you're trying to find a campground that is fun for kids in CT, but you want plenty of nature and beauty, you've got to check out River Bend Campground in Sterling.
Here, you'll find all your kid-friendly campground favorites like pool swimming, playgrounds, and horseshoes.
Because of the campground's location on the Moosup river and Oneco Pond, there's also a ton of peace and beauty here, as well.
If your family love canoeing, this is the perfect campground.
Sunfox in Libson isn't as large as some of the other kid-friendly campgrounds on this list, but it's as popular, if not more so.
Here, there's everything kids require when camoing like a swimming beach with a waterslide, a playground, and a pool.
Sunfox has wagon rides, sack races, story times, and more, as well!
Strawberry Park in Preston, CT is a massive RV campground that has multiple pools and about any amenety that you can imagine.
For kids, you'll find a splash pad, mulitple ball fields, playgrounds, pools, and more.
Strawberry Park is less of a camping experience and more of an RV resort, but if that's what your family enjoys, then this place is great!
If you want to get out in nature with your kids, but you still want some of the fun things that you'd find at a resort, Cozy Hill Campground in Bantam might just be for you.
Here, you'll find a full-service restaurant (on the weekends), and arcade, outdoor laser tag, rock climbing, and so much more.
Of course, you can still enjoy all your favorite nature-based activities here, like fishing and trail walking, as well.
If you are looking for a traditional camping experience and less of a resort-style experience, Salt Rock State Campground in Baltic has what you need.
There are plenty of tent and RV sites availible here, and because it's a state park, there is plenty of nature to explore and wildlife to see.
While most wouldn't consider this to be "luxury camping", there is a pool here that registered campers can enjoy.
Camping at Salt Rock is great for those who are looking for budget-friendly camping options.
Nelson's Family Campground is a favorite destination for CT families for many years.
Here, you can bring your RV and enjoy some of life's simpler things, like birding and fishing.
For the kids, there's a pool, a playground, and plenty of family activities, including themed weekends.
Brialee Campground is family-owned and so many Nutmeggers have a tradition of taking their families here, as well.
They offer tent and RV sites, as well as cabin rentals, and they specialize in making sure your family has a great time.
This isn't a resort-style campground – it's for families looking to have some outdoor fun and reconnect with nature.
Here, you can fish, swim, and explore the outdoors. There are plenty of planned activities, too, though.
Brialee is also super pet-friendly – they even have a beach where you can let your dog sunbathe and splash around off their leash.
Moose Meadow Campground in Willington, CT is the perfect place for families with young kids to get away for a few days in the summer.
Moose Meadow has daily schedules that are packed with fun activities.
If you want a break from scheduled activities, take a dip in the pool or try out a round of miniature golf.
Here, you have the option of camping along the river in your tent or pulling up your RV to one of the awesome pond sites.
Kids will enjoy the onsite playground, as well as the Moose Pond – maybe they'll catch their first fish here.
Mystic, CT is a quaint town with so many fun offerings. Many in New England know Mystic for its Aquarium, Seaport Museum, and charming restaurants and inns.
There is some great family camping in Mystic, as well, though.
Sun Outdoors is Mystic's premier family campground.
It's a campground, with more of a resort feel – I mean, it's in Mystic after all.
This kid-friendly campground offers both tent/pop-up campsites and RV campsites.
Including in your stay here is access to the swimming pool, miniature golf course, and playground.
There is a basketball area, a horseshoe ring, and plenty of fun activities that are planned for families here.
It's also a pet-friendly camping resort. So, your whole family is welcome here!
---
There you have it – 12 amazingly fun kid-friendly campgrounds in CT.
Connecticut really is the best when it comes to preserving its natural spaces and getting its residents outdoors and having fun.
Enjoy your summer!