Connecticut has tons of huge water parks, and natural lakes, as well as over 20 beaches. Sometimes the beach visit is too much of an undertaking, but you still want a fresh body of water to swim in, like an awesome lake! Luckily, Connecticut has more than a few lakes that are safe for swimming.
There are more than 3,000 freshwater areas, ponds, and lakes across the state of Connecticut that are safe for people to swim in. Some have calmer waters that are safe for kids to swim in too.
The 10 best lakes in Connecticut are great destinations for the whole family, you can cool off and enjoy the wonderful views and vistas while the weather is still good.
Your next aquatic adventure awaits, and it's right here at one of the 10 best swimming lakes in Connecticut!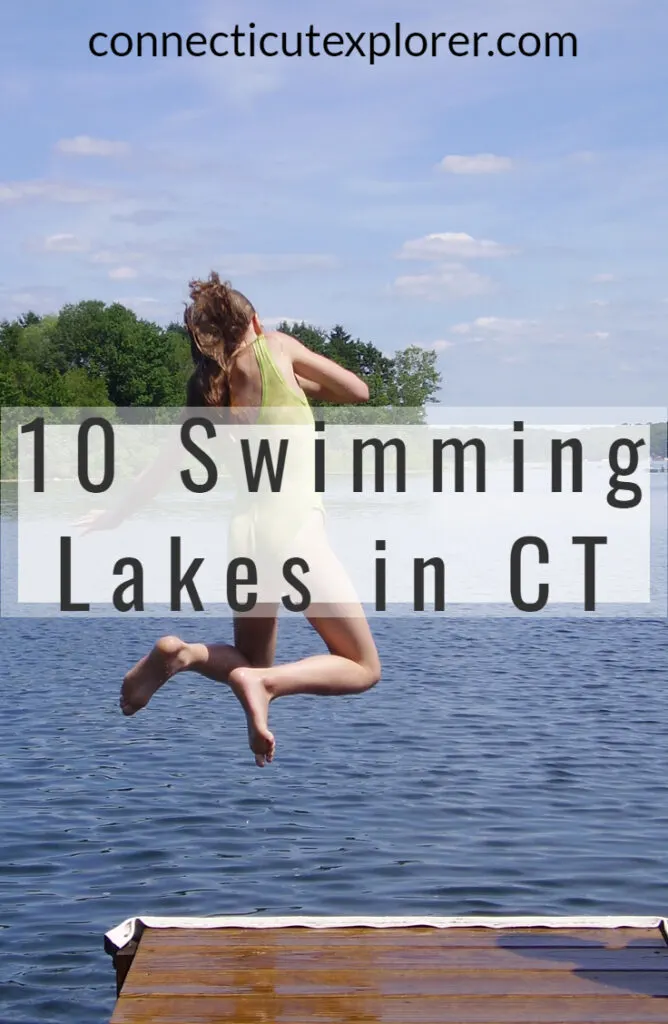 10 Best Swimming Lakes in Connecticut
1. Bantam Lake – Morris, Connecticut
Bantam Lake is one of the most popular swimming lakes in Connecticut since it is the only beach open to the public.
The sandy beach has a shaded picnic area where you can take a break from the sun and enjoy an outdoor picnic, their open concession stand, and the safety offered by lifeguards.
The surrounding Litchfield area has plenty of opportunities for you to enjoy water sports like fishing and boating.
There is a small entrance fee, but completely worth it for all the fun that is offered, Bantam Lake even has season passes!
2. Candlewood Lake- Danbury, Connecticut
Candlewood Lake boasts refreshing waters as the biggest swimming lake in Connecticut.
Their soft sandy shore and nearby picnic tables make it easy to relax after swimming and have some snacks. There is also a concession stand at Candlewood Lake, so you don't have to worry about lugging over your cooler if you don't want to!
The playground on site is a super great option for the kids to have a place to play, while the adults can take the rowboats out.
Candlewood Lake is the perfect family-friendly swimming lake destination!
3. Stratton Brook State Park- Simsbury, Connecticut
The Stratton Brook State Park is close to the greater Hartford area, making it easily accessible to travelers from near and far.
The kids will have lots of fun at the private beach, which is close by to some wildlife and small enough for them to be contained. You can bike around the trails, picnic at the shaded area, or take the fishing pole out and see what you can catch.
The lake is a great place for the family to enjoy some time together, and Stratton Brook State Park is well-maintained and fun for the whole family!
4. Burr Pond State Park- Torrington, Connecticut
Burr Pond State Park is basically an all-service pond with lots to do for the whole family. The pond is safe to swim in, and there are fishing and boating activities available to you.
If you're more of a land-lover, you can also hike around the trail! After all, that's done, the picnic area is the perfect place to stop and rest before the trip home, or pick something up at the concession stand!
Burr Pond State Park also has no entrance fee for Connecticut residents!
5. Squantz Pond State Park- New Fairfield, Connecticut
The Squantz Pond State Park is a beautiful sight no matter what time of year it is. The summer months are great because you can swim in the lake, and take up fishing, scuba diving, or boating.
For land activities, they have nice picnic spots out for you to use, and the trail is easy to hike around.
Squantz Pond State Park is a cool place for boat launching, and with no admission, it makes for an easy family destination.
6. Mt. Tom State Park- Litchfield, Connecticut
Get your fill of swimming and picnicking at Mt. Tom State Park. There is a 1-mile hiking trail on land that leads to the beautiful stone lookout tower.
You can get a panoramic view of the whole lake there! Mt. Tom State Park also has fishing, non-motor boating, and scuba diving! You can try a whole bunch of new things here.
There is no cost of admission for Connecticut residents, so the parking lot fills up quickly, and you can spend the whole day here!
7. Lake Waramaug State Park- Kent, Connecticut
Lake Waramaug State Park is a great place to stop and have a scenic picnic, or swim at the most beautiful lake surface in all of Connecticut, one of the most beautiful in New England!
The Lake Waramaug State Park is unique because it has over 70 campsites where you can still get a view of the water. It's definitely a great place for fishing too, and you only pay admission if you camp!
Lake Waramaug is an awesome swimming lake destination!
8. Indian Well State Park- Shelton, Connecticut
You can hike to the park's scenic waterfalls on the easy-to-follow trail. Indian Well State Park has a splash pool at the bottom of the falls, and a shaded picnic grove where the water meets the shoreline.
On particularly hot days, the shady part of the beach is perfect for lounging and basking in the view.
Fish, hike, or swim at the Indian Well State Park.
9. Day Pond State Park- Colchester, Connecticut
Back in the day, the Day Pond State Park waters were used to power sawmills, and the remaining stone walls are picturesque reminders of the timeless past.
The sandy beach borders the water, and the pond is a refreshing place to swim and have fun in the sun. You can fish for trout here, or hike and take up a picnic at their facilities!
10. Hop Brook Lake- Middlebury, Connecticut
The swimming area at Hop Brook Lake is right off the beach, and very popular since it is so beautiful around the lake.
Hop Brook Lake offers grills and tables where you can picnic or fish off the feeder stream for rainbow, brook, and brown trout.
There is no entrance fee and you can stay as long as you like!
Lake swimming is a great, fun and easy activity to do outdoors. Connecticut has many outdoor activities and takes great care of all its beautiful lakes.
Swimming is one of the best outdoor activities Connecticut has to offer in the summertime, so having tons of safe freshwater lakes to swim in is great!