Whether you are interested in all things paranormal or you're looking for something unique to do, visiting the haunted cemeteries in CT is something you should definitely consider.
Each of the cemeteries on our list has its own unique features and terrifying story.
These old cemeteries are a favorite of ghost hunters from all over Connecticut. So, grab your camera (and take a friend!) and get ready for a ghastly experience!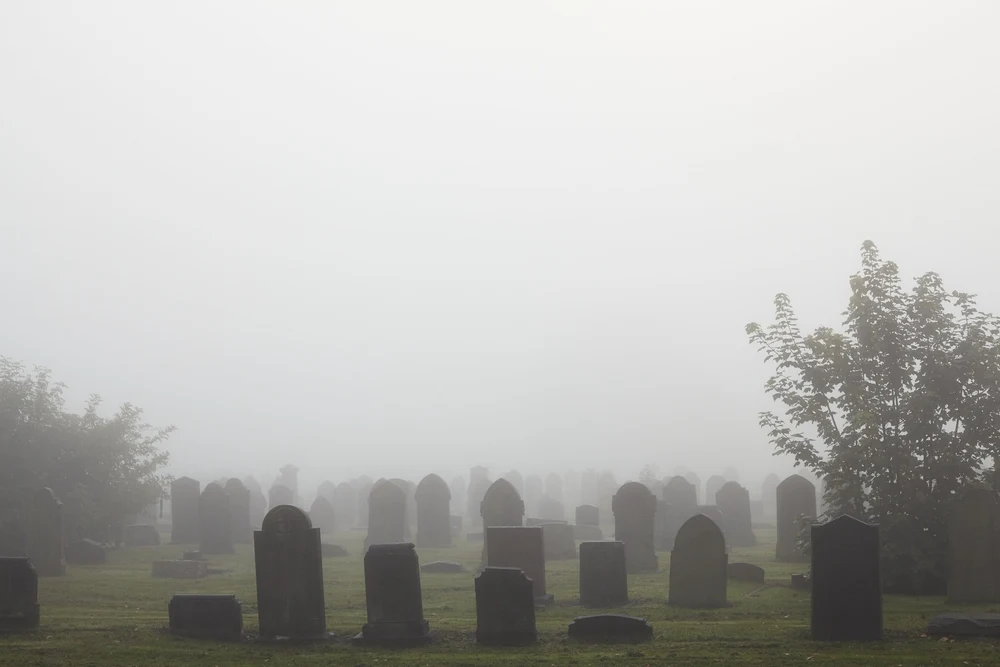 The 7 haunted cemeteries in CT
Union Cemetery in Easton, Connecticut is not only said to be one of the most haunted graveyards in the state, but in all of America.
Headstones at Union Cemetery date back to the 1700s, with most of them being mossy and worn, but still legible.
Here, people report seeing soldiers on horseback and laughing children within the old rusty gates of the cemetery. Folks also report feeling breath on their necks when they stop to read headstones.
That's not the creepiest thing about this haunted graveyard, though.
Over the years, many people in the community claim to have seen a mysterious woman walking along the road, which they call The White Lady.
The White Lady is said to be a murder victim from the 1800s whose body was dumped behind the church that sits at the north end of the cemetery.
Her hair is long and dark and she sometimes appears along Route 59. It's said that she will appear to unsuspecting drivers, then disappear as soon as they stop to help.
Address: 1 Stepney Road, Easton, CT, 06612
Also called Hookman's Cemetery, Great Hill Cemetery has headstones that date back to the 1700s.
The legend behind this haunted CT cemetery is that a former caretaker, one with a hook for a hand, hung himself from a tree just outside the graveyard.
People have reported hearing scratches on their roofs when parked beneath the trees here.
In the video below, you can clearly hear a low whisper, which the folks who filmed it claim is not from them – creepy indeed!
Address: 117 Mountain Rd, Seymour, CT 06483
The Guntown Cemetery, like many of the others on this list, dates back to the 1700s. The headstones are worn, mossy, and some are no longer upright, which lends itself to the creepy feel of this place.
This graveyard houses the bodies of Connecticut residents who fought the British in the American Revolution, the Civil War, and other locals, as well.
Here, people report hearing children's laughter and music that comes from the surrounding woods. Some people say they hear windchimes or music box sounds within the walls of the cemetery.
Some people have also reported seeing an apparition of a black dog, which is said to be a sign of impending death.
Address: 1 Cross St, Naugatuck, CT 06770
The Evergreen Cemetery is a haunted CT graveyard with a truly frightful legend – that of Midnight Mary.
While there are a few different stories about Midnight Mary, the most popular one is that in the 1800s, a woman named Mary Hart died from a stroke, or so her family thought.
After they buried her, a family member had a dream that she was still alive. So, they exhumed her coffin to find evidence that she had been buried alive and tried to free herself before she ultimately met her actual death.
Mary Hart's tombstone reads, "THE PEOPLE SHALL BE TROUBLED AT MIDNIGHT AND PASS AWAY".
Some people believe that she roams the cemetery grounds and that if you look at her tombstone at midnight, you, too, will perish.
While this, of course, has never proven to be true, folks have reported some strange happenings near this haunted cemetery right at the midnight hour.
Address: 769 Ella T. Grasso Boulevard, New Haven, CT 06519
The Mountain Grove Cemetery sits on a 125 acre lot and is home to the remains of P. T. Barnum, who helped found the graveyard, and General Tom Thumb.
It isn't the famous who haunt this Connecticut cemetery, though. It's the spirits of Indigenous Americans who lived on this land before the settlers arrived.
Along with sightings of Native American ghosts, visitors often hear what sounds like a little boy crying for his mother at Mountain Grove Cemetery.
Address: 2675 North Avenue, Bridgeport, CT 06604
While there is no grand story behind this haunted CT cemetery, this place is truly creepy – just ask the locals.
Over the years, there have been numerous reports of people hearing rattling chains and children laughing.
People also report feeling the sensation of warmth in certain spots in the cemetery.
The most creepy thing people report about this graveyard is that they've seen 3 dark figures guarding the gate at the entrance.
Address: 15 Church St, Ansonia, CT 06401
The Seventh Day Baptist Cemetery, also known as the Green Lady Cemetery, is said to be cursed.
There are many variations on the legend, but it's told that in the 1800s a woman went searching for her husband in a storm after he didn't return from town.
She is said to have wandered into a swampy area and drowned, afterward transforming into the Green Lady.
The Green Lady is thought to be either a woman named Elisabeth Palmiter or "Amy". This is likely because these are 2 of the only readable stones in the plot.
It's been said that when you see the Green Lady, she smiles at you and then vanishes.
A male ghost, presumable her husband, has been spotted roaming the cemetery with a lantern in search of his wife.
*This cemetery is located on Upson Road. Visitors must request permission from the town to enter.
There you have it – our list of the most haunted cemeteries in CT! These are great to visit whether you believe in ghosts or not.
There's so much beauty and history in old graveyards!
When you visit these spooky places, remeber to be respectful. Some of these graveyards are still active, meaning people are still being buried there.
Whether they are active or not, though, people who were loved are laid to rest (however restless they may be!) in these cemeteries.