Connecticut is a beautiful state, and contrary to popular belief, it has more to offer than the Yale Campus and the New Haven area. There is so much to explore and there is something for every one of all levels – lots of unique things to do in Connecticut.
Nature lovers, art lovers, hikers, whatever your hobby or interest is, you will certainly find something new and fun to do from our recommendations!
Even if you do not have a hobby yet, you might find a new and exciting thing to try out. Connecticut is not just the Nutmeg State or a stop on the way to New York and Massachusetts, there are plenty of restaurants, historical spots, world-famous destinations, and more!
After you browse our list of the 15 interesting and unique things to do in Connecticut, you can set out with new plans for your group of friends, significant others, or go it alone!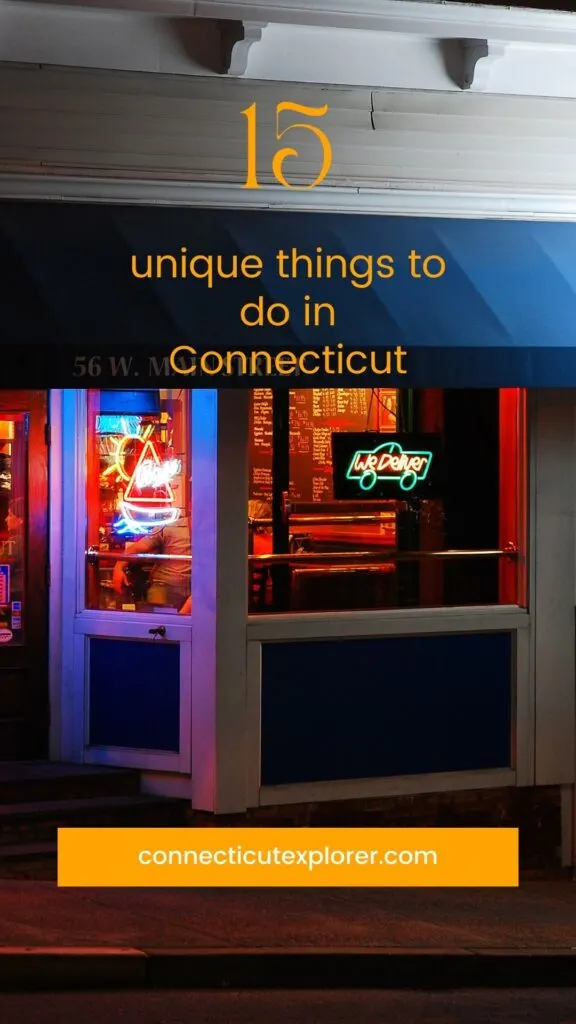 15 of the most unique things to do in Connecticut
1. Mystic Pizza – Mystic, CT
If you haven't seen the Mystic Pizza movie, then you have definitely missed out. The true location in Connecticut is a hot spot for many visitors, travelers, and Connecticut natives.
The romantic movie showed the pizza place's work culture and is timeless, so it's amazing that the restaurant exists right here in our state.
The secret sauce in the recipe is what makes their pies so good, and with a second location opening in North Stonington, you have more opportunities to go check them out.
But, if you want the original experience, the Mystic Pizza location in Mystic, CT is open for you!
2. Lighthouse Point Park Carousel– New Haven, CT
This is a wonderful fall destination. Open from Memorial Day to Labor Day, the Lighthouse Point Park Carousel is a cute and fun place to go.
It has been around since 1916 and is now one of a kind. Up at the very top, you will have the perfect view of the New Haven Harbor and of Long Island Sound.
Right in time for the cooler sun, the warm ocean and sandy beaches are calling your name!
3. The Glass House – New Canaan, CT
Phillip Johnson, the designer of the Abby Aldrich Rockefeller Sculpture Garden, left one of his masterpieces right here in Connecticut.
They currently only have outdoor viewing, but that may change in the coming months, so it's time to plan a trip up before the crowds come back.
The modern architectural design and sculpture is accessible to the public, you just have to book a tour for your group or yourself. You won't find an attraction like this anywhere else.
4. Chowdafest– Westport, CT
This culinary attraction went from a small beachside gathering to a massive culinary competition that has thousands of people each year.
Every September at Sherwood Park, the Chowdafest lets the public judge many samples of different chowders, possibly more than 40! You vote for the winner and there are many categories, like the famous New England Clam Chowder.
They also have a winter event, the Great Mac and Chili Fest, so you've got 2 chances to try out some amazing comfort food!
5. Sheffield Island Clambake– Norwalk, CT
Get your fill of New England Cuisine here at the Sheffield Island Clambake. Starting in June and continuing until September, every Thursday is a chance to come check out the clambake organized by the Norwalk Seaport Association.
Each ticket also includes a tour of the 1868 lighthouse and every clambake, potatoes, salad, and desserts available to you.
You can even bring your own beverages, which is great because you'll be outside enjoying good food for a while!
6. Connecticut Wine Trail– Many Locations, CT
You don't have to pick just one spot, make a day trip, or even a weekend trip out of visiting the over 20 wineries in Connecticut.
You can collect passports to commemorate your time and have something to look back on, so if you don't make it to each place, you know where to go back!
7. Hot Lobster Rolls– Fairfield, Noank, and Clinton, CT
Now we all know New England is home to the Lobster Roll, but you don't have to pick just one place to check them out. If you are looking for unique things to do in Connecticut, it's time for a lobster roll – after all, we're famous for them!
We think these 3 places will give you the best lobster roll experience. LobsterCraft, Abbott's Lobster in the Rough, and Lobster Landing have delicious rolls to offer you, so you can finally say you have had a New England Lobster Roll.
8. Foxwoods Resort Casino– Leyard, CT
If you thought casinos were only in Vegas, you were wrong! In the little Native town of Mashantucket, you can enjoy all the fun and excitement a casino has to offer at the Foxwoods Resort Casino.
You could even stay overnight in one of the many resort rooms if you want. They also have some shows from comedians and musicians.
So if you like to hit the slots or just have a night on the town, you'll have a great time here!
9. Essex Steam Train– Essex, CT
The historic steam train is available to the public for a great trip down memory lane. The Essex Steam Train also offers activities like riverboat cruises and dinners to accompany the great journey.
10. Greenwich Polo Club– Greenwich, CT
Ever wanted to go where Prince Harry has gone? Well, the Greenwich Polo Club has more than 2,000 locals participating in the stomping divots tradition.
A few global celebrities and elite have come here, but admission is still reasonable and you can even picnic on the beautiful grounds.
11. Club Getaway- Kent, CT
Right on the original summer campgrounds of bucolic Kent is a weekend getaway right at your disposal. Club Getaway has many activities like the battle royale and color wars, as well as themed parties for the night crowd.
12. Prospector Theater- Ridgefield, CT
I know going to see a movie does not seem like a fun and exciting thing to do, but the Prospector Theater is not like the others. The theater is one of a kind and located at the Ridgefield Playhouse.
The non-profit theater has a starlit ceiling and picturesque stage for fun viewing.
13. Shakespeare on the Sound- Rowayton, CT
Every summer, Shakespeare on the Sound spends 2 weeks putting on 16 performances of any play by Shakespeare. At the Pinkey Park in Rowayton, the organizers have aspired to make their performances as accessible as possible.
14. Mohegan Sun- Uncasville, CT
We have 2 casinos here in Connecticut available year round, and Mohegan Sun is just as fun as you may think!
The 10,000 person capacity Mohegan Sun Arena has put on shows by Britney Spears and more, and at affordable prices.
They have an 18-hole golf course too, so no matter what your fix is, you're sure to find it here.
15. Hammonasset Beach State Park- Madison, CT
Finishing off with the perfect summer destination, the Long Island Sound offers a cute mix of beach and park at the Hammonasset Beach State Park.
Catch the sunset or chase the sunrise on the shoreline, dig your toes in the sand, and enjoy your summer!
---
There you have it! 15 fun and unique things to do in Connecticut. So, get out there and have a blast!