If you are looking for some amazing Italian restaurants in CT, we've got you covered.
When I'm in the mood for Italian food, there's nothing that will satisfy my craving better than a big bowl of mushroom carbonara or a healthy serving of authentic Italian lasagna.
A craving for real Italian food can only be met by a restaurant that serves real Italian food.
While I personally can't claim Italian ancestry, nearly 20% of Connecticut's population does.
That's a healthy number of Italian folks we've got here. CT is the 2nd most Italian state after Rhode Island.
So, you know that the demand for restaurants that serve authentic Italian dishes is high.
If you know how seriously Italians take their cuisine, you've got to expect that there are some amazing Italian restaurants in CT ready to meet this demand.
Anyway, I know you're here because you're hungry.
So, let's get to the list.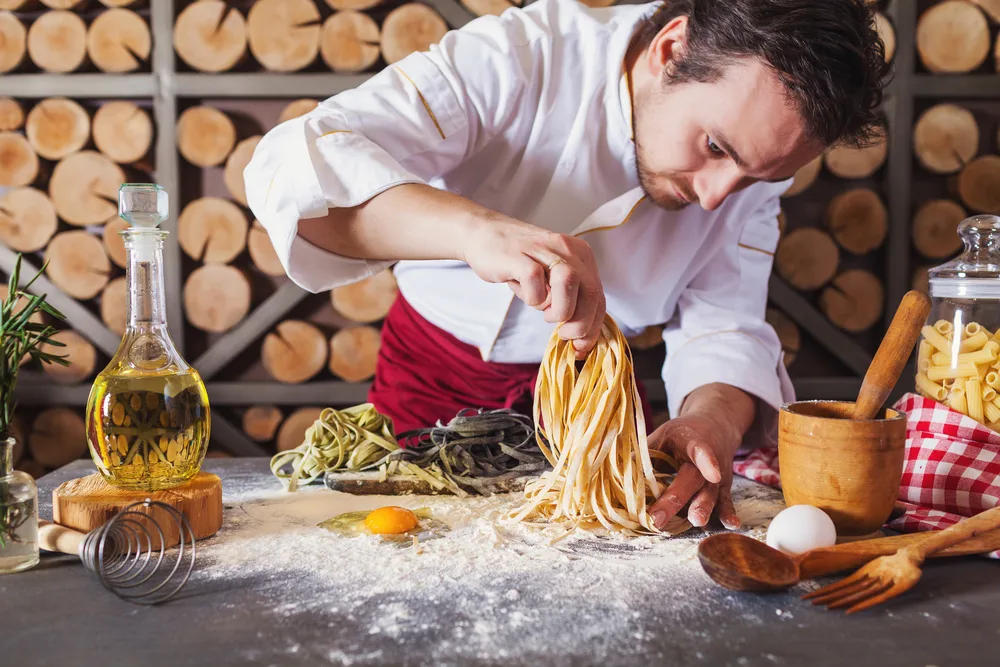 The 9 best Italian restaurants in CT
Sal e Pepe in Newton is one of the best, and most popular, restaurants in CT.
This amazing restaurant serves some of the best traditional Italian food you'll find in the area.
The pasta dishes here are amazing and they serve all your favorite Italian appetizers like fried calamari.
After dinner, stick around for a piece of Salted Caramel Tiramisu – yum.
Address: 97 South Main Street, Newtown, CT
Gisella's in Danbury is a fantastic Italian restaurant with an extensive menu filled with amazing and authentic Italian food.
At Gisella's, you'll find everything from pizza to calzones, pasta, veal dishes, and so much more.
The atmosphere here is casual. It's the type of place where you feel right at home.
Address: 4 Starr St, Danbury, CT 06810
Grano Arso in Chester is a great Italian restaurant for those looking for amazing food in an upscale-casual atmosphere.
The food here is authentic and flavorful, and you'll love all the menu options.
Dishes here include eggplant al forno and rigatoni bolognese.
Address: 6 Main Street, Chester, CT 06412
New Haven is the city in Connecticut with the highest population of Italian-Americans.
It makes perfect sense that it has the highest concentration of excellent Italian restaurants.
Tre Scalini Ristorante is likely New Haven's most popular fine-dining Italian eatery.
Here, you can enjoy dishes like Pollo Carbonara and Osso Bucco while you enjoy the views of Wooster Street's foot traffic.
This is also a wonderful place for rehearsal dinners and other private events.
Address: 100 Wooster Street, New Haven, CT 06510
Carmine's in East Hartford is one of the most beloved Italian restaurants in the Hartford area.
Here, you can dine on delicious, authentic Italian food in one of the most comfortable atmospheres imaginable.
The Chicken Milanese here is amazing.
Carmine's has live music and plenty of American food like chicken wings and burgers, as well.
It's definitely known for its Italian food, though.
Address: 389 Main Street, East Hartford, CT, 06118
Everyone who knows good Italian food knows about Skappo in New Haven.
The food here will absolutely blow you away.
The pasta and vegetables here are so fresh and delicious, and the wine and beverage options are great.
The lasagna here might be the best you ever taste – I'm serious.
Address: 59 Crown St, New Haven, CT
Some of the best overall restaurants in CT can be found in the Mystic area.
If you're in the mood for amazing fire brick oven pizza, fresh seafood, and live music, you need to check out Buon Appetito in North Stonington.
The atmosphere here is casual, but the food is presented so beautifully.
Address: 386 Norwich-Westerly Rd. North Stonington, CT 06359
One of the most recommended Italian restaurants in CT is DeNovellis in Rocky Hill.
Everything on the menu is amazing, but the chicken parmesan is my absolute favorite.
The food here is so great that I recommend making reservations ahead of time – it gets busy here.
Address: 944 Cromwell Ave., Rocky Hill, CT 06067
If you're looking for a great plate of ziti and meatballs, Figaros in Enfield is your place.
The menu at Figaro has all your favorite classic Italian foods, cooked to perfection and beautifully presented.
Figaros also has space for in-house banquets, as well as catering.
Figaro frequently has live entertainment, so make sure you check the calendar on the website if you want to catch some live music with your dinner.
Address: 90 Elm Street, Enfield, CT 06082
---
Is your favorite Italian restaurant on this list?
If not, drop a comment below and tell us the name and location of the restaurant and what you love about it.
What is the dish they serve that you love the most?