Chicken wings may seem like an easy enough feat for a restaurant or chef, but it's surprising how many businesses have built the reputation of their wings, or how many places only have chicken wings and a few sides. So, let's talk about where we can find the best chicken wings in CT.
Connecticut has kept up with all the food trends and the good foods, so it is no surprise they have plenty to offer for the chicken wing lovers.
Our recommendations include up-and-coming and long-running places with original recipes, boneless or bone-in wings, and something for every pallet.
Some are fast food, grab and go style, others you can sit down and settle in for a sports game or two. These 10 places for the best chicken wings in CT are sure to satisfy!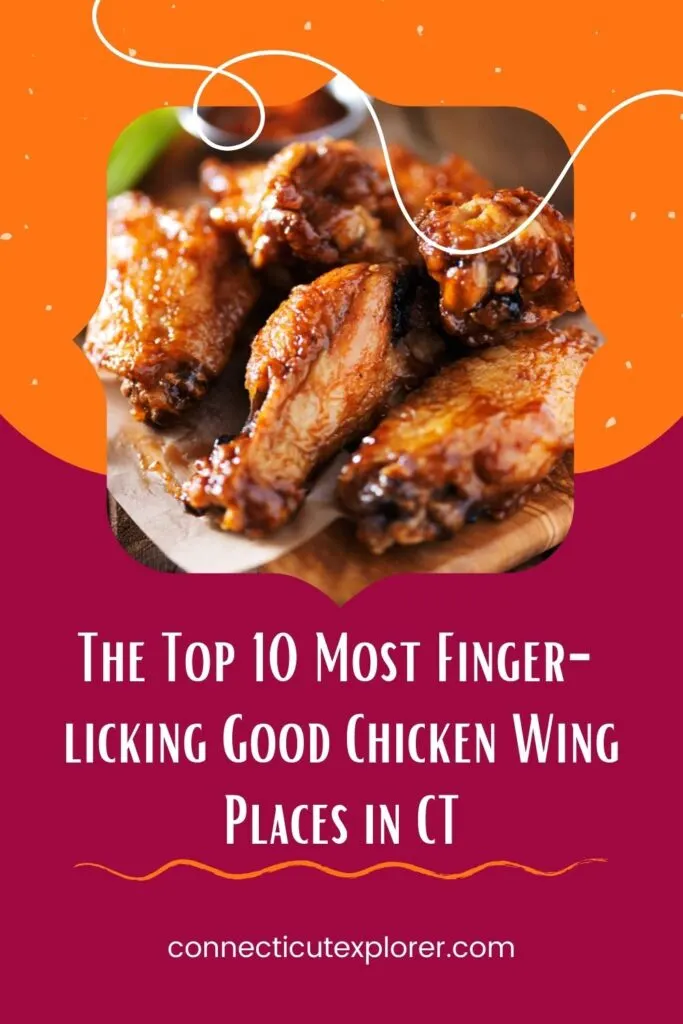 10 places for the best chicken wings in CT
With a separate chicken wing menu, Groggy Frog is serious about their chicken wing game. Their flavors are thoughtful and well crafted, paired perfectly together so you can taste the whole feelings they want to give you.
With the option for smaller servings, you can try a few flavors at a time instead of a big order of one flavor. Their top flavors are wasabi peanut, hot, and bacon bloody mary.
We had never heard of that either! Spicy peach ginger is a huge favorite as well, with all those flavors, you can practically visit all their origin countries just with one bite!
This place has it all. Beer, wings, tv, and specials nights. It's a favorite of Derby residents.
They have a dessert wing, which is super delicious, made of Reece's Pieces. For the main dishes, their bourbon bbq sauce pairs well with all cuts of their wings.
Their choices may be overwhelming, but if you just try their fan-favorite peanut butter bacon wings, you will be off to a good start.
The Hot Rods Cafe has more than 20 flavors to pick for your wings. They use only the best of chicken, serving big and juicy wings that are cooked to tender perfection.
They have the spicy, not so spicy, and medium spicy ratings so you know what you're getting into. Their most popular options have been Thai garlic pepper, garlic parmesan, and jerk flavors.
Their handcrafted sauces are made fresh so you always get the best batch.
This place is famous, by the way! J. Timothy's Taverne was a Food Network Selection for the best wing sauce in America!
That's right, we have a Food Network pick right here in our state. They have amazing wings, and their most popular 'dirt style' wing is a deep-fried, sauce-tossed, and second friend wing that makes for a super crispy and juicy wing.
Their sides really finish things off, like onion straws, garlic bread, and pretzels. They are a Food Network Pick for a reason!
Some locals have already hailed this as the best place to get chicken wings in Connecticut. You can get Archie Moore's bottled wing sauce in the local grocery stores because they are so popular, and have been able to make a small franchise with locations through Connecticut.
Their buffalo wings are a classic hot wing flavor, but their garlic parmesan is a unique blend that raises in popularity too. They have classic bar foods down to a 't'.
With nachos, potato skins, and their wings, this is the best place to drop into for a party, small gathering, or just a chill night out!
6. WesWings– Middletown, CT
If you were looking for the perfect hang-out spot near the colleges, then WesWings is the right place for you. They have super good options to choose from, including a vegetarian wing.
Boneless or traditional, they have your pick. Their popular honey-ginger sauce is a sweet and savory combo.
And the Beyond Wings of Death is also called the ghost because it is so spicy, your tastebuds might just melt. They have salads, more sides, and sandwiches to cool off with if you challenge yourself to the spicy option.
This is a southern cooking joint right up here in Connecticut. They have a meat-focused menu, so their sauces and sides pair perfectly with the tasty meats.
Try out their spicy buffalo, citrus bourbon, bbq, cajun, or garlic parmesan flavors. This is a family-style place with huge portions, so come prepared.
A combo of restaurant and moonshine bar, the Hidden Still has the decor of a relaxation spot and the food of a hip 5-star joint.
Their high-quality wings and sauces take over 25 hours, so you know you are getting the best they have to offer. Their unique flavors like cinnamon chipotle and maple bourbon are huge hits, even the mustard horseradish.
Their menu is extensive to fit many needs, and have the best culinary picks to choose from.
Another place inspired by the south, Cheeks Chicken and Waffles is a stellar option for Connecticut natives to try out new flavors.
Chicken and waffles is an American favorite all around, so pairing that with innovative wing flavors is super popular! Their Carolina reaper and honey mustard flavors bring lots of tingles for your taste buds.
This is a fast food style, relaxed place for college students and young adults in the Storrs area. They offer boneless wings that are tender and juicy and ordered by the half-pound!
The biggest they go is 6 pounds, which is a whole lot of wings. Popular flavors like cajun teriyaki and hot garlic keep the crowds coming back.
---
That about covers it! These 10 places for the best chicken wings in CT are starting to fill up again, and it is good they have managed to stay open and serve their loyal customers.
Connecticut is not only the place to find the best lobster rolls – we've got chicken wings covered, too!