If you're looking for some restaurants for fine dining in CT, look no further. We've put together a list of the 12 best fine-dining restaurants in Connecticut just for you.
Whether you want to get dressed up for a posh group dinner or you've got romance on your mind, any one of these 12 fine dining spots will do the trick.
Many of the places on our list have outdoor seating and offer private rooms for large parties.
All of them, though, serve amazing food in an upscale atmosphere.
Let's get to it.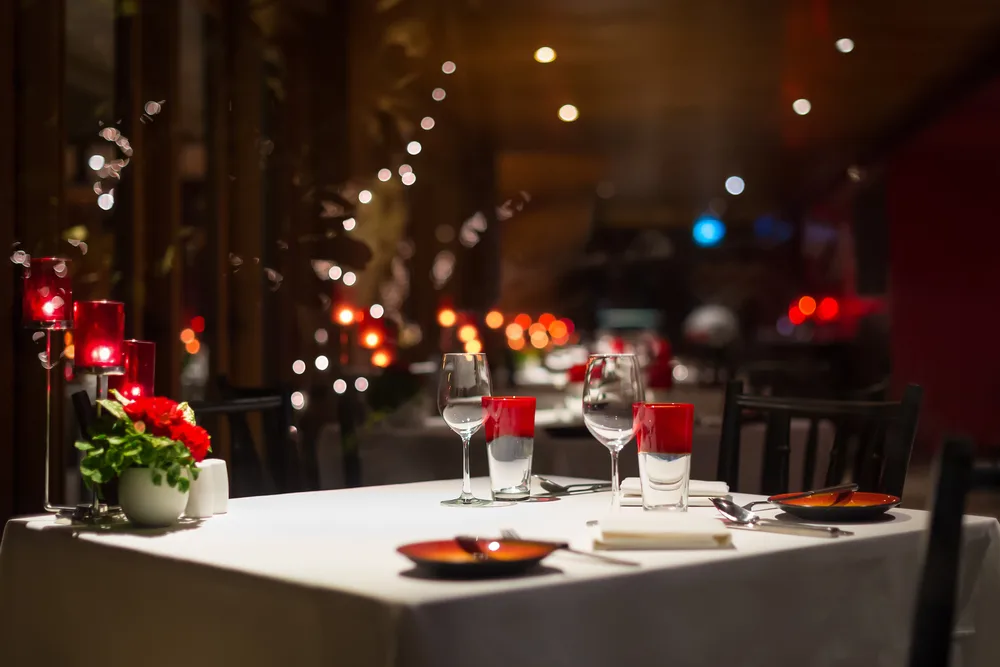 12 restaurants for fine dining in CT
One of the best fine dining experiences in CT can be found at Arethusa al tavolo in the town of Bantam.
Treat yourself and your guest(s) to an amazing farm-to-table menu with options like Yellowtail Tartare and Swiss Chard-Black Truffle Agnolotti.
The atmosphere here is sophisticated, yet comfortable. This is definitely one of the best fine-dining restaurants in Litchfield County.
*Reservations at Arethusa al tavolo are required and are limited to 2 hours per table.
Address: 828 Bantam Road Bantam, CT 06750
Viron Rondo Osteria in Cheshire pairs one of the best Italian menus in Connecticut with one of the most friendly fine dining atmospheres.
The food here is superb, the fireplace in the dining hall is fantastic, and, on top of all of this, the catering can't be beat.
Viron Rondo Osteria is a fine dining gem in New Haven county.
Address: 1721 Highland Ave, Cheshire, CT 06410
Just a quick glance at the photos of the dining space and food at The Charles in Old Wethersfield, CT and you'll know that you're in for an unforgettable fine dining experience.
The atmosphere here is elegant and classic, while the menu is modern and diverse.
At The Charles, you'll find delicious and beautifully prepared dishes ranging from Korean Pork BBQ to North Atlantic Oysters.
Address: 161 Main Street, Wethersfield, CT 06109
The Essex in Old Saybrook is a bit of a hidden gem when it comes to fine dining in CT. It's small compared to many of the other establishments on our list, but it's absolutely worth making a reservation for.
If you're looking for some fresh Niantic Bay Oysters or some Seacoast Mushroom Fricasse in a classic upscale atmosphere, this is your place.
The cuisine at the Essex is French-inspired American and is out-of-this-world delicious.
Address: 30 Main Street, Essex, CT, 06409
If you're in the mood for classic high-end Italian cuisine in a fine dining atmosphere, Ristorante Luce in Hamden is your place.
The Bistescha at Ristorante Luce is to die for and they don't slouch on the wine, either – some of the finest you'll find in the state.
Address: 2987 Whitney Ave, Hamden, CT 06518
Nataz in North Branford, CT is one of the most unique fine dining restaurants in the state.
The four-course prix fixe meal is served with a grazing board, salad, as well as a selection of amazing desserts.
The menu here is a high-end mix of Italian, seafood, and American, and even has Filipino and Armenian selections.
Address: 280 Branford Rd, North Branford, CT 06471
Joseph's Steakhouse in Bridgeport was named the best steakhouse in Connecticut in 2019 and it still lives up to that title today.
Joseph's Steakhouse not only has some of the best steaks in CT, but it has one of the best atmosphere's for fine dining in CT, as well.
This restaurant serves classic American cuisine with a focus on perfectly aged and wonderfully cooked meats, like steak and veal.
Private seating is available for large groups here. This is a great place for rehearsal dinners.
Address: 360 Fairfield Ave, Bridgeport, CT 06604
Washington Prime in Norwalk is a fine dining restaurant that's a bit more casual and low-key than some of the others on the list.
There's still a dress code here, but it's more in line with business casual attire than fancy suits and dresses.
The food here, though – it's fine dining at its best. Here, you find menu items like duck, short rib, veal, and oysters, all cooked to perfection.
Washington Prime serves brunch, too. So, it's a great place for Mother's Day or other holiday brunches.
Address: 141 Washington St, Norwalk, CT 06854
If you ask anyone around the Hartford area for fine dining recommendations, you will get plenty of responses in favor of Millwright's in Simsbury.
Here, you find menu options like their Beausoleil Oysters and Venison Loin.
The atmosphere is outstanding here (fine dining, but very comfortable) and the views from the tables are simply spectacular.
Millwright's has outdoor seating options, as well.
Oh, yeah, ask for a view of the falls. You won't regret it.
Address: 77 West Street, Simsbury, CT
If you're looking for some incredible fine dining in New Haven, CT, the Union League Cafe has what you're looking for.
The cuisine at Union League Cafe is Parisian with some other European influences.
Everything here is cooked to perfection and the atmosphere is the epitome of modern fine dining.
Address: 1032 Chapel St, New Haven, CT, 06510
Mystic, Connecticut is known for its amazing activities and restaurants.
The Shipwreck's Daughter is one of the finest restaurants, even for Mystic.
The atmosphere here can be described as "upscale beach" and the menu features plenty of seafood items that are uniquely prepared to "wow" you.
Address: 20 East Main Street, Mystic, CT 06355
The Capital Grille in Hartford is decidedly one of the most famous fine dining restaurants in CT.
This restaurant embodies fine dining with both its ambiance and its food.
The Capital Grille features menu items like Maine Lobster Salad, Seared Tuna, and Ribeye.
Prive rooms are available for special occasions, as well.
Address: 44 Front Street, Hartford, CT 06103
---
There you have it – the 12 best restaurants for fine dining in CT.
Is your favorite upscale restaurant on this list?