Connecticut has all the best things, doesn't it? Local honey in CT is no exception.
If you've been shopping around for raw, organic honey and you want to make sure you're buying local and supporting small Connecticut businesses, this article is for you.
Here, we've listed the top 8 places in CT to buy local honey.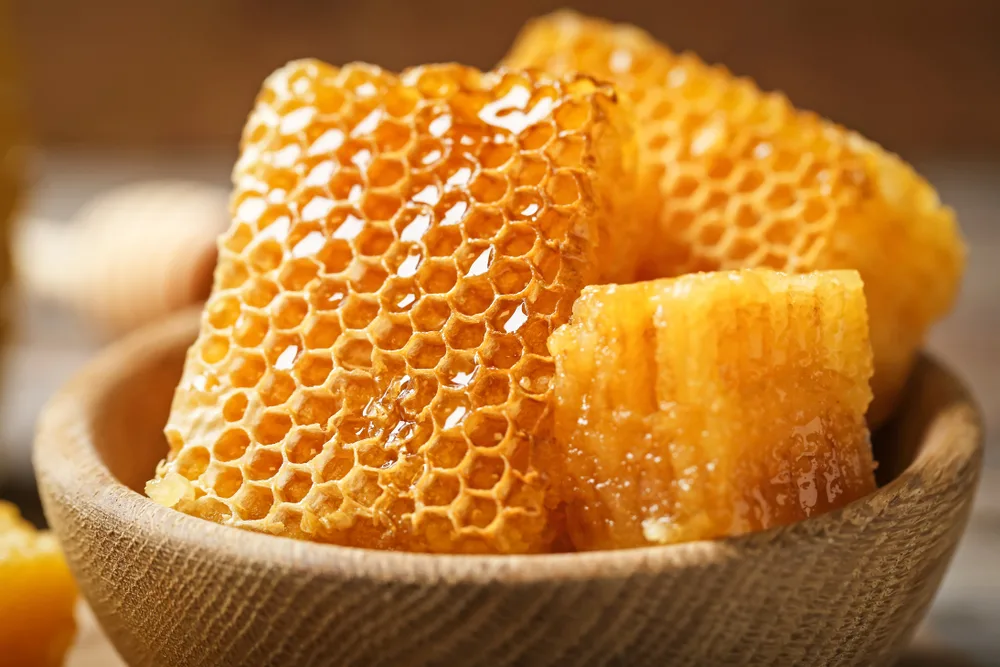 Why buy local honey in CT
In the age of Amazon and big-box grocery stores, it's not hard to buy honey.
There are some great reasons to put a little extra effort in and purchase local honey in CT, though.
Environmental benefits
The environmental benefits of buying honey that's made right here in Connecticut come from a few factors.
First off, local honey doesn't need to be shipped long distances, which saves on the fossil fuels used in trucking and air shipping.
Secondly, many local aviaries in Connecticut package their honey in glass instead of plastic. This has clear benefits to the environment.
Lastly, local aviaries help Connecticut's plant life through pollination. This, in turn, helps all Connecticut wildlife.
Health benefits
Allergy sufferers can benefit from consuming local Connecticut honey, believe it or not.
This is because eating small amounts of things your immune system reacts to (pollen, in this case) can help you build resistance to that substance.
Since local CT honey is made with pollen from local plants, putting a little local honey in your tea could actually help your spring and summer allergies – pretty cool, right?
Honey sourced from anywhere has other health benefits, of course, but this one is specific to local honey.
8 great places where you can local honey in CT
So now that we've convinced you to buy your honey right here in CT, let's get to where you can get it.
These are the 8 best places for buying local honey in CT.
Monkey's Pocket Apiary staff are specialists in all things related to beekeeping.
Their local CT honey is made by home-raised bees from pollen from local plants and is 100% natural.
This is a great place to visit to pick up some organic, local honey and learn a bit about beekeeping if you're interested.
Address: 2788 Black Rock Turnpike, Fairfield, CT 06825
Mike's Beehives has some of the most delicious local Connecticut honey available to the public.
Here, you can buy fresh, local honey and tons of various beekeeping products.
Mike's Beehives also offers a variety of services for beekeepers, as well as full apiary set-ups and beekeeping classes.
Address: 1065 S Main St, Torrington, Connecticut 06790
Autumn Harvest Orchard has an awesome selection of local honey!
You can purchase their pure honey in a variety of different sizes and local-made creamed honey is also available here – yum!
You can also find Autumn Harvest Orachrd's honey at the Farmer's Market in Torrington.
Address: 879 Winchester Road, Norfolk, CT 06058
Hilltop Apiaries cares for its bees on multiple farms throughout the Farmington Valley area and is one of the most highly respected apiaries in Connecticut.
Their kinds of honey include several varieties of whipped honey, as well as wildflower honey and unique and delicious habanero honey – some delicious additions to your breakfast plates!
Hilltop Apiaries does not have a shop on-site, however, their products can be found all over Connecticut. You can order their delicious local honey online, as well.
Full Bloom Apiaries produces non-pasteurized, unfiltered honey from its bees and sells it in a variety of sizes.
On their website, you can find whipped honey, as well as raw honeycomb, which is a rare find in Connecticut.
Honey from Full Bloom Apiaries can be found at supermarkets and farm stands all over Connecticut. For a full list of places you can find this local CT honey, click here.
Stonewall Apiary sells pure honey in a variety of sizes. You can also find whipped honey here.
If you're interested in getting started with a beekeeping hobby of your own, Stonewall sells beekeeping products and gives classes, as well.
Address: 120 Inland Road, Versailles, CT
Scott's Farm Store is a great place to buy local honey in CT. In fact, it's one of southeastern Connecticut's favorite places to buy honey that's produced here.
In addition to local honey, you can find tons of other sustainably produced, fresh, organic goods here.
Address: 356 Middlesex Turnpike, Old Saybrook, CT 06475
Three Sisters Farms in the southeastern town of Essex has a great selection of natural, local honey.
They make raw wildflower honey and lavender-infused honey, as well as soaps, lip balms, and other homemade products.
If you can't make it to one of their retail partners, you can order their local honey and other products online here.
---
These are all great places to buy local honey in CT, but this list is nowhere near exhaustive!
Local, sustainably-sourced honey can be found at nearly every weekend farmer's market in Connecticut, as well as at many roadside farmstands.
Where is your favorite place in CT to buy local honey?