The great nutmeg state is the perfect place for food enthusiasts. Since Connecticut is a proud part of New England, it's got all the great seafood and Long Island cuisines. But, if you are more of a breakfast food lover, then there are plenty of restaurants with awesome breakfast food for you to try in Connecticut.
If you like diners, cafes, or full-on restaurants, you've got your pick below of where to find the best restaurant food in Connecticut.
There are so many different breakfast foods, like pancakes, oatmeal, french toast, and omelets–so these 10 Restaurants with the best breakfast in Connecticut have made their own unique tests and made amazing menus with delicious breakfast foods!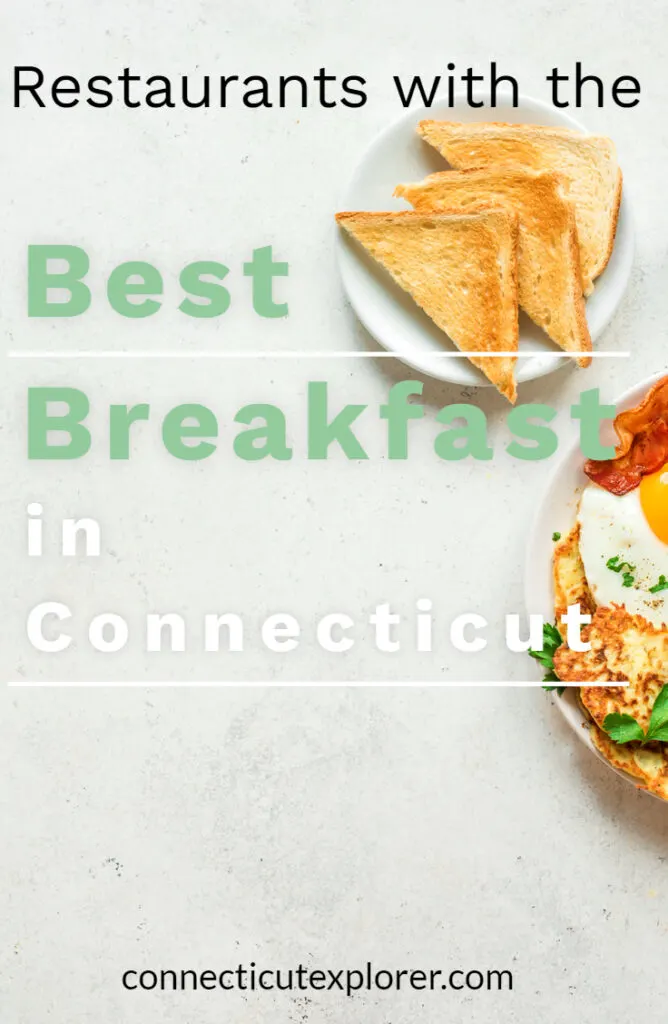 10 restaurants with the best breakfast in Connecticut
1. Laurel Diner- Southbury, Connecticut
If you love the old-fashioned, local favorite type of place, then Laurel Diner is a great place to get a good hot and hearty breakfast.
They are a cash-only restaurant, with affordable prices that are great for road trips or pit stops.
Their breakfast menu is delicious and has many classic breakfast items like their hash and cheese omelet, made with their homemade corned beef hash.
Another must-try is their paradise pancakes, which are fluffy pancakes topped with coconut, pecans, powdered sugar, and bananas.
For the classic breakfast lovers, they've got egg dishes and crispy toast.
The owners really care about their customers, and make the best breakfasts for their loyal patrons!
2. Noah's- Stonington, Connecticut
For all the early risers, Noah's is open early, happily serving southeastern Connecticut and travelers from all around.
It's pretty close to southwestern Rhode Island, so it's an easy road-trip stop. Their fluffy blueberry pancakes are incredible, paired with their genuine maple syrup and fresh coffee choices.
Noah's showcases local art and makes for a relaxing breakfast spot for family and friends.
3. The Corner Restaurant- Milford, Connecticut
If you aren't a morning person, you can still make it to the Corner Restaurant for an early lunch, too.
Their menu has lots of great mouthwatering options that are creative and unique. The Corner Restaurant has savory breakfast choices, like their spiced Indian duck tortilla, African hash, and goat cheese medallions.
But, if you prefer a sweet breakfast, then their peaches and cream stuffed french toast or pancakes are sure to satisfy!
For over twenty years, the Corner Restaurant has served breakfast lovers all over Connecticut!
4. Somewhere in Time- Mystic, Connecticut
Bottomless coffee anyone? Somewhere in Time is a great place to get a nice, hearty breakfast, or grab some breakfast foods and coffee.
They have many egg creations and variations, like their make-your-own option. For the savory breakfast lovers, their host of choices will have you loosening a button or two.
Somewhere in Time also has sweet breakfast options, so anyone can come and enjoy their relaxing, welcoming environment.
5. When Pigs Fly- Waterford, Connecticut
If you are a breakfast for dinner type of person, then When Pigs Fly is perfect for you.
They serve breakfast all day long and have bottomless coffee as well. Their spot in Waterford is super cozy and has the same ownership as Somewhere in Time.
When Pigs Fly has some completely different breakfast choices though, so the menu still has some unique options for you to come check out.
All their food is top quality, and their french toast specials change weekly!
6. The Place 2 Be- Hartford, Connecticut
The Place 2 Be serves breakfast and lunch. Their tasty choices give the diner-feeling with a bit of some flair.
The Place 2 Be has great egg sandwiches, eggs benedict, pancakes, yogurt parfaits, french toast, waffles, and more!
Their fan-favorite is the Franklin stuffed french toast, 2 pieces of challah are stuffed with cream cheese, or your choice of Nutella, then topped with a variety of different options.
It's a great family place as well since they have a special kid's breakfast menu!
7. Cisco's Restaurant- Newington, Connecticut
Cisco's Restaurant serves up a mix of American breakfasts and Mexican specials.
Their breakfast platter is super hearty, with tons of options, including buttery toast and potatoes.
Their savory egg platter breakfast might just last you all day! Cisco's Restaurant also has lots of pancake options, french toast, or simpler fares like oatmeal.
Their huevos rancheros breakfast special is one of the favorites too!
8. The Vanilla Bean Cafe- Pomfret, Connecticut
The Vanilla Bean Cafe is one for the books! The location is super bright and open, making breakfast an enjoyable experience.
Their breakfast, lunch, and dinner menu gives you plenty of options no matter what you prefer. Their egg dishes, like the egg, pastrami, and swiss cheese on an English muffin is a local favorite.
The Vanilla Bean Cafe also has pastries you can take to go on the way to work or back home!
9. Parkside Cafe- Bristol, Connecticut
The Parkside Cafe gets all its eggs from local farms. Their many egg dishes and omelets or sandwiches satisfy any pallet.
Their hot griddle serves up great pancakes, Belgian waffles, crepe specials, and french toast of course!
You can take home your fill of muffins, oatmeals, breads, and meats!
10. The Shack- East Lyme, Connecticut
The Shack is always super busy at breakfast time. Their menu items are scrumptious classic breakfast choices, and their side dishes really complete the meal.
Their fries topped with cheese, scallions, sour cream, and bacon are called homey fries and loved by everyone!
The Shack also serves up a favorites menu with popeye scramble, vegetable omelets, and all choices come with a free cup of coffee!
We hope these great breakfast restaurants in Connecticut have you excited to wake up early and try some of them out.
They are perfect for road trip stops, food destinations, or if you live nearby, then you ought to try them out!
No matter what your favorite food is, these restaurants with the best breakfast food are open until later in the day, so you have plenty of time to stop by and see what they have in store.