If you're looking for some great Peruvian restaurants in CT, you can stop now. I've put together a list of places that serve the best, most authentic Peruvian food in the state.
I admit that it was only recently, in the last few years, that I was turned onto Peruvian cuisine.
It all started with a friend serving me some Huancaina sauce with french fries at a cookout.
One taste and it was game over for me.
I immediately grabbed myself some Huancaina sauce and Tari from the local international grocery store and started putting them on pretty much everything I ate.
I knew that if these sauces from Peru had me hooked like this, a plate of authentic Peruvian food was the next thing I needed in my life.
I thought it might be difficult to find Peruvian restaurants in CT, but to my surprise, it wasn't hard at all.
There are plenty of Peruvian restaurants right here in Connecticut that serve delicious and authentic food.
I went ahead and put together the list for you.
A couple of these are my personal favorites, so I'm excited to tell everyone all about them.
So, let's get to it.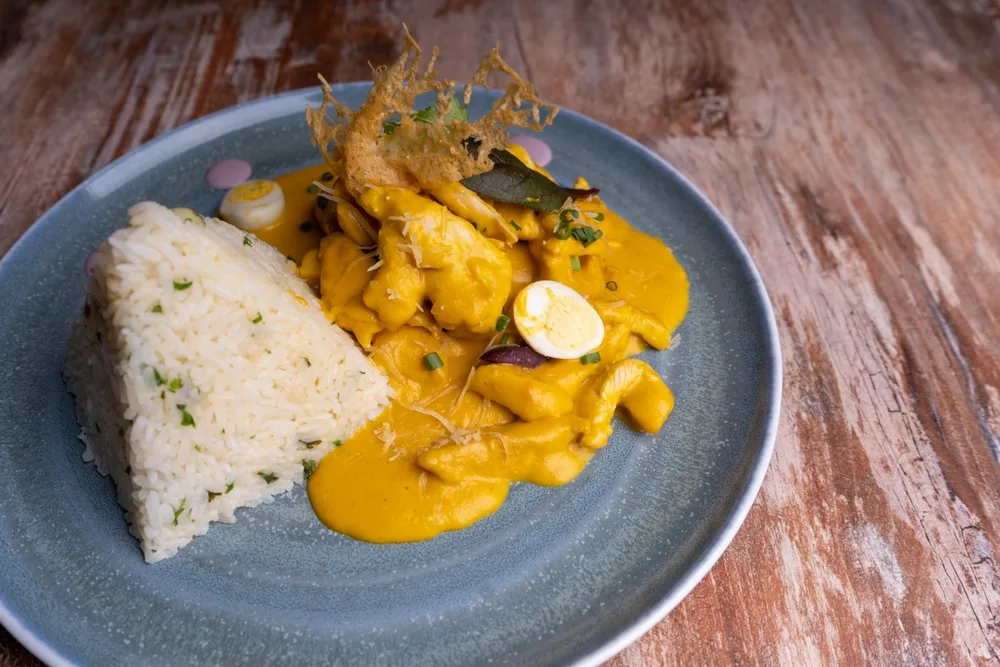 7 great Peruvian restaurants in CT
One of my absolute favorite Peruvian restaurants is Canggio Restaurant & Bar in Norwich.
Canggio puts a contemporary twist on traditional meals from Peru.
From pork belly sandwiches to lomo crepes, the menu here is diverse and everything is so delicious.
The atmosphere here is upscale – a place to go when you want to really treat yourself.
Address: 20 Lafayette Street, Norwich, CT 06360
West Hartford is known for its amazing restaurants, and when folks here are in the mood for Peruvian food, Coracora is their go-to spot.
The food and atmosphere here are so great, in fact, that Coracora is the only Peruvian restaurant in Connecticut that was nominated for Outstanding Restaurant by the James Beard Foundation.
The food here is traditional, authentic, and downright delicious.
Come for delicious dishes like Arroz Norteno and Yuca Rellena.
The atmosphere here is nice, but super laid back and enjoyable.
Address: 162 Shield St. West Hartford, CT
Rinconcito Peruano in Hartford serves great Peruvian food in a beautiful semi-fine-dining setting.
Everything here is authentic Peruvian and so, so tasty.
Appetizers here include Papa a la Hauncaina, which is one of my favorites.
As far as main dishes, you'll find traditional dishes like Bistec a lo Pobre and Pollo Saltado – yum.
Address: 391 Main St, Hartford, CT 06116
Another great Peruvian restaurant in Hartford is Vista Alegre.
This one is a bit more casual in the atmosphere, but the food is every bit as delicious.
Vista Allegra serves delicious Peruvian dishes like Ceviche Mixto, Jalea, and Aji de Gallina.
This is a favorite spot of native Peruvians, and after you come here and taste the food, it might just be your new favorite Peruvian restaurant, as well.
Address: 556 Franklin Ave., Hartford, CT. 06114
If you're looking for a fantastic Peruvian restaurant in the New Haven area, you need to check out Incas Restaurant in Milford.
This Peruvian restaurant serves some of the best breakfast food you'll ever taste.
Cau Cau de Mondongo and Chicken Aji are 2 of the yummy meals that are served here.
As far as breakfast food, you'll find fresh fruit, delicious crepes, and, of course, rancheros.
Address: 333 Naugatuck Ave., Milford, CT 06460
If you're in the southwest corner of Connecticut and you're looking for a great Peruvian restaurant, Ceviche Palace is your place.
Tacu Tacu con Lomo, Chuleta Frita, and Tallarin Saltado de Carne are just a few of the dishes you will find here.
The staff here are Peruvians, so you know the food is delicious and authentic.
The atmosphere here is laid back and really fun. I highly recommend checking this restaurant out.
Address: 1429 E Main Street, Bridgeport, CT
Sunrise Cafe in New London's name doesn't give any hints about the delicious Peruvian food that's served here.
In fact, the first time I ate here, it was a happy surprise to find an extensive menu of Peruvian cuisine.
Peruvian appetizers include Papa a la Hauncaina and, for main dishes, you can find delicious options like Choritos a la Chalaca and Parihuela.
The cuisine is authentic and this is a favorite New London County restaurant for local Peruvians.
Address: 36 Golden Street, New London, CT
---
There you have it – 7 amazing Peruvian restaurants in CT.
Is your favorite Peruvian spot on this list?
If not, send us an email or leave a comment below and let everyone know about it!