If you're in the mood for a delicious plate (or basket) of fish and chips, you've definitely come to the right place. I just happen to be hungry right now and I'm in the mood to make a list of my favorite spots for fish and chips in CT.
A couple of restaurants on this list are a little bit on the fancy side, but most of them have laid-back atmospheres.
Of course, you'll find that most of them are coastal and have waterfront views, as well.
So let's get right to it.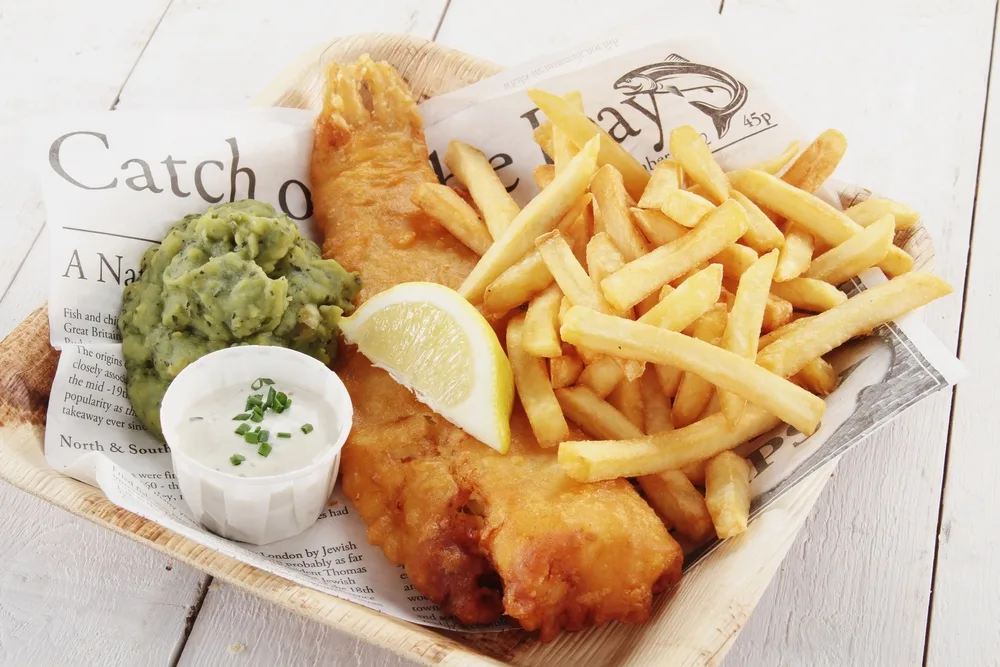 The 9 best restaurants for fish and chips in CT
If you are looking for a meal of fish and chips in a unique atmosphere, the Greenhouse Tavern in Berlin has what you're looking for.
The cod is hand-battered and absolutely delicious. The fries are hand-cut and complement the fish just perfectly.
As far as the atmosphere, the indoor dining is tavern-style, which is really comfortable and fun.
Outdoor seating is also an option here. You can choose to sit near the greenhouse or closer to the pond.
Address: 511 Spielman Hwy Burlington, CT 06013
Flanders Fish Market is one of my favorite restaurants for fish and chips in CT.
Not just for its proximity to where I live in New London County, but because the food here is fresh and very, very delicious.
The atmosphere can be described as high-end casual and there's a nice outdoor seating area, which is really nice.
In addition to having one of the best fish and chips platters, they also serve amazing lobster rolls.
Address: 22 Chesterfield Rd., East Lyme, CT 06333
If you're looking for a great seafood restaurant that serves generous portions, Lenny and Joe's is your place.
The fish and chips platter here is delicious and will leave you satisfied.
The cool thing about the Madison location of Lenny and Joe's is the charity carousel.
If you've got kids, you've got to check out this fish and chips spot. It's really fun.
Address: 1301 Boston Post Road, Madison, CT 06443
Bill's Seafood in Westbrook is the go-to spot for fish and chips for residents and vacationers at the Water's Edge Resort.
The fish and chips platter here is generously portioned and fried to perfection.
The outdoor seating is plentiful, with a beautiful waterfront view.
Before you head here for lunch or dinner, though, you should know that Bill's is cash only.
Address: 548 Boston Post Rd, Westbrook, CT 06498
Captain Scott's Lobster Dock is one of the state's top spots for seafood, and the fish and chips here are awesome.
This award-winning restaurant features some of the best seafood in coastal Connecticut with generous waterfront seating.
New London has so much great stuff to do, including the mural walk, great beaches, and plenty of historical sites to visit.
So, come for a great plate of fish and chips and make a day of it.
Address: 80 Hamilton St, New London, CT 06320
If you're in the Bridgeport area and you're looking for some yummy fish and chips, you definitely need to check out Captains Cove.
I love this place because you get the whole boardwalk experience along with your meal.
Come watch the boats come and go from the docks while you enjoy the sea air and a delicious plate of seafood.
Address: 1 Bostwick Ave, Bridgeport CT 06605
City Fish Market in Wethersfield is the area's go-to-market and restaurant for fresh seafood.
The fish that comes with the platter is fresh caught deep sea cod and it's lightly hand battered and very delicious.
There are so many other great seafood options here as well other than the fried platters.
The New England clam chowder is wonderful, as is the soft-shell crab sandwich.
Address: 884 Silas Deane Highway, Wethersfield, CT 06109
I love Stowe's Seafood in West Haven. The views from the outdoor seating area are amazing and the fish and chips platter is delicious.
I also suggest the fried lobster roll and the chili seafood.
I really can't say enough good things about the seafood here. It's hands-down one of the best seafood restaurants in CT.
Address: 347 Beach Street, West Haven, CT 06516
Some of my favorite restaurants are in Wallingford. When I'm in town and I'm in the mood for fish and chips, Westbrook Lobster is the first place that comes to my mind.
All of the fried seafood platters are so good here, and the fish and chips? Chefs kiss.
There's another Westbrook Lobster in the coastal town of Clinton, which is wonderful, as well.
I wanted to give a great inland option, though, since there are so many great coastal fish and chips spots on this list.
Address: 300 Church Street, Wallingford, CT 06492
---
That's the list.
These are the 9 best places for fish and chips in CT.
Is your favorite spot on this list?
If not, send us an email or leave a comment below and tell us about it!