Are you looking for some great pool halls in CT? If so, you have come to the right place – I've got 10 awesome places for billiards in CT.
Some of the Connecticut pool halls on this list are upscale and quite impressive and others are nice but more middle-of-the-road.
By middle-of-the-road, I mean they are better than your parents' basement. Not your typical roadhouse watering hole-type joints.
If you take your billiards seriously, this is your list.
At some of these pool halls, you can get a decent meal and some pretty great beer, as well.
So, let's check these CT pool halls out.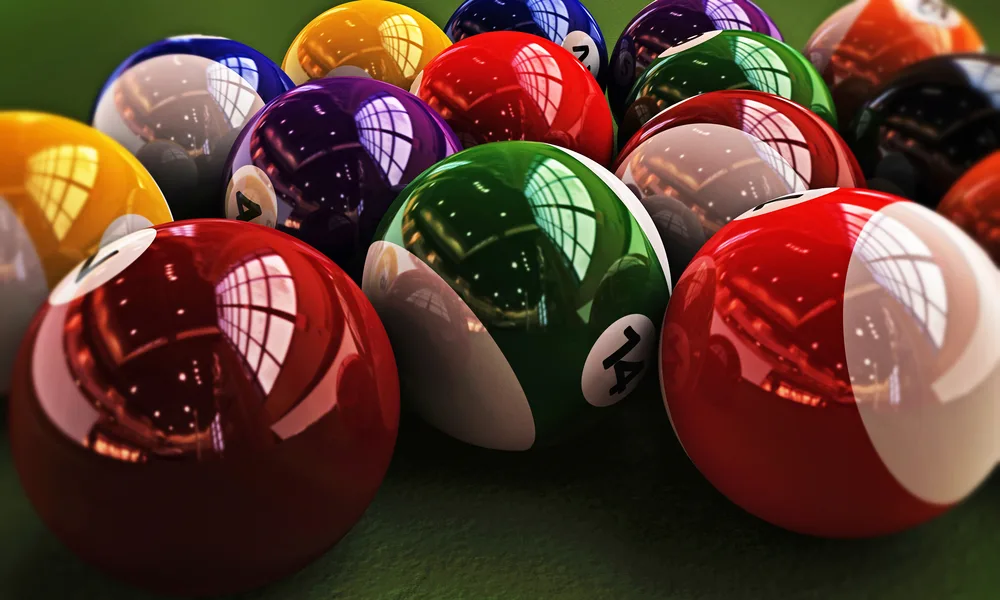 10 of the best pool halls in CT
Cue and Bew in Branford is one of the best and most popular pool halls in CT.
Here, you'll find plenty of regulation-size tables, APA tournaments, a women's league, free pool Tuesdays, and more.
There's a full bar here, as well, with all your favorite top-shelf liquors and cold beer.
Address: 131 Commerical Parkway, Branford CT
If you are looking for a fun game of billiards in an arcade type atmosphere, you've got to check out Game On at the Mohegan Sun Resort and Casino.
Here, you'll find an absolutely massive selection of craft beer, delicious food, cornhole, billiards, and plenty more.
Address: 1 Mohegan Sun Boulevard, Uncasville, CT 06382
Yale Billiards in Wallingford is an establishment that is all about shooting pool.
This awesome pool hall hosts over 60 APA teams and has 16 Brunswick pool tables.
There's a private room for your special events and a full-service bar with plenty of great beer on tap.
Address: 169 N Plains Industrial Rd., Wallingford, CT 06492
Racks Billiards and Bar in Vernon is a pool hall with a fun and unique setup.
Here, you'll find 16 pool tables and a spacious dining area.
Rack's hosts plenty of leagues and pool tournaments, so come check it out and sign your team up.
Address: 500 Talcottville Road, Vernon, CT 06066
Shooter's Billiards in Southington is a Connecticut pool hall for people that are serious about their billiards.
Here, you'll find 20 Brunswick Crown III pool tables, in fact.
Shooter's hosts pool tournaments and offers both 8-ball and 9-ball billiards leagues.
There's also plenty for the kids to do here in the arcade area.
This is one of the only pool halls in CT that hosts parties, as well.
Address: 50 Spring St., Southington CT 06489
U.S. 1 Billiards is a family-owned pool hall in CT where you can come relax and enjoy a game of billiards or darts in a friendly atmosphere.
They host APA pool leagues and tournaments and have very fair prices.
The food menu here is pretty extensive, as well.
Address: 1167 Boston Post Road, West Haven, CT 06516
If you are interested in checking out a proper pool hall, you need to check out Snaps Billiards in East Windsor.
Here, you'll find 14 pool tables, plenty of TVs, and a lot of great cafe-style food.
Snaps hosts APA leagues and tournaments, as well as plenty of other pool-related events.
This is a family-friendly pool hall, however, there is a bar here where you can grab a cold beer if that's your thing.
Address: 2 North Rd., East Windsor, CT
The Truck Bar in Berlin is probably on just about everyone's list of the best pool halls in CT.
The atmosphere here is so relaxed and comfortable, but it's not a dive bar – at all.
Here, you can come for a cold beer and some food while you enjoy a game of darts, billiards, cornhole, and more.
Address: 151 Webster Square Rd., Berlin, CT 06037
What better place to play a game or 2 of pool than at a great brewery? Billiards and beer go hand in hand, after all.
Come to Steam City Brewery in Hartford for a laid-back game room atmosphere as you play billiards and sip on some of Connecticut's best beer.
Address: 942 Main St., Hartford, CT 06103
If you are looking for a pool hall that is over-the-top classy and upscale, you really need to check out High Rollers at Foxwoods Casino Resort in Mashantucket.
High Rollers has a series of bowling lanes and pool tables. Here, you'll be surrounded by luxury as you play your favorite games.
There is full-service dining here, as well.
Address: 350 Trolley Line Blvd., Mashantucket, CT
---
I hope you enjoy these CT pool halls.
Is your favorite billiards spot on this list?
If it's not, send us an email or drop a comment below and tell us about it.