If you're looking for something fun to do this summer that's friendly for all age groups, then we hope you like arcades!
They are the best option for having all kinds of different amusements, games, and activities for the whole family to do!
Planning a day trip with friends? Or a family fun day? We've got some options for you!
We found the best arcades that offer the best games, food, and amusements for everyone – whether you're looking for something for the kids just adults, or the entire family!
Check out this list of the 10 best arcades in Connecticut, we'd be surprised if you don't find something that you like!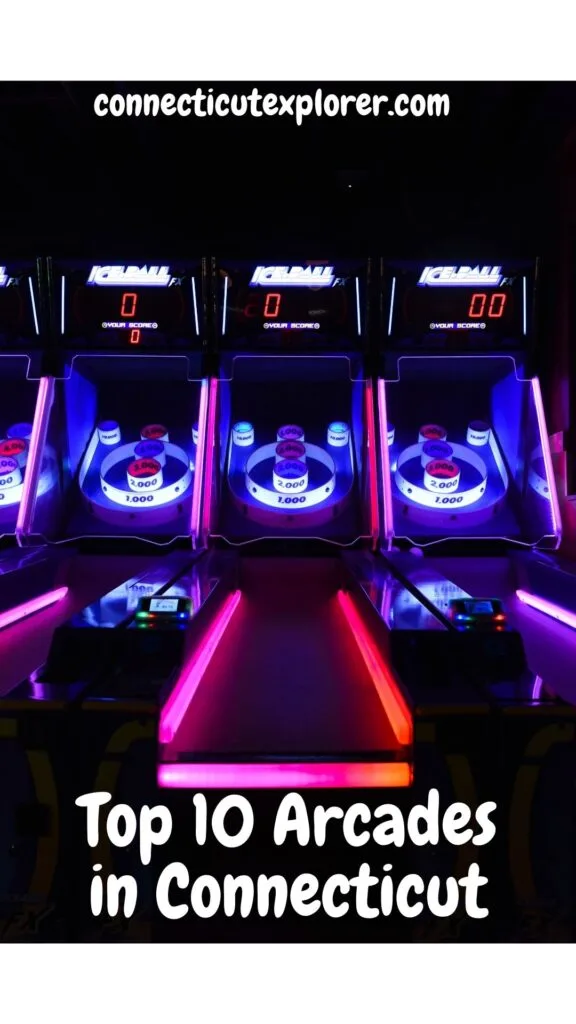 The 10 Best Arcades in Connecticut
1. Bounce Town USA- Milford, CT
We can't even begin to describe how awesome the Bounce Town USA Arcade is. With an inflatable bounce house and dozens of fun games, this arcade is fun for both adults and kids.
Toddlers even have a safe playing area appropriate for their age. Older kids can enjoy obstacle courses, video games, and rock climbing facilities.
For your family or group of friends, Bounce Town USA offers parties and private events when booked early.
This is kind of like a Dave and Busters for folks of all ages.
2. Shooter's Billiards and Arcade- Southington, CT
Why stop at the games? Shooter's Billiards and Arcade goes beyond the traditional arcade setting and offers air hockey, pinball machines, and foosball. This is the perfect indoor arcade for adults!
Do you have a birthday or special event coming up? Perfect! Shooter's Billiards and Arcade has options for booking parties suitable for all ages.
They teach billiard lessons too, so you don't have to figure it out for yourself, and they have a dart league and pool league–it's a one-stop-shop!
3. Nomads Adventure Quest- South Windsor, CT
This is no ordinary video arcade, it's a record-breaker! The Nomads Adventure Quest arcade has been officially made the largest indoor play place in all of New England, and we've got it right here in Connecticut!
They don't just stop at the arcade games, either. They've got bowling, laser tag, climbing wall, and mini-golf! Their tavern is on sight and serves salads, fish, sandwiches, and burgers.
You can get everything here in one place, the fun, the food, and the games!
Entrance is also free, so if you're just tagging along, you only pay for the games you play!
4. Ocean Beach Park- New London, CT
This place is perfect for summer! It's right along the beach, giving beach views and sandy shorelines for a memorable day!
The Ocean Beach Park has a long boardwalk and an Olympic-sized swimming pool! With a food court, arcade, and mini-golf, you won't run out of things to do here.
The beach's boardwalk houses many buildings where all the different activities are. But, when the weather gets too hot or a surprise rain comes, you can duck inside and continue the fun!
5. Dave and Buster's- Manchester, CT
We all know this place is an American classic! Dave and Busters has tons of locations, but we can't leave it out of our Connecticut arcade list.
Their environment is always family-friendly, with the right balance of fun for adults, teens, and younger kids. They have a separate billiard area too, if you like to play pool then you can spend as long as you like there!
You can redeem your points and tokens for prizes, like toys, candy, electronics, and more!
6. Foxwoods Arcade- Ledyard, CT
The Foxwoods Resort and Casino has more to offer than live entertainment and casino areas.
The Tree House Arcade at the Foxwoods Resort and Casino is definitely perfect for kids and teens, and adults to play if you aren't into the casino scene.
The games at the Tree House Arcade have lots of options, from pinball to the arcade classics, you're sure to find something that suits you!
7. Mohegan Sun- Uncasville, CT
Another Connecticut classic is the Mohegan Sun casino. But, it's not just for the adults or evening party-goers.
The resort has a Kid's Quest and Cyber Quest for kids from 6 weeks old to 12 years old, making this a great place for birthday parties!
You can skip the babysitting fee and bring them with you, their separate room for kids has video games and is professionally monitored.
They can even exchange their tickets for awesome prizes!
8. Barcade- New Haven, CT
Now this one is for adults only! Bring out the kid in you, and bring your group of friends to Barcade.
The arcade and bar combo has everything you need for a fun night out, with great beer, classic games like Pac-Man and Tron.
The inside looks like a cool, retro arcade that's sure to look great in some photos, too.
They have tons of food specials too, like $1 taco Tuesdays and 50c boneless wings every Thursday!
9. Sonny's Place- Sommers, CT
If you love outdoor and indoor fun, then this is the place for you. Sonny's Place has a mix of everything and is the best place for families to spend their whole day trying out new activities.
They have batting cages, a rock wall, mini golf, an arcade, and zip lines! With all the classic arcade games like claw games, bumper cars, racing, and Connect 4, Sonny's Place is keeping the arcade culture alive!
Your winning tickets can be exchanged for prizes too.
10. Fun For Kids – Stamford, CT
Fun For Kids is 3 different places in one. A bowling alley, pool hall, and arcade appropriate for kids and adults!
They have racing games, air hockey, skee ball, and tons of other games to keep you super busy.
Plus, the more you play, the more prizes you can win. The Fun For Kids arcade also has a 3,000-foot laser tag arena, you can't go wrong here!
If you are planning a birthday party, you've got to check this place out!
---
That's it from us! We hope these 10 best arcades in Connecticut have given you some ideas, and you're on your way to planning a fun day out with your friends and family.
Each website has more information on updated hours and visiting protocols, so you can come prepared.
With arcades all over Connecticut, no matter where you live, you're close to one of the best!