One of my favorite places to visit is Sleeping Giant State Park in Hamden, CT. This is a beautiful park that has a lot to offer visitors.
My family loves hiking and one of my kids is just fascinated with volcanoes.
So, when I found out that that Sleeping Giant State Park is on an extinct volcanic outcropping, I just had to take the kids on a hike here.
Not only does Sleeping Giant have a feature of geological significance, but there's a really neat observation tower at the summit of the mountain.
A tower that you can go inside.
I wasn't aware of the tower on our first visit, but boy was it a fun moment when we found it.
Needless to say, our first visit was followed by many, many more.
I'm here to tell everyone about how awesome this Connecticut state park is and help folks know what to expect on their visit here.
So, let's get to it and learn about Sleeping Giant State Park in Hamden, CT.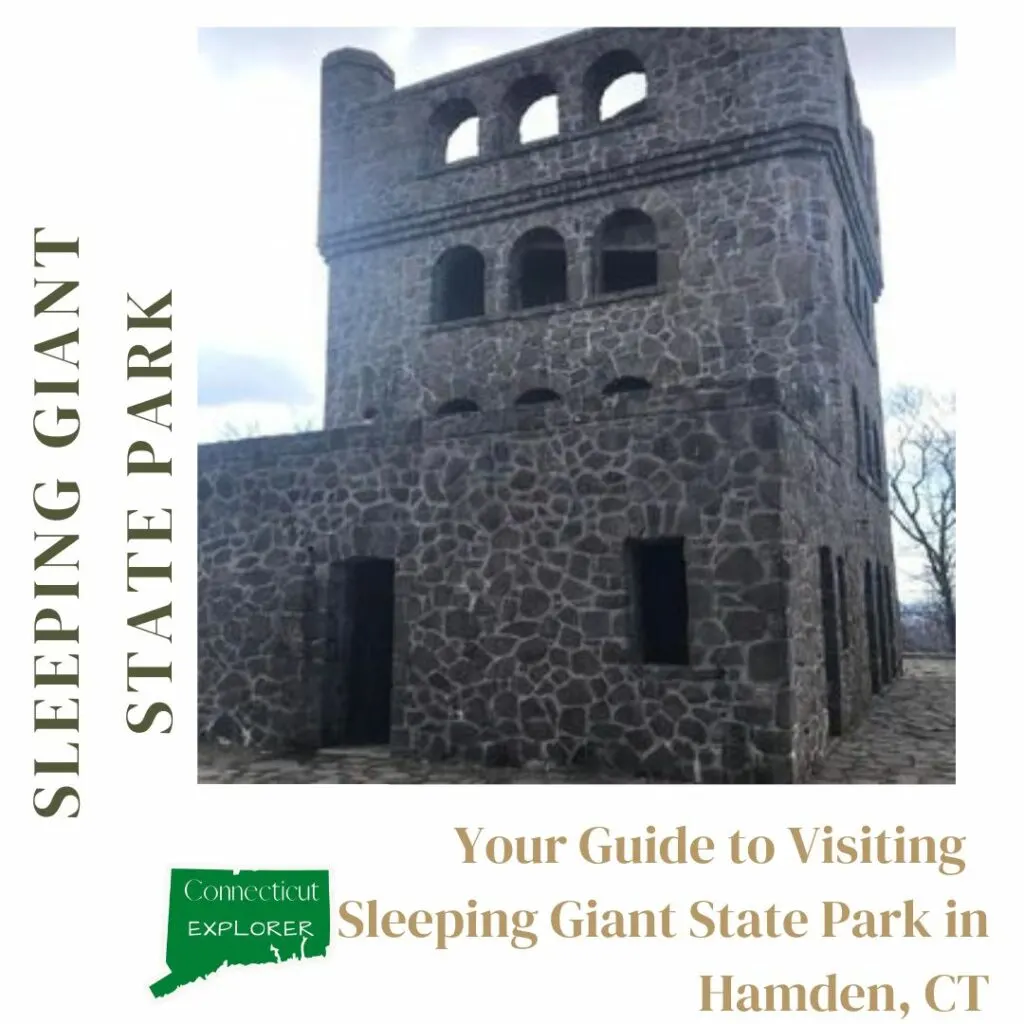 Where is Sleeping Giant State Park?
Sleeping Giant State Park is located in Hamden, CT, which is a town directly north of New Haven.
The address of the park is 200 Mount Carmel Avenue Hamden, CT 06518.
You will access Mount Carmel Avenue from Route 10, which runs north from New Haven to Granby.
The entrance of Sleeping Giant State Park is right across from Quinnipiac University.
Some of Connecticut's state parks have heavily wooded entrances, but Sleeping Giant doesn't – it's impossible to miss.
If you're coming from the State Highway 15, you'll be able to find the parking lot on the east side of the park just as easily.
Just click on this link and Google will give you the directions from where you are.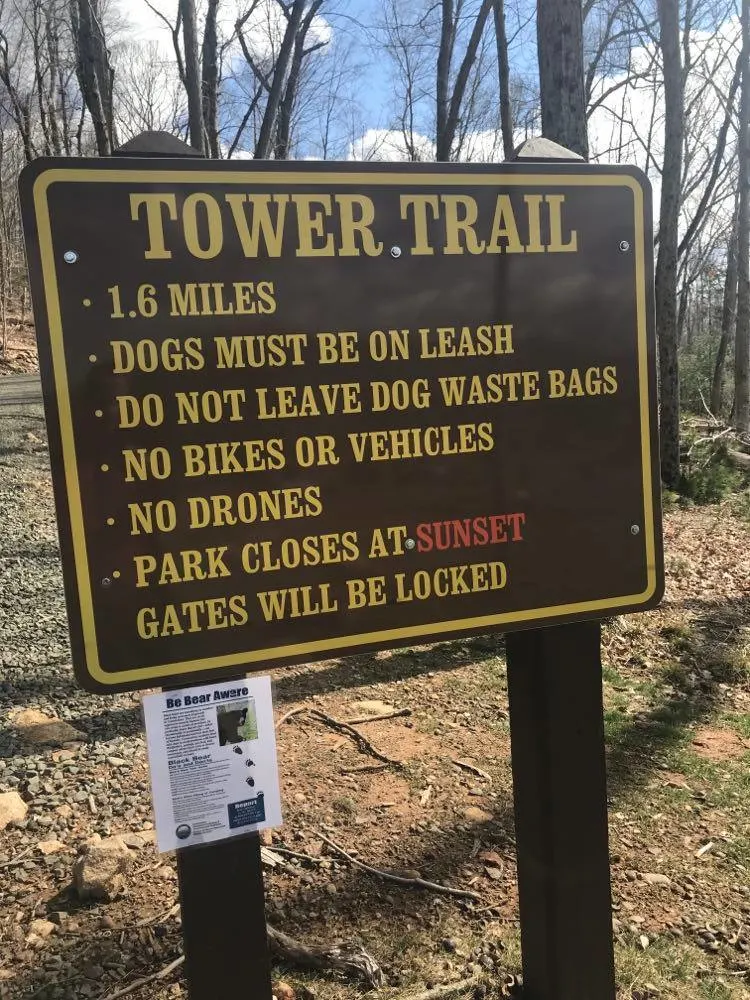 What is the story behind Sleeping Giant State Park?
Sleeping Giant State Parks gets its name from the Quinnipiac people, an Indigenous tribe in Connecticut.
The mountain at this park, Mount Carmel, resembles a giant that is asleep in a supine position.
The Native Americans in the area once knew the mountain as Hobbomock, an evil sprit that was put to sleep after reeking havoc on the area.
Sleeping Giant was made a park in the late 1800's, but was lease to a quarrying company in 1911.
By 1924, though, nearby residents became upset the with noise and damage from the quarrying and decided to step up and protect the park by forming the Sleeping Giant Park Association.
This park association is responsible for preventing the installation of oil pipelines and phone lines on the land.
Donations are welcome to help fund the association's efforts in preserving this park that so many New Englanders enjoy.
What is there to do at Sleeping Giant State Park in Hamden, CT?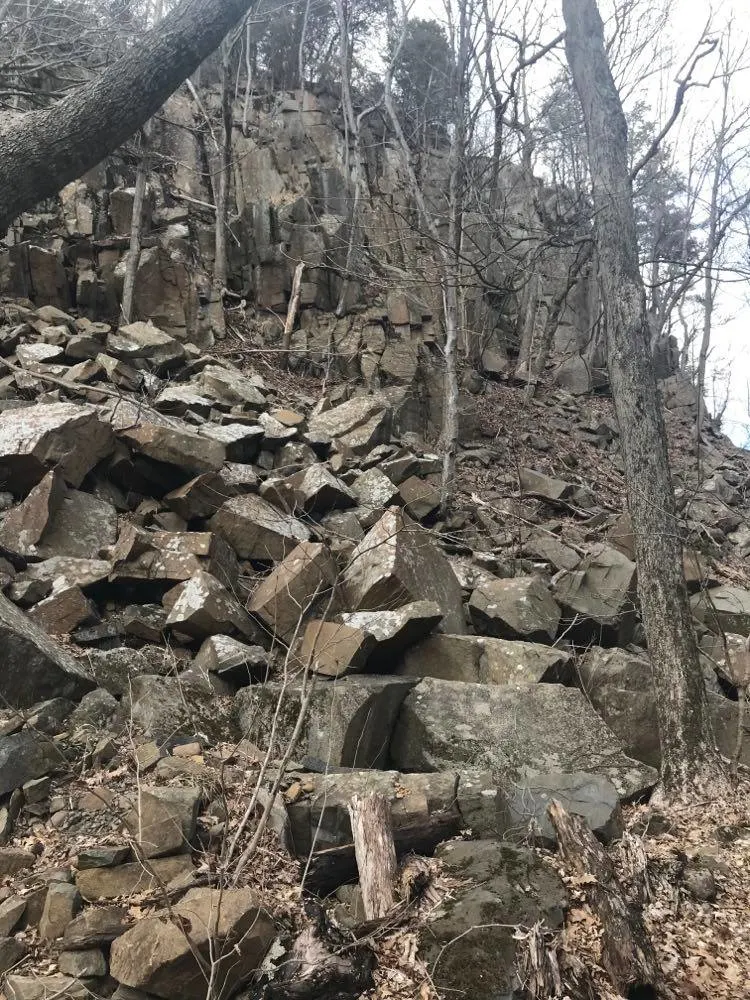 Hiking
There are a ton of trail options at Sleeping Giant. I'd have to publish a short book to go over all of them, so I'll just go over the 3 most popular trails.
Tower Trail
The Tower Trail is the most popular and it's certainly the easiest.
The trail is just over 3 miles long round trip and is considered an easy hike for most people.
The path leads up to the observation tower and is smooth enough for most jogging strollers and wagons.
The rocks along this trail are from the quarry that used to be in the park.
Blue & Violet Loop
If you're looking for a real challenge, the Blue & Violet Loop is an 8 mile loop that takes you by stopping spots with some amazing views.
There are several rock scrambles along the trail and some spots that are quite steep.
Definitely wear some good hiking boots for this one.
Blue & Tower Trail Loop
If you are in the mood for some light rock climbing, this is a great trail for you.
It's considered difficult, but it's not nearly as long as the previous trail.
Until you get to the river, it's pretty easy, but then it starts to get challenging.
This trail is not suitable for kids or dogs – adult humans with rock climbing experience only.
Fishing
Sleeping Giant State Park does allow stream fishing, however, it's not considered a fishing hot-spot.
There are a few streams that run along the trails, but they are pretty small.
The part of Mill River that runs through Sleeping Giant is considered a Trout Management Area.
So, if you catch a trout, you have to release it back into the river.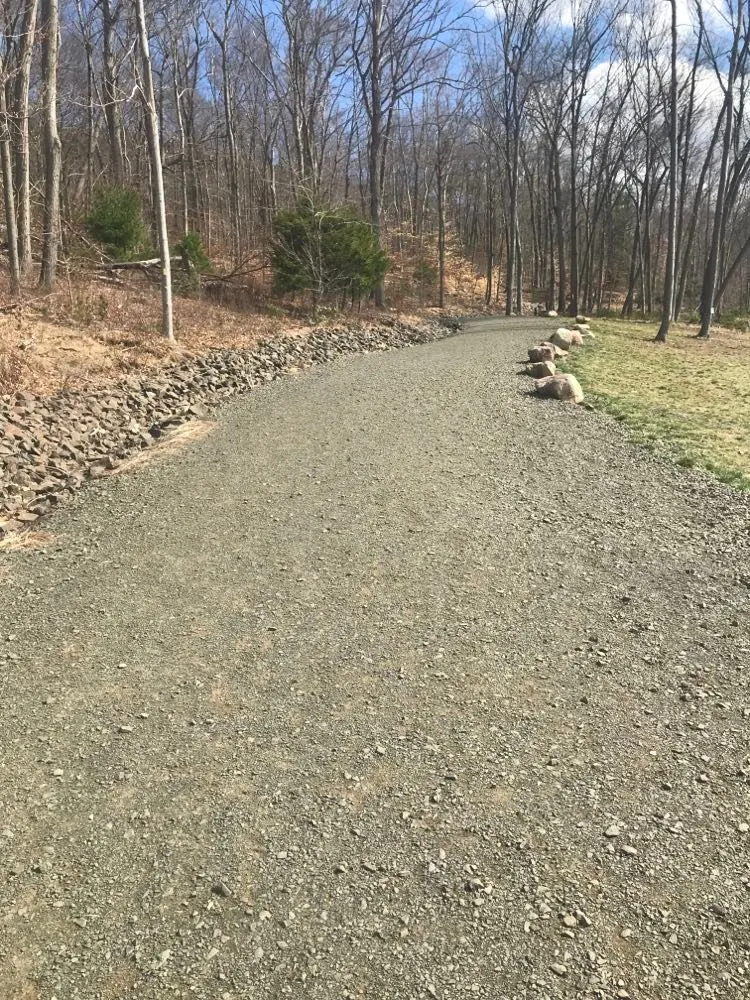 Picnicking
Sleeping Giant is an awesome place to picnic.
Not only is there a wonderful green above the parking lot, which is great for a blanket picnic, but carrying your lunch up the tower trail at eating at the tower is a great option, too.
As I said earlier, the Tower Trail is even enough to pull a small wagon up – perfect
If you like are looking for picnic tables and a picnic shelter, Sleeping Giant has those, too.
There are some nice stopping points along the other trails, as well, that are great for a little picnic.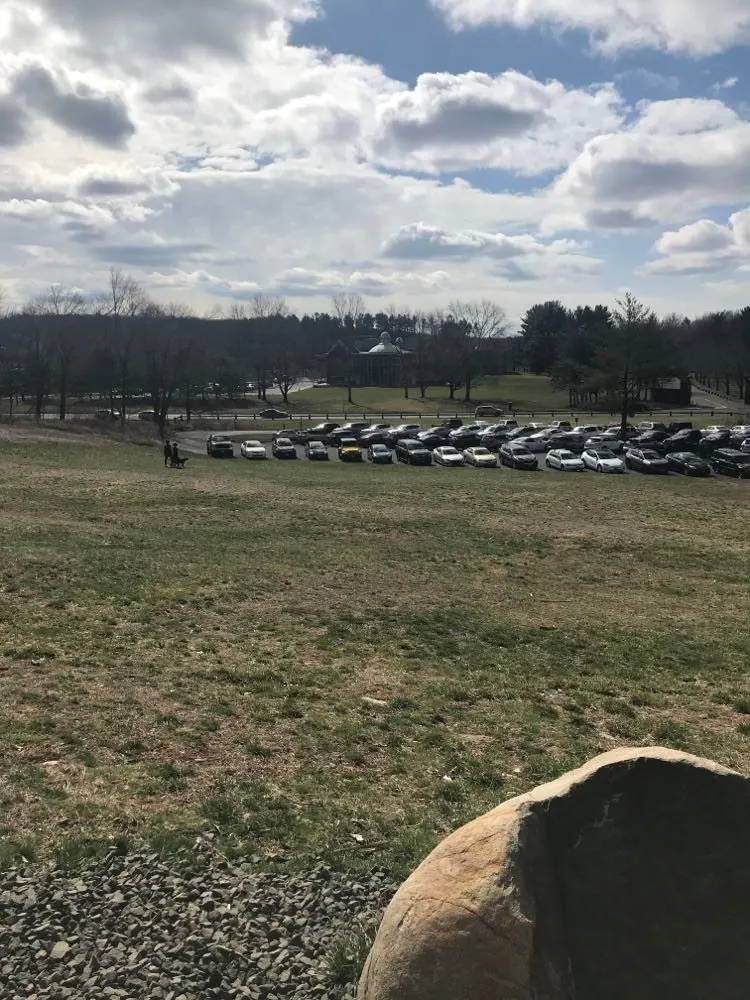 The story of the tower at Sleeping Giant State Park
On our first visit to Sleeping Giant State Park, we took the Tower Trail up Mount Carmel, as it was the one most accessible from where we parked.
We had no idea what to expect at the summit, at the end of the trail.
To our delight, there was a really cool stone tower at the top of the mountain.
Both the tower and corresponding trail were constructed in the 1930's by the Civilian Conservation Corps.
This was an initiative of the Work Progress Administration as part of the New Deal signed by President Roosevelt.
The tower was manned for a brief period during World War II to watch for enemy planes.
At one time, the tower had a working restroom and working fireplaces.
Today, visitors are welcome to go into the tower and climb the levels.
Safety features, like railings, have been added to many of the windows and there is an outhouse near the tower for toileting.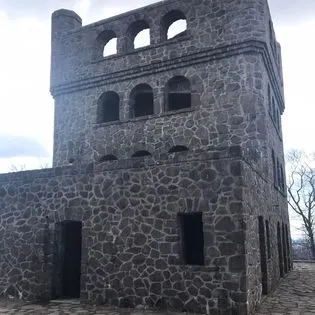 ---
I hope you enjoy this park as much as we do.
If you've been to Sleeping Giant in Hamden, CT, what did you think of it?
Did you visit the park as a family or as part of a group of adult hikers?
What tips or advice would you give people?