Gyms for indoor rock climbing have grown in popularity over the years, and for good reason – they provide an exciting challenge in a controlled environment. And CT has some of the best indoor rock climbing spots in the country.
If you are looking for a unique and thrilling experience, read on because we have you covered!
Here, you'll get a list of the 7 top gyms for indoor rock climbing in CT. Most of the gyms on our list are geared toward adults and older kids/teenagers.
If you are looking for some rock climbing walls for younger kids and toddlers, you'll find that most of the places on our top trampoline parks list also have rock climbing walls.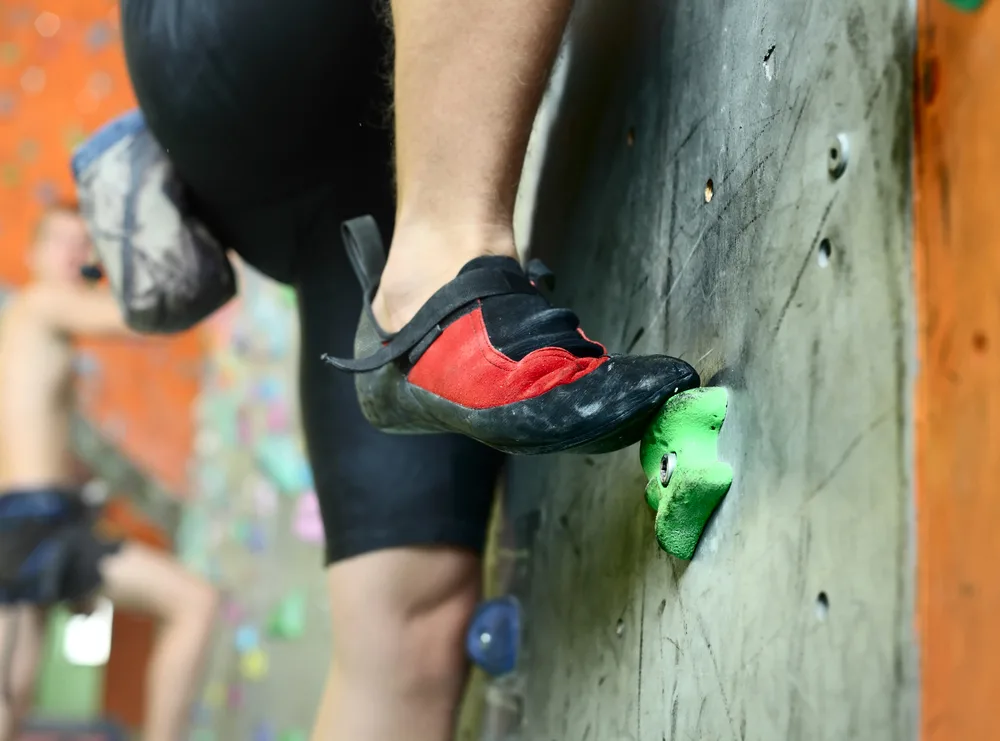 Top 7 gyms for indoor rock climbing in CT
Central Rock Gym is in Glastonbury Connecticut's ultimate spot for indoor rock climbing. This facility has something for everyone.
Central Rock Gym has plenty of rock climbing classes and events to choose from.
Kids and beginners can start with the belay classes and progress onto the more advanced climbing programs.
The gym also has youth vacation programs, yoga, and lots of other activity options to choose from.
259 Eastern Blvd, Glastonbury, CT 06033
If you live in the Hartford area, the Farmington Valley YMCA in Granby is a great indoor rock climbing option.
Here, not only can you fine-tune your rock climbing skills, you can join a rock climbing team, the Mountain Lions.
For a monthly fee, you can attend twice-a-week practices, get coaching, and participate in indoor rock climbing competitions.
97 Salmon Brook St, Granby, CT 06035
The Stone Age Rock Gym in Manchester is one of the most popular places for indoor rock climbing in CT.
This gym offers climbing lesson options for beginners to advanced climbers. Children as young as 6 years old can learn to climb here.
Stone Age Rock Gym has a variety of packages to choose from, including day passes and memberships.
After you become proficient with the indoor rock climbing walls, you can sign up for some of their fun outdoor rock climbing adventures!
195 Adams St., Manchester, CT 06042
Under the new management of Rock Spot, the Prime Climb is a great spot for every climber in your family – even toddlers can try out indoor rock climbing here!
Here you can learn belaying skills and a variety of climbing techniques. When you're ready, you can sign up for some fun outdoor climbing adventures, as well.
340 Quinnipiac St., Unit 15, Wallingford, CT 06492
The Climb Zone at Chelsea Piers in Stamford is geared toward youths and has kids working with qualified rock climbing instructors.
It's part of the gym that features lots of fun energy-burning activities for kids, including ropes courses and trampolines.
One Blachley Road, Stamford, CT 06902
The Rock Climb in Fairfield is one of Connecticut's largest indoor rock climbing gyms – this place is absolutely massive.
Here you can learn to belay, work with qualified rock climbing instructors, join a climbing team, and go on some awesome indoor and outdoor adventures.
Rock Climb Fairfield also has youth programs for kids ages 7 and up.
85 Mill Plain Road, Building T, Fairfield, CT 06824
At the Easton Community Center Rock Wall, adults and kids from the age of 6 can practice their climbing skills on a massive 700-square-foot wall.
This indoor rock climbing gym is great for birthday parties, group climbs, and team building sessions, as well.
364 Sport Hill Road, Easton, CT 06612
---
Is your favorite gym for indoor rock climbing on this list? If not, leave us a comment or drop us an email.
We'd love to hear about where you enjoy rock climbing in CT!
If you're interested in some more high-up thrills, don't forget to check out our list of spots for ziplining!