If you're looking for some great boardwalks in CT – ones with shopping, restaurants, and other fun things to do around them, you've come to the right place.
Boardwalks are a great way for people to experience the beach without getting all sandy.
Sometimes you just want to experience the beach without being on the actual beach if you know what I mean.
They are also great because they are accessible for people with wheelchairs, walkers, and strollers.
If you're on the hunt for a boardwalk in Connecticut that has shops, amusement rides, and restaurants right on it, you're (almost) out of luck.
There are some great ones in New Jersey, New Hampshire, and Rhode Island, but not in CT.
Connecticut has a different set of rules that are meant to protect its coastline.
That's also why you'll notice that dogs aren't allowed on most of the boardwalks here – they disturb the shoreline wildlife.
The boardwalks in CT, though, are great for catching a beautiful sunrise or sunset or a peaceful stroll.
They're pretty perfect for photographers, too.
And a lot of the boardwalks on this list do have nearby restaurants and shopping.
So, let's get to the list of boardwalks!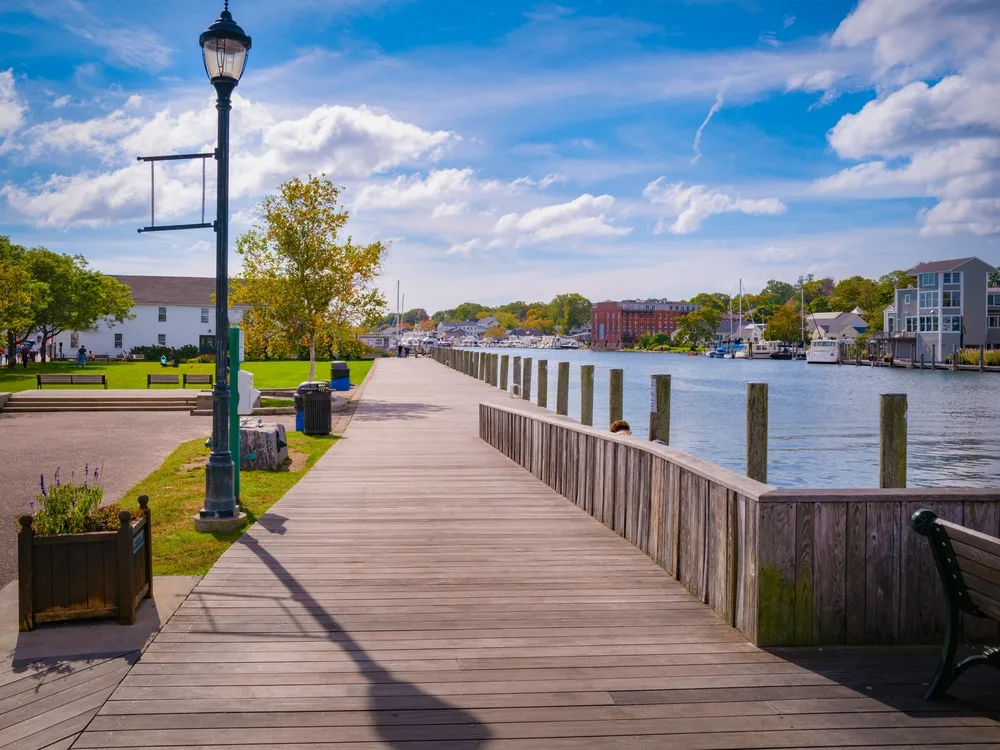 11 awesome boardwalks in CT
The Niantic Bay Boardwalk is one of the best and most popular boardwalks in CT.
This 1.1 miles of paved boardwalk runs between Cini Park (Niantic Bay Beach) and Hole in the Wall Beach in Niantic.
Locals treat this boardwalk like a paved walking trail, while out-of-town visitors enjoy the experience of watching the trains pass on one side while they enjoy the views of the Long Island Sound.
Not directly on the Boardwalk, but a walkable distance away, are plenty of restaurants, bookstores, ice cream shops, and small boutiques.
On either side of the Niantic Bay Boardwalk is great fishing and swimming, as well.
You can park on either side, though you'll have to pay the parking fee.
If you want to avoid the parking fees, you can park along Main Street.
No biking, skating, or dogs are allowed on the boardwalk.
Address: 4 Baptist Ln., Niantic, CT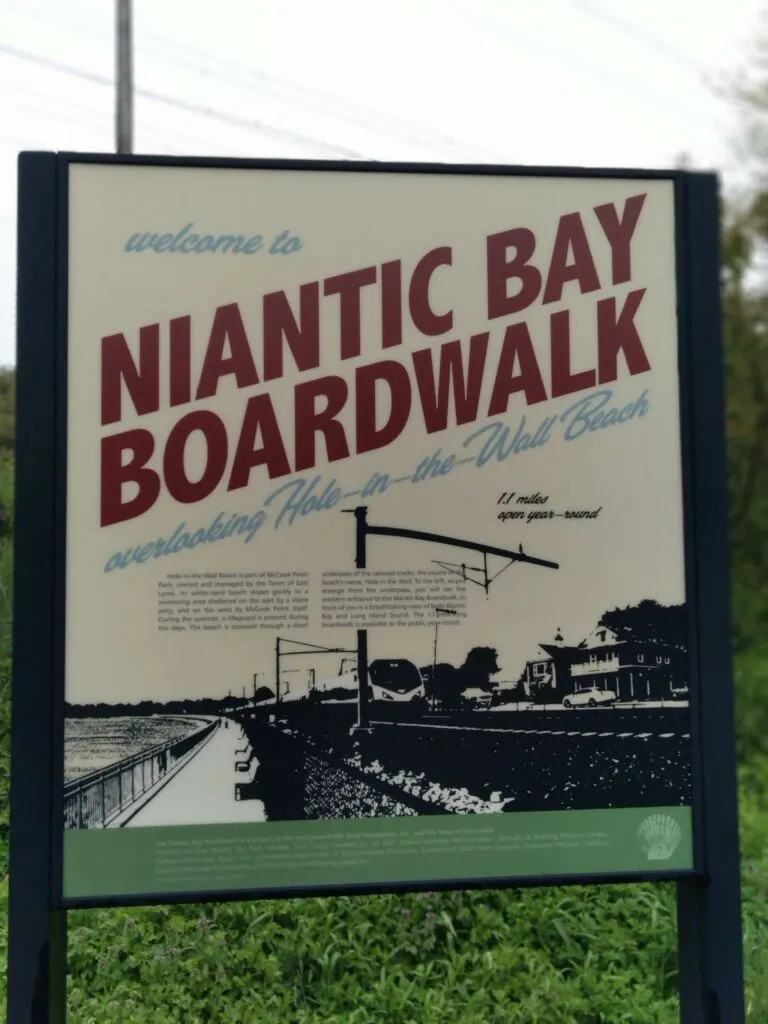 Another great boardwalk that connects 2 beautiful beaches is the boardwalk at Silversands State Park.
The views of the Long Island Sound are broken up by protected marshlands and jetties on this boardwalk.
Walnut Beach is located at the other end of the 1.5-mile-long boardwalk.
There's a fishing pier here, as well as bike paths and a place for volleyball.
Walnut Beach and the connecting boardwalk are beautiful and well-maintained.
No dogs are allowed on the boardwalk.
Address: 1 Silver Sands Park Way, Milford, CT
While this Connecticut boardwalk is nothing to write home about, it's a nice break for your feet from the hot sand on a summer day.
The boardwalk at Rocky Neck State Park sits at the back of the beach between the parking lot and the train tracks.
This beach is packed in the summertime and the boardwalk gives visitors a way to take coolers and beach wagons to their chosen sunning spots.
There's a concession stand several yards from the boardwalk, as well as outside showers and a bathroom house.
Neither the beach nor the boardwalk here is dog-friendly.
Address: 244 W Main St, East Lyme, CT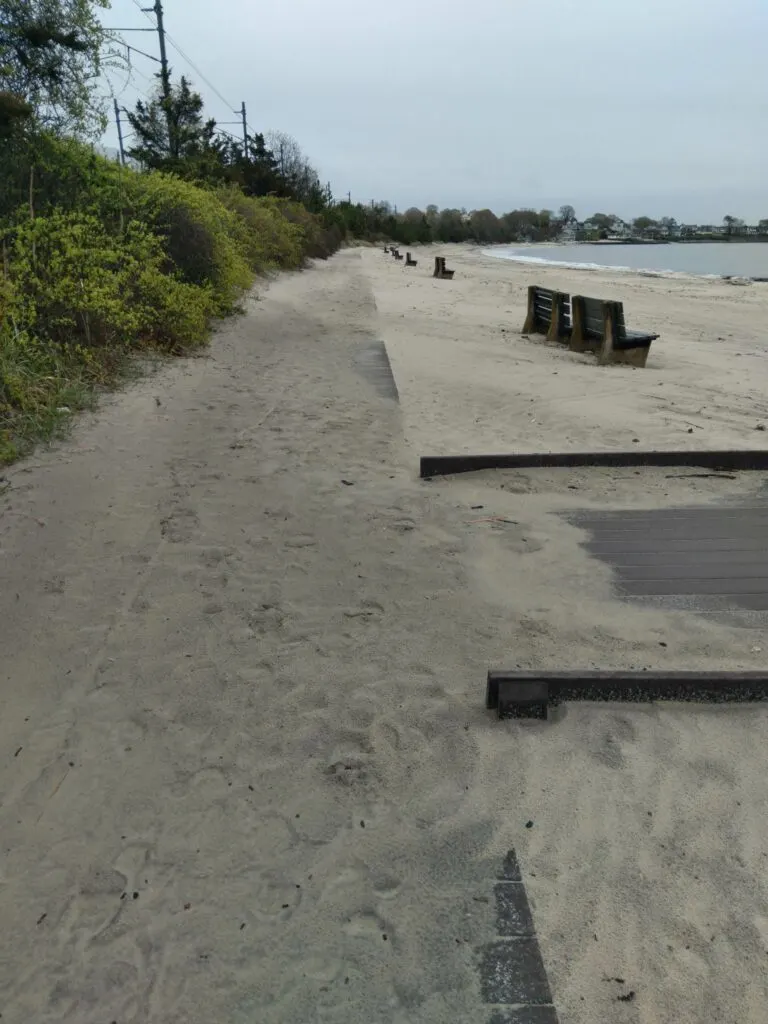 Savin Rock – West Haven
Formerly the site of an old amusement park, Savin Rock in West Haven has a small, but lovely boardwalk.
You'll be overlooking the Long Island Sound from this wooden outcropping.
Of course, in West Haven, there are plenty of restaurants and stores for shopping nearby.
Address: 6 Rock St West Haven, CT 06516
If you are interested in taking a serene nature hike along a beautiful boardwalk, you need to head to the White Memorial Conservation Center in Litchfield, CT.
There are a few trails to choose from here, but the Little Pond Boardwalk is the most popular.
The boardwalk is slightly elevated over the marshy wetlands and extends just over a mile.
This is a great place for birding and photography.
Address: 80 Whitehall Road, Litchfield, CT 06759
Hammonasette State Park is one of my kids' favorite places to swim.
The boardwalk here, though, is one of my favorite places to come and get some peace and quiet on my own.
It's not super long, but it has some beautiful bushes and plants that run on both sides of it.
There's also a wonderful jetty at the furthermost beach here, near the nature center.
Address: 1288 Boston Post Rd., Madison, CT 06443
Mystic Boardwalk – Mystic
The boardwalk in downtown Mystic is a relaxing little place with plenty of benches.
There's shopping and dining within walking distance and summer concerts are frequently held here.
People come here to enjoy the view of the Mystic River and admire the Bascule Bridge.
Address: Cottrell Street, Mystic, CT
The closest New Jersey-style boardwalk experience can be found at Ocean Beach in New London.
This family hot spot has everything you're looking for, from water park rides, a pool, volleyball courts, benches, amusement park rides, fireworks, food, and more.
This beach and boardwalk do get quite crowded in the summer, but it's a really fun place to visit.
Not everything here is included in the entry price.
Address: 98 Neptune Ave, New London, CT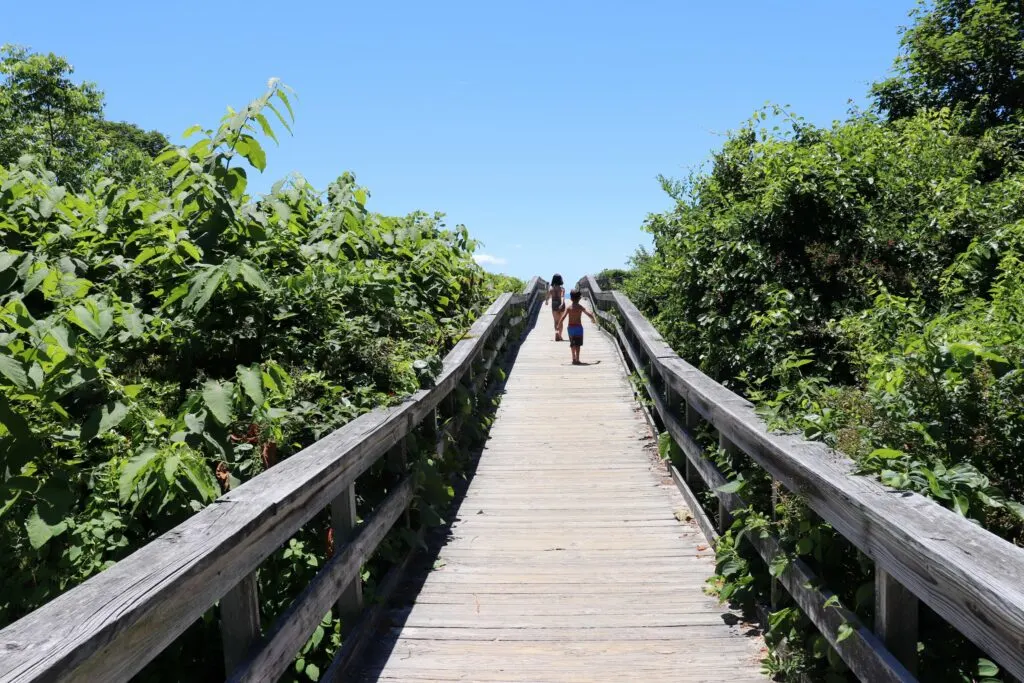 Captain's Cove Seaport in Bridgeport is one of the 2 boardwalks on this list that has the typical "boardwalk feel" to it.
Here, you'll enjoy views of one of Long Island Sound's most active seaports while you enjoy shopping, live entertainment, and great seafood.
Address: 1 Bostwick Ave., Bridgeport, CT 06605
Poquonock River Boardwalk – Groton
Located right near Bluff Point State Park, you'll find a nice little trail that crosses over parts of the Poquonock River.
Part of the trail is the Poquonock River Boardwalk. It's surrounded by marshes and wetlands.
This is a great place to spot rare birds, turtles, and other wildlife.
You'll also spot people fishing here a lot, too.
Address: South Road & Poquonock Road, Groton, CT
The boardwalk at Harkness Memorial Park is just a walkway that leads to a small rocky beach, but it's a decent size and it's a beautiful place to take pictures.
It's one of the more popular spots in the park for wedding photography and marriage proposals, in fact.
On each side of the boardwalk are beautiful sand dunes and distant views of the Long Island Sound.
There's no food or shopping near this boardwalk, but Harkness is a great place for kite flying and picnicking.
Address: 275 Great Neck Road., Waterford, CT 06385
The Connecticut Audobon Society at Milford Point offers one of the most unique and beautiful boardwalk experiences in CT.
The boardwalk here borders the Wheeler Salt Marsh and the mouth of the Housatonic River.
Since this is a conservation area, you know you're in for some beautiful marsh views and excellent birding.
Address: 1 Milford Point Rd., 06460, CT
---
Which of these boardwalks in CT is your favorite?
If I left a great boardwalk off the list, let me know in the comments.