If you're looking for a dairy-free hot-weather treat, you're in the right place. I've put together a list of the best places for vegan ice cream in CT.
Full disclosure – I'm not a vegan.
I do eat vegan quite often, though, and I've grown quite adept at making vegan recipes, and I really enjoy the flavor of a lot of the dairy substitutes.
So much so that I've come to prefer a lot of dairy-free foods, especially those that use nut-based substitutions.
Ice cream is something that, in my opinion, is better when it's dairy-free.
It's so great that in CT, there are so many places that serve vegan ice cream.
Not just for vegans, but for those with dairy allergies and intolerances.
I love ice cream, though, so let's get right to it.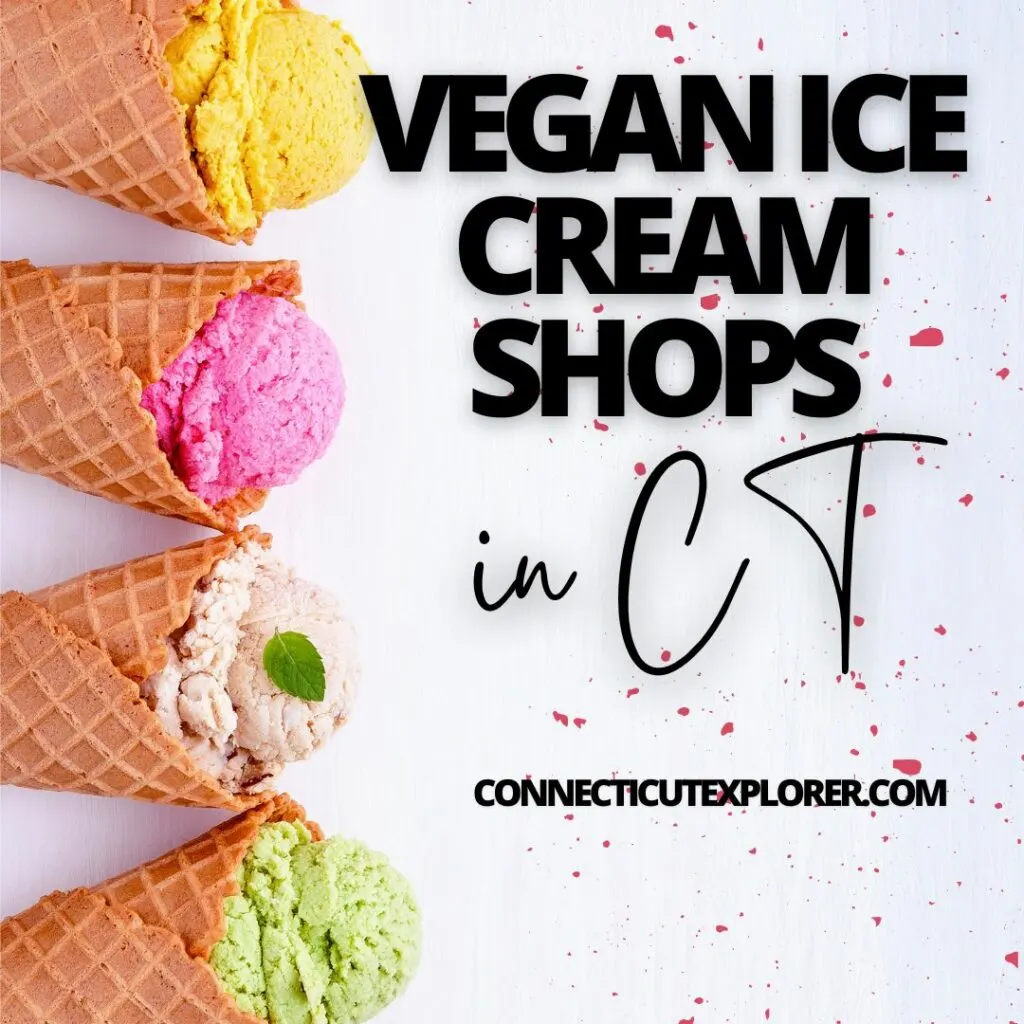 The best 8 places for vegan ice cream in CT
3 Girls Vegan Creamery in Guilford is one of CT's best and most popular vegan ice cream shops.
Everything here is completely dairy-free and amazingly delicious.
In addition to yummy vegan ice cream, you will find a variety of vegan and gluten-free baked goods and other vegan foods here.
Address: 645 Boston Post Road, Guilford, CT 06437
If you're looking for some delicious vegan ice cream in CT, you need to check out Divine Treasures in Manchester.
The soft serve here is out of this world.
Everything is nut-based, made with cashews and almonds.
Also, everything is sweetened with organic, healthier options.
In addition to the yummy soft-serve ice cream, you'll find plenty of other frozen treats here, as well.
Address: 404 Middle Turnpike West, Manchester, CT 06040
Deep River Ice is one of the places for vegan ice cream in Connecticut.
Here, you'll find some of the most generous servings of ice cream in the state, along with some of the most delicious flavors.
This isn't a vegan-only establishment, however, there are plenty of plant-based ice cream options here.
This is also a great spot for Italian ice!
Address: 169 Main Street, Deep River, CT
Simsbury is such a cute town. I regularly come up with excuses to come here.
One place I love to visit while I'm in Simsbury is the Tullmeadow Farm Store.
Once voted Connecticut's best ice cream, you can be sure that this is some amazing stuff – and there are some great vegan choices here.
You'll find some wonderful vegan ice cream choices available by the pint and quart here.
Along with vegan ice cream, you'll find plenty of fresh fruits and vegetables for purchase.
Address: 255 Farms Village Road, West Simsbury, CT 06092
If you're looking for some of the best small-batch ice cream you'll ever taste, you need to check out Honeycone Cream Co. Craft Ice Cream.
Vegan flavors here include Pineapple Coconut and Cookies and Cream – yum.
They make a mean ice cream cake here, as well.
Address: 29 Main St., Chester, CT
Micro Creamery of CT in Woodbridge sells some of the best ice cream you'll ever taste.
Along with the 50+ regular ice cream flavors to choose from, all from the best local creameries, you can get plant-based ones, as well.
For the size of the servings you get here, the prices are great.
Address: 1652 Litchfield Tpke., Woodbridge, CT
Sweet Ashley's in Norwalk has some of the most amazing ice cream in CT.
I know this place well and it's absolutely amazing.
They've got a ton of regular ice cream flavors, plus no-sugar-added flavors, as well as vegan ice cream.
(and dog ice cream!)
Vegan flavors include Lavender Chip, Blueberry Pie, Toasted Coconut, and more.
I highly recommend Sweet Ashley's!
Address: 248 East Ave. Norwalk, CT 06855
If you're in the mood for a real treat, Main St. Gelato has some amazing ice cream, gelato, Italian ice, and sorbetto.
The menu changes, as everything is small-batch here, but I promise that there are some delicious vegan options that you'll love.
If you come here, you need to try the Coconut Sorbetto. It's vegan and it's delicious.
Address: 12 Pomfret Street, Putnam, CT
---
Is your favorite CT vegan ice cream restaurant on this list?
If not, send us an email or leave a comment below and tell us all about it.
What do you like about it?
What's your favorite flavor?