If you're looking for some great places to play miniature golf in CT, you've come to the right place.
My kids love to play miniature golf, and I'm not going to lie, I really like it, too.
I'm useless on a regular golf course and the little fun courses are more my speed.
I went ahead and made a list of some of our favorite putt-putt spots in CT to share with everyone.
Some of these are great for full-day family trips and others are purely miniature golf-centered.
All of them are great, though.
So, let's get to it.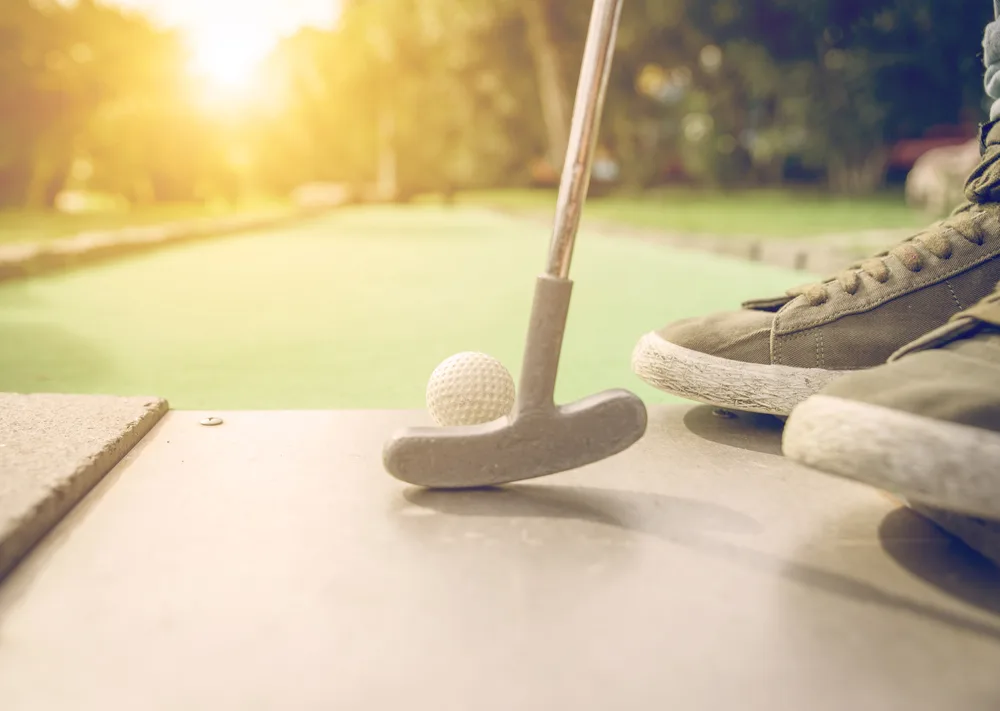 10 of the best places miniature golf in CT
Hidden Valley Miniature Golf in Bristol is located on the property of one of CT's best waterfront restaurants.
The mini-golf course here is amazingly well-kept and putt-putt spots in all of New England.
Here, you'll find multiple waterfalls, koi ponds, and much more.
From 10 am – 5 pm on Monday thru Friday, you can play as many rounds as you'd like.
Prices here are surprisingly fair all the time, though.
Address: 2060 West St, Southington, CT 06489
Ocean Beach is the best beach in New London and it's also one of the best beaches in Connecticut.
It has one of the most fun boardwalks in CT and some of the best kids' activities, including a swimming beach, splash pad, playground, arcade, and – you guessed it – miniature golf.
The miniature golf course is located on the far side of the boardwalk, near the park's smaller ice cream stand, and has great views of the Sound and all of the boardwalk fun.
Address: 98 Neptune Avenue, New London, CT
Tee Rex Miniature Golf in Thompson is a really fun putt-putt spot for dinosaur-loving kids.
Here, your whole family will enjoy playing mini-golf alongside realistic-looking dinosaur statues, volcanoes, and caves.
There's a "dino diner" here, as well. So, you can make a day of it and get some food and ice cream along with your putt-putt fun.
3 years and under play for free here.
So, if you've got very little kids that want to play along with their older siblings, it's not going to break the bank.
Address: 274 Riverside Drive, Thompson, CT
Old Sawmill Miniature Golf in Oxford is a really fun family-owned and operated miniature golf course.
The prices here are fair and there are reduced prices for children under 12 and senior citizens.
This putt-putt golf spot is cash only, but there's a gas station with an ATM nearby you can use.
Address: 345 Oxford Road, Oxford, CT 06478
Another great beach-side putt-putt golf spot is Calf Pasture Beach in Norwalk.
Here, you can enjoy views of Calf Pasture Beach and the Long Island Sound while you enjoy a well-kept, professional-style miniature golf course.
It's open 7 days a week and the prices are fair – it's a great place for birthday parties, as well.
Address: Calf Pasture Beach Road, Norwalk, CT 06851
Safari Golf in Berlin is a really cool wooded putt-putt golf course where you're surrounded by waterfalls, life-size jungle animal replicas, and more.
There's even a cool cave you can walk through.
Here, you'll find 18 holes of fun and if you get a hole-in-one on the 18th hole, you win a free game – cool.
Address: 2340 Berlin Tpke, Berlin, CT
If you're looking for some fun miniature golf while visiting a family-friendly campground, Odetah Campground in Bozrah is a great option.
Knolls & Holes Miniature Golf Course has sand traps, water hazards, and more.
This is only one of the great things to do here – I highly recommend a trip to Odetah Campground.
Address: 38 Bozrah Ext., Bozrah, CT
Matterhorn Mini Golf is one of the absolute best miniature golf spots in CT.
It's theme is Switzerland and you'll find a lot of fun on this 18-hole course.
Matterhorn is family-owned and has very fair prices for a mini-golf course.
They even offer a full-day pass, which is reasonably priced.
You can also get ice cream here, which makes for a fun-filled family day!
Address: 10 Dyer Cemetery Road, Canton, CT 06019
The Cave in Bethel is a really fun place for indoor family fun in CT.
Here you'll find a really unique glow-in-the-dark mini-golf course that features animated creatures, music, and glow-in-the-dark golf balls.
This is a great place for birthday parties and they offer a package that includes mini-golf.
Address: 13 Stony Hill Road, Bethel, CT 06801
If you haven't visited The Dinosaur Place at Nature's Art Village, you're missing out.
Entry is a little pricey (though, it's free with the Summer at the Museum program), but there's so much great stuff to do here.
Copper Creek Miniature-Golf is an 18-hole course with a fun old-west mining theme.
There are multiple ways to play each hole and 9 of the holes are wheelchair accessible, which is great.
This miniature golf course is only open to kids ages 6 and older.
Address: 1650 Hartford-New London Tpke., Montville, CT 06370
---
There you have it, the best places for miniature golf in CT.
Is your favorite putt-putt spot on this list?
If it's not, let us know about it below in the comments.