White water rafting in CT is super thrilling, not to mention exciting, outdoor activity that the whole family can enjoy.
While it is on the more skillful side, it is a great activity for the adults who love a bit of an adrenaline rush and some fun on their vacations.
Connecticut is a premier destination for many outdoor activities, and it has some wonderful spots that are full of nature and activity.
With Connecticut's beautiful state parks and natural and man-made lakes and rivers, white water rafting is more accessible than you may think.
There are many neighboring states that can also show you a great time white water rafting, and it won't be too far outside of Connecticut.
They are all a day trip away.
The New England area is known for its accessibility, so get your rafting and tubing gear together, and check out the best places for white water rafting in Connecticut.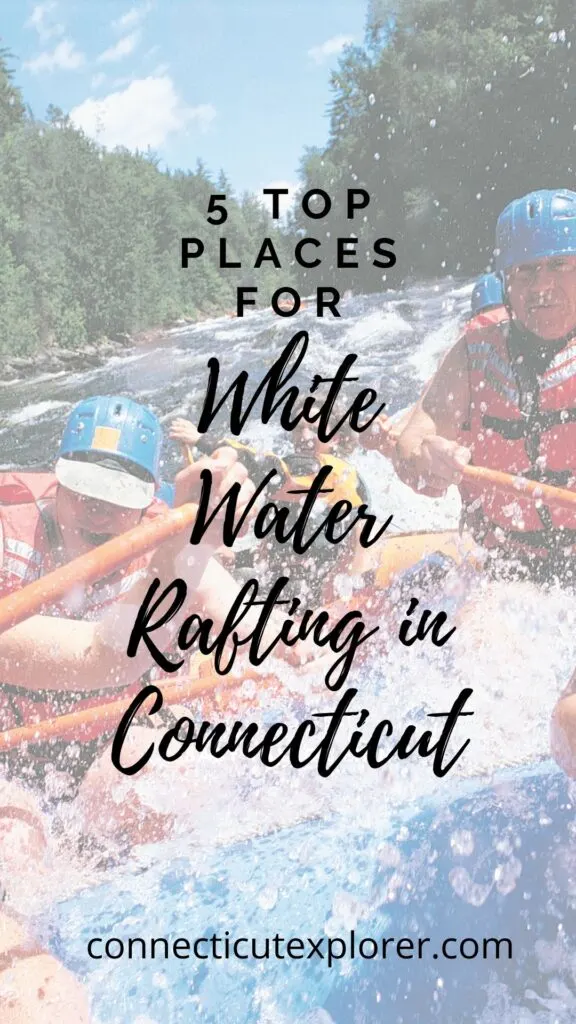 The 5 best places for white water rafting in CT
1. Clarke Outdoors – West Cornwall, Connecticut
The Housatonic River up in Northwestern Connecticut is a good choice for white water rafting, and the Clarke Outdoors guides will help you find the best, safest areas for white water rafting.
You can raft down your choice of the 6 or 10-mile section if you are more of an expert already then the 10-mile section is the one for you!
There are shuttles and vans throughout the course on the land to get you to the rafting areas. You can also be picked up every half hour on the shuttle.
Outside of white water rafting, you can engage in other water sports like kayaking or canoeing. Clarke Outdoors will show you the way!
2. Zoar Outdoor- Charlemont, Massachusetts
Not far from the border of Connecticut is Zoar Outdoor.
This short trip to Massachusetts brings you to a premier white water rafting location, with waters that feed into Connecticut and the West River in Vermont.
There are over 4 river banks to choose from, including the Concord River and Deerfield River. Zoar Outdoor offers other outdoor activities as well.
They separate the rafting rapids into classes between I and IV, and there are more moderate float trips for the younger or less experienced.
Zoar Outdoor even has zipline and raft packages to choose from.
For the full experience, definitely try out their dining options of homemade meals.
The Zoar Outdoor staff are all professional and trained, so your experience can be fun and safe!
3. Mainstream Canoes and Kayaks- New Hartford, Connecticut
Come and experience a river trip on a kayak or canoe at the Mainstream Canoes and Kayaks.
One of their most popular routes begins in Riverton and has a 12-mile paddle through New Hartford areas. But, they have shorter options too, and they have many put-in locations you can start at.
You are also permitted to rent equipment, making it easy to get all the right gear and the full experience. You can rent kayaks too, and the shuttle service will take you to the river.
There are guides provided by the professionally trained staff and the instructors on site. The prices vary depending on your transportation and what you rent.
4. Lake Beseck- Middlefield, Connecticut
Never been white water rafting before? Perfect, this is the place for you! Lake Beseck is a great area for beginners because the lake is flat and lets you practice improving your skills.
The lake is over 100 acres and has an average of 12 foot deep waters. There are hills and lots of history around, so it is an all-around great experience for the family vacation or short trip.
Beseck is a great lake that is accommodating and offers other outdoor activities that are fun for all!
5. Erie Canal Boat Company- Fairpoint, New York
If you are down for the weekend trip of white water rafting and other outdoor activities, then you will find the Erie Canal Boat Company to be right up your alley.
The historic Erie Canal waterway located in Fairport is just outside of Rochester New York and offers kayaking and white water rafting.
They have families and groups in mind, so the experience is unique and full service.
With onsite camping, breakfast, and many more activities, the Erie Canal Boat Company is a great little trip destination!
---
Connecticut has a few white water rafting experiences but is centrally located to many great bodies of water that will make for a memorable white water rafting trip.
Check out the best places for white water rafting in CT, you won't regret it!