For the adventure-seeking, thrill-loving folk out there, Connecticut offers so many outdoor activities that will keep you on the edge of your toes and on the road.
We've got all the parks, lakes, trails, and more to entertain you. Whether you need to unwind after a long day of work, or take a long break and see some beautiful sights, these top 10 outdoor activities in Connecticut will keep you happy and help you make some great memories.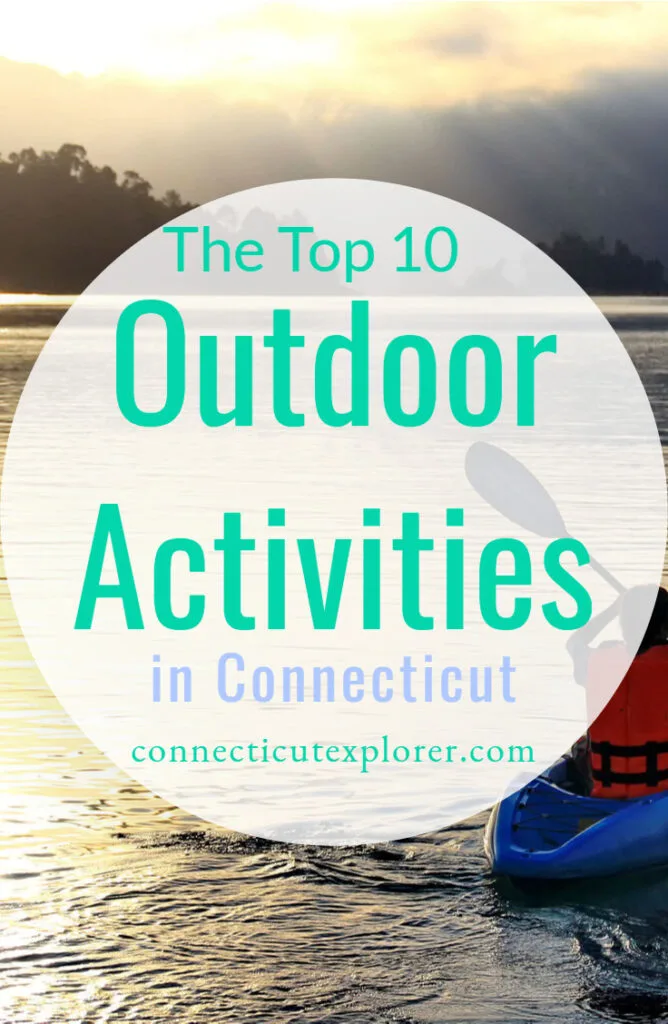 Top 10 Outdoor Activities in Connecticut
1. Talcott Mountain State Park- Simsbury, Connecticut
This landscape is so beautiful, a 165-ft tower was built to see it! The Heublein Tower lets you take a 360-degree view of the scenic park.
But, if you want to see everything on foot, that's easy to do! Their trails are long, maintained, and guided so that you don't get lost.
If you're a history buff, then you can get years of history built into the trails, or in the Heublein Tower, where there is a museum of local history with friendly staff to guide you.
The hiking trail is a little over a mile long, has a few wildlife roaming around so you feel fully immersed in nature, and do a little bird watching if you'd like!
Talcott Mountain State Park is the perfect Connecticut outdoor activity!
2. Tunxis State Forest- Granby, Connecticut
You might pass by here on your way to another destination, but it's definitely worth stopping at.
The Tunxis State Forest is full of hiking trails, so if you're a hiker then you will love it here! If you ever wanted to get into mountain biking, then the trails at Tunxis State Forest are optimal for that.
Say you want to get into the usual summer activities too, Tunxis State Forest also has country skiing, hunting, boating, and fishing!
3. Clarke Outdoors- West Cornwall, Connecticut
We can't talk about the best outdoor activities in Connecticut without mentioning Clarke Outdoors.
This is a treasure of northwestern Connecticut and has ample room for many outdoor activities on land or on the water.
Clarke Outdoors is right along the Housatonic River, so you can come out and canoe, kayak, or raft in the river. If you prefer land, follow the trails until you are ready to go home!
They take reservations, too, so you know there will be room for you when you come!
4. EMPOWER Leadership Sports and Adventure Center- Middletown, Connecticut
Middletown residents have hailed this place as their own, and now you can too.
The EMPOWER Leadership Sports and Adventure Center gives your family or group of friends time to grow together and build lasting bonds.
There is a half-mile zip line canopy tour that's guided, and is their most popular feature!
Their other fun activities like scavenger hunts and tree climbing are super fun as well, plus the time spent with your friends and family will be super memorable!
5. Brownstone Exploration and Discovery Park- Portland, Connecticut
Do you have an adventurous spirit? Look no further for your next thing to conquer!
There is so much to do at the Brownstone Exploration and Discovery Park that you may not get it done in one day.
There is rock climbing, cliff jumping, scuba diving, and wakeboarding! So land or sea, you will be getting active here.
The outdoors are yours for the taking at the Brownstone Exploration and Discovery Park, including their zip lines, obstacle courses, and different challenges!
6. Satan's Kingdom State Recreation Area- New Hartford, Connecticut
This is one of the most popular summer spots for outdoor activities in Connecticut. There are so many activities to try out here, including tubing, kayaking, and canoeing.
Satan's Kingdom State Recreation Area also attracts visitors outside of Connecticut, as well as the New Hartford residents.
The Farmington River is right nearby, so you can spend a day laying by the lake or getting active in the sun!
7. Mattabesett Blue Trail- Middlefield, Connecticut
Just outside of the quiet town of Middlefield, the Mattabesett Blue Trail has a 9-mile trail bringing hikers and nature lovers from around Connecticut.
The trees are very lush and the greenery is crisp and inviting, you'll never want to go back inside!
The trail is also very comprehensive, so many looped trails and connections will keep you exploring for ages, the Mattabesett Blue Trail is definitely one to come back to!
8. Hubbard Park and Castle Craig- Meriden, Connecticut
You wouldn't think that Meriden would have such a grand place like Hubbard Park and Castle Craig, but it is one of the most unique places in Connecticut!
There is a man-made stone observation platform right on top of the Castle Craig Tower. Make your way up and view the 1,800 acres of trails, greenery, and serene nature right below you.
With picnic areas and a rest stop nearby, Hubbard Park and Castle Craig is definitely an outdoor destination you don't want to miss.
9. Kent Falls State Park- Litchfield, Connecticut
Litchfield is a small town, but it's got plenty of activities for those who love the outdoors.
At Kent Falls State Park, you can walk over the covered bridge and view the cascading waterfalls that land into the Housatonic River. It's beautifully serene and almost indescribable, you have to see for yourself!
Get out to the Kent Falls State Park and do some fishing for the swimming trout in the river, or just stop and take in the view!
10. Devil's Hopyard State Park- East Haddam, Connecticut
If you ever wondered where the name came from, it's from the round holes inside the falls.
The Devil's Hopyard State Park is the perfect place to wander outside, explore, and get involved in their camping activities. T
here are 21 campsites, so you can plan an overnight stay and sleep under the stars on the open campsites, or undercover at the wooded campsites. Devil's Hopyard State Park is the perfect escape!
Hopefully, you get a chance in the months ahead to check out some of these amazing outdoor sites in Connecticut.
Our beautiful state is bursting with nature and well-maintained parks and outdoor attractions that keep the family and your friends busy!