Jet skiing is an exhilarating water sport that many people in Connecticut enjoy. If you are an adrenaline seeker, then you certainly love the thrill of a good jet ski ride.
With the splashing waves and wind, it's hard not to enjoy the speed and thrill of jet skiing!
Connecticut is home to many beautiful lakes that are perfect for outdoor activities, and a select few have become the premier destination for jet skiing.
You may own your own jet skis or need to rent some, and these lakes and beaches have something for everyone looking to have some fun on their jet skis.
The great Nutmeg State is a wonderful summertime oasis and the best place to fulfill that adrenaline rush!
So, if you have been looking to take the jet skis out for a day of fun, or try it out for the first time, then these best lakes for jet skiing in Connecticut should be your first stop!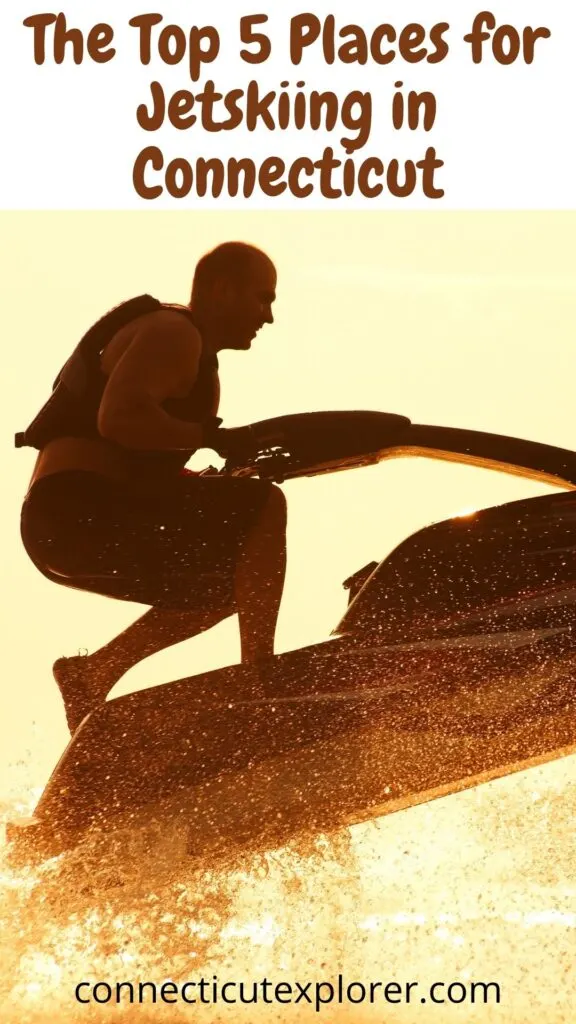 The 5 best places for Jet skiing in Connecticut
1. Candlewood Lake – Danbury, Connecticut
Candlewood Lake is a gorgeous, man-made lake that takes up over 8 square miles, and is thus the largest man-made lake in Connecticut!
The idyllic setting of Candlewood Lake makes it perfect for lots of different watersports, particularly jet skiing.
Boating and jet skiing are permitted, up to speeds of 45 mph, which is all you need!
There are rentals offered at Candlewood Lake near the Brookfield Echo Bay Marina, where they have boat rentals as well.
Candlewood Lake is like a one-stop-shop for all the lake fun you could ask for!
2. Boardwalk Marina- Stratford, Connecticut
The Boardwalk Marina is nestled in the quaint town of Stratford, Connecticut. The many visitors at the Marina enjoy lots of fun activities on the water.
If you don't have your own boat, then Yamaha jet skis are available for rent, and you can take them outright from the Marina, making it super easy to rent and return the jet skis.
The relaxing waters of the Long Island Sound are easy to chill out on your boat and relax or do some safe jet ski racing.
You must be older than 21 to rent a jet ski, so that's how you know safety is their priority!
3. Long Island Sound- Coastal Connecticut
The waters of the Long Island Sound venture into many Connecticut towns. That makes it incredibly easy to find a launch spot to take your jet skis out.
Especially if you own your own, you can drive right up to the shoreline of the coastal cities to satiate that thrill-seeking need to jet ski!
The Connecticut DEEP website is an incredible resource for all the local boat launches that may be near you.
With enforced local regulations and calm waters, jet skiing has never been more fun than on the Long Island Sound!
4. Lower Housatonic River- Derby, Connecticut
Right along the Derby Dam rests the Lower Housatonic River. At the River, you can take your jet skis out, and also take the opportunity to explore the gorgeous little islands surrounding the river.
The Lower Housatonic River is also centrally located near picnics or waterside restaurants.
If you bring your own picnic items, then the picnic area is definitely a great place to stop and rest by the water to eat.
The Lower Housatonic River is also in close proximity to the Long Island Sound, so you and your jet skis can go pretty far!
5. Coventry Lake- Coventry, Connecticut
Coventry Lake is a great destination for jet skiing. Family and friends are sure to have a great time here since they have a perfect jet skiing setting.
The Connecticut DEEP website has more essential information as far as rules on speeds and where you can jet ski on the lake. They make it super easy to enjoy a safe, and thrilling jet skiing experience!
---
Jet skiing in Connecticut is a must-try! With wonderful lakes and even better locations, the best lakes in Connecticut for jet skiing have been offering memorable, fun experiences for years!
Safety is always key, so make sure your jet skis are safe and you're completely ready for a thrilling jet ski ride!